What a month it's been! From Megxit to Chinese New Year, January has been nothing short of eventful. Every week, we've been bringing you a news roundup of our favourite automotive stories from the week. Today, we're drawing the month to a close with our final news roundup of January.
Earlier this year, we reported that Audi had begun "targeting millennials" with their social content. And what better way than getting Game of Thrones star, Maisie Williams to sing along to Frozen's Let It Go in an Audi e tron Sportback. In the ad, Audi is driving towards a "more sustainable tomorrow" by asking you to "embrace the future by letting go of the past". Watch the video at your own leisure, but fair warning, the song will be stuck in your head for the foreseeable.
If you love your food just as much as you love your car, you're in luck. This year, Food historian and author Francine Segan will present two talks and tastings that take a closer look at the car and food culture of the Emilia-Romagna region of Italy known as "Motor Valley". Attendees can spend the day with like-minded people eating Italian gourmet specialities whilst learning about the area's 15 car museums and 19 private vintage car collections.
Always dreamed of driving an Aston Martin? Join the queue!  With the release of the new 007 film fast approaching, everyone is desperate to drive an Aston Martin. According to supercar experience company Trackdays, their Aston Martin experiences skyrocketed by 25% in 2019. "Brits get to experience the same behind-the-wheel thrills as the world's most famous fictional secret agent," said Dan Jones, operations manager at Trackdays. The company offers experiences in a variety of Bond staples including a 1960s DB5 and a V8 Vantage.
Other articles you might like:
Powerful Cars: Oracle Finance's Top 4
Team Oracle's Best Places To Drive In The UK – Part 1
What do Formula 1 Drivers drive when they're off duty?
The 54th Super Bowl takes place this Sunday between the San Francisco 49ers and the Kansas City Chiefs at the Hard Rock Stadium in Miami. To celebrate the event, we're sharing some of the most interesting cars owned by NFL players.
Odell Beckham Jr
After a four year stint with the New York Giants, the world renowned Wide Receiver joined the Cleveland Browns. To celebrate the move Beckham Jr rewarded himself with a custom Rolls-Royce Cullinan. The Cullinan matches his Cleveland Browns bright orange kit and has replaced the traditional Spirit of Ecstasy with a figurine of his signature one-handed catch.
View this post on Instagram
Tom Brady
The most successful NFL player of all time. Brady has an incredible car collection, from a Cadillac Escalade to a Bugatti Veyron. His favourite… The TB12 Limited Edition Aston Martin Vanquish S Volante. The car is a collaboration between himself and Aston Martin. Only 12 of these cars were produced, to represent his jersey number. If you're lucky enough to find one for sale, it will come with hefty $360,000 price tag.
Julio Jones
The 30 year old isn't only a star player for the Atlanta Falcons. He's also the owner of two car dealerships, which he purchased in 2018. A Ferrari fanatic, Jones is easily recognised driving his white Ferrari 458 Spyder.  It's hard to miss him with bright red rims and large red prancing horses on each side.
Joe Flacco
2013 was a great year for Flacco. Not only did he win the Super Bowl with the Baltimore Ravens, he was also named MVP of the game. As a reward, he was gifted a 2014 Corvette Stingray. The stunning red car came with a 6.2 litre, V8 engine. What a gift!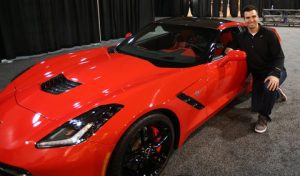 Cam Newton
Newton has a fascination with American muscle cars. The standout in his collection is a 970 Oldsmobile 442 Cutlass, which he had modified at Monster Customs in Georgia. Painted in gloss black, this classic has 24 karat gold plating, including his initials and current team Carolina Panthers logo on the grill.
Which NFL player do you think has the most interesting car? Get in touch on our LinkedIn or Facebook page and let us know!
Other articles you might like:
Powerful Cars: Oracle Finance's Top 4
Team Oracle's Best Places To Drive In The UK – Part 1
What do Formula 1 Drivers drive when they're off duty?
It's that time of year again! Super Bowl Sunday (heading into Super Bowl Monday morning for UK watchers) is back for 2020. You could argue that it's the biggest American sporting event of the year. It had a TV audience of around 98.2 million in 2019! And, with a viewership like that, some of the world's biggest companies will "shell out the big bucks" for an advert in the big game. Automakers like Audi, Nissan & Mercedes-Benz are among the brands to have showcased ads at the Super Bowl, some were big hits, some a little more controversial. To raise the anticipation for Sunday, we've looked back on some the most famous Super Bowl car adverts of all-time.
Nissan: With Dad
A potential tear-jerker! The 2015 advert follows an up-and-coming racing driver on his journey to the "highest levels of motorsport" whilst balancing work and family life. We'd tell you how it ends, but you need to see for yourself! After the ad debuted, Nissan took to Facebook, YouTube and Twitter to encourage viewers to share their #WithDad stories. What's yours?
Mercedes-AMG GT: Fable
Slow and steady wins the race, right? The Mercedes-AMG advert tells the well-known tale of the Tortoise and the Hare, with an extremely clever plot twist. The automaker puts a "modern spin" on the classic fable to flaunt the "hair-raising power and performance" of the Mercedes- AMG GT.
Audi: Daughter
In 2017, Audi America announced that they are "committed to equal pay for equal work" in an advert that "divided viewers". Daughter follows a young girl racing against boys in a soapbox derby. But the controversy was within the script, where the girl's father, voiced by Peter Jessop asks:
"What do I tell my daughter? Do I tell her grandpa is worth more than her grandma? That her dad is worth more than her mom? Do I tell her that despite her education, her drive, her skills, her intelligence, she will automatically be valued as less than every man she meets?"
Spoiler, the girl wins the race and the father concludes: "Or maybe I'll be able to tell her something different".
Audi: The Chase
No other car will do the job! The Chase showcased at the Super Bowl in 2009. It follows action film star Jason Statham as he jumps forward through time in a car chase "that takes him from one decade's getaway vehicle to another". The cars get better and faster over time, and of course, Statham ends his car chase in an Audi before the strapline "Progress is Beautiful" concludes the advert.
What famous Super Bowl car adverts do you remember? Get in touch on our LinkedIn page or Facebook and let us know!
And for some bonus content, check out our article on our favourite car adverts of all-time!
This weekend is the "most important holiday in the Chinese calendar", Chinese New Year.
2020 is the year of the 'metal rat', with the last year of its kind being in 1960. People born in 'metal rat' years are said to have "exceptional taste" and know how to "be thankful for the finer things in life".
To mark the occasion, we we've taken a look at the most "exceptional"  Metal Rats of the automotive industry – in terms of their power anyway…
Hatchback: Mercedes AMG A45 S
The A45S "raises the bar" when it comes to power and is said to be "completely worth" the £50,000 price tag. The hatchback delivers an impressive 421hp engine and "a drift mode that'll put a smile on your face". It offers massive performance and boasts an 8/10 rating from TopGear, could it get any better?
Electric Saloon: Porsche Taycan Turbo S
The Taycan Turbo S has been the talk of the town ever since its debut in 2019 and it's no secret that Porsche's electric vehicle is one of the most anticipated cars of 2020. Despite being completely electric, the model flaunts a crazy 751hp and can reach 0-60mph in just 2.6s. And it's zero-emission, what's the catch?

Supercar: Koenigsegg Regera
The Regera was described by TopGear as the Swedish automaker's "masterpiece" and "the most insane luxury car on Planet Earth", which isn't the sort of statement you just throw around. The supercar has an insane 1,379hp engine and is "crushingly fast and complex" and broke the 0-249-0mph world record last year.

4×4: Jeep Grand Cherokee Trackhawk
In terms of powerful cars, this one's a winner. The Grand Cherokee Trackhawk has been branded by Jeep "the most powerful SUV on Earth" which offers a "mind-bending experience". The "supercharged" V8 engine has a maximum power of 710hp a 0-62 mph time of 3.7s. Tempted?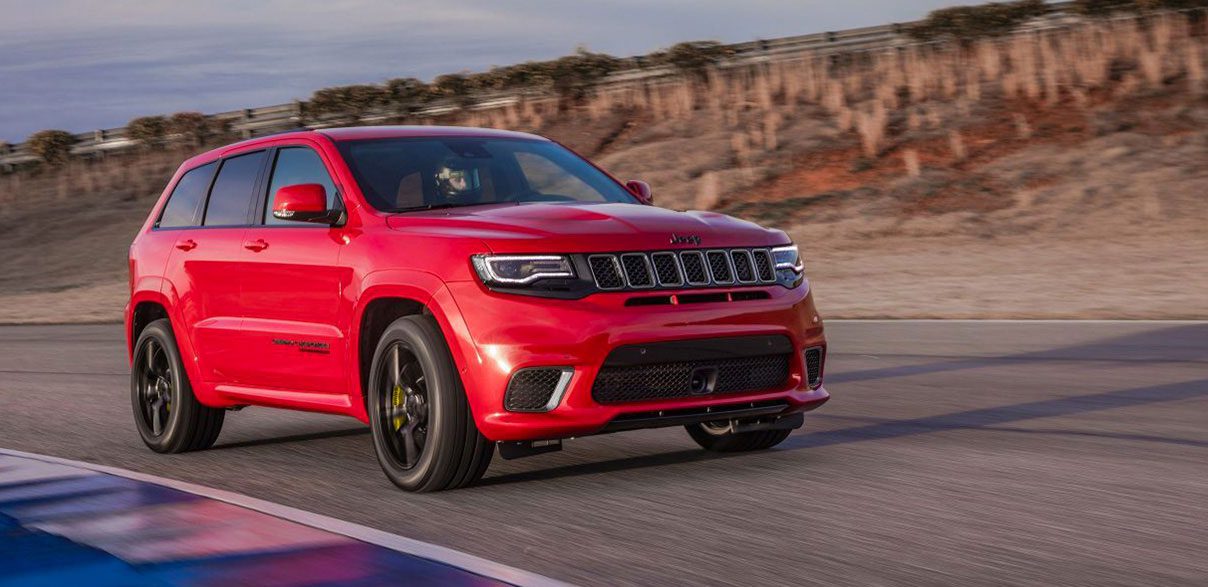 What are the most powerful cars you've ever driven? Get in touch on our Facebook, LinkedIn and Instagram to let us know!
Other articles you might like:
Oracle Finance's Fantasy Car Garage
Oracle Finance's Top 8 Favourite Classic Cars
Are These The Most Unfortunate Car Names Of All Time?
It's important to us that we stay up to the date with the latest news updates, so you don't have to. Here at Oracle, we try our best to provide expert knowledge to our customers. So, this week, these three industry news updates caught our eye…
This week, PistonHeads shared a 15-minute video of Mate Rimac talking about the trials and tribulations of building a hypercar. The PistonHeads team described the young entrepreneur as "one of the industry's most exciting figureheads" in an article to support the video about "a bright idea into a real world-success".
The Aston Martin Jet 2+2 is the one-off concept car commissioned by Aston Martin aficionado, Barry Weir. The car is also the last ever car to be built by the "legendary Italian firm", Bertone. When the car was first revealed at the Geneva Motor Show it received an incredibly warm reception, and rumours sparked that Aston Martin and Bertone were in talks about a limited production run of the Jet 2+2. But that idea never came to be. Fast forward to 2020, the renowned Aston Martin collector, Barry Weir, is selling the custom Aston Martin, and the tools to build another.
TopGear reported the first mid-engined Corvette was sold for $3 million at auction last weekend. The lucky new owner of the C8 corvette is NASCAR team-owner Rick Hendrick, who is a "proper collector who also owns the first Heritage Edition Ford GT, the first new-model Acura NSX and first C7 Corvette ZR1 among others". How much would you pay for a car like this?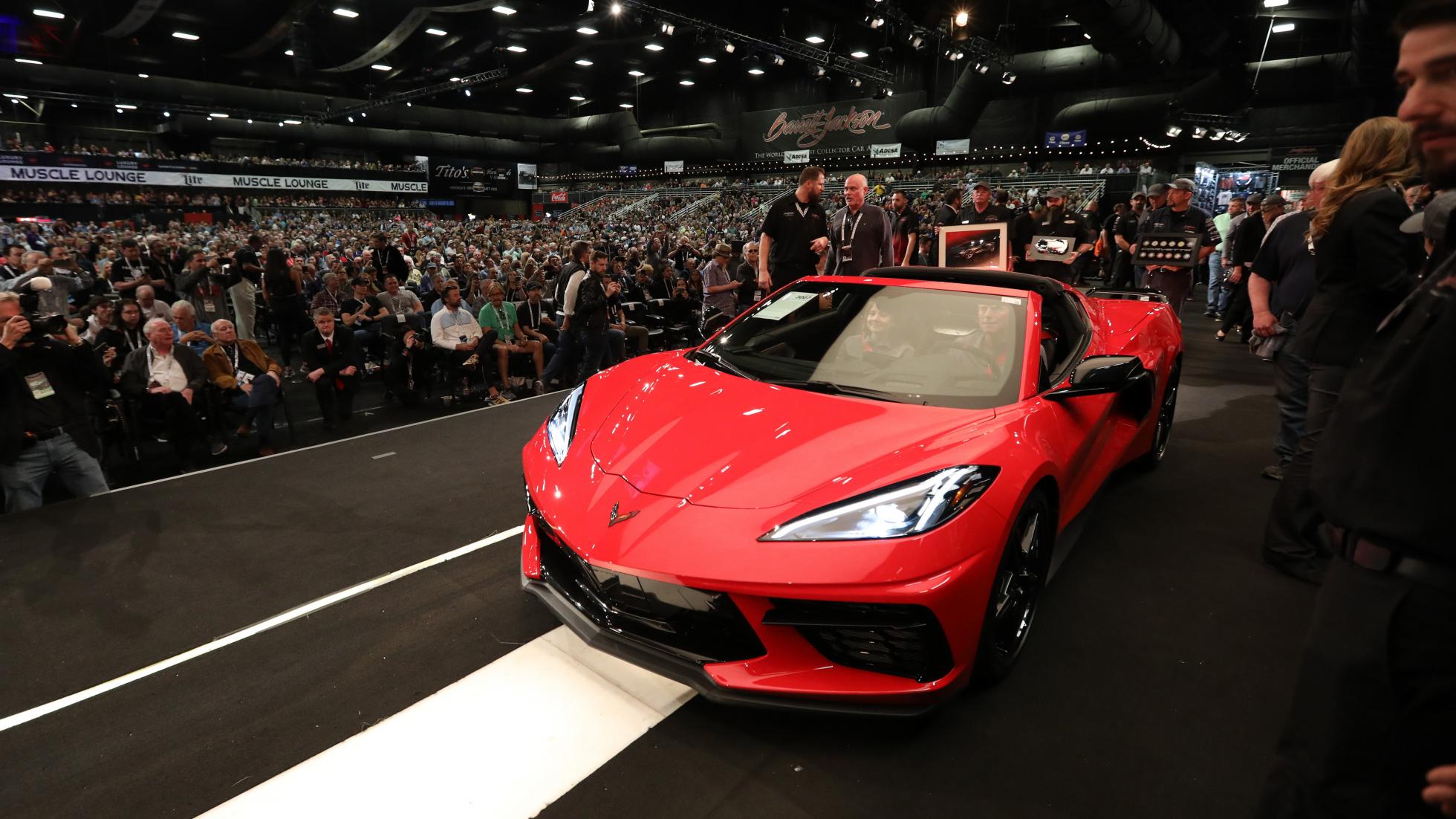 Other articles you might like:
Oracle Finance's Fantasy Car Garage
Oracle Finance's Top 8 Favourite Classic Cars
Are These The Most Unfortunate Car Names Of All Time?
Welcome to part one of our three part series covering Team Oracle's favourites places to drive in the UK.
We've been experiencing some glorious weather for a January, prompting the Team to look forward to their summer road trips and reminisce about the best roads they've driven in the UK.
First stop… Scotland!
Dumfries to Auchencairn
The journey will take just under one hour to complete, and you'll enjoy views of open countryside. As you enter Auchencairn, you'll see the land drop off into the Irish Sea.  Our Sales Receptionist Emily described the scenery as "absolutely stunning" and "the kind of place you can imagine car adverts being filmed!". It sounds like the ideal spot to roll down the roof on a cabriolet and enjoy the summer breeze.
Isle of Arran
Account Manager Tom suggests jumping on the ferry and heading to the Isle of Arran. Once there you can drive a 56 mile circular road around the Scottish Island, taking approximately two hours. You'll have to be careful to keep your eyes on the road though, as on the right you'll have incredible views across the Frith of Clyde to the Scottish Mainland. On the left, you'll see the impressive mountainous landscape of the Isle of Arran. There's plenty of opportunities to pull over and take a quick picture of your car with the dramatic backdrop.
Crianlarich to Corran
Starting in the village of Crainlarch AKA 'The Gateway to the Highlands', this trip only takes place on a single road… the A82. If you think travelling one road would be boring, you'd be wrong. Spanning 42 miles, there's a whole host of different landscapes. From encroaching mountains to open land filled with rivers and Lochs. Senior Account Manager Oliver suggests a Ferrari Portofino would be the perfect car for the journey. With large stretches of the road being flat, its perfect for putting your foot down and letting the V8 engine do it's thing. Imagine the sound!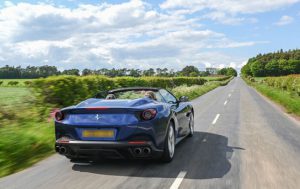 Kyle of Lochalsh to Applecross
Clare from our Business Control Team is taking us deep into 4×4 territory, especially in winter weather conditions. You'll start the journey on the Northwest coast of the Scottish Highlands, with moody views across Loch Alsh. From there you rapidly start to climb the steep winding roads. The higher you get the more breath-taking the views across the Highlands become. But what goes up, must come down! The trip ends as you descend into Applecross and pull by the beach, overlooking the Inner Sound.
Have you got a favourite road to drive in the UK? Get in touch on our LinkedIn or Facebook page and let us know!
Keep your eyes peeled for our second feature on the best UK roads to drive next week.
Other articles you might like:
What do Formula 1 Drivers drive when they're off duty?
Top 5 Most Comfortable and Convenient Luxury CarsRemove featured image
What's the most fun car you've ever driven?
In 2019, we brought you weekly car industry news updates filled with features that we know you'll love. So we're kicking off 2020 in exactly the same style! This week has been a busy one in terms of automotive news…read on for more:
This year, the Morgan Plus Four is celebrating its 70th anniversary with a special edition roadster. The classic car manufacturer will release a batch of 20 uniquely specified Plus Fours. The platinum anniversary vehicle will be finished with platinum finish, black detailing and gold-painted chassis. Inside, the cars will have heated "performance" seats trimmed in black leather and fascias finished "in a wood so dark that the brand's design boss describes it as 'almost piano black'".

This week, multiple media outlets got to test drive the all-new Aston Martin DBX prototype. It's the British car manufacturer's first-ever SUV, and apparently, it was worth the wait. The PistonHeads team flew to Oman to test the DBX, and described it as somewhere that conveys glamour and adventure. "Aston couldn't have picked a better place to make the DBX look heroic". So far, the sport utility vehicle has had an incredible response on Facebook, one fan commented that they hope to see one in a future Bond movie. Do you agree?
The good news just keeps on coming for Rolls-Royce! The British manufacturer "smashed" its car sales in 2019, which has sparked speculation that there are "better times ahead" for the British motoring industry. This comes after the British manufacturer stated that the 'black badge' version of their cars has helped to reduce the average Rolls Royce owner's age by 13 years to just 43. According to their Chief Exec, it's a "cooler, darker, more menacing, edgy proposition, [aimed] especially towards younger clients".
Other articles you might like:
Oracle Finance's Fantasy Car Garage
Oracle Finance's Top 8 Favourite Classic Cars
Are These The Most Unfortunate Car Names Of All Time?
Have you ever wondered what the best racing drivers in the world drive?  Both on and off the track, they don't disappoint!  We've been researching our favourite F1 racers to find out more about their pride and joy when they're off duty.
Lewis Hamilton
As you'd expect, the 6 time Formula 1 World Champion has a vast collection of cars.  From a 1966 Shelby Cobra 427 to the Ferrari LaFerrari. Hamilton is most famous for flying through the streets of Monaco in his Pagani Zonda 760. The car is estimated to be worth a cool $1.4 million.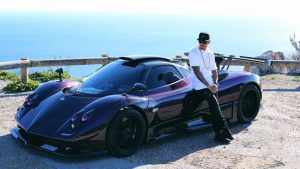 Carlos Sainz
The 24 year old celebrated his first Formula 1 podium by taking delivery of his custom Mclaren 600LT Spider. The car looks sleek in dark sliver with bright orange brake calipers. The inside features carbon fibre seats and bright orange seat belts to match.
View this post on Instagram
Jenson Button  
2009 was a big year for the former racer. It's the year he won his first and only World Championship. As well as buying one of only 200 Bugatti Veyron's that were available at the time. Even back in 2009 the Veyron came with an eye-water price tag of £1,000,000.
Sebastian Vettel
Unsurprisingly, Ferrari's number 1 driver has an incredible collection of Ferrari road cars. The standout is his classic F40. Previously owned by world famous Italian Opera singer Luciano Pavarotti (we can just imagine him singing 'Nessun Dormer' flying round the streets of Modena). Vettel's F40 is estimated to be worth up to £2,000,000.
Max Verstappen
The Dutch youngster was racing his 200+mph Formula 1 car a year before he had a driving license. Verstappen passed his driving test on his 18th Birthday. His first car was….a Renault Clio, as his father insisted he should get experience in something sensible! However, less than a year later, Verstappen took his first Formula 1 race victory and celebrated by upgrading to a Porsche 911 GT3 RS. Not a bad upgrade for the then 18 year old! Bet the insurance on that was a shocker!
Fernando Alonso
Currently competing in the Dakar Rally.  The former two times World Champion is well known for his car collection. The rarest in his collection is the Ferrari 599 GTB Alonso Edition. Named after the racer, only 40 of these cars were ever produced.
Here at Oracle Finance, we speak to customers every day who tell us fascinating stories about previous owners of their cars!  This is one of the best parts of the job – there's so much emotion associated with your car biography.  If you'd like to chat cars (or previous owners), feel free to give us a call on 0800 0126666
Other articles you might like:
Oracle Finance's Fantasy Car Garage
Oracle Finance's Top 8 Favourite Classic Cars
Are These The Most Unfortunate Car Names Of All Time?
There's plenty to consider when looking for your next car. How does it look? What spec does it have? And obviously, what about performance? But putting all those immediate questions to one side, you've also got to know how comfortable it is. Whether you drive for an adrenaline rush or just the daily commute, comfort is a key factor.
In this article, we've considered everything from heated steering wheels to touch screens.  So get comfy and check out our top cars for creature comforts.
Audi A6
It may not be the most fun drive you'll ever have, but it'll definitely be comfortable. Top Gear rated the A6 an impressive 8 out of 10 for its "superb interior". The interior hosts a version of the MMI Touch interface that debuted on the A8 and has since been fitted to the A7 and the Lamborghini Urus. It goes without saying that the A6 has heated seats, which in 2020, is surely a necessity?!  But our favourite thing about this car is that reviewers describe it as a "smooth drive" with a tuned suspension so "the car doesn't feel stiff at low speeds" – rush hour traffic during the commute just got a little less painful!

Mercedes-Benz E-Class
The E-Class has a smart yet comfortable interior which makes it the perfect option if you want the best of both worlds. Leather seats and heated steering wheels give it a great balance between luxury and comfort. The Mercedes-Benz E-Class has some special little luxuries such as the seats, steering column and exterior mirrors being power adjustable.   If your spec includes the memory package, your E-class will even remember your preferences. So, if more than one driver uses the car, you'll spend less time adjusting everything before you can have fun driving.

Genesis G70
The G70 "redefines" driver needs and expectations and is the best choice if you want to make a statement. The car is integrated with "athletic styling, performance and smart technology" and was ranked #1 in its class, in its first year off the production line. Gear Patrol described the G70 as "a four-door car with a comfortable ride, a luxurious interior and a whole bunch of high-tech driver assistance and convenience features". What more could you want?

Lamborghini Huracan
You may be surprised to see the Huracan on this list. The Huracan may not be the most comfortable car you've ever driven, but it does offer features for your convenience. Lamborghini recently announced that they'll soon be the first car manufacturer to integrate Amazon Alexa in their vehicles. The virtual assistant will allow drivers to adjust functions such as navigation and heating and will even open your garage door. The Italian automaker claims that by integrating Alexa in the 630bhp V10-powered Huracán Evo, they will be breaking new ground by being the first company to incorporate a connected infotainment system with digital services in a supercar.
Tesla Model S
If you're in the market for something greener, the Model S should be at the top of your list. WhatCar rated the interior four out of five stars, for its forward-thinking technology throughout the vehicle. The publication said that "finding a comfortable driving position in the Model S is easy" and driving in it is even easier. "But it's the effortless delivery of that pace when you're in the flow of traffic that makes the 75D so relaxing to drive".
What's the most comfortable car you've ever driven? Get in touch on our LinkedIn page or Facebook and let us know!
Other articles you might like:
Best motoring books to gift this Christmas
Oracle Finance's Driving Home for Christmas Playlist
Our Favourite Top Gear Christmas Specials
Oracle Finance's Fantasy Car Garage
In 2019, we brought to you weekly updates of the most exciting news in the car industry. From flying taxis to exciting movie trailers! We like to stay up to date with the latest car news in order to provide our customers with expert knowledge. To round up the year, we thought we'd look back on our top three news stories from 2019.
If there's one thing to look forward to this year, it's the newest sequel to the Bond franchise. In 2019, the first-ever trailer for No Time to Die was released, and the countdown began. No Time to Die follows Bond on a mission to rescue a kidnapped scientist, but it turns out to be "far more treacherous". The film stars Rami Malek, Léa Seydoux and of course Daniel Craig. But if that's not enough to excite you, you can also expect to see these four Aston Martins taking a starring role…
2019 was a busy year for Porsche, from designing a Star Wars spaceship to unveiling their all-electric Taycan. Last year, they also debuted a luxury catamaran, named Royal Falcon One.  Business Insider gives us a peek into what took Porsche designers a whole decade to make. It can accommodate up to ten guests with five guest rooms and a master suite with a private deck!
This November, Ferrari unveiled 'The Roma' in a bid to "tap into a new customer base". The new supercar has been branded the 'less intimidating car' for the luxury SUV generation and has been described as "a Formula One car in evening dress" with its simplistic shape.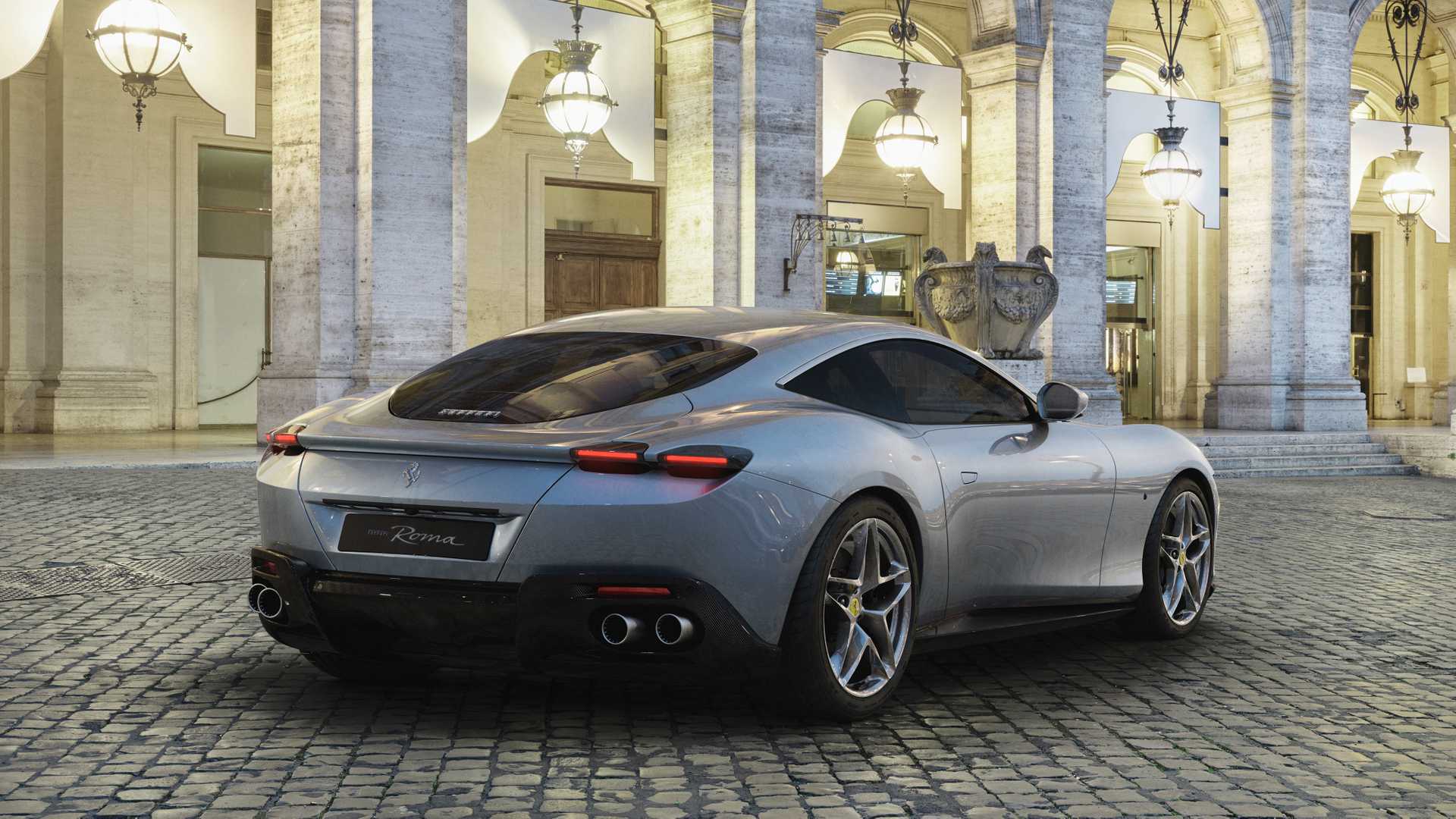 What are your favourite news stories from 2019? Get in touch on our Facebook and LinkedIn to let us know!
Other articles you might like:
Best motoring books to gift this Christmas
Oracle Finance's Driving Home for Christmas Playlist
Our Favourite Top Gear Christmas Specials
Oracle Finance's Fantasy Car Garage
Last year, we published various guides to buying a car, from fun cars to vehicles perfect for your dog. Now that we're completely settled into the new year and the kids start going back to school, it's probably time to start thinking about what you're travelling in. There is a lot to think about when choosing a car, however – whether you're looking for boot space, aesthetics or how many car seats can fit in the back. Luckily for you, we've compiled a list of the top five cars that we'd recommend for the school run.
Audi S4 Avant
Described by TopGear as "the only car you'll ever need", the S4 Avant is not only great for the family, but it's a fast and fun drive.

Mercedes-AMG G63
The luxury 4×4 to end all 4x4s. If you're someone who likes the advantage of space and style in your car, the G63 is perfect. It's not only huge, but the Telegraph described it as "the king of bling" in the SUV world. All hail! If you're looking for something a bit mean, but equally as spacious, then we'd recommend this one.

Tesla Model X
The greenest way to travel on the school-run, besides walking or cycling. The Tesla Model X has seven seats and was described by Top Gear as "a thoroughly capable family wagon". The Model X is a perfectly practical car, with a hidden surprise. The falcon doors could be seen as a gimmick, but we think it'll just make it easy to get the car seats in and out!

Porsche Cayenne
The Cayenne is a main player in the sports utility world and if you're in the market for an SUV, you probably don't need much convincing when it comes to buying one. If you're a Porsche fan waving goodbye to your sports car for the school run (or for the winter), the Cayenne is the perfect alternative. It's still fast (top speed: 152mph) and is a luxury car with room for the whole family.

Bentley Bentayga Speed
The British manufacturer claims that their Bentayga Speed is the "the world's fastest SUV delivering an unmatched balance of phenomenal power and exquisite levels of craftsmanship". That's quite a statement! And you'll never be late on the school-run again! The Bentayga Speed flaunts 626 bhp and a maximum speed of 190mph. Not to mention the intelligent tech design "specifically designed to elevate the stirring driving experience".
Have we convinced you yet? If you're looking to finance a new car just before the 2020 school run, we're open until 8pm Monday – Thursday, until 6pm on Fridays and 4pm on Saturdays!
We are a credit broker, not a lender. Oracle Asset Finance Ltd is authorised & regulated by the Financial Conduct Authority (Financial Services Register No. 662576) for the sale of consumer credit. For more information, please visit www.oraclefinance.co.uk
Clearing out your social media? It's the time of the year where everyone's doing a bit of housekeeping. Whether that's deleting Facebook 'friends', or purging your Instagram following list. So, we thought it would be a good idea to help filter your timeline by giving you five of our favourite automotive Instagram accounts.
What's your favourite colour? The account is dedicated to only posting photos of green cars. The page has been running since January 2018 and features cars in every shade, from lime to sage. The colour coordinated grid also makes a very satisfying scroll…
View this post on Instagram
Wouldn't it be nice to travel the world in a Lamborghini Diabolo or a Porsche 993 from the comfort of your own home? Thanks to Alex, you can. Penfold is a travelling photographer capturing the rarities of the car world. Follow for Koenigsegg Narayas, Aston Martin Vanquish Zagatos and more.
View this post on Instagram
Who knew Yorkshire had so many jaw-dropping supercars? The account is predominantly based in and around the North Yorkshire town of Harrogate (nice and local to Oracle HQ!). The account is filled with photos of supercars spotted out in the wild.
View this post on Instagram
For your daily dose of Porsches! Arvin Finger is founder of "one of the largest adventures pages on Instagram & Facebook". But he dedicates his personal page to stunning images of Porsches. If the photos don't make you want to buy a Porsche, we don't know what will!
View this post on Instagram
The page "captures the machine" beautifully as well as by playfully experimenting with light and colour. If you prefer a more abstract look into cars, this is the account for you!
View this post on Instagram
Is it against the rules to include your own page? It'd be rude not to! As a bonus contender, @OracleCarFinance is dedicated to sharing luxe images of prestige cars, as well as a few inspirational car-related quotes here and there too!
View this post on Instagram
Other articles you might like:
Best motoring books to gift this Christmas
Oracle Finance's Driving Home for Christmas Playlist
Our Favourite Top Gear Christmas Specials