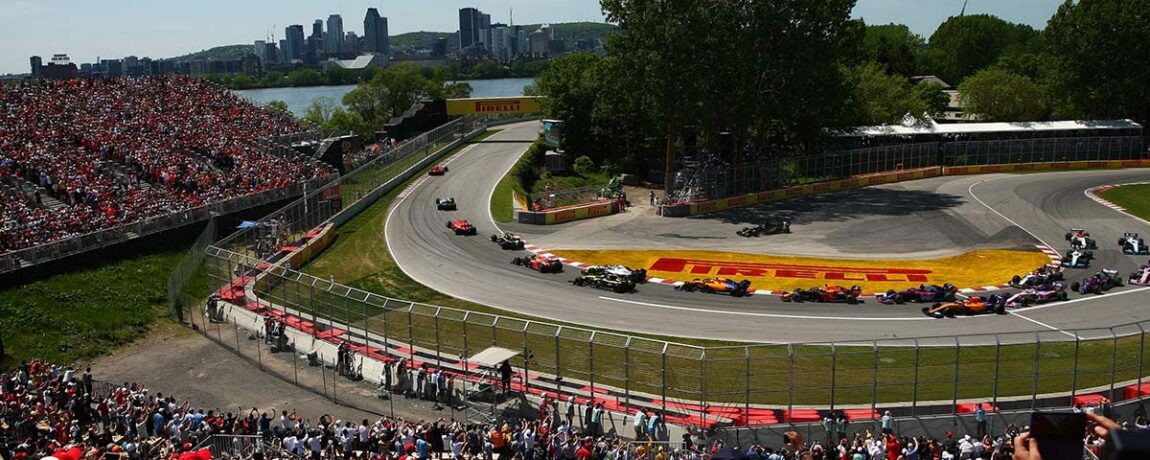 2023 Canadian Grand Prix Roundup
The Formula 1 schedule took the teams back across the pond (not helping the sport's carbon footprint with that scheduling decision) for Round 9 of the 2023 championship to the famous Circuit Gilles Villeneuve in Montreal, Canada. The track is liked by drivers for its street circuit feel with close walls, tight corners and overhanging trees, yet unlike a lot of street circuits the long straights preceding the tight corners mean it is also a great place for overtaking.
It was also host to arguably one of the greatest races Formula 1 has ever seen in 2011. When a rain affected race, suspended after 26 laps and resumed two hours later, saw Jenson Button, who started in 7th place on the grid, down to last place by lap 37 after a collision with teammate Hamilton and then Alonso, fight his way back through the grid and eventually pass race leader Vettel on the final lap to take an amazing race victory in his McLaren.
The unpredictability and probability of rain mean that drama is never far away in Canada and this years' qualifying was true to form. After the drama of the last 2 Rounds' Qualifying sessions, the varying conditions and partly damp track meant that it was anyone's guess who would come out on top this time around.
Qualifying
Qualifying was a mix of deciding whether to use the slower Intermediate tyres and drivers risking their chances on slicks to see which would give the best lap times. Conditions were changing half way through each session so there seemed to be no right or wrong tyre choice throughout each Qualifying, and trial and error was the only way to go.
Q1 gave up the first surprise result as Pierre Gasly, following his exceptional Qualifying performance last time out, could only manage P17 and joined Zhou Guanyu, Sargeant, De Vries and Tsunoda out in the first Qualifying session. The varying conditions of Q2 meant that those adopting the slick tyres early on in the session managed to experiment enough to really get results over those who waited till later on. The changeable conditions managing to catch out Leclerc, Perez (again), Stroll, Magnussen and Bottas who failed to make Q3. The Williams of Albon coming out on top of Q2 for the surprise performance of the year so far in Qualifying.
Could Albon pull off an incredible result in Q3 and challenge for the front row? Sadly we never got to find out. Early laps by everyone but the Williams driver were enough to sort out the grid positions as a crash by Piastri brought Red Flags and an abrupt end to the final Qualifying session. Verstappen recorded yet another pole position, over a second ahead of Hulkenburg and followed by Alonso, Hamilton, Russell, Ocon, Norris and Sainz for the top 8.
Unfortunately for Sainz, Tsunoda and Stroll, they were each given 3 grid place penalties for impeding other drivers during Qualifying. But it was Hulkenberg who would be most disappointed after also receiving a 3-grid place penalty for a Red Flag infringement during the final qualifying session, promoting Alonso to the front row beside Verstappen.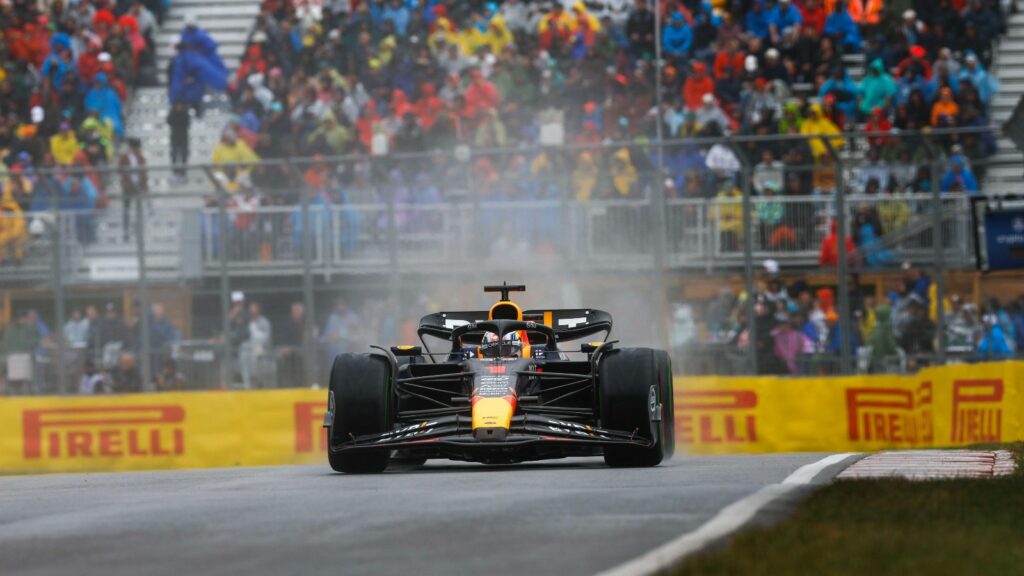 The Race
Time for 'lights out' and with an almost completely dry track offering potentially less drama for the race ahead. Verstappen continued with his strong starts to remain in first place to the first corner, Hamilton took advantage of a better start than Alonso to take P2, whilst teammate Russell was unlucky to not follow him through and had to settle for P4 after the first couple of corners.
Verstappen managed to open up a lead outside the DRS window almost from the off meaning he was free of a challenge from Hamilton very early on. Teammate Perez was lucky to avoid a collision with Sainz after the Ferrari bounced over the kerbs and then to avoid Magnussen a few corners later after he out-braked himself.
Alonso brushed off a collision with the wall at Turn 4 to thankfully avoid damage and set off in pursuit of Hamilton for P2. Verstappen himself also lucky to continue after a collision a few laps later, however this time it was with a bird, much more forgiving it would seem than a wall. Russell would find this out to his cost as he hopped over the kerbs on Lap 12 and could do little to avoid a hefty collision with the wall at Turn 9 damaging a rear wheel and his front wing in the process and causing a trail of debris that prompted the Safety Car to appear.
The front runners took advantage by diving into the pits and retained their places whilst Leclerc, Sainz, Perez, Magnussen and Bottas stayed out to promote themselves to P4 onwards. Russell meanwhile was lucky to be able to continue after changing the front wing and his tyres despite him reporting the car was 'a bit bent, but it's okay'. This change however meant he was now in P19 and his chances of repeating the Mercedes podium places from the last round more than a fading hope.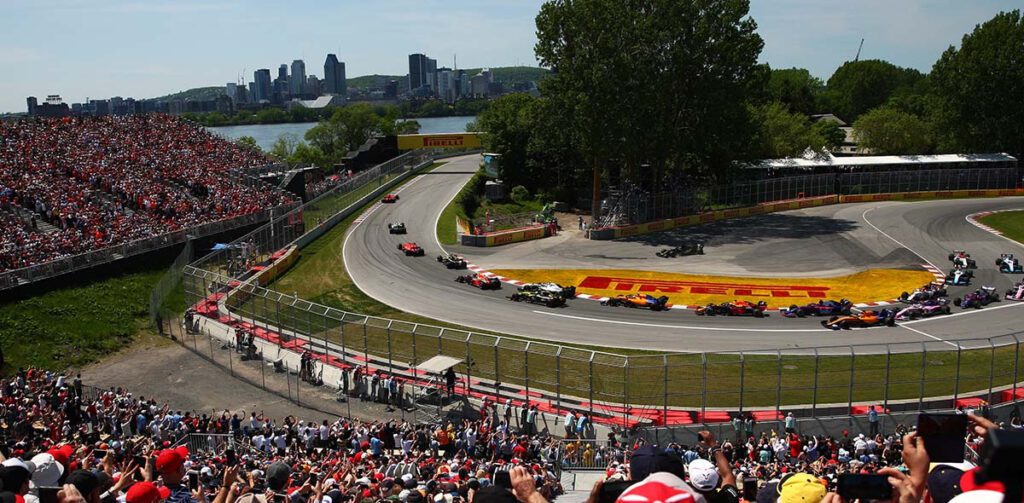 Resuming after the safety car, Verstappen continued to extend his lead at the front, whilst Alonso took advantage of advancing on Hamilton and took P2 down the back straight, with little the Mercedes driver could do to then keep up with the Mercedes powered Aston Martin car. Awkward.
A bizarre decision from the stewards followed with Lando Norris, arguably the nicest and most polite driver on the grid, given a 5 second time penalty for 'unsportsmanlike behaviour' having been deemed to be driving too slow during the Safety Car period in order to allow his McLaren mechanics to 'double stack' their cars and change both their cars' tyres one after another.
The first of the 'non-pitters' was Perez on Lap 38, looking to undercut Sainz and Leclerc, however the Ferrari pair themselves pitted soon after to restore the order to the way it was previously. Hamilton was the first of the front runners to follow suit, followed again by Alonso and then Verstappen to ensure that the front 3 also held on to their respective positions.
The Medium tyres that Hamilton had opted for proving to be a good decision as Alonso had been told to 'lift and coast' on his Hard compound tyres with 20 laps remaining, meaning the Mercedes driver was beginning to close on his old foe. Teammate Russell had managed to fight his way back to an impressive P8 at this stage and despite his damaged car, was firmly in the points and gaining on Albon in his Williams. This, however, was short lived as his team told the Brit to retire the car after safety concerns regarding the brakes following his substantial collision with the wall earlier in the race.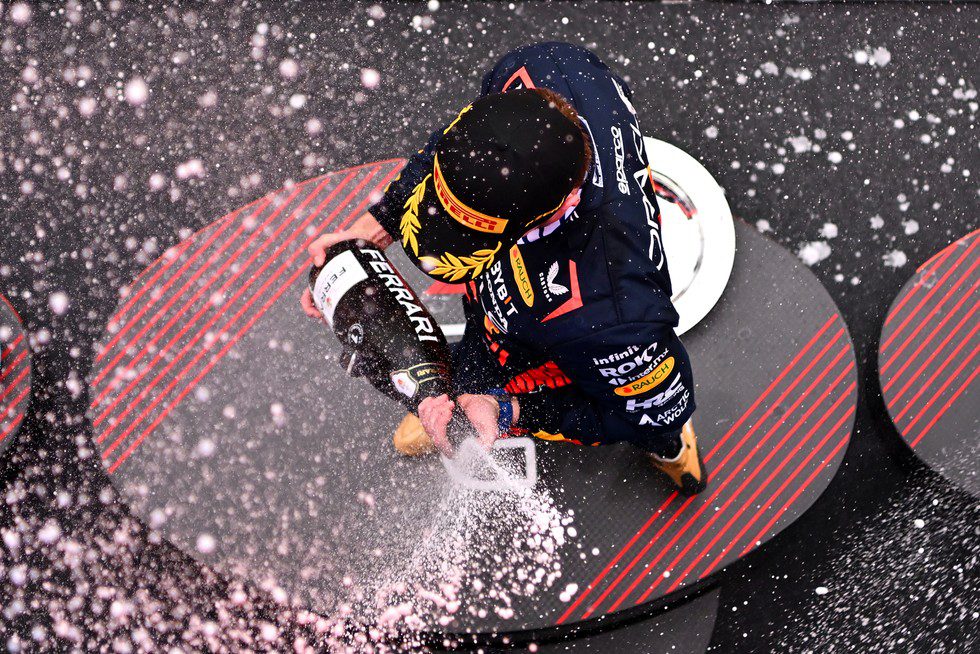 The Results
Verstappen, despite a few niggles firstly colliding with a bird, then a few painful bounces over the kerbs had a largely trouble free race and came home almost 10 seconds ahead of the rest by the time the chequered flag was waved. Hamilton managed to get to just over a second behind Alonso before the Spaniard was able to push once again and keep the 7-time world champion at bay, ultimately finishing 4 and a half seconds ahead of his old teammate.
Leclerc and Sainz rounded off a difficult weekend for Ferrari with P4 and P5, surely something they would be happy with in the end. Perez recovered from another Qualifying nightmare to finish in a well earned P6, whilst Albon stormed to P7, which on the face of his Q2 performance must have felt he could have done even better in the Williams if conditions would have been as unpredictable as Qualifying. Ocon was P8, Stroll ended a difficult race in P9 ensuring another double points finish for Aston Martin, and Valterri Bottas showed that consistency was the key taking the last of the points in P10 in his Alfa Romeo.
The win for Red Bull was a landmark victory as their 100th in Formula 1, as well as a notable victory for Vestappen himself with his 41st race win drawing him level with the great Ayrton Senna. The former Alpha Tauri driver who was promoted to the Red Bull team now in joint 5th in the all-time list, behind Prost, fellow Red Bull multiple World Champion Vettel, Schumacher and Hamilton.
The Standings
Yet another strong performance from Max Verstappen and a slip up in Qualifying for teammate Perez meant that he extended his lead at the top of the standings to 69 points. Alonso extended his lead over Hamilton to 15 points, with the Spaniard just 9 behind Perez after a fantastic second place in Canada. Sainz is now 3 points ahead of Russell after his unfortunate retirement, with teammate Leclerc 11 behind him. Stroll, Ocon and Gasly now rounding up the top 10 places.
In the constructor's standings, Red Bull remain in first place ahead of Mercedes and Aston Martin, with Ferrari having some work to do to keep up. Alpine seemingly competing against themselves for best of the rest in 5th, with McLaren some way behind in 6th. Alfa Romeo, Haas, Williams and AlphaTauri still on single figures despite a promising performance from Williams this time around.
Next up is a trip back across the pond to Austria at the Spielberg Red Bull Ring in 2 weeks' time for the Austrian Grand Prix on July 2nd. Should we expect anything less than a Red Bull victory at the Red Bull ring? The others seem to be closing in but it is still very much advantage Red Bull, certainly advantage Verstappen, and you would be bold to bet against him when the racing returns to Europe.
Find out more about the race and the calendar for the 2023 season here: F1 – The Official Home of Formula 1
Make sure you follow us on Instagram, LinkedIn and Facebook to keep up to date with what's happening with all things Oracle Finance.

Ready to know more?
Let Us Put You in the Driving Seat
Whether you're looking to arrange the finance on your next car, refinance an existing agreement or release equity from your current vehicle, your dedicated Account Manager will find a funding solution that's perfectly tailored to your needs.