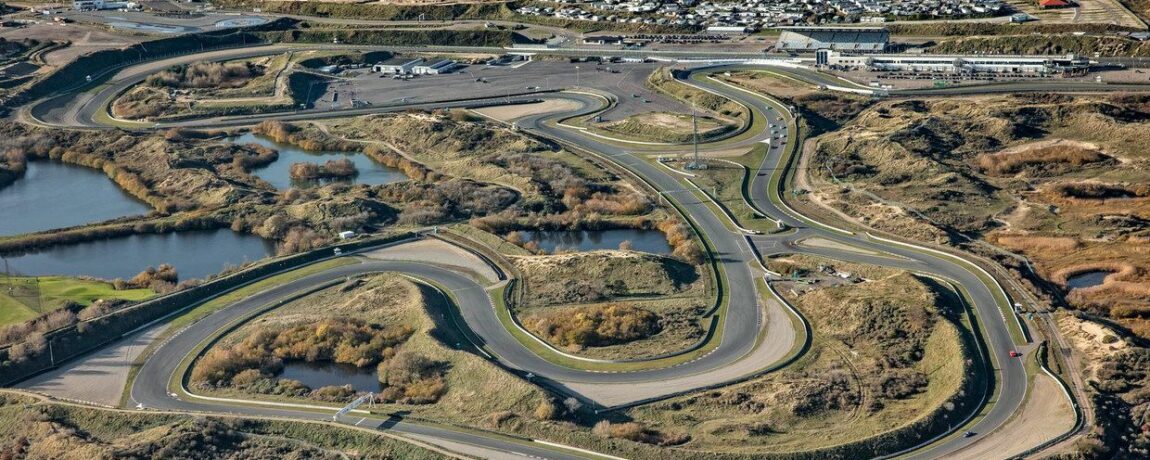 2023 Dutch Grand Prix Roundup
The summer break gives the drivers a chance to recharge and take a break from the intense rivalry and on track action. It usually involves social media posts of them sunning it up in an exotic location, taking part in some other form of racing exploits or giving an insight into their private lives when they're not in a driver simulator or on the track. This year was no exception, but surely the highlight was Valtteri Bottas competing in a 100-mile gravel cycling race dressed as Duff Man from the Simpsons, and winning his weight in beer in the process.
The first race back was one of the most unusual on the calendar, the Dutch Grand Prix at the historic Circuit Zandvoort. In order to meet the latest regulations the track added banking to two of the corners in addition to the camber that much of the track already had, enabling it to become a fixture to the calendar from 2020.
Home favourite Max Verstappen was looking for his third victory in a row at the circuit, his 9th consecutive race win in a row which would equal Sebastian Vettel's consecutive race victory record, and on recent form you wouldn't bet against it. Surely only unpredictable weather would be able to stop the charging Red Bull team, but since the circuit overlooks the North Sea, there was every opportunity that it would play some part over the weekend.
Qualifying
After a very rainy start to the day but with the sun starting to show, Qualifying began with Intermediate tyres all round with drivers keen to get out and get some early laps in should the rain reappear during the session. Norris set the early pace in his McLaren with teammate Piastri close by in second, yet it was Albon who ended the session top in his Williams. Verstappen, Piastri, Norris and Sainz rounded out the top 5 whilst Q1 saw the elimination of Zhou, Ocon, Magnussen, Bottas and Ricciardo's stand in since he broke his wrist, reserve Williams driver Lawson.
Q2 also started on Intermediate tyres as despite the track drying out a bit, there was still a threat of rain at some point. Norris and Verstappen traded fastest laps early on at the front, the upgrades to the McLaren proving to be a great success already. Albon had another strong showing and was lining up to top the session yet again until a flurry of late laps saw Verstappen return to the top and Piastri to P2, with Albon now in P3, still a fantastic effort thus far by the Williams driver.
Alonso, Leclerc and Russel completed the top 6 for Q2 yet the surprise of the session was an exit and P13 for 7-time world champion Lewis Hamilton. His early lap time on an ever drying track meant that the later times were lighting up the timing sheets and he was dropping down the order all the time. He joined Stroll, Gasly, Tsunoda and Hulkenberg in the elimination zone, with Logan Sargeant making it into Q3 for the first time in his career. A fantastic showing by the Williams team.
When Q3 began, the Williams drivers of Albon and Sargeant, along with Russel and Sainz decided it was time to try Soft tyres, with the remainder of the field sticking to Intermediates for the time being. A step too far for Sargeant as Williams' good fortunes ran out and he left the track and hit the barriers at a still damp Turn 2 causing an 8-minute delay to proceedings.
When the action resumed, without Sargeant, the track was drier still prompting the whole field to resume on Soft compound tyres. McLaren continued their strong performance early on with a 1-2 for Norris and Piastri, Verstappen managing P3 before Leclerc caused another red flag when he went off at Turn 9.
Q3 resumed with four minutes left on the clock and a mad dash to get a flying lap or two in before time ran out. Verstappen showed why he's so strong around his home circuit by taking pole position from Norris by over half a second, a huge margin in the end. Russel took P3 to offset some of Hamilton's disappointment for Mercedes, with Albon finishing P4 and a great result for Williams. Alonso would line up P5, Sainz P6, Perez P7, Piastri perhaps disappointed to end up P8 and Leclerc and Sargeant's limited time in Q3 meant they would be P9 and P10.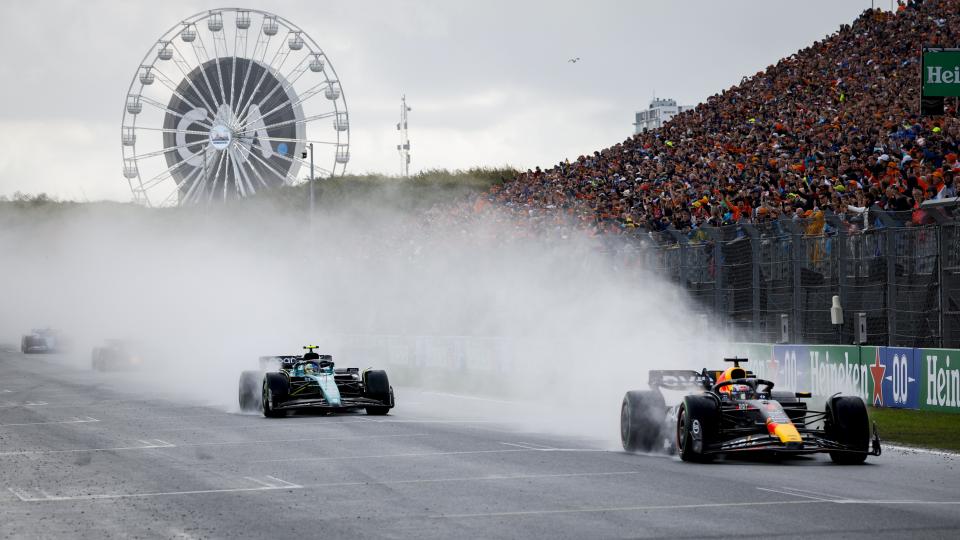 The Race
Race day began with a dry track despite showers earlier in the morning yet very dark skies remained above Zandvoort. All but Hamilton and Hulkenberg started the race on Soft tyres, with the pair opting for Medium tyres, yet there was spots of rain in the air just before the lights went out. Confidence of a dry race surely not running high for the next few laps, never mind for the rest of the race.
As the action began, Verstappen held his advantage into the first corner, ahead of Norris, Albon, Russell and Alonso yet the weather decided it would play a part already. The spots of rain turned into a full-blown shower with the decision to pit or not after just one lap becoming a tough call to make. 7 of the drivers pitted straight away for Intermediates yet Verstappen and the majority of the front runners decided to wait and see if conditions would improve.
Perez was one of those who swapped early and by Lap 3 saw himself in the lead followed by Gasly and Zhou by the time Verstappen rejoined after his pit stop in P4. The championship leader made light work of the two drivers in front of him and set off in pursuit of Perez who had managed to find himself with a 10 second advantage over his teammate at this early stage.
With the shower subsiding and the track drying out, Piastri was setting the pace on his original slick tyres and on lap 11 Hamilton, Stroll and Magnussen attempted to take advantage by switching back to slick tyres despite the threat of further showers surely not too far away. With the Intermediate tyres starting to overheat due to the lack of water on the track it wasn't long before the rest of the field followed suit and switched back to Slick tyres also.
Verstappen was the early Red Bull driver to pit this time around on Lap 12 and saw himself leapfrog his teammate by the time they had both switched and by some three seconds at that. On Lap 14, Sargeant's fortunes for the weekend struck again and he lost control at Turn 8 prompting a Virtual Safety Car then a full Safety Car to recover the American's car.
As the field bunched back up and a chance to breathe from the mayhem so far, the order consisted of the two Red Bull drivers followed by Alonso, Gasly, Sainz, Zhou, Magnussen in P7 despite starting from the pit lane, Albon in P8 and the only driver yet to pit, then Ocon and Tsunoda rounding out the top 10. Norris was in P11 despite starting on the front row, teammate Piastri in P14 after yet another stop for a new set of Soft tyres and Russell found himself way back in P18.
With the order all mixed up compared to their Qualifying performances the overtaking action was relentless upon the Safety Car departing and the race resuming. Verstappen held on to his lead whilst Perez did his best to keep Alonso at bay despite his attempts to pass the Mexican, Gasly having to do the same on a strong looking Sainz in his Ferrari. Piastri had a bit of a moment seeing him drop to P15 at the expense of Bottas, whilst Albon fought his way past Magnussen, a change of direction by the latter during overtaking causing the Danish driver to receive a black and white flag for his actions.
Ocon also passed Magnussen and kept on a charge to clear both Tsunoda and Zhou, Piastri fought his way back past Bottas and then Leclerc, who also saw Hamilton see his way past the struggling Ferrari driver. Norris fought his way back up to the points at the expense of Magnussen, the much stronger McLaren finally making its way back up the field.
As the halfway point arrived the dark clouds retuned and reports of spots of rain by numerous drivers around the track meant that another dash to the pits could be on its way. Despite the threat of considerable rain and the track becoming damp in paces, Norris and Hamilton continued to fight their way up the order both getting past Zhou, whilst Magnussen continued to fall, now back in P13 ahead of teammate Hulkenberg for a struggling Haas pair.
By Lap 43, Verstappen lead Perez by around 7 seconds whilst Norris changed tactics to salvage his race and pitted early for a new set of tyres, followed by Sainz a lap later and Albon, who was still racing on the Soft tyres he started the race on. Perez followed suit on Lap 46 to try regain some advantage over his teammate with some fresh rubber, whilst Alonso's Lap 48 stop proved to be a long one thanks to a sticking front wheel. This meant he lost out to Sainz by the time he rejoined the race and then on Lap 50 the race leader Verstappen might light work of his stop and rejoined comfortably back at the front.
Alonso regained his podium place a few laps later in his much stronger Aston Martin from the Ferrari of Sainz, whilst Russell was on a charge taking Tsunoda's place to gain P6. Tsunoda reporting damage to his car as he continued to drop places, soon falling out of the points after also being overtaken by Ocon and Norris. Hamilton was also a Mercedes driver making a point and soon followed teammate Russell past the McLaren and Alpine to find himself right behind Russell in P7. A scary moment and a huge slide for the Briton meaning he had little choice but to let the 7-time world champion past and continue his momentum.
Potentially heavy rain had been predicted towards the end of the race and on Lap 61 of the 72 it arrived all of a sudden. Verstappen, Alonso, Albon and Ocon decided to see how they go for one more lap whilst the majority of the field dived into the pits straight away for Intermediate tyres. The following lap saw the rest pit, whist Ocon made the bold decision to plump for full Wet tyres despite no one else making the call.
Verstappen remained in the lead ahead of teammate Perez, until the Mexican ran out of space to brake at Turn 1 and despite a brush with the barrier and being able to return to the track he lost out on P2 to Alonso. The worsening conditions causing Zhou to do the same as Perez at Turn 1, closely followed by Hamilton but to a lesser extent, and despite drivers beginning to lunge into the pits for Wet tyres, the Red flag was waved on Lap 65.
The race would be delayed for 40 minutes following heavy rain, the weather proving too dangerous for the race even with full Wet tyres. Luckily for Perez the race would resume to positions on the previous lap, meaning he would not have to resume P6 after 2 pit stops in quick succession and would restart in P3. However unluckily for Perez, he was given a 5-second penalty for speeding in the pitlane when pitting for his Wet tyres, something which replays showed he skidded past the speed limit mark and clipped the wall upon entry to the pit lane, luckily avoiding damage to the car.
The race restarted with the mandatory two laps behind the safety car on Intermediate tyres for a rolling restart. Verstappen managed to fend off a charging Alonso to ensure he remained in the lead, whilst Alonso himself kept Perez at bay. Russell managed to get in front of Norris' McLaren only for the two to collide and the Mercedes driver's car picking up damage considered too severe to continue.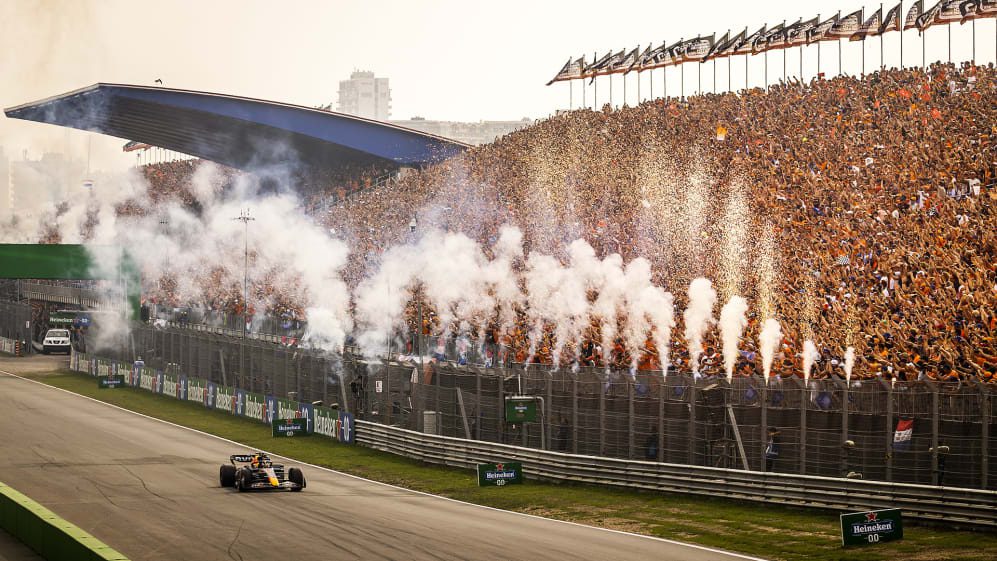 The Results
Verstappen held on to first position and took his third Dutch Grand Prix victory in a row, finishing ahead of Alonso in his Aston Martin by just over three seconds. Perez crossed the line in P3 yet his five second penalty meant that Gasly was promoted to the podium for Alpine. Sainz finished P5 after a frustrating race for Ferrari, Hamilton ended up P6 after starting from P13, Norris was P7 despite starting on the front row, Albon will have felt he could have finished better but his Williams team are no doubt happy to end up P8, Piastri was P9 and Ocon took P10 and a double points finish for Alpine.
Verstappen's victory means he equals Sebastian Vettel's record of 9 consecutive race wins, victory in Monza next weekend would see him break the record. It also marks his 11th race win of the season, more than he secured in 2021 when he won the title. With his third race win at Zandvoort, he remains unbeaten at the track since it reopened, it was also the first time in its illustrious history that there has ever been a red flag at the circuit.
Alonso's P2 means that he breaks Michael Schumacher's record of longest time between first and last podiums, which stood at 7,399 days, Alonso's first podium was Malaysia in 2003. Aston Martin themselves had their F1 debut at this track 64 years ago, yet this was their first podium ever here.
Verstappen extends his lead at the top of the championship to 339 points, 138 ahead of teammate Perez. Alonso also extended his lead over Hamilton in third, now 168 points to 156. Sainz and Leclerc are separated by just 3 points on 102 and 99 points respectively, with Russell tied on 99 points in 7th. Norris rounds up the top 8 places on 75 points but is on a bit of a charge to catch those above him.
Red Bull extended their lead at the top of the Constructor's Championship to 540 points, a huge gap to second place Mercedes in second with 255. Aston Martin remain in third place with 215 points, now 14 ahead of Ferrari. McLaren are comfortably in fifth place with 111 points, with Alpine grateful of their double points finish to remain in sixth place with 73 points. Williams are seventh with 15, Haas in eighth with 11, Alfa Romeo ninth with 9 and AlphaTauri remain at the bottom with just 3 points.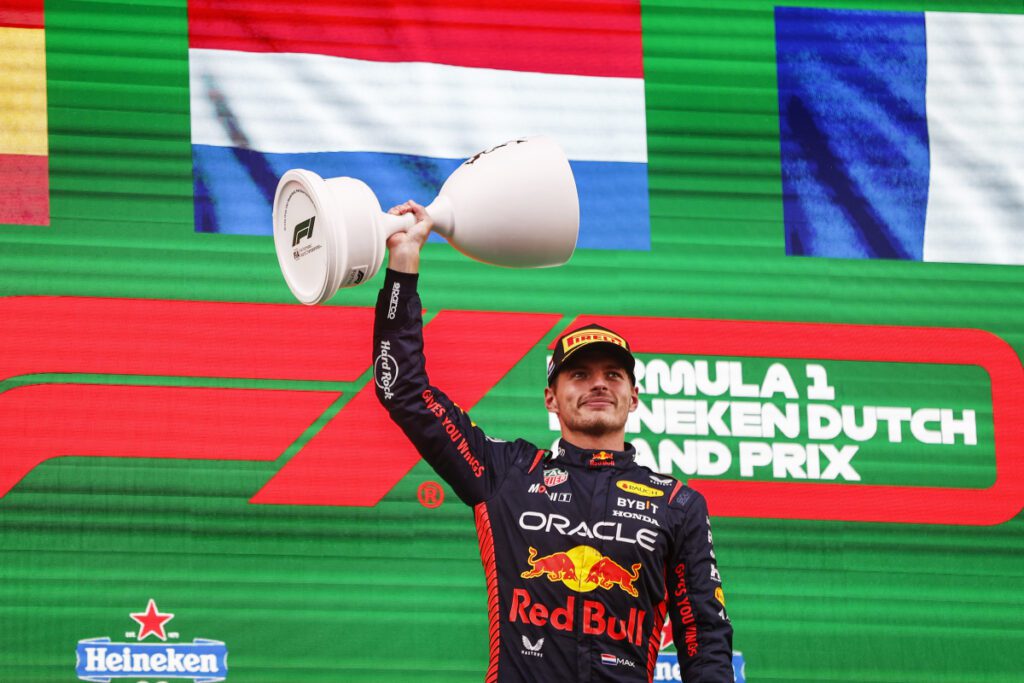 What's Next?
Next up is the Italian Grand Prix at the iconic Autodromo Nazionale Monza on 3rd September.
Find out more about the race and the calendar for the 2023 season here: F1 – The Official Home of Formula 1
Make sure you follow us on Instagram, LinkedIn and Facebook to keep up to date with what's happening with all things Oracle Finance.

Ready to know more?
Let Us Put You in the Driving Seat
Whether you're looking to arrange the finance on your next car, refinance an existing agreement or release equity from your current vehicle, your dedicated Account Manager will find a funding solution that's perfectly tailored to your needs.