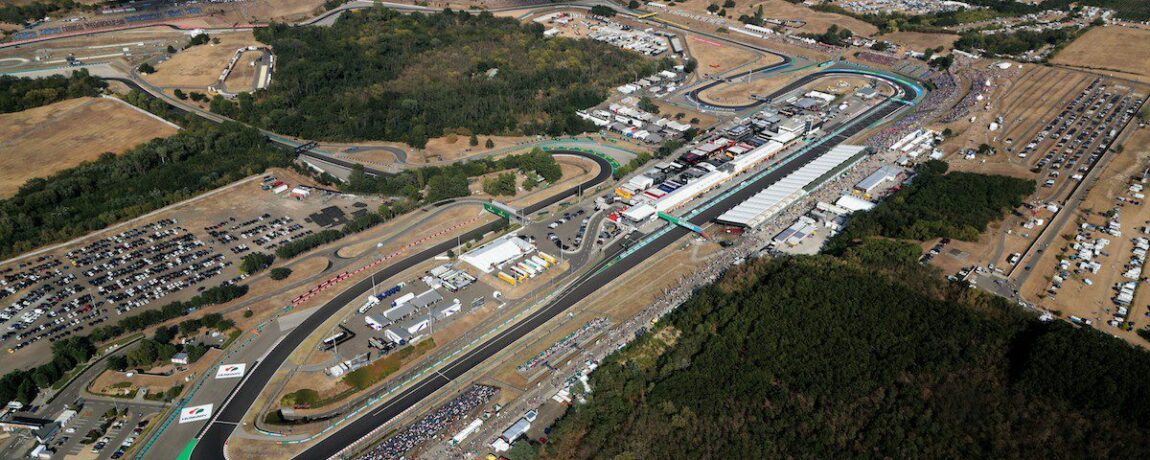 2023 Hungarian Grand Prix Roundup
The last few (make that six) races may have had a predictable outcome at the front but if the last couple of races have anything to go by, there are at least some teams making strides towards the front of the grid. Verstappen may have won the last six races and Red Bull equalling McLaren's record of 11 victories in a row, but surely something has to give at some point. Could Hungary be where their winning streak ends?
Free practice gave a lot of the others hope with Russell, Leclerc and Hamilton topping the timing sheets of FP1, FP2 and FP3, with Max a lowly . . . well, second in FP3 but at least it wasn't P1 for a change. The top 8 cars in fact were within half a second of each other by the end of FP3 and granted Hamilton was quarter of a second ahead of the rest, it showed promise for a potential surprise come Qualifying at least.
Qualifying
Qualifying was an all-dry affair for what seems like the first time in months. Whilst it had provided a degree of unpredictability in previous rounds it seemingly wasn't needed for the Hungarian Grand Prix to throw up a few surprises. Pirelli's 'Alternative Tyre Allocation' (catchy) meant that cars were restricted to Hard Tyres for Q1, Medium Tyres for Q2 and Soft Tyres for Q3 and could 'only' use 11 sets of tyres rather than the usual 13 throughout the weekend.
Bottas surprisingly set the early pace whilst many drivers fell victim to the dreaded track limits time deletion ensuring a more frantic Q1 was unfolding. As the time ran down a queue of cars lunging for the line meant that traffic issues caused slower times for a few drivers, one of those being George Russell who could only manage 18th as he was eliminated alongside Sargeant, Magnussen, Tsunoda and Albon after Q1. Ricciardo the lucky escapee just making it into Q2 on his return to the grid.
Q2 began with a surprise pace setting lap from Verstappen falling foul to track limits and deleted, with the magic formula from McLaren that has seen them gain an incredible amount in the last 2 rounds present again with Norris and Piastri setting the pace early on. Last minute laps could only finish behind Norris' early lap time, with Hamilton, Verstappen, Bottas, Piastri, Leclerc and Hulkenberg securing their places.
A welcome surprise for Red Bull as Perez finally banished his Qualifying demon by reaching Q3 for the first time in six rounds. The same couldn't be said for Carlos Sainz, who's Ferrari was eliminated along with Ocon, Ricciardo, Stroll and Gasly. Zhou and Alonso taking up the final places in Q3.
Q3 meant Soft Tyres for everyone and a return to the front early on for Verstappen. Hamilton was hot on his heels followed by Norris, Alonso, the relieved Perez and Charles Leclerc. The final attempts before the chequered flag saw Verstappen unable to improve on his time, whilst Hamilton stormed to pole position for the first time since the end of the 2021 season.
Norris continued his impressive form with P3 and teammate Piastri secured P4 and a fantastic result for McLaren. Zhou toom his Alfa Romeo to line up P5, Leclerc was P6, Bottas P7, Alonso P8, Perez P9 and Hulkenberg rounding up the top 10.
Just over half a second separated the top 10 drivers after Qualifying, equalling the closest top 10 in F1 history at 0.577 seconds, tied with Brazil in 2003. Hamilton also broke the record for the most pole positions by any driver at a single circuit in the history of Formula 1, taking his 9th at the Hungaroring. Also it ended Hamilton's longest streak without a pole position, 33 races between Jeddah 2021 and this weekend, but in the process extended his record of 104 pole positions in total.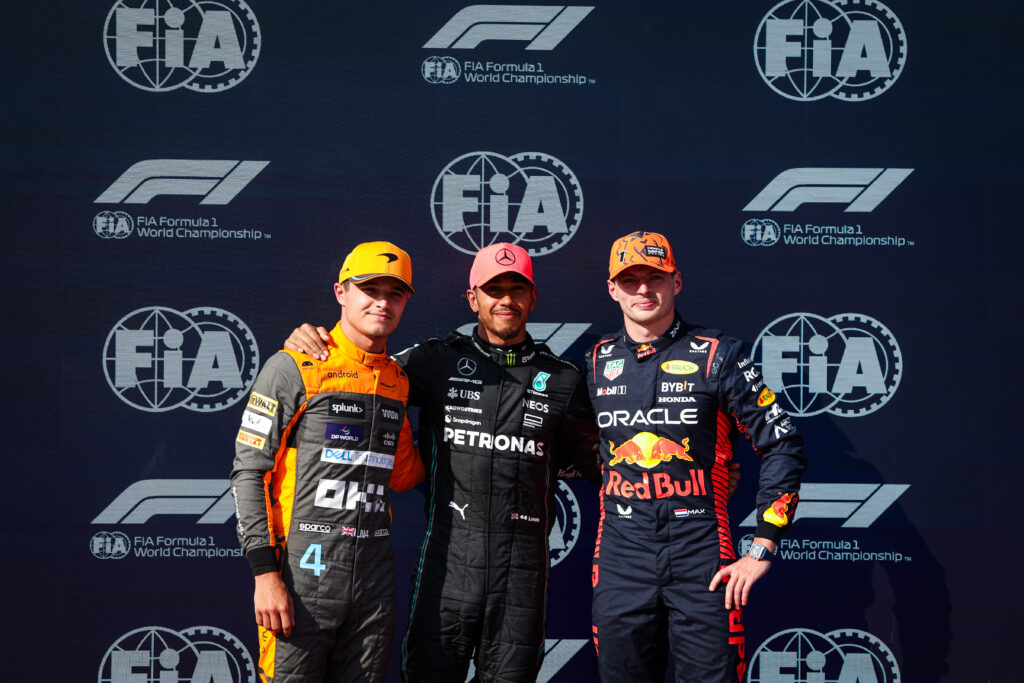 The Race
After a thrilling Qualifying session without the need for rain it was interesting to see how the race would pan out with such a close result. Drivers were allowed to change their tyres after the allocated Qualifying requirements so the majority of the field had opted for Medium tyres, with Perez and Russell chancing Hards and Stroll, Sainz, Gasly and Tsunoda the only ones choosing Softs.
With lights out, Verstappen shot off the line quickest and managed to instantly reverse the Qualifying result with a move on Hamilton into the first corner. Piastri took advantage of the pair going deep and took the inside line to take P2 for the time being. Hamilton's strong Qualifying result then mattered for even less when Norris took P3 round the outside of Turn 2.
Ricciardo's return to the grid took an early blow as Zhou clipped the Australian causing him in turn to clash with Ocon who then hit teammate Gasly. Both Alpine's taking the brunt of the collisions resulting in both their races ended within the first couple of laps of the race. The second race in a row that the French team have failed to finish with either car. Zhou taking a five-second penalty for his actions.
Verstappen quickly extended his lead out of the 1-second DRS range whilst the two rejuvenated McLarens settled comfortably into P2 and P3. Russell making up places in the meantime from P18 to be just behind Bottas in P13, whilst Bottas' unfortunate start saw him going the other way falling from his starting position of P7.
By Lap 15 those on Soft tyres were starting to struggle for pace, being caught by those who chose to start on Hards. Albon, Stroll, Bottas and Tsunoda had already pitted, Sainz remained on Softs yet was aware of a closing Perez making the most of his Hard tyres lasting much better. A lap later and the decision was made by Ferrari to bring him in before it was too late.
Hamilton was the first of those on Mediums to pit a lap later pre-empting those in front and trying to change strategy in order to cause a reaction. Norris was the first to react joining Hamilton on Hard tyres, whilst Leclerc's decision to join them would cost him as a long stop caused him to drop down the order. Piastri was next to pit for his new set of rubber and rejoined alongside teammate Norris, with the British driver making a pass stick at the first corner.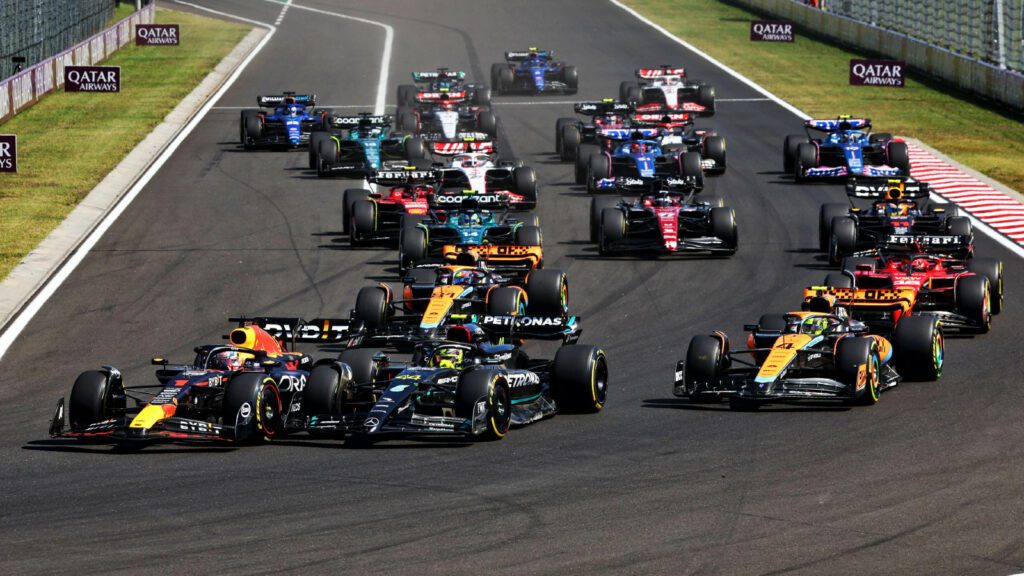 Verstappen waited till lap 23 and despite some impressive lap times from both McLarens much to Hamilton's bewilderment, he rejoined in P1 ahead of yet to stop Perez and Russell. Both drivers not waiting long before they also joined the rest of the field yet were on alternative strategies to most so would rejoin further down the field.
By almost the half way point, Verstappen's lead was almost 10 seconds from the McLaren pairing, whilst Hamilton's Qualifying pace was beginning to escape him and despite starting in pole position would now find himself over 20 seconds from the front. Perez was beginning to make moves on the rest of the field and after clearing Sainz and Russell in a short space of time, found himself in P5 and bearing down on a struggling Hamilton.
Perez was now lapping a second quicker than those ahead of him, apart from Verstappen of course, and was not only reeling in Hamilton but had Piastri and Norris firmly in his sights for a podium finish. The majority of front runners, apart from the Red Bull pairing, were beginning to complain about tyre degradation and it seemingly wouldn't be long until they would have to pit again in order to stop the charge of Perez. Leclerc was seemingly more bothered about arguing with his team about being held up by Sainz as they competed off the pace for P6 at best.
Lap 43 saw Piastri and Perez pitting for Medium tyres. A lightening quick stop by the Red Bull pit crew saw Perez come out right behind the McLaren driver and unlikely to be able to do much about fending him off. Norris pitted a couple of laps later and found himself with a bit of breathing space ahead of his teammate and the gaining Mexican driver. By Lap 47 Perez had his man and took P3 from Piastri, despite the Australian's best efforts to not make the move stick.
Leclerc's troubled afternoon got worse as his exuberant pit entry got him charged with speeding in the pit lane and awarded a 5-second penalty for his troubles. Alonso also had a slow stop meaning his ability to catch and pass both Ferrari drivers was now in vain and e was unlikely to be challenging them before the race end.
Hamilton waited until Lap 50 and Verstappen Lap 52 for their stops, with both drivers following the decision to stick with Medium tyres for the final stage of the race. Hamilton managing to find his Qualifying form yet again with a number of quick laps to catch up with Piastri on his fresher tyres, the Mercedes showing some potential with the ease at which he made the pass look.
Perez continued his charge towards the second step of the podium taking advantage of Norris' issues with back markers to narrow the gap to just 3 seconds towards the end of the race. The traffic advantage taken away once they had been cleared however and a bit of breathing space enabled the Brit to edge away yet again.
The Results
Verstappen kept his head down and took his 7th consecutive race win, eventually crossing the line over 30 seconds ahead of Lando Norris in his McLaren. Perez took P3 and driver of the day, much to the disgust of Norris, whilst Hamilton secured a disappointing P4 for him ahead of Piastri on P5. George Russell's excellent recovery saw him eventually end the race in P6, Leclerc and Sainz ended a frustrating race for Ferrari in P7 and P8, Alonso will be disappointed with P9 and his teammate Lance Stroll rounded off the point scoring positions with P10.
The 12th consecutive victory for Red Bull sees them break McLaren's 35 year record, whilst Verstappen's 7th consecutive win means he joins an illustrious club of Ascari, Schumacher, Vettel and Rosberg as the only drivers to achieve the feat. It was also the 250th podium finish for Red Bull and Verstappen's 44th race win of his career.
Norris' P2 means he finished on successive podiums for the first time in his career and shows the potential that McLaren have managed to find with their latest upgrades. It was also the first time Hamilton hadn't finished on the podium here since 2017 yet on a more positive note it was his 6th top 4 finish in the last 9 races.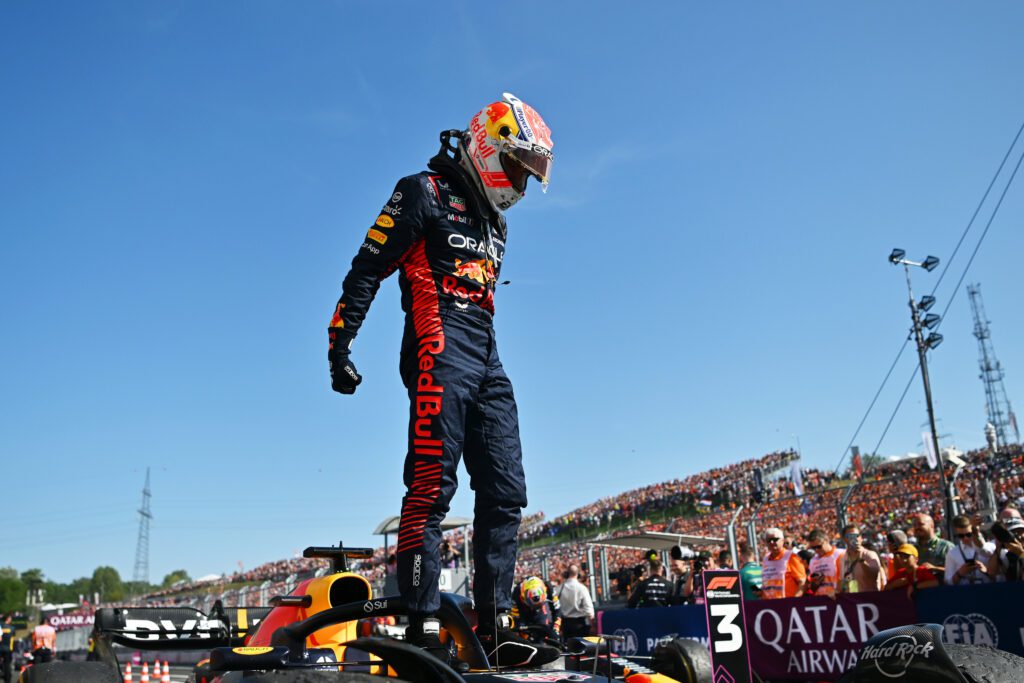 The Standings
In the Driver standings it is obviously 'as you were' at the top, with Max Verstappen extending his lead over teammate Sergio Perez to a healthy 110 points. Alonso remains in 3rd however Lewis Hamilton is now just 6 points behind and gaining. Russell is in P5, 3 points ahead of Sainz and 10 ahead of Leclerc with Norris strengthening his position in P8 and surely eyeing up the Ferraris within the next few races.
In the Constructor's Championship, Red Bull already have a commanding lead at the top, it would surely only take a total collapse for anyone to get anywhere near them at this stage. Mercedes distanced themselves from Aston Martin, with Ferrari currently in 4th. McLaren remain 5th with some margin now to the struggling Alpine team. Williams remain tied with Haas, with Alfa Romeo on single figures ahead of AlphaTauri.
Next up is the Belgian Grand Prix at the iconic Spa-Francorchamps on July 30th. A track with high speeds, changeable weather and potential (fingers crossed) for some surprising results.
Find out more about the race and the calendar for the 2023 season here: F1 – The Official Home of Formula 1
Make sure you follow us on Instagram, LinkedIn and Facebook to keep up to date with what's happening with all things Oracle Finance.

Ready to know more?
Let Us Put You in the Driving Seat
Whether you're looking to arrange the finance on your next car, refinance an existing agreement or release equity from your current vehicle, your dedicated Account Manager will find a funding solution that's perfectly tailored to your needs.