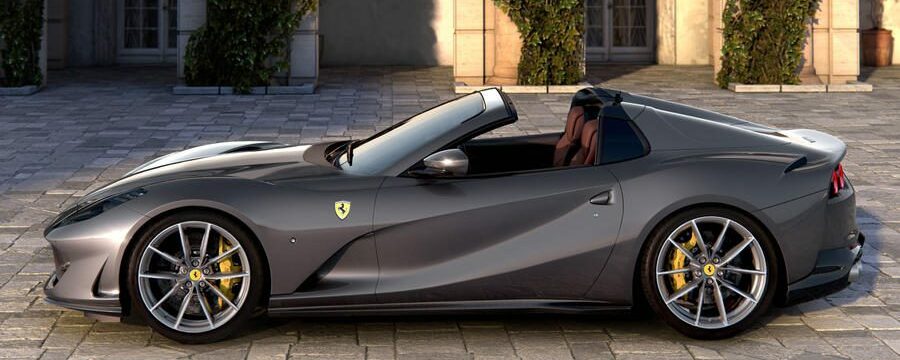 Ferrari 812 GTS, the 812 Superfast's topless twin
Ferrari has created the most luxury open-top vehicle yet, the 812 GTS.  It's the world's most powerful production convertible yet.  With the sound this engine makes, you're going to want the top down 24/7.
It's a naturally aspirated, 6.5-litre V12 that reaches 60 in 3 seconds with 789bhp and 530lbft for a jolt of neck cracking punch.
Like the Superfast, the 812 GTS is super fast.  Just because the roof has gone doesn't mean this car won't match the Superfast's performance.  Ferrari has redesigned the shape of the splitters, vents and body shape to make it go as fast as the coupe.  The Italian brand has also recalibrated the 812 GTS's adaptive dampers, to compensate for the car's 75kg weight gain over the 812 Superfast.  You also get a revised exhaust system, shorter gearbox ratios and tweaked traction control system.
Cabin quality is beautiful, a church of smooth leather, premium alcantara and complementary hard robust metals, giving you an unreal sense of quality in this car.  The engine note offers another religious experience.  The Maranello engine revs up to a ludicrous 8,900 rpm and sounds godly in a tub cabin, but with the roof down…incredible!
Full pricing and specification details haven't been announced, we expect a premium over the Superfast's £262,963 basic price.
Read more about the 812 Superfast here.
Image Credits: topgear.com

Ready to know more?
Let Us Put You in the Driving Seat
Whether you're looking to arrange the finance on your next car, refinance an existing agreement or release equity from your current vehicle, your dedicated Account Manager will find a funding solution that's perfectly tailored to your needs.