Home
/
Koenigsegg unveil unique Agera RS 'Naraya'
Koenigsegg unveil unique Agera RS 'Naraya'
Koenigsegg has revealed the first European RS ahead of its debut at Salon Privé.
The example was specifically designed for a special client, and features additional styling and specification above the regular Agera RS.
The model sets a precedent, with the carbonfibre tub painted to match the exterior. The entire car is adorned in a blue carbonfibre finish and the gold leaf highlights have been meticulously painted onto the car by renowned Italian craftsman, Ettore Callegaro.
The interior is finished in the same colour scheme, with blue Alcantara and contrasting gold piping running throughout. Further embellishment includes gold leaf highlights and stitching. There is a 'Naraya' 155-diamond plate displayed in the cabin, designed by Ada Diamonds.
The Naraya features the same twin-turbo V8 engine, linked to a seven-speed paddle-shift gearbox, driving power to the rear wheels. The Agera RS produces an incredible 1160bhp and 944lb ft of torque.
Koenigsegg will be exhibiting several special models at this year's Salon Privé at Blenheim Palace, starting on the 1st of September.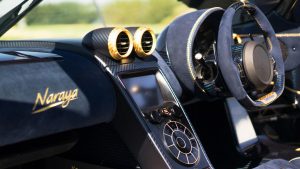 Oracle Finance, providing flexible funding for exceptional cars.
T: 0800 012 6666