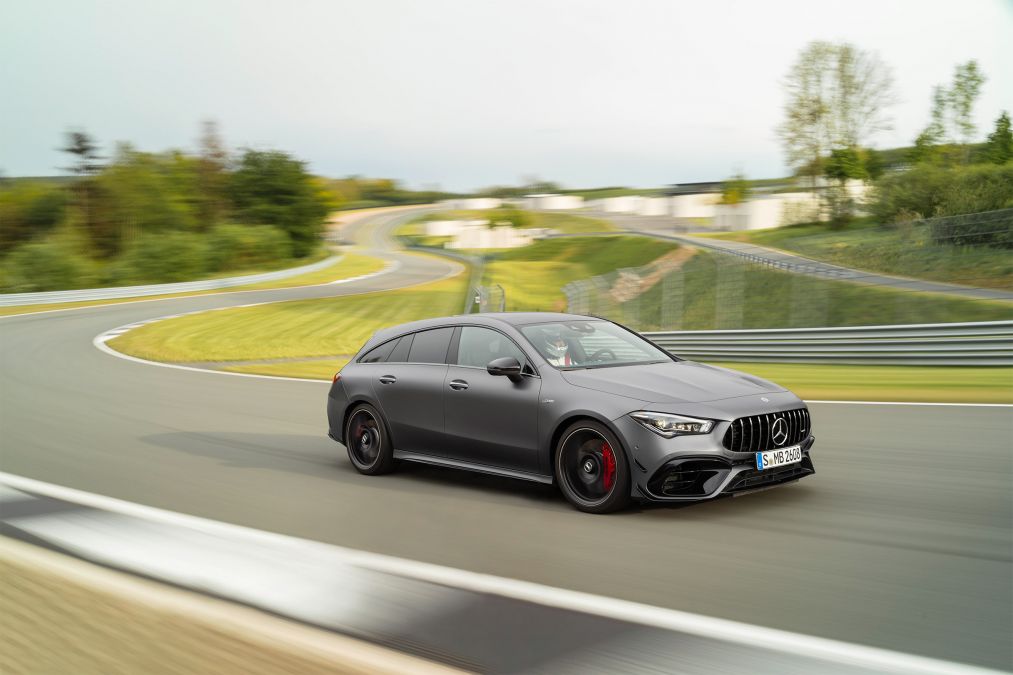 Mercedes-AMG has revealed a further derivative of its new 45 S range, with the sleek CLA Shooting Brake picking up the 415bhp M139 turbocharged four-cylinder powertrain and an aggressive AMG GT 4-Door-inspired styling.
Sitting above the 302bhp CLA 35 Shooting Brake, the newcomer is equipped with the same brand-new, turbocharged 2.0-litre four-cylinder petrol engine as found in other 45-badged AMG cars. Prices for the new car have not been announced, but the CLA 45 S Shooting Brake is expected to start from around £55,000 when it goes on sale in the UK towards the end of 2019.
This time around, Mercedes-AMG hasn't sought to soften performance for practicality. Everything about the new Shooting Brake is power. Proof of that can be found under the hood with the world's most powerful four-cylinder gasoline engine. Yes, it's the same M139 mill found in the standard A45 and CLA. This new powertrain features the highest specific bhp/litre output of any mass-produced engine in the world (even usurping real hypercars like the McLaren Senna) with 208bhp/litre !
This new power unit is connected to an eight-speed dual-clutch transmission that sends power to all-four wheels. Also borrowed from the A45 is the torque vectoring rear differential, with two twin-clutch packs that are able to divert power between the rear wheels.
The performance is certainly impressive, but the design of the Mercedes-AMG CLA 45 Shooting Brake is exceptional as well. The same styling elements found in the "coupe" version are here, from the wheels and Panamericana grille to the exhaust cutouts.
The extra mass up top for the estate's backside complements the aggressive, swooping lines of the CLA shape, and the interior isn't bad either. It's a bit chunky with its square-ish proportions and rectangular digital displays, but it's still an attractive place to be for short or long trips. And with the extra space afforded in the back, there's plenty of room for an extended holiday.
For a Finance Quote on a Prestige Car, click here.