Home
/
Team Oracle's Best Places To Drive In The UK – Part 1

Team Oracle's Best Places To Drive In The UK – Part 1
Welcome to part one of our three part series covering Team Oracle's favourites places to drive in the UK.
We've been experiencing some glorious weather for a January, prompting the Team to look forward to their summer road trips and reminisce about the best roads they've driven in the UK.
First stop… Scotland!
Dumfries to Auchencairn
The journey will take just under one hour to complete, and you'll enjoy views of open countryside. As you enter Auchencairn, you'll see the land drop off into the Irish Sea.  Our Sales Receptionist Emily described the scenery as "absolutely stunning" and "the kind of place you can imagine car adverts being filmed!". It sounds like the ideal spot to roll down the roof on a cabriolet and enjoy the summer breeze.
Isle of Arran
Account Manager Tom suggests jumping on the ferry and heading to the Isle of Arran. Once there you can drive a 56 mile circular road around the Scottish Island, taking approximately two hours. You'll have to be careful to keep your eyes on the road though, as on the right you'll have incredible views across the Frith of Clyde to the Scottish Mainland. On the left, you'll see the impressive mountainous landscape of the Isle of Arran. There's plenty of opportunities to pull over and take a quick picture of your car with the dramatic backdrop.
Crianlarich to Corran
Starting in the village of Crainlarch AKA 'The Gateway to the Highlands', this trip only takes place on a single road… the A82. If you think travelling one road would be boring, you'd be wrong. Spanning 42 miles, there's a whole host of different landscapes. From encroaching mountains to open land filled with rivers and Lochs. Senior Account Manager Oliver suggests a Ferrari Portofino would be the perfect car for the journey. With large stretches of the road being flat, its perfect for putting your foot down and letting the V8 engine do it's thing. Imagine the sound!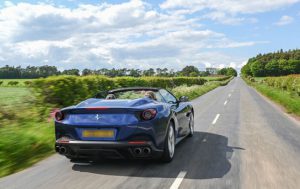 Kyle of Lochalsh to Applecross
Clare from our Business Control Team is taking us deep into 4×4 territory, especially in winter weather conditions. You'll start the journey on the Northwest coast of the Scottish Highlands, with moody views across Loch Alsh. From there you rapidly start to climb the steep winding roads. The higher you get the more breath-taking the views across the Highlands become. But what goes up, must come down! The trip ends as you descend into Applecross and pull by the beach, overlooking the Inner Sound.
Have you got a favourite road to drive in the UK? Get in touch on our LinkedIn or Facebook page and let us know!
Keep your eyes peeled for our second feature on the best UK roads to drive next week.
Other articles you might like:
What do Formula 1 Drivers drive when they're off duty?
Top 5 Most Comfortable and Convenient Luxury CarsRemove featured image