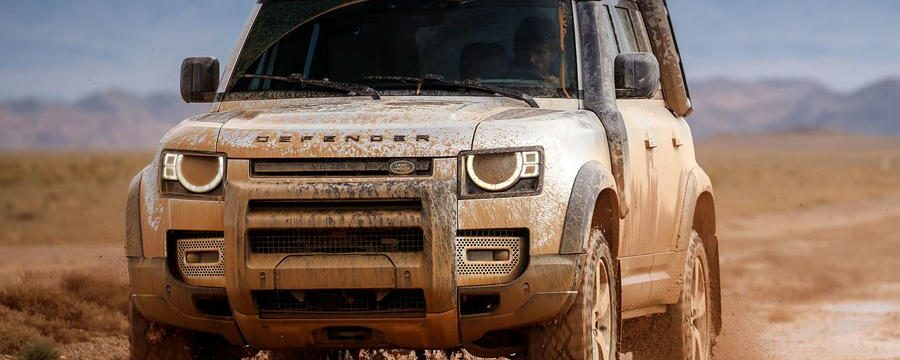 The all new Land Rover Defender
The Frankfurt Motor Show brought some really interesting new cars to the table, from the BMW concept 4 to the Lamborghini Sian.  This car though is one of our favourites.  The Defender…
The all-new Land Rover Defender is an off-road weapon.  Land Rover has always been renowned for their ability to conquer muddy, rocky and snowy terrain and this 2020 model update does it spectacularly and makes it look far too easy.
Design features of this machine have changed a lot from the old model, despite being based on it.  Although it's a reworked version of the existing models' skeleton, it's described as being 95% new.  The styling is far more utilitarian and army-themed than the predecessor.  The paint you see, isn't actually paint at all, it's just a wrap, so if you scuff it whilst taking it through harsh terrain you can just strip it off and Land Rover will put some new wrap on for you.  It keeps the Defender's boxy styling but updates it with modern light units with Land Rovers new 'circles in squares look' (See picture above), new technology and rounded panel edges, giving it a far more modern appearance.
The Defender hasn't just been designed to look the part, it's undergone rigorous extensive testing to ensure that it's a beast.  It's been subject to far more tests than any other Land Rover model, covering 1.2 million miles across terrain such as sandy desert at incredibly high altitude and the frozen ice-laden Arctic.
To help the Defender in any environment it encounters, Land Rover has given this model a bunch of new performance features such as a new monocoque chassis, a spanking new four-wheel-drive system and comfy air suspension.  Furthermore, to aid its incredible off-road driving, the Defender has a system called 'Configurable Terrain Response', which deploys electronic assistance automatically at varying styles of driving.  There are also three levels of throttle and gearbox sensitivity aimed at boosting driver control.
The new Land Rover Defender lives up to its heritage. In the UK, you could encounter heavy hauling and deep water, but these shouldn't prove a problem for this beast.  It can tow up to 3,500kg, can carry 300kg on its roof and has a wading depth of up to 90cm, far more than its rivals such as the Jeep Wrangler.
If you're feeling extra excited about the new Defender, treat yourself to Lego's 2,573 piece technic kit.  We have it on good authority that the Lego kit has been tested for more than 1.2 million miles and has a working winch, which we didn't see at Frankfurt!
Image Credits: Autocar

Ready to know more?
Let Us Put You in the Driving Seat
Whether you're looking to arrange the finance on your next car, refinance an existing agreement or release equity from your current vehicle, your dedicated Account Manager will find a funding solution that's perfectly tailored to your needs.