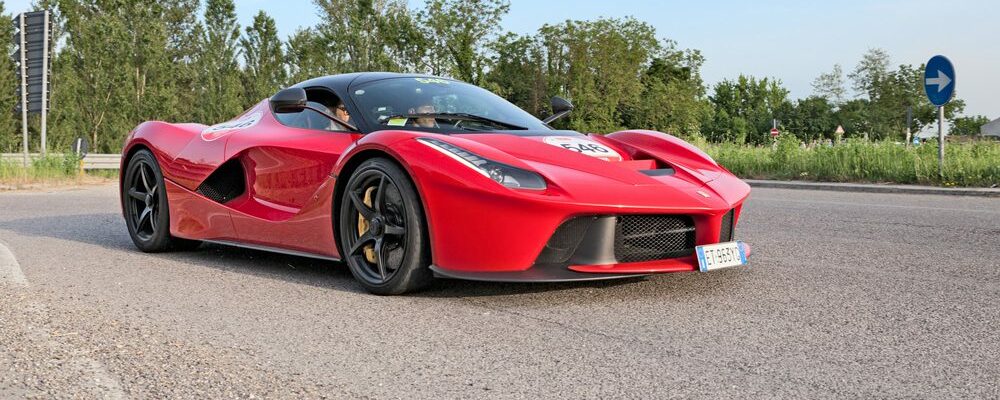 Are these the most unfortunate car names of all time?
Since Friday 13th is unlucky for some, we're taking a look at those cars which were unlucky enough to be landed with an unfortunate name!
Over the years, there have been some epic car names. The McLaren Senna or the Aston Martin Vanquish are on our favourites list. But not all cars are fortunate enough to be graced with such legendary monikers.  Here's our round up of seven of the most unfortunate vehicle names of all time…
Subaru Brat
'Brat' has the Oxford English Dictionary definition of a 'badly behaved child' and usually falls within the same sentence as the word 'spoilt', which could be the reason the Subaru Brat has quite rightly adopted the alternative '284' as its UK name. In the USA however, it still goes by Brat, which actually stands for something rather inoffensive. It's an acronym for "Bi-drive Recreational All-terrain Transporter".  We can see why they decided to shorten it!
Ferrari La Ferrari
Just in case it isn't obvious, this translates as 'Ferrari The Ferrari'.  Motor1 commented that "it's a terrible name for an otherwise flawless car" – they said it, not us! But you can understand the Italian manufacturer's reasoning for making 'La Ferrari' their namesake. The vehicle was designed to be the definitive Ferrari!

Volkswagen Thing
The 'Thing' is known elsewhere as the 'Safari' or the 'Trekker', both very apt. But in the US, it's still going by 'Thing"! You know when you can't quite find a way to describe something, but just hope that someone will understand what you mean? It seems that's exactly what Volkswagen was getting at with this one!
Nissan LEAF
Nissan goes green. The all-electric car's name "is a statement about the car itself" according to the manufacturer. "As leaves on growing trees in nature purify the air that we breathe, the Nissan LEAF purifies our air by eliminating emissions from the driving experience." Still, although we understand what they're going for, it still doesn't have a great ring to it, does it?

Vauxhall Adam
This car was awarded a 7/10 by the Top Gear team – maybe a better name would have made up the additional 3 points. However, it pays homage to the founder of their German sister company, Opel, and is marketed as a car you can make "as individual as you are" with its range of customisation options.

Mitsubishi Lettuce
In the mood for a salad?  Do you think this is a 'gem' of a name or it it a 'wet lettuce' (sorry, we couldn't resist).
But it's not just the name that made the Lettuce so distinct. The car was designed in Japan where innovative design was commonplace in the nineties. The Lettuce is a perfect example of the crazy designs that were coming from Japan at the time. It had one door on the driver's side and two on the passenger side, which was to "prevent children from getting out on the outside"!
Chevrolet Nova
Nothing too problematic here, surely? Until you learn that 'No va' in Spanish translates to "doesn't go".   Rumour has it that this car didn't sell well in Spanish speaking countries although it could just be an urban myth rather than fact.  Either way, it's a great story and cautionary tale for car manufacturers when it comes to brainstorming potential names.
If you can see past the unfortunate names, we fund any new or used car over £25,000, even if we're not keen on the name! Our dedicated account managers are on hand all week (even Saturdays!) to help find the right finance for you.
Let us know what car names you think should be on the naughty list.
We are a credit broker not a lender. Oracle Asset Finance Ltd is authorised & regulated by the Financial Conduct Authority (Financial Services Register No. 662576) for the sale of consumer credit. For more information, please visit www.oraclefinance.co.uk

Ready to know more?
Let Us Put You in the Driving Seat
Whether you're looking to arrange the finance on your next car, refinance an existing agreement or release equity from your current vehicle, your dedicated Account Manager will find a funding solution that's perfectly tailored to your needs.