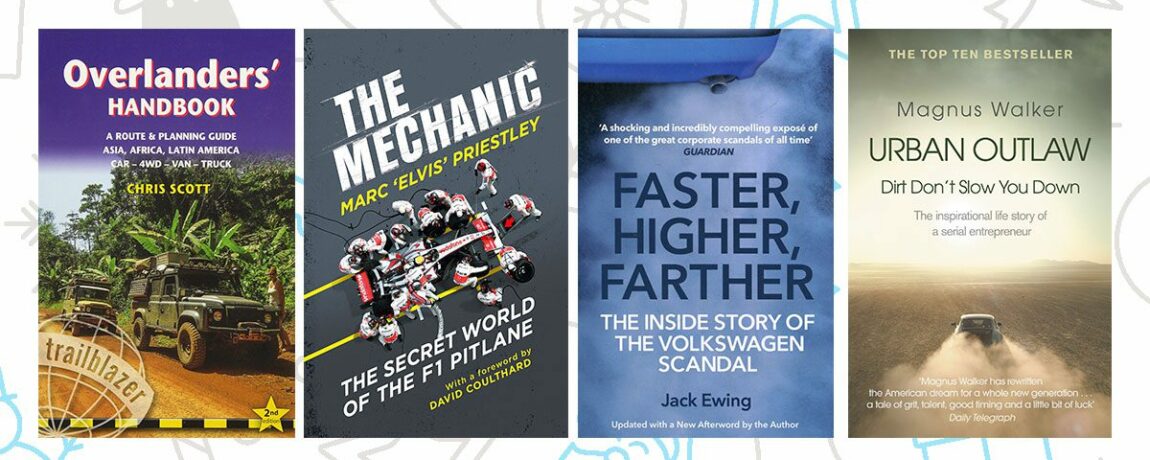 Best motoring books to gift this Christmas
Here at Oracle, we want to make your life as easy as possible. Whether that's finding you the right car finance or helping you out with your Christmas shopping!
Earlier this month, we published our ultimate gift guide for the car fanatic. But, just in case you're still stuck for ideas, we've curated a list of the best motoring books to make a perfect last-minute Christmas gift. Whether the person you're buying for is a fan of racing, or they love an adventure, there's a Christmas gift below for everyone. Or maybe you could even treat yourself with that Amazon voucher you get for Christmas!
Magnus Walker is a British Fashion Designer and car collector. The biography follows "the inspirational life story of a serial entrepreneur" written by "one of the world's most prolific Porsche collectors". So, if you know someone who spends their days lusting after Porsche 911s, this is one of the best motoring books you could get them.
Faster, Higher Farther, by Jack Ewing
The book is a detailed look into the total controversy of the 2015 Volkswagen clean diesel fraud as Jack Ewing "rips the lid off the scandal". The "shocking and compelling expose" is ideal for someone deeply invested in the goings-on inside the motoring industry.
'The Mechanic' gives you a deeper perspective into "the secret world of the F1 pitlane", told by an ex-F1 mechanic himself. Priestly has now gone onto a career in presenting but hasn't quite forgotten his routes of the F1 pit crew. In the book, he tours the world, "revealing some of Formula One's most outrageous secrets and the fiercest rivalries, all fuelled by the determination to win".
If you have a bigger budget for book buying this year, this is the perfect coffee table book. It tells the story of late Formula 1 champion, Ayrton Senna, through a series of photographs by Ercole Colombo. It takes a journey into the "collective memory" of racing fans cherishing particular moments, personal memories and emotions.
For the car fan in your life that loves taking care of their car! The driver that winces every time you get into the passenger seat with a spec of mud on your shoe? It's the ultimate guide to enhancing your vehicle's appearance with "a thorough and expansive overview of automotive detailing techniques".
It was described as "the definitive manual for planning and undertaking an adventure across Asia, Africa and Latin America"! Planning a road trip has never been so easy!
Get in touch on our Facebook and LinkedIn and let us know what you think of our choices!

Ready to know more?
Let Us Put You in the Driving Seat
Whether you're looking to arrange the finance on your next car, refinance an existing agreement or release equity from your current vehicle, your dedicated Account Manager will find a funding solution that's perfectly tailored to your needs.