Oracle's Top 6 Cars that Look Good in Red
It's that time of year again – Happy Valentine's Day! For some, this means romantic trips and red roses, and for others, it means it's officially acceptable to start counting down to pancake day. Regardless of what Valentine's Day means to you, if you love cars, you'll enjoy this article. To mark the occasion, we're bringing you our favourite cars that look best in red.
Aston Martin DBS Superleggera
The new DBS Superleggera has power that "cannot be reasoned with" and is "menacingly attractive", especially in red. Account Manager Ed Williams voted for the Superleggera as his Valentine's themed marque, as in his opinion "it looks best in red". If it's love at first sight for the Superleggera, the car comes in three variations of red: Diavolo, Hyper and Divine Red.

Ferrari Portofino
As you might expect, across the Oracle team, Ferrari was at the top of the list for red cars. Because it goes without saying that the unwritten rule of Ferrari is that you have to get it in red, right? London Sales Manager, Shaun Pollock's favourite model is the Portofino. Luckily for you, if you fancy buying yourself a Valentine's treat, our sister company Lawton Brook has one in stock (as of 13 February 2020). They describe it as "beautiful and aggressive in equal measure", what more could you want?

'Little Red Corvette'
In the words of the late, great (Artist Formerly Known As) Prince! Not only is the song one for the Valentine's playlist, but a should famously be red. The iconic motor is legendary within its industry. The first generation of Corvette was introduced in 1953 when the concept was displayed as a 'dream car' at General Motor's Motorama in New York. That summer, the first 300 models were built by hand in Flint, Michigan. Is it your dream car?

Aston Martin DB4 GT Zagato
According to the British automaker, the DB4GT & DB4GT Zagato are "two of the most valuable and collectable cars in Aston Martin's history". Both models have played "a crucial role in defining some of the iconic design cues still used in Aston Martin today". But it was the Zagato that our Senior Underwriter, Paul Murphy thought looked especially good in red. Do you agree?
Lotus Esprit
Team Oracle obviously has a soft spot for the Lotus Esprit as it recently cropped up in our article "Best Iconic Film Cars" for the starring role in the 1977 James Bond film, 'The Spy Who Loved Me'. However, Senior Account Manager, Dale prefers the Esprit without the ability to turn into a submarine – and much prefers it in a classic red.

Ferrari F40
A bonus Ferrari entry for the list, because, let's be honest, the best red cars are Ferraris. Oracle Managing Director, Peter Brook voted for the "uber-cool" F40, that should be "only in red".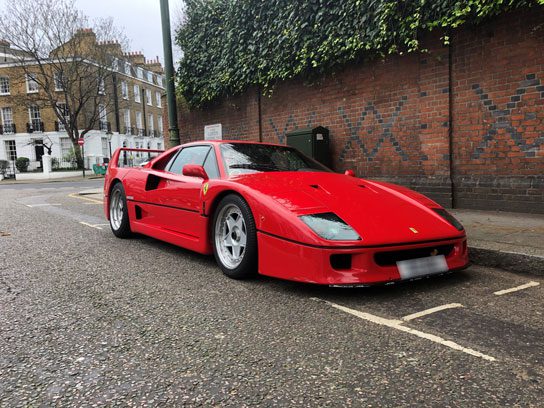 Have you met your perfect match?  Are you in LOVE with the red car of your dreams? Get in touch!
We are a credit broker not a lender. Oracle Asset Finance Ltd is authorised & regulated by the Financial Conduct Authority (Financial Services Register No. 662576) for the sale of consumer credit. For more information, please visit www.oraclefinance.co.uk

Ready to know more?
Let Us Put You in the Driving Seat
Whether you're looking to arrange the finance on your next car, refinance an existing agreement or release equity from your current vehicle, your dedicated Account Manager will find a funding solution that's perfectly tailored to your needs.