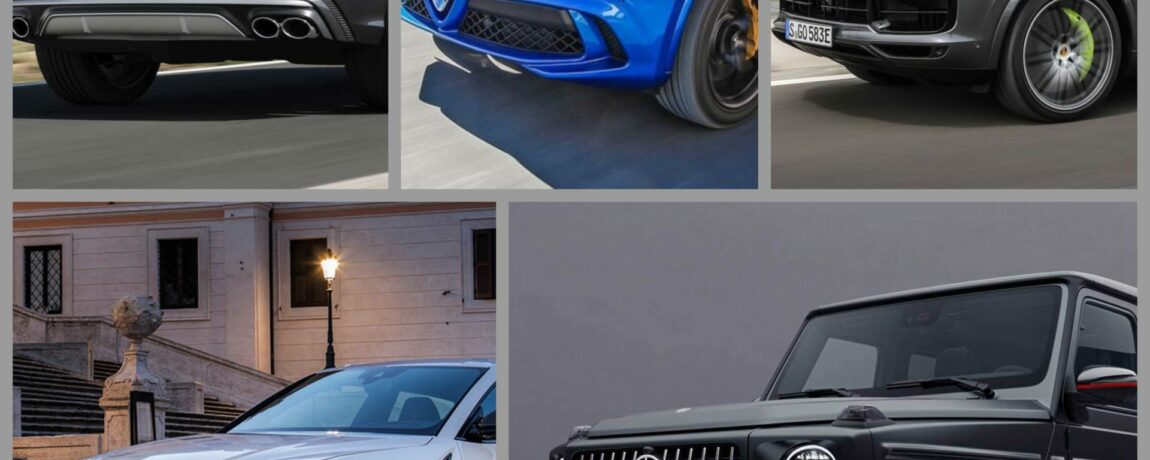 Oracle's review of the top 5 Luxury SUV's
Audi SQ8
Specs:
Price – £85,000
0-60 – 4.8 s
Max Speed – 155 mph
Max Bhp – 435 bhp
Max Torque – 663 lb-t
Stylish, sexy and sleek, the Audi SQ8 is the pure embodiment of all these. Audi hasn't skimped at all when packing as many gadgets as they can in this chunky SUV.  It's quick, comfy and a far more luxurious creature than the Q7. Under the body this car is basically the same as the SQ7, they ripped the V8 from the SQ7 and slammed it in this. It also has Quattro four-wheel-drive as standard, and specially-tuned air suspension. The Vorsprung version gets active anti-roll control and four-wheel steering for a much sharper driving experience making this SQ8 feel like a capable sports car.
It's actually so well constructed and engineered that you'd forget this titan is five metres long and just shy of two metres wide. It doesn't feel like a great big bumbling slow SUV at all. Blip the throttle and it won't shy from stepping forward quite abruptly, this tank doesn't hesitate to show you its immense surge of torque and speed. The 2.6 tonne behemoth plays with you like a wild unleashed supercar and doesn't want to be known as just another SUV.
The thing that differentiates this car from the standard Q8 are the four fat tailpipes that are big enough to fit your fist in and the massive 22" alloys that look like they belong on a monster truck. This colossus expresses power, looks and total innovation.
Mercedes G-Wagon AMG G63
Specs:
Price – £143,300
0-60 – 4.4 s
Max Speed – 137 mph
Max Bhp – 585 bhp
Max Torque – 627 lb-ft
The G-Wagon of old (1979 in fact) has had another revamp. It's back in black, brutish and a buff bully, more now than it has ever been. Super tough and capable of tackling mountainous terrain, wading high water and muddy off-road tracks, the G-Wagon is the dominator of off-road. It doesn't drive half bad on road either, with a very lavish and chill interior it's a very nice place to be.
On the exterior, it looks like the same old G-Wagon we have seen for the last 40 years. To say a lot has changed under the hood though is a total understatement. AMG have managed to get this hefty lump of kit to pump out a shockingly fast 0-60 time of 4.4 seconds.
It's two metres tall and 2.5 tonnes so you'd think it handles like a school bus but no, it will actually go left and right, pretty fast too. On the road it has presence that a range rover would never give you; you have four different modes, eco, comfort, sport and G mode so the G-Wagon will cater to all your needs.
Alfa Romeo Stelvio Quadrifoglio
Specs:
Price – £70,900
0-60 – 3.8 s
Max Speed – 176 mph
Max Bhp – 503 bhp
Max Torque – 443 lb-ft
The Stelvio is based on the gorgeous, beautiful and scintillating Giulia Quadrifoglio. Alfa's hot SUV benefits from the same chassis, the same fire-breathing 503bhp 2.9-litre twin-turbocharged petrol V6 and a four-wheel drive system borrowed from Maserati.
It is easy to tell that this has been based off the Giulia. It feels light, responsive and bursty with precision sharp handling. This makes you feel like you're driving the Giulia, a saloon, not a chunky SUV.
With four-wheel drive it is monstrously grip worthy when you want to take it for a spin. Luckily it retains a slight amount of fear that the Giulia instils in you by letting the rears slide out if you cane it through the exit of a corner. It eats through the rev counter like it's nothing and when you pull the paddle for an upshift; you get the most insane exhaust crack and rumble.
Interior designs in most Alfa's have been gorgeous and the Stelvio is definitely at the peak of aesthetic beauty. Black leather sports bucket seat laced with red stitching and small dashes of carbon spread throughout make this car very Ferrari-esque, especially with the smooth easy to use metal flappy paddles.
Lamborghini Urus
Specs:
Price – £157,800
0-60 – 2.9 s
Max Speed – 190 mph
Max Bhp – 641 bhp
Max Torque – 627 lb-ft
Lamborghini's first attempt at an SUV has worked for sure. It looks spectacular, and it's basically a 'superSUV' and the very first in its class. We think it looks like a Lamborghini Aventador on steroids. You have supercar DNA deployed into a 2.2-tonne SUV and the results are phenomenal.
The twin turbo 4.0 litre V8 burbles, belches and spits when cruising but when you open it up it howls and screams just like a real Lambo should.
The Urus has got a similar body shape to the Audi Q8. Lambos SUV is considerably lower, also wider than many full-size SUVs such as the Range Rover, and its bodywork has enough vents and gaping air intakes to remind you that this is a Lamborghini which are as we all know, a maker of shamelessly brash supercars.
The interior is comfortable, accommodating, luxurious and versatile and it can carry five adults without a serious squeeze. Saying this sounds weird doesn't it? In fact, it has all of the practical, convenient qualities you'd expect of a big SUV – and which, until this car, you'd have expected to find in a Lamborghini about as useful for passenger carrying than a chocolate teaspoon.
Well, the game has changed.
One thing we must touch upon is the Urus's cockpit; it looks like it was hand-built by aliens for the console of a UFO. There's a large red start switch that looks so oddly cool and changes the styling game for current cars. Some true Lamborghini style.
Porsche Cayenne Turbo S E-Hybrid
Specs:
Price – £123,349
0-60 – 3.6 s
Max Speed – 183 mph
Max Bhp – 680 bhp
Max Torque – 664 lb-ft
Porsche's powerhouse SUV is here. This is the most green one of the bunch, however, make no mistake, green doesn't compromise maximum fun. You have an emissions defying V8 accompanied by a 138 bhp electric motor. This makes you feel a little less bad about your gas-guzzling SUV at least. It weighs the same as a Lamborghini Urus but achieves a 0-60 time of 3.6 seconds. That means this SUV is quicker than the Porsche 911 GT3.
Styling- wise the Porsche looks really classy and with its lime radioactive-green callipers, accents and stitching, it pops well. Handsome and refined is how the car looks.
Underneath your feet the 680bhp is rather compelling and actually usable in this urban tank. Sport mode in this car creates  a unique duo of power from the electric motor and the V8, the partners in crime allow the engine and the eight speed transmission to work to the fullest with Sport response button pushed. This makes the two work in perfect harmony as it allows short sprees of maximum mind bending power for 20 seconds.
Cornering is really muscular and strong, you won't budge when going fast around punishing bends. Once you step inside, it is so evident that you're in a Porsche. There's plenty of beautiful leather and switches that operate with sublime precision.

Ready to know more?
Let Us Put You in the Driving Seat
Whether you're looking to arrange the finance on your next car, refinance an existing agreement or release equity from your current vehicle, your dedicated Account Manager will find a funding solution that's perfectly tailored to your needs.