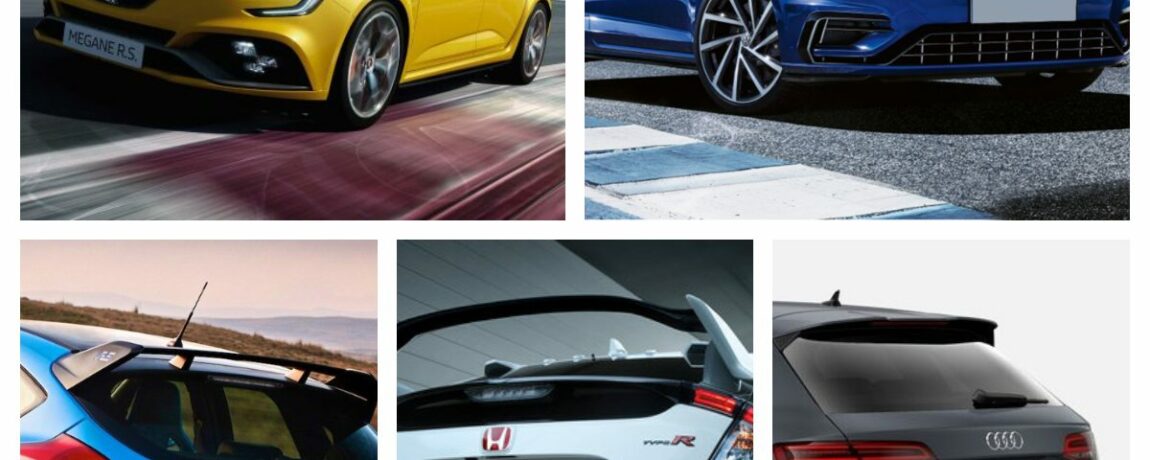 Our run down of the top 5 hot hatchbacks on the market right now.
They may look like sensible hatchbacks but these cars offer some of the best driving experience of any car at any price point. What's the best hot hatch money can buy?
Specs:
0-60 – 5.8 s
Max Speed – 169 mph
Max Bhp – 316 bhp
Max Torque – 296 lb-ft
Honda have created an absolute track weapon with their newest revision on the Type R known as the FK8, it's got a few tweaks from its older brother (the FK2) which has refined what was already a fun car to drive. The FK8 for example has fully independent rear suspension over the FK2's torsion beam. The downforce has been increased by that crazy Japanese street racing style spoiler, huge diffusers and well placed vents. Honda's +R (Race) mode has been refined so that it's not unusable.
The styling is absolutely absurd and looks like a jet fighter.  It's a bit like Marmite. The design looks like it was produced by an awe inspired teenager who watches Fast and Furious a few too many times. The GT pack adds splashes of carbon all over the body and suits the sleek futuristic design.  Vortex generators are used which are small fins creating extra downforce and not only that it makes the car look like a shark.
In true Japanese style, this car assassinated the Nurburgring with a phenomenally quick time of 7:43. To make this even more surprising, the Honda Type R stuck to its ways of using a traditional front wheel drive system.  To put it into context, this £33,000 2.0 car is faster round a track than the Pagani Zonda C12 S (£1.1million), a Lamborghini Gallardo Superleggera (£200,000) and a Mercedes C63 AMG Black series (£80,000)… you know, just to name a few. This boils down to Hondas use of Its VTEC system which creates an absolute kick of power in the higher rev ranges and immense handing capability, the Type R actually produces negative lift because it is so expertly well made to be as aerodynamic as possible.
Specs:
0-60 – 4.6 s
Max Speed – 155 mph
Max Bhp – 300 bhp
Max Torque – 295 lb-ft
The Golf has been VW's bread and butter car for more than 45 years. Now, they've taken the well praised GTI and turned it into an all-wheel drive monster. The Golf R in terms of price to performance ratio is something to be reckoned with; you're looking at sports car specs in what is a well-known family car and all for around £32,000.
On the eye, it isn't anything special to look at but it's actually quite a nice feature because behind all the tame and flattering design is a car that you know is a ballistic missile with performance to tackle the great British b roads and make mincemeat of 90% of cars on the road. There's something quite nice about knowing it doesn't look as wild as the likes of its rivals. It doesn't draw any attention to itself but offers a wide band of power right at your fingertips making it capable for country blasts and sensible sophisticated daily driving with a true sense of comfort.
Of course it is still as practical as your everyday golf with tonnes of room for passengers, your golf clubs and being all wheel drive it is safe to drive in rain or rough conditions.
The R has a crazy launch control system that allows it to shoot off without any noise of tyre squeal. Launch control turns what was an already fun hot hatch into a little pocket rocket. It's a feature you won' use much and is purely for fun but if you're investing in a hot hatch then it is features like these that you look out for. It blends classiness with raw power exceptionally well.
Specs:
0-60 – 3.9 s
Max Speed – 155 mph
Max Bhp – 396 bhp
Max Torque – 350 lb-ft
The RS3 is a beefy hot hatch that pushes into sports car territory, it has a maddening level of power which slingshots you either in a straight line or around any country roads. Prepare for some fruity cracks and bangs when you put it into dynamic mode as this car has an unrelenting 5 cylinder 2.5 litre engine. It churns out enough grunt to put a smile on your face and force you back into your seat.
It has an impossibly good traction system thanks to Audis innovative Quattro all-wheel drive system. The car is about £12,000-£18,000 more expensive than the other reviewed models but when it comes to a true driving machine that will happily rip your head off, go for the RS3.
Styling on the RS3 is very aggressive particularly on the front and rear bumpers with a large twin exhaust to compliment this meatiness.
Audi have a talent for making the interior of their RS models a perfect balance of sports and comfort. This new one is certainly no exception. We love the red stitching layered among beautiful black leather with dashes of red on the air vents and seatbelts, it does enough to say "I'm a sports car" but not enough to make it overwhelmingly garish.
Specs:
0-60 – 5.8 s
Max Speed – 155 mph
Max Bhp – 280 bhp
Max Torque – 288 lb-ft
Don't be fooled by the 1.8 engine, this car has been perfectly executed by Renault and the smaller engine is non-important because this thing handles superbly. The colour is really something too, the sunburst orange pops and stands out from the crowd. Renault have managed to turn their fairly boring to look at Megane into a version that doesn't look stupid boy racer like the Type R and not as subtle as the Golf R. It blends wildness and meek ordinary looks so well. Because of this it is the easiest on the eye and the longer you look at it the more you fall in love with it. It's also cheaper than the rivals at £27,000
The sports exhaust sounds far better than the rivals and this is the one feature that actually makes it more of a hooligan than the competitors.
Renault have introduced a really innovative system in their steering called four wheel steering, under 62mph the cars rear wheels turn in the opposite direction to the front by as much as 2.7degrees. This makes the turn in to corners far more sharp and responsive. Around the corners this is where the car shines because of the ridiculously goo agility it has. It playfully dances around a track and with enough of a push down to the floor you'll whip the back end out. This car out of all of them favours handling over raw power and it does pay off really well.
Specs:
0-60 – 4.7 s
Max Speed – 165 mph
Max Bhp – 345 bhp
Max Torque – 325 lb-ft
The Focus RS has now adopted the all-wheel drive system to compete with the Audi RS3, BMW M2 and the Golf R. It is remarkably easy to launch thanks it to its totally new launch system. We would choose the Nitrous Blue option as it suits this hairy hatchback.
Fitted with Recaro front seats as standard, you know this thing is a Sunday toy. Or is it? Well it actually suits well as a daily driver with an average consumption of 36.7mpg and a fairly good suspension setup, perhaps a little too hard but then again this is the RS.
Engine wise, this actually shares the same 2.3 ecoboost four cylinder as the Mustang, surprisingly this has actually been tweaked to produce more than the mustang giving it more pack a punch than an American muscle. By far the best and most mental unique selling point of this car is RS Drift Mode. Much like launch control, it is a feature you will rarely use but when you do use it, the fun factor of this car is outstanding, what kind of petrol head doesn't love the screech of tyres and burning rubber as your tail kicks out?

Ready to know more?
Let Us Put You in the Driving Seat
Whether you're looking to arrange the finance on your next car, refinance an existing agreement or release equity from your current vehicle, your dedicated Account Manager will find a funding solution that's perfectly tailored to your needs.