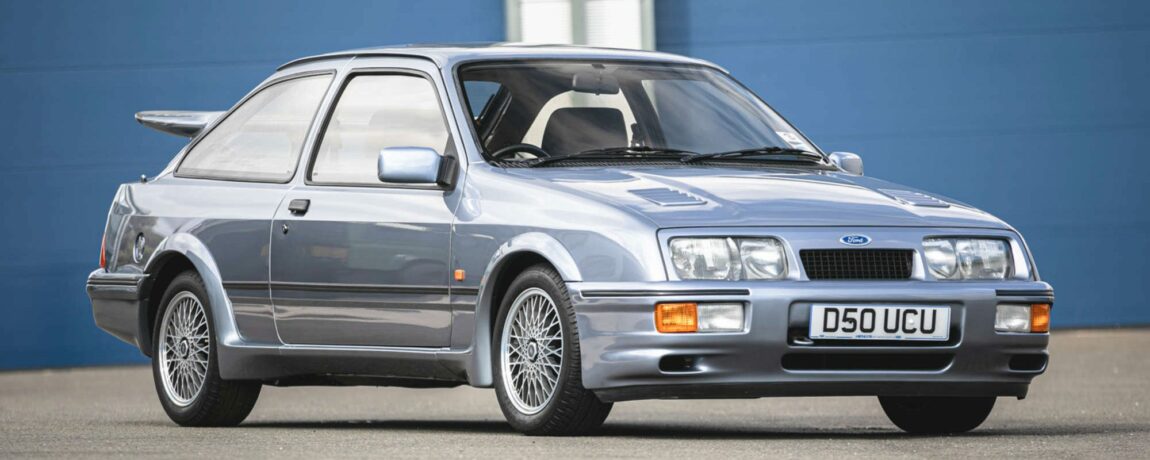 Record Breaking Silverstone Auction
Classic car auctions are the perfect chance to purchase cars that aren't usually found for sale. The rare, limited editions, examples with exceptional provenance or future classics with very low or even delivery miles. The truly immaculate examples or ones with a unique history are sold for many thousands over their original estimates yet represent a chance to own something the likes of which may never be offered for sale again.
Last weekend's Silverstone Auctions NEC Classic Motor Show Sale was no exception with a plethora of fantastic cars on sale and some generated a particular amount of interest from bidders. In fact, seven of the cars sold for world record amounts by the time the hammer dropped, some more surprising than others. With so many world records broken, as well as 3 further British record prices, the auction achieved an 81% sales rate and totalled £8.1 million sale value. Here, we look at the cars that received those record breaking bids and what makes them so special.
1986 Ford Sierra RS Cosworth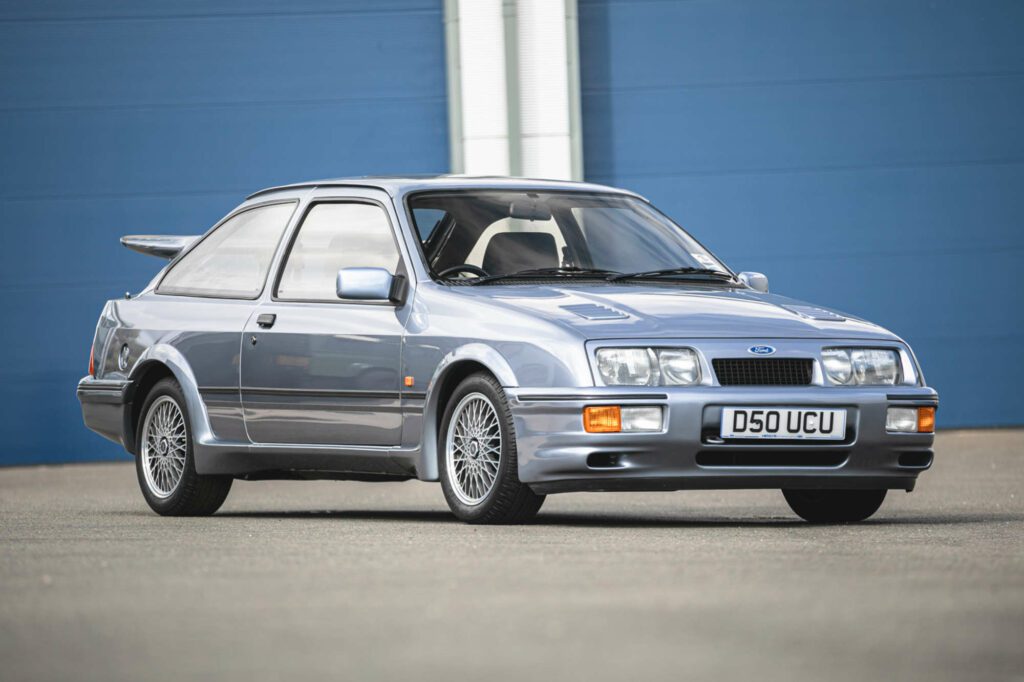 The Ford Sierra RS Cosworth is the definitive 1980's performance car icon. A true sign of the excess of the era with its extended wheel arches, deeper spoilers and legendary 'whale-tail' rear spoiler. The example offered was finished in pristine Moonstone Blue with exceptional Recaro Grey cloth interior. The car had covered just 8,795 miles from new by its 2 former keepers, an average of less than 250 miles per year, and was offered in as original condition as possible. The car came complete with original purchase invoice, book pack with handbook and press information pack, as well as the service book and receipts.
The originality and pristine condition of this Sierra RS Cosworth meant that the car sold for an incredible £132,750. Not only a record for a Sierra RS Cosworth but beating the previous record of £122k which was a rarer version of the car, an RS500 model, sold back in 2017. The price achieved is testament to the originality and documentation of the car and shows how in demand 1980's future classics are in the current market.
See more: 1986 Ford Sierra RS Cosworth
1989 Jaguar XJ-S Convertible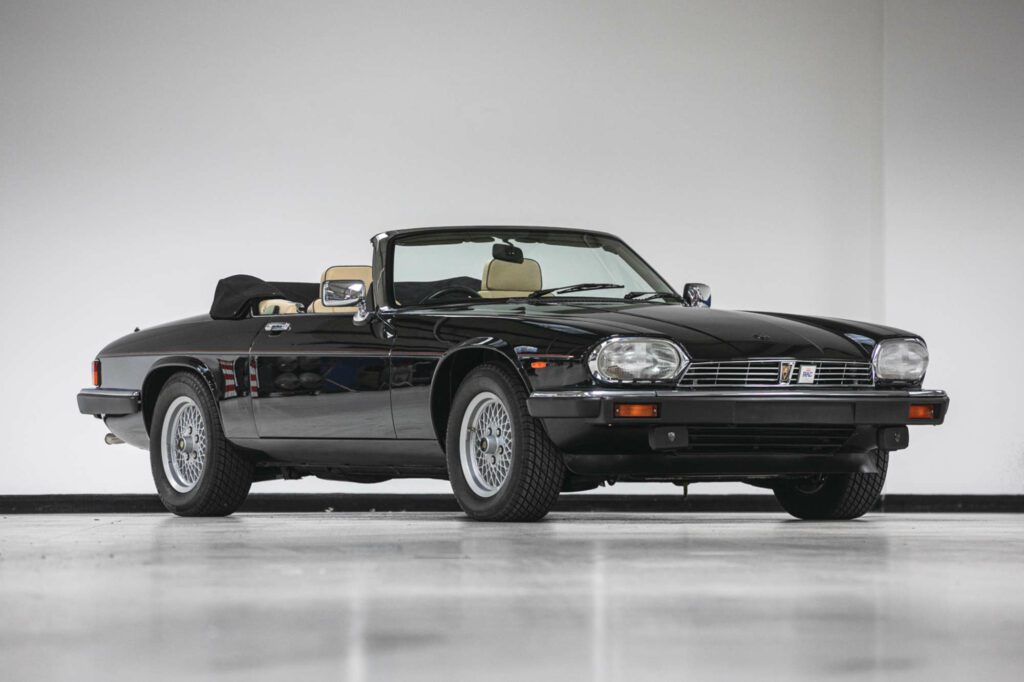 If less than 250 miles per year are a bit too many for you, the next car was something very rare indeed. This 1989 Jaguar XJ-S 5.3 V12 Convertible was unregistered and had covered just 100 miles since it rolled of the production line over 33 years ago. Offered in rare Jet Black, it is unlikely that an example in this condition and with so few miles will ever be seen again for sale, representing a once in a lifetime opportunity. The previous owner chose not to register the car, instead enjoying its form and beauty as a work of art, yet regularly started and ran the car up to temperature around his property to ensure it remained in good working order.
The car of course represents a unique opportunity to own an unregistered, delivery mileage example and came complete with all documentation and receipts confirming its originality. With a final sale price of £131,625, the car not only beat the previous record but sold for almost 3 times the price of a similar model previously auctioned. Being such a rare and low mileage example, that record may stand for quite a few years yet.
See more: 1989 Jaguar XJ-S Convertible
1972 Ford Transit Mk1 Twin Wheel LWB Panel Custom Van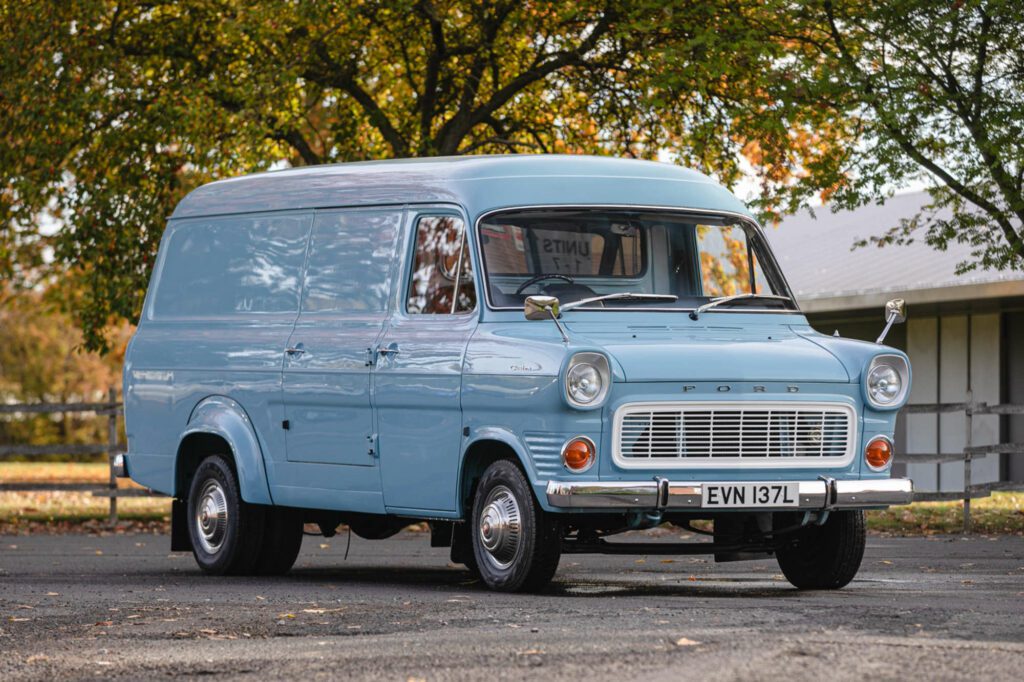 Perhaps a surprise to be seen at a classic car auction, but it wasn't just cars at the record breaking Silverstone Auctions sale. This collector quality 1972 Transit van managed to avoid all the scrapes and scratches that most vans accrue over the years and was offered in exceptional condition despite its 50 years of age. As a 'Custom' version it offered wooden trim to the dashboard and door linings and luxurious leather seating to the interior.
With just over 7,000 miles covered, the van was kept in a heated garage for over 40 years of its early life and underwent a reconditioning before being taken to shows as part of the previous owner's private collection. The final sale price was an impressive £61,875, the most ever paid at auction for a classic Transit Van and shows that it isn't just classic cars that are receiving all the right attention.
See more: 1972 Ford Transit Mk1 Twin Wheel LWB Panel Custom Van
2005 Mitsubishi Lancer Evo VIII MR FQ-400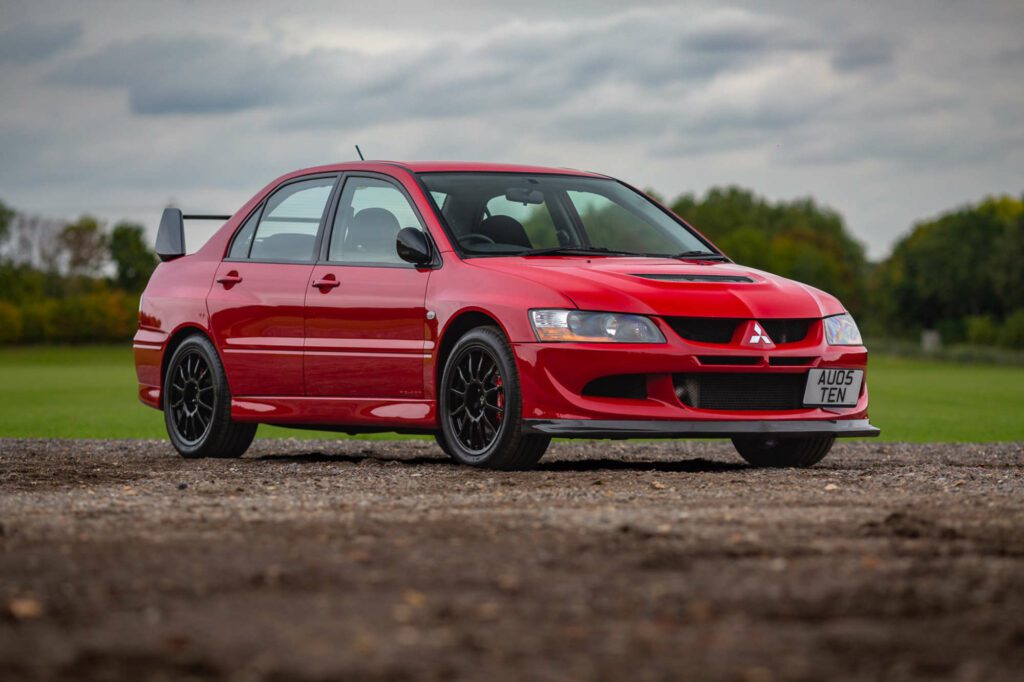 The records weren't just constrained to 70's and 80's classics, there were a few more modern cars that also saw great interest and sold for fantastic sums of money. The best example of this was this 2005 Mitsubishi Lancer Evo VIII Mr FQ-400, one of the road-going rally cars from the iconic Impreza vs Lancer era and a fantastic example. Despite a relatively moderate mileage of 55,000, the Evo VIII MR was limited to just 100 examples and was a highly sought-after version of this impressive car.
This impressively original car was offered in fantastic condition and benefitted from an extensive history file with 20 service stamps, as well as recent cambelt, clutch and flywheel replacement. The relatively high mileage was overlooked by the fact that the car was offered in pristine condition, justified by the final sale price of £72,000, a new record for the 8th generation of Lancer Evolution.
See more: 2005 Mitsubishi Lancer Evo VIII MR FQ-400
1988 Mercedes Benz 300SL (R107)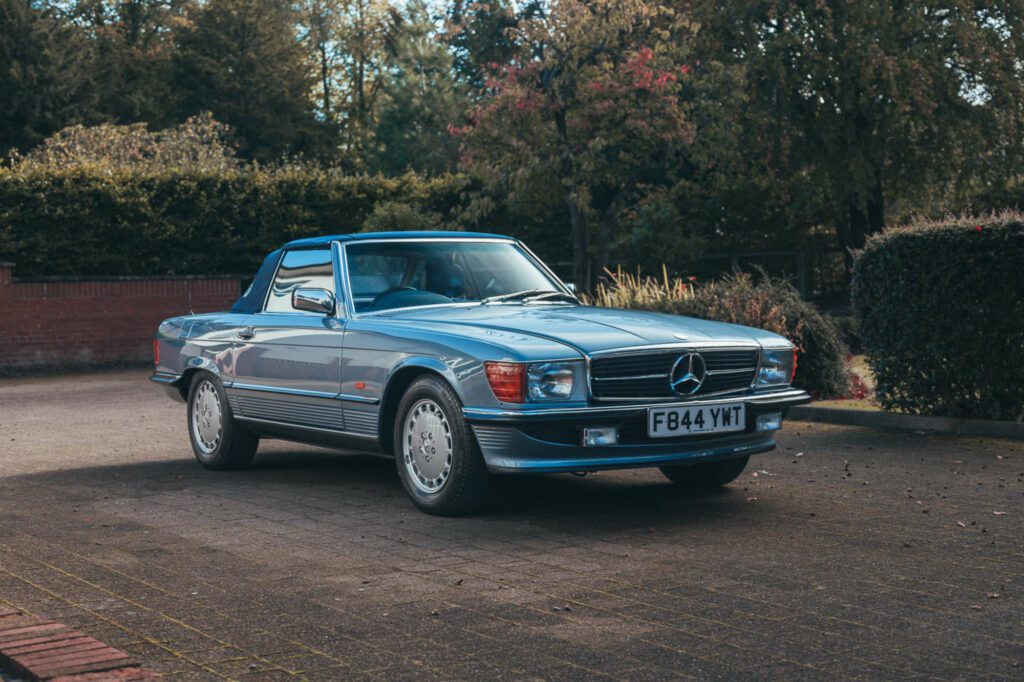 The low mileage, original condition examples continue with this immaculate 1988 Mercedes Benz 300SL. With just 6,000 miles covered from new, the Diamond Blue paintwork and Navy Blue mohair hood look as bright and shiny as the day the car left the factory, the hood showing no signs of creases or folds thanks to use. Whilst inside the Navy Blue MB-Tex and Blue check Karo cloth seats appear hardly sat on, thanks obviously to the low mileage of the car and the fastidious previous owners.
This stunning example is surely one of the best-preserved right and drive Mercedes Benz 300SL models in existence and is a welcome addition to any collection of notable vehicles. The final sale price of £75,375 is a world record for this model of car and shows that this generation of SL is quickly becoming as desirable and as valuable as the two previous iterations that went before it.
See more: 1988 Mercedes Benz 300SL (R107)
2010 Ford Focus RS500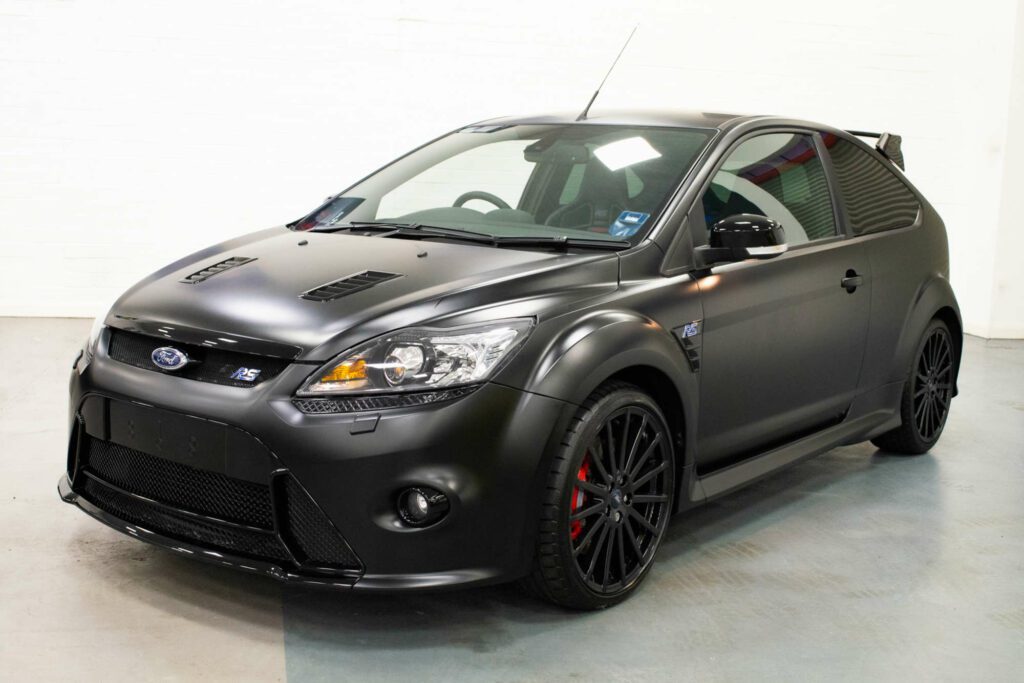 You would expect that a car made just 12 years ago would not generate the interest and excitement of some of the rare classic models on offer at the record breaking Silverstone Auctions sale, especially one as seemingly common as a Ford Focus. But this Focus is not just any Ford, but a limited edition 1 of 500 example (just 101 came to the UK) of the fearsome RS500, and one that has covered less than 1,000 miles too. A one owner car, number 174 of the 500 made and being part of an extensive Fast Ford collection, the rare opportunity to purchase one of these exclusive models is certainly one that does not come up often.
This RS500's immaculate and original condition sets it apart from most other examples. Despite the low mileage, it also came with an extensive history file and documentation pack that ensured this Focus was going to command a high price. With a final sale price of £99,000, this immaculate RS500 now holds the title of the most expensive road going Ford Focus of all time thanks to its 'out of the box' condition and sells for almost 3 times its original list price just 12 years ago.
See more: 2010 Ford Focus RS
2009 Ford Focus RS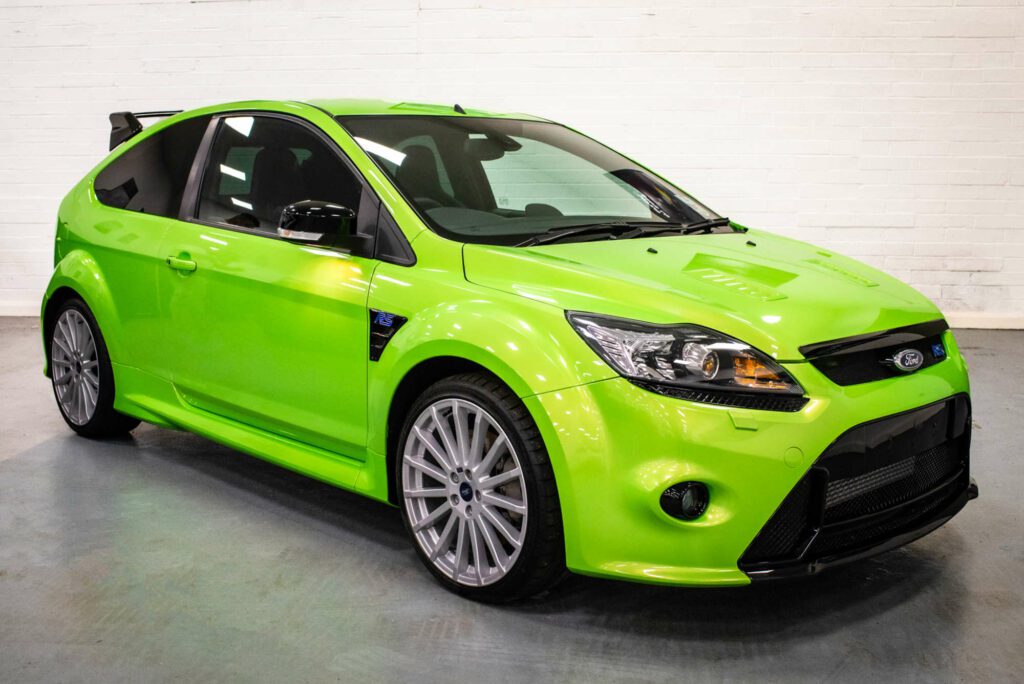 Whilst the Focus RS500 was stealth-like in appearance thanks to its Satin Black paintwork, the same could not be said for the next record-breaking car, a 2009 Ultimate Green Ford Focus RS. It may not be as rare as the RS500, but this particular RS is surely one of the lowest mileage cars in the world having covered just 357 miles since new. This highly original car is as close to a brand-new car of the era as you are likely to get and offered an exciting opportunity to purchase something probably never to be seen again.
Having remained in a heated garage throughout its lifetime, this car came complete with service records and has original documentation as if it was fresh from the factory, which it pretty much is. With a final sale price of £63,000 it broke the world record for a 'standard' second-generation Focus RS and highlights the popularity that fast Fords are currently offering.
See more: 2009 Ford Focus RS
Oracle Auction Car Finance
At Oracle Finance we specialise in finding funding for cars that are to be bought at auction. Our expert Account Managers use our panel of specialist lenders to help you to find the perfect package, bespoke to you and your circumstances. We could help to get you approved at the top end of your budget up to 90 days before an auction with an agreement in principle, so that when that hammer drops, your funding is in place, and you are ready to purchase the car of your dreams.
Our team are always on hand should you have any questions about arranging car auction finance and your dedicated Account Manager is ready to take your call today. With the Silverstone Auction less than a month away, why not speak to us now and get your funding in place before you miss being able to place that winning final bid.
Read more about our Auction Car Finance here: Auction Car Finance | Get Car Finance Approved Before You Bid

Ready to know more?
Let Us Put You in the Driving Seat
Whether you're looking to arrange the finance on your next car, refinance an existing agreement or release equity from your current vehicle, your dedicated Account Manager will find a funding solution that's perfectly tailored to your needs.