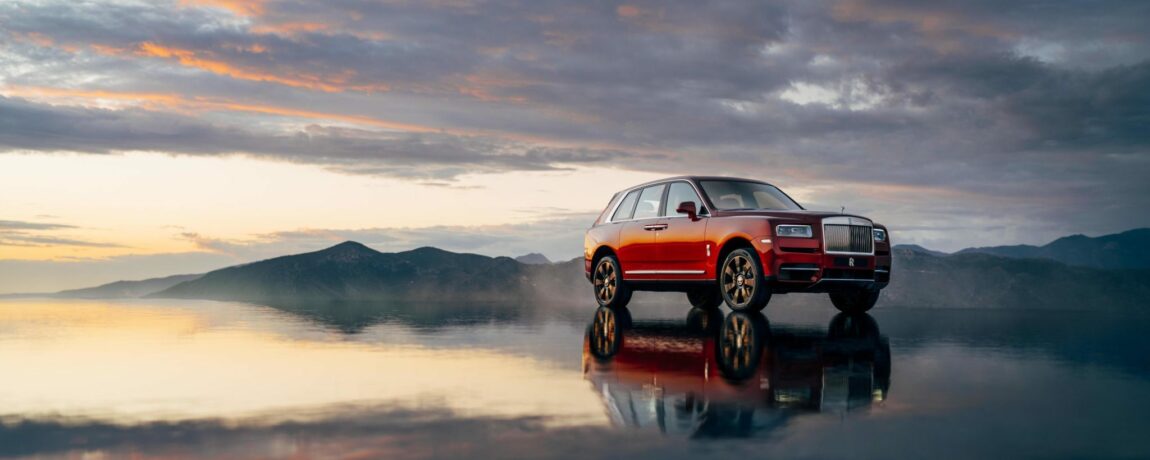 Rolls Royce Cullinan – The Most Romantic Car Ever?
This Valentine's Day you might think that a romantic date with your loved one involves a meal in a fancy restaurant or at a weekend getaway or even at a spa retreat. But what if you could get all of this and more without even needing to leave the car. Everyone knows the Rolls Royce Cullinan is the upmost in luxury SUV motoring, but in many ways, it is also the pinnacle of romantic motoring, you just need a bit of imagination.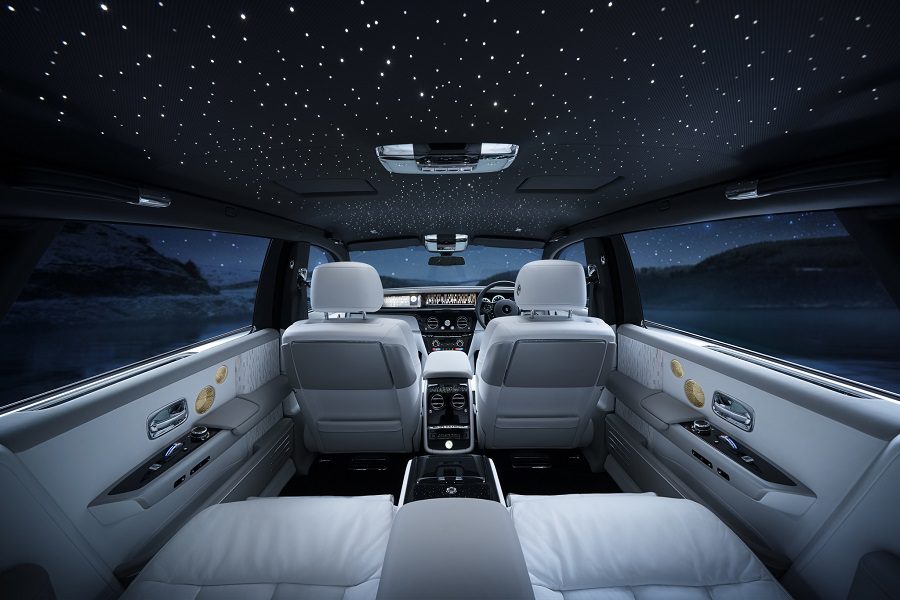 Shooting Starlight Headliner
Many people's idea of a dream date is a night under the stars, but this time of year how can you guarantee a cloud free sky and it to be warm enough to enjoy the experience. The Rolls Royce Cullinan has the option of a Shooting Star Headliner, one better than the 'standard' starlight headliner if there ever could be such a thing. With individually placed LED lights stitched into the soft leather headliner that twinkle at a relaxing brightness, there are also built-in hidden lighting tracks that offer the occasional 'shooting star' that race across the roof lining at random intervals. The visually impressive spectacle is as close to the real thing as you can get and a masterpiece in craftsmanship as you would expect from Rolls Royce. The perfect way to guarantee a warm, cloud free environment for your date.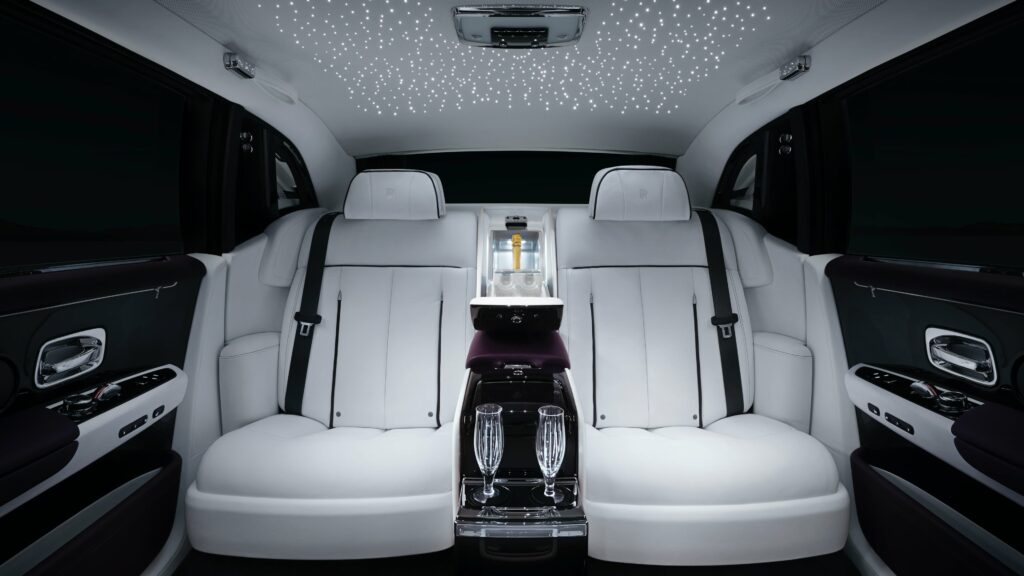 Champagne Fridge
Whilst you are enjoying your relaxing experience under the stars you will need something to drink. Thankfully Rolls Royce have thought about this, and then some. Selecting the Champagne cooler option means that the hand-crafted centre console in the rear compartment not only houses a fridge to chill your champagne at the perfect temperature, along with a pair of Rolls Royce champagne flutes. Either that or how about the Rolls Royce cut glass whisky decanter and matching pair of glasses depending upon your drink of choice.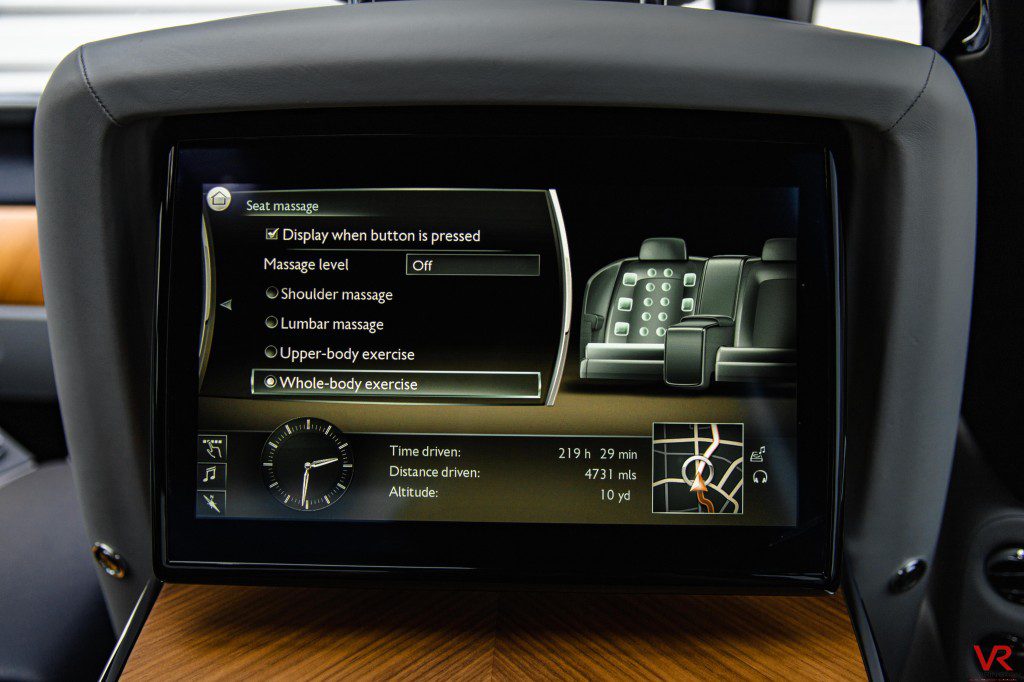 Massage Seats
If the idea of viewing the shooting stars whilst drinking chilled champagne isn't quite relaxing enough for you, the Cullinan has of course got a solution. How about a couples massage? The massage seats in this Rolls Royce, which are also available with heating and cooling, offer no fewer than 8 different types of massage with a range of 3 intensity settings and 24 different massage modes to choose from. Surely the only stress you would find is deciding which of those to choose from, surely one of each is the only answer.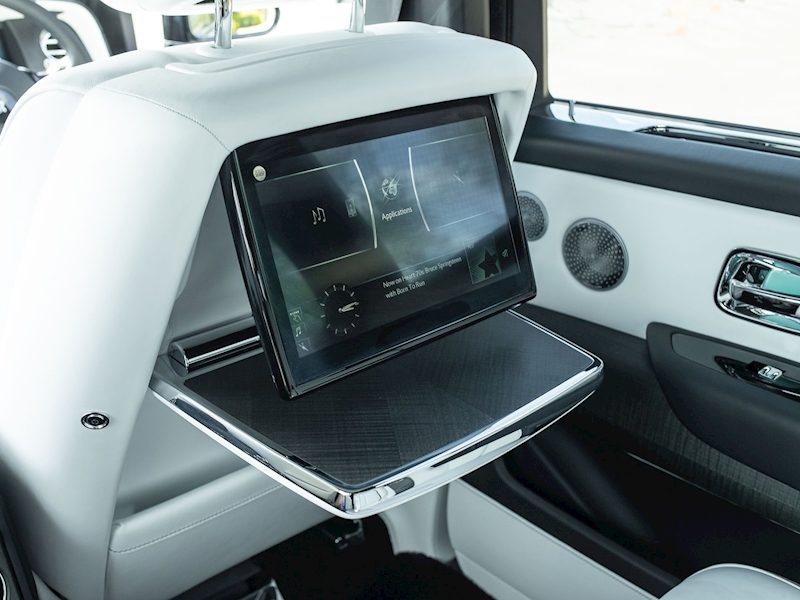 Rear Entertainment
The Cullinan's 'Rear Theatre Configuration' includes a pair of picnic tables crafted from the finest woods or carbon fibre, combined with a pair of 12" touchscreen monitors, that fold down from the seat back at the touch of a button. With the ability to play films, watch digital television, make telephone calls or control a large number of features, it offers the perfect ability to watch a romantic film or two while you're relaxing, and so much more.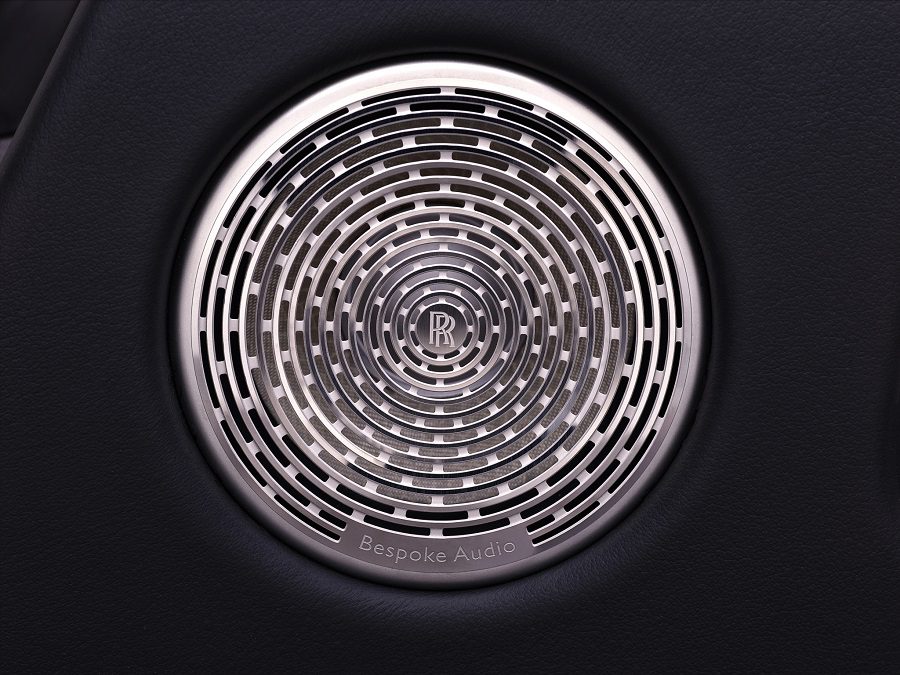 Bespoke Audio
Many cars come with impressive audio systems but few can match the Rolls Royce Bespoke Audio experience. With 18 speakers throughout the cabin powered by a 1,300-watt amplifier the power of the audio is just the start. Comprising of 2 subwoofers, 7 mid-range speaker, 7 tweeters and 2 'exciters' in the headliner, the crispness and deep bass of the audio is enough to rival any movie theatre or do justice to any orchestral recording. The extensive engineering that Rolls Royce have put into their Bespoke Audio offering is simply staggering to ensure the best quality sound is created in the Cullinan.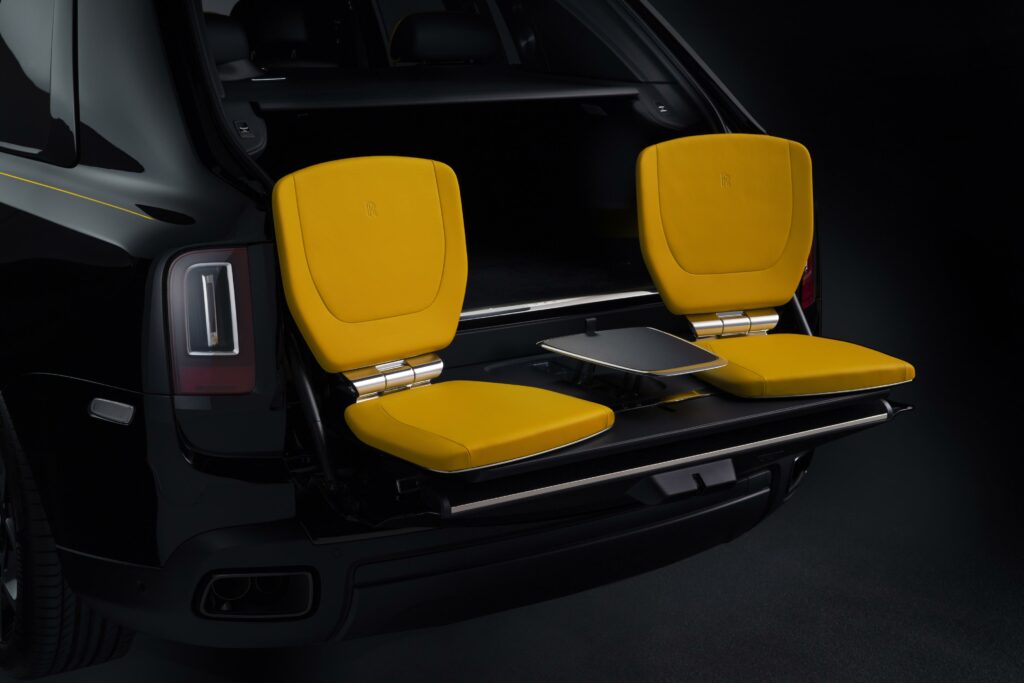 Event Seating
If you happen to pull up at the perfect sightseeing location and want to take advantage of the amazing views on offer, what better way to enjoy them than with the optional Event Seating. Slightly cheating as technically you do have to get out of the car to use the Event Seating, but still a romantic gesture to enjoy with your loved one. Not content with simply sitting on a split folding tailgate, the finest leather Event Seating folds out from the boot floor at the touch of a button and even features a pop-out table to rest your champagne flutes on while you take in the scenery. The perfect alfresco addition to take advantage of for the ultimate luxury picnic.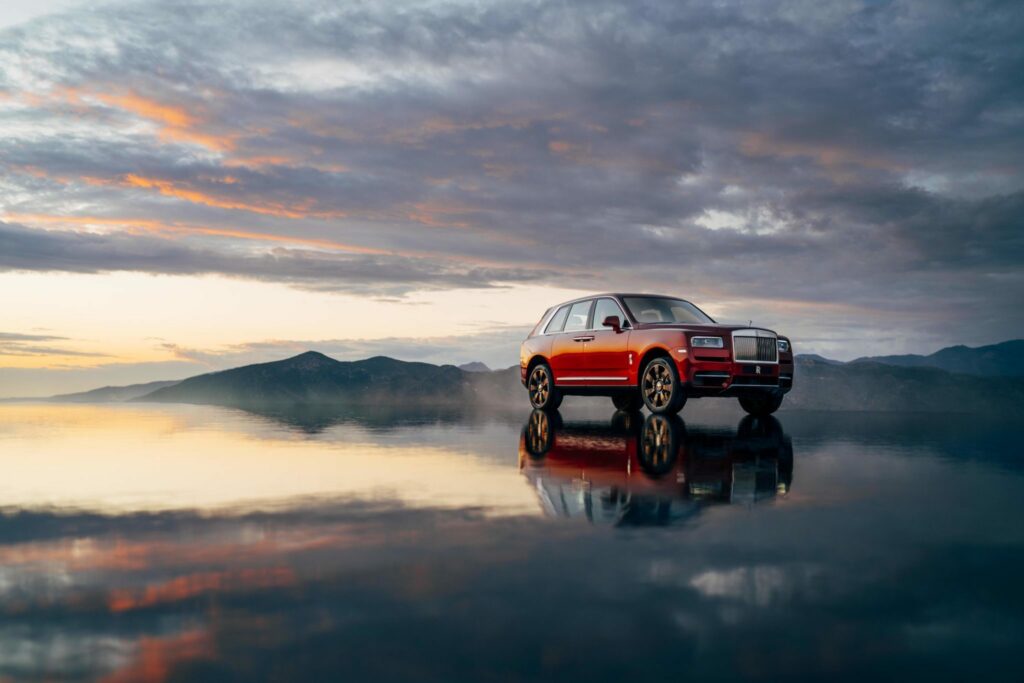 Magic Carpet Ride
No matter where you go in your Cullinan nothing is allowed to affect the famed 'Magic Carpet' ride quality that Rolls Royce is famed for providing. Despite its off-road capability, the air suspension works wonders both on road and off, meaning you begin to wonder whether the car is actually floating like a magic carpet. Not only that but the foam filled tyres combined with double thick glazing and over 100kg of sound-deadening equipment means that the Cullinan is one of the quietest places to be, no matter where you are driving and whatever the weather.
Oracle Rolls Royce Finance
At Oracle Finance we love a Rolls Royce, last year we sourced finance for 26 Rolls Royce's including many rare or desirable classic models. Our expert Account Managers use our panel of specialist lenders to help you to find the perfect package, bespoke to you and your circumstances. We could help to get you approved at the top end of your budget up to 90 days before an auction with an agreement in principle, so that when that hammer drops, your funding is in place, and you are ready to purchase the car of your dreams. Our team are always on hand should you have any questions about arranging car auction finance and your dedicated Account Manager is ready to take your call today. With the Silverstone Auction just weeks away, why not speak to us now and get your funding in place before you miss being able to place that winning final bid.
Read more about our Rolls Royce Finance here: Rolls-Royce Car Finance
Why Choose Oracle?
With over 1,900 Trustpilot reviews and an average rating of 5.0 out of 5.0, you too can find out why thousands of people trust us time and time again to find a smarter, tailored funding solution when looking for your next dream car.
We have also been awarded 'Best Specialist Car Finance Provider' four years in a row at the Car Finance Awards 2020, 2021, 2022 and 2023 having funded over £1.7 billion of vehicles over 18 years and counting.
Make sure you follow us on Instagram, LinkedIn and Facebook to keep up to date with what's happening in the market and to see some stunning photos and videos of the amazing cars we fund.

Ready to know more?
Let Us Put You in the Driving Seat
Whether you're looking to arrange the finance on your next car, refinance an existing agreement or release equity from your current vehicle, your dedicated Account Manager will find a funding solution that's perfectly tailored to your needs.