Some of the top SUVs in the market this year
SUVs are well known for being the ultimate family car, mainly due to being packed full of comfort, gadgets and valuable storage space. As we ease into the darker nights and, dare we say it, wintery months, we start to put our summer vehicles away and rely on our trusted and larger assisted or full four-wheel drive vehicles.
In fact, SUVs are one of the most sought-after vehicles in the UK with approximately 44% of all vehicles on the road being an SUV in 2021. So, there's little wonder as to why all the main brands have an SUV model across their collection. So, we've highlighted some of the top SUVs in the market below…
 Jaguar F-Pace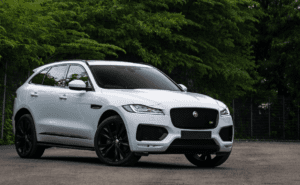 Jaguar's largest SUV, the F-Pace, now includes a plug-in hybrid version in the line-up, alongside petrol and diesel engines.
A facelift in late 2020 saw minor revisions to the F-Pace's already handsome exterior, while the cabin was treated to a significant refurbishment, the most notable update being the inclusion of a larger 11.4-inch infotainment touchscreen, running Jaguar Land Rover's latest Pivi Pro operating system.
Customers have a wide variety of F-Pace variants to choose from, with the S, SE and HSE specifications also available as sporty R-Dynamic versions, offering enhanced exterior details, unique alloy wheel designs and upgraded upholstery options. The standalone SVR model, with its huge 542bhp output, sits at the top of the range. All cars are well equipped with a heated windscreen, two-zone climate control, auto wipers, heated leather front seats and Apple CarPlay and Android Auto included on every model.
 BMW X5
The latest edition of the BMW X5 builds on the success of its ancestors that sees improvements made to the practicality and overall design, as well as upgrades to the infotainment and safety technology. Now in its fourth generation, the exterior design is confident and modern, while the inside is still luxurious.
Only one body style is available, a boxy five-door that maximises utility. The latest model takes this to a new level, in fact; it's bigger than before, and while it still comes with the option of a third row of seats, it now boasts user-friendly features such as electric seat folding from the boot, as well as an automated 'hands-free' split tailgate.
The latest model range includes four engine options; two diesels, one petrol unit and a plug-in hybrid, all offering punchy performance and an eight-speed automatic gearbox with BMW's xDrive 4×4 system.
Land Rover Defender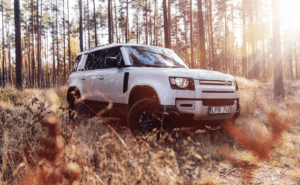 Following years of customer requests for a new Defender model with additional features, Land Rover finally released their latest version earlier this year and wow did it pay off, having already secured the 2022 Large Premium SUV of the Year award.
Defender customers have a choice of either the three-door Defender 90, or five-door Defender 110 and 130 models, with prices starting from around £58,000. Commercial Hard Top versions are also available, while the bigger 130 model has a lengthened bodywork to accommodate up to eight occupants or more cargo.
There's also a high performance V8 petrol option featuring JLR's supercharged 5.0 engine making 518bhp. An eight-speed auto transmission is standard across the range.
 Audi Q7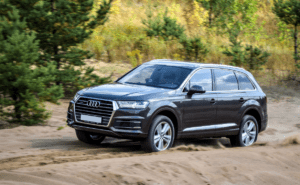 Although a latecomer to the premium SUV class, the Audi Q7 certainly made an impact when it arrived. Launched in 2007, the original stood out thanks to its imposing dimensions and spacious seven-seat layout, where most of its rivals were only five-seaters.
Of course, any Audi benefits from the German brand's high-quality image and focus on technology and the Q7 is of no exception. With the model receiving a comprehensive update in 2019, it now boasts a sharper look and more luxurious interior along with new mild-hybrid petrol and diesel engines. Audi's latest dual-screen infotainment system dominates the redesigned interior and there's a focus on high-tech luxury.
There are four trim levels on offer: Sport, S line, Black Edition and Vorsprung. Standard equipment on Sport models is generous, with LED headlights, adaptive air suspension, 19-inch alloys, Audi Drive Select and leather upholstery all included. Audi's MMI Navigation Plus infotainment system works across a total of three displays – two in the middle and one behind the steering wheel in place of traditional dials. There's a good level of safety features too, including a rear-view camera, cruise control, automatic emergency braking and all-round parking sensors. Android Auto and Apple CarPlay are also standard across the range.
Mercedes GLC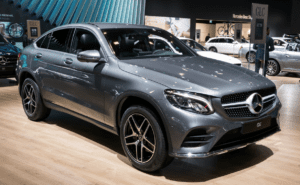 The GLC is simply the best-selling model in the Mercedes line-up across the world, with over 2.6 million units sold since 2008. Enter the new, third generation GLC (Mercedes includes the GLK-Class, which we didn't get in the UK). From the outside, the brand has clearly played it safe as it carries over much of the design seen on the old car, as well as hints from the rest of the German firm's range.
Mercedes says the 220 d model will be its biggest seller here in the UK. The engine is a four-cylinder turbodiesel with mild-hybrid assistance. Together, the system pumps out 197bhp and 440Nm of torque, sending power to all four wheels through Mercedes' tried and tested nine-speed automatic transmission. With a 0-62mph time of 8.0 seconds, it's the slowest iteration of the new GLC, but it doesn't feel that far behind its more powerful plug-in hybrid siblings when you're on the move. Indeed, the 0-62mph time is only one tenth of a second slower than an equivalent BMW X3 xDrive20d and four tenths off an Audi Q5 40 TDI.
Aston Martin DBX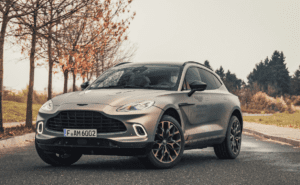 Aston Martin has designed and manufactured some of the most stunning sports cars in the world, which is of no surprise, and has now focused its renowned engineering ability on delivering a 4×4 to beat the best in the class.
The DBX pitches in at almost £160,000 and, while its looks may divide opinion, what you get for your money is a stylish five-door SUV with 542bhp and a sizable 700Nm of torque. But, it's not just the Mercedes-AMG 4.0-litre petrol V8 powerplant that delivers the driving enjoyment – Aston Martin DNA flows through the veins of the DBX, and the tech hidden under the skin ensures it's every bit as capable as most modern sports cars.
Power is delivered via a nine-speed automatic gearbox which allows the DBX to dispatch the 0-60mph sprint time in 4.3 seconds, before firing on to reach a top speed of 181mph – not bad for a 2.2 tonne family SUV.
 Porsche Macan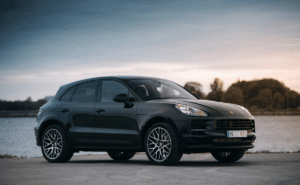 Porsche claims that the Macan is "the sports car of the SUV segment" and though it's not what you think of when you say the term 'sports car', the Macan certainly is one of the best-driving SUVs on sale today.
Four-wheel drive means there's lots of grip on offer, so it's a strong performer regardless of road conditions, while the standard-fit seven-speed PDK dual-clutch automatic gearbox means the Macan is a beautifully relaxed car to drive.
The Macan isn't quite as large and practical as some rivals, but on the road it's fast and a lot more fun to drive. Opt for adaptive dampers and the Porsche will offer plenty of comfort, while it has a high-quality feel and offers an exclusive, upmarket image.
After the runaway success of the larger Cayenne, it was pretty clear the German sportscar firm couldn't afford not to extend its presence in the SUV sector.
Following a facelift in 2021, and more significantly, power has also been enhanced across the range: the standard Macan and Macan T are now powered by a 261bhp 2.0-litre turbocharged four-cylinder petrol engine (up 19bhp), while the Macan S has a 2.9-litre V6 petrol unit packing 375bhp – a rise of 26bhp. Both cars have a seven-speed PDK auto gearbox and four-wheel drive as standard.
 Lamborghini Urus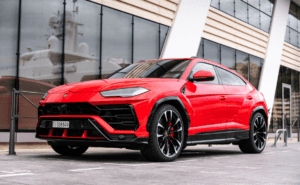 One of the world's fastest SUVs. The Lamborghini Urus is what happens when the maker of the planet's most outlandish supercars turns its hand to a large five-door family car with proper ground clearance and off-road ability. On paper it's a clash of purposes, in reality it's a mouth-watering prospect.
It gets a 650hp V8 petrol engine, meaning a sprint from a standstill to 62mph takes just 3.6sec. It'll also reach 190mph if you've got the room, and courage.
It comes with adjustable air-suspension as standard, allowing you to raise and lower it as well as stiffen the suspension for better cornering. However, at a cost rarely below the £240,000 mark, you wouldn't want to be testing its maximum capacity off the road… would you?
 Upcoming models to look out for:
Land Rover are releasing the new Discovery in 2025 and is set for 'luxury reinvention' in the headlines. Rival brands also bringing out new SUVs from 2023 include Aston Martin's new DBX Coupe, BMW's XM, the Mercedes EQE and the Ineos Grenadier.
Even more exciting is Ferrari's first ever four door, four seater… The Ferrari Purosangue. The name, of course, comes from the Italian translation for Thoroughbred. Promising a V12 engine with a thrilling driving experience, this model is proving to be a powerful contender in the luxury SUV market and is set to be unlike any other, making this
 'I would love an SUV and I am ready to understand my finance options…'
Our expert team have over 17 years' experience in sourcing tailored car finance products, including these models mentioned above. Whatever type of car you're looking for, you can get in touch with us either by calling us on 0800 012 6666 or clicking here.
With over 1,200 Trustpilot reviews and three-time consecutive award winners of the Best Specialist Car Finance Provider award from 2020 through to 2022, you too can find out why thousands of people trust us time and time again to find a smarter, tailored funding solution when looking for your next dream car.
Voted Best Specialist Car Finance Provider three years in a row at the Car Finance Awards 2020, 2021 and 2022 having funded over £1.5 billion.
Make sure you follow us on Instagram, LinkedIn and Facebook to keep up to date with what's happening in the market and to see some stunning photos and videos of the amazing cars we fund.

Ready to know more?
Let Us Put You in the Driving Seat
Whether you're looking to arrange the finance on your next car, refinance an existing agreement or release equity from your current vehicle, your dedicated Account Manager will find a funding solution that's perfectly tailored to your needs.