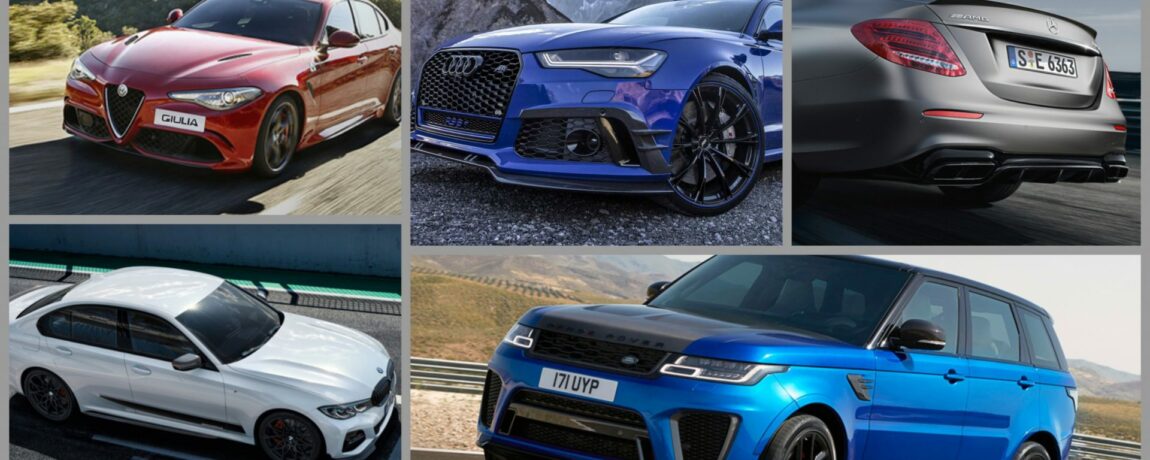 The top 5 premium performance cars you can use everyday.
BMW M5 Competition
Specs
0-60 – 3.1 s
Max Speed – 190 mph
Max Bhp – 617 bhp
Max Torque – 553 lb-ft
BMW's M division has been one of the most iconic car specs of any car in the world. The new M5 is no exception at all. The perfect example of a modern super saloon, If not a four door super car. The engine bay of this car is enormous and by god it needs to be. Under the hood you've got a 4.4 litre V8 with two large turbos. The styling of the new M5 hasn't changed that much but we like that, it has kept its traditional and reserved 5 series look but got hints of added sportiness to really show this is the M5. The large black diffuser at the rear combined with a quad setup of large exhausts express the M performance. The huge black grilles at the mouth of the car look like that of a blue whales mouth. HUGE.
This thing screams power on every panel it has, the front bumper with those menacingly large grilles make the car look like it will eat you alive. And oh yes it will. Seeing this in your rear view would send a shiver down your spine and rightly so, it looks fantastic. We would recommend the deep Marina Bay Blue Metallic as this is so deep and contrasts well with the chrome and gloss black.
The M5 offers a lot of customisation and play with the different modes it has to offer, you can do this maddening thing if are a true madman. Switching off four-wheel drive completely to make the M5 rear drive only… You can already imagine this picture in your head can't you? Yeah best stick to the track for that one.
With the competition pack, you get an extra 25bhp from the 4.4-litre V8, a 7mm drop in ride height, tweaked dampers, stiffer springs and a modified rear anti roll bar. This adjustment in the Competition Pack eliminates any body roll and made steering somehow even sharper than it already was before.
The M5 Competition's exhaust coughs, pops and bangs and although obnoxious, at the end of the day you're driving a £100k car and hearing the power not just feeling it is all part of the experience.
Audi RS6 Avant
Specs
0-60 – 3.6 s
Max Speed – 193 mph
Max Bhp – 605 bhp
Max Torque – 590 lb-ft
The Audi RS6 is a large four wheel drive road shredding monster; the best part is this is a proper family estate car and the fastest estate car you can buy. It will obliterate all the Italian supercar opposition with ease (just maybe don't let it loose when you've got the family in the car).
This family supercar has a whopping 4.0 litre twin turbo V8 engine. The steering is very heavy as this car weighs a lot, dynamic steering is most definitely an option to choose. If you want to plant the power down you can though, the weight is insignificant. It shifts as smooth as butter thanks to its brilliant auto gearbox.
When you do choose to kick it in the backside, it will respond with a very angry devilish roar from the ginormous V8.
It is a bit of a devil in disguise, it gets unnoticed more frequently than a sports or supercar but that is one of the great selling points, you've got nuclear power under the hood in what is a car that you can comfortably pick the kids up from school in, put your bikes on the roof and pack your luggage for the family holiday.
Audi's RS6 is the titanic of the brand, yet it doesn't handle like a boat. It handles like a nimble racing car. Audi's astoundingly good all-wheel drive system, Quattro, means this tank of a car can take enormous levels of pressure and grip through the tyres. It is more than capable of being thrashed through fast sweeping bends.
Being an £80k family car you'd expect true quality interior as is in an Audi and the RS6 keeps on giving and makes what we thought was good, a hell of a lot better. Cabin quality is the absolute diamond standard, it comes with a carbon fibre trim, a brilliant infotainment system, luxurious leather and an amazing sound system.
Mercedes AMG E63 S
Specs
0-60 – 3.4 s
Max Speed – 186 mph
Max Bhp – 612 bhp
Max Torque – 627 lb-ft
Mercedes AMG have made this car a true M5 killer. Finally, the M5 has something that it can finally get into a bit of a fight with; it was beginning to look unrivalled until this came along.
The top end E63 S model offers violent and wild power. Race mode unleashes the cars full capability. If you combine race mode with drift mode, then you're now at Defcon 1.
It's an executive saloon with the same amount of pulling power as a supercar.
With all that mighty power to deal with, the four wheel drive system is well needed. The beasts power is channelled through a nine-speed automatic gearbox, and while most of the time it is only the rear wheels that are utilised, under brutal acceleration when traction is what you require to stop you from letting this grey Godzilla get the better of you, anything up to half of the power is diverted to the front wheels for much greater stability.
Being an AMG spec, there ae a few dashes of AMG items to let everyone know your car is the pinnacle of Mercedes performance.  AMG step lights, small badges of the sleek and simple AMG logos.
Styling is similar to the M5, the exterior shape is fa more sleek and stylish though, the M5 is rather more brutish. In the carbon matte grey colour this car looks profoundly stunning and differentiates this from your standard E class. The E63 S is not as distinguishable as an M5 is to a 5 series but the styling works. There's no stupidly big spoiler, ridiculous grilles and insane arches that flair out to an unnecessarily wide stature. Where the Mercedes does show its absurdity though is through its vicious and raucous exhaust note. The AMG spec Mercedes are a force to be reckoned with. Not many companies can produce a more ferocious ungodly sound than these Germans.
The E63 S grants you the meatiest extras 20inch alloy wheels, dynamic engine mounts, AMG bucket seats and an electronic rear axle LSD for all of your drifting needs.
Range Rover Sport SVR
Specs
0-60 – 4.3 s
Max Speed – 176 mph
Max Bhp – 567 bhp
Max Torque – 502 lb-ft
Of all the cars on this list, the range rover SVR is the most luxurious. This luxury is displayed throughout the car consistently and to the best standards of quality the British has to offer. Lavished with bespoke quality is probably an understatement. You've got tonnes of room, soft leathers and alcantara and electronics that surpass your sci-fi films.
Overall this Range Rover is capable of giving you a mega amount of fun and comfort. But of course sticking to true Land Rover spirit, of course it can still off-road for you. Whether you're on a long motorway journey or a bumpy rural forest track, this car will ease through whatever it is you're doing.
Just because this car sounds all cushioned and very tame, you need to rip that thought right out of your head. Yes of course it will massage you, relax you, hell even make you a coffee! But this thunderous giant will echo down whatever road you're driving.  The sports exhaust developed by Land Rover Range Rovers in house tuning company (Special Vehicle Operations) makes it sounds like the heavens have opened up.
With 567 horses pulling this there's no doubt it has power capable to unleash at any point.  Rip snorting its way through any terrain like a bull on steroids, it provides unreachable quality that you can't get with many car brands and that mind bending performance makes it a thing of its time.
Opt with the Ethereal Blue for that true sporty look, from the outside it looks like a titan, but when you're in it, you'll be hugged by the lovely embossed seats, cooled down and made to feel at home.
Upon driving it, you'll constantly ask yourself 'how can something that weighs over 2,500kg can go this fast?'
 Alfa Romeo Giulia Quadrifoglio
Specs
0-60 – 3.9 s
Max Speed – 191 mph
Max Bhp – 510 bhp
Max Torque – 443 lb-ft
Finally we have the Alfa Romeo Giulia Quadrifoglio.
Many fellow car enthusiasts and petrol heads say, "You haven't owned a car until you have owned an Alfa Romeo"…
We would have to agree with that.
Very few car manufacturers have the heart and soul any driver craves but Alfa Romeo has totally hit the nail on the head here.
Firstly, look at how stunningly beautiful it is. I don't think there's anyone out there that could fault this cars appearance. The deep blood wine red paint boasts true Italian style. Quad tailpipes and a big diffuser give this car a savage look.
Alfa are renowned for their stellar engines. Busso's legendary V6 could even be trumped by this 2.9 Bi-Turbo V6.  It has a perfect balance of driving pleasure and lunacy that some of the cars on this list don't have. This car is fully rear wheel drive and doesn't have the immense gripping power the other rivals have executed perfectly.
But do you know what? Who cares?
That's the thing about the Italians, sure they may not be as reputable as the Germans for a get in and get out driving experience but a lot of these cars despite humongous power numbers on a piece of paper lack character, this Alfa is the most playful machine.
In the wet you're basically on a suicide mission. Channelling 510 raging Italian stallions through only the rear wheels is just all out Italian design madness. It isn't as well rounded as the competitors but it does make you smile on a more consistent basis.
Of course in order to use this power Alfa incorporated a bespoke suspension set up and large brakes which give you lightning fast stopping power for when you potentially misjudge a corner. Whoops!
Race mode makes this car sound like a mini volcano is erupting from the engine.  Gear changes provide you with pops and bangs that never get boring. The interior is the only flaw to this car because it doesn't look as premium as the others. Then again it costs around £30,000 less than the others.
Image credit: alfaromeo.at, landrover.com, mercedes-amg.com, motor1.com and bmw.co.uk

Ready to know more?
Let Us Put You in the Driving Seat
Whether you're looking to arrange the finance on your next car, refinance an existing agreement or release equity from your current vehicle, your dedicated Account Manager will find a funding solution that's perfectly tailored to your needs.