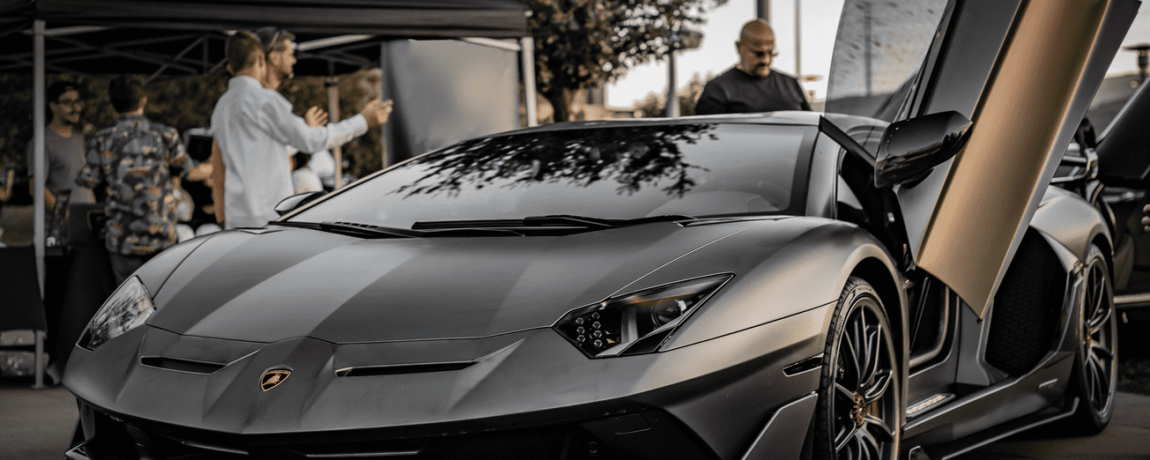 The top 5 supercars to date
Supercars, we all love them. Thinking about owning one? Well, these top 5 supercars to date are the ones that embody true supercar character…
Lamborghini Aventador SVJ
Specs:
0-60 – 2.8
Max Speed – 217
Max Bhp – 770
Max Torque – 531 lb-ft
Price – £360,000
First in our top 5, the Lamborghini Aventador SVJ.  The sexiest Lambo just got a whole lot sexier.  Aventador is the raging bull that boasts Lamborghini in almost every form.  The SVJ takes the already nutty car and amplifies its characteristics to the fullest. Hosting the most powerful V12 engine that Lamborghini has to offer, it's a naturally aspirated 6.5 litre that slaps turbo supercars in the face with an almost unimaginable 770 horses!
You'd be out of your mind to argue with how this car looks. Awesome springs to mind.  Lambo brings thinking outside the box when it comes to styling to a whole new level.  The major league diffuser paired with the beautifully sculpted twin pipes look so good from the rear.
The Interior design is equally as creative. The iconic Lambo suicide doors are plastered with stunning carbon fibre and a race-inspired red pull lever. The Audi inspired dash and infotainment has been exquisitely livened up with Italian flair. The starter button, for example, is hidden beneath a small red hatch in true fighter jet style.
Super Veloce Jota sounds special, sensational and scintillating. As you would expect from an NA V12 it is incredibly loud – in a market full of turbos, it's nice to have some old school big engines come into play. It's the most extreme Aventador ever and this is proven by its ludicrously fast lap time on the Nurburgring of 6:44. That is the fastest of any production car EVER!
To our minds, no other supercar maker embodies the pure idea and romance of supercar exotica, in terms of looks and sound.
Ferrari 488 Pista
Specs:
0-60 – 2.8
Max Speed – 211
Max Bhp – 710
Max Torque – 568 lb-ft
Price – £251,590
Similar to what Lamborghini has done with Aventador, Ferrari has done the same with the 488. Specced it up to high heaven. The Pista differentiates from the standard 488 by saving weight and cranking an already great 597bhp all the way to 710bhp. This is done by 50% new components which have allowed the progression to advance so quickly. The bonnet is now carbon fibre as is the front bumper, the engine cover is plexiglass and the spoiler is carbon fibre too. Carbon fibre wheels are also an option; these have a reduced weight of the standard wheels by about 40%
Enough about weight saving! Let's talk about how fantastically engineered this car is, what it can do and the true driving sensation Ferrari has to offer.
The Pista's engine has been tuned to accompany the twin-turbos perfectly. You don't get huge bursts of torque and then a massive power drop off like most turbo cars, with this car you get quite the opposite. The high rev ranges are not a bore because the engine has been engineered to save torque for this range, feeling like it doesn't have ANY performance drop off and a constant feed of power when you kick your foot down.  This makes it near irresistible to keep feeding the throttle all the way down.
This Ferrari is the most visually lavish one to date; attention to detail is so obvious and intricate. Precise lines, curves and vents make this car aerodynamically sculpted to tear up road or track.
McLaren 720S
Specs:
0-60 – 2.9
Max Speed – 212
Max Bhp – 710
Max Torque – 568 lb-ft
Price – £218,020
Speed, violence and momentum. The three words that capture the true characteristics of this British power demon.
Surrey. Hardly the beating heart of supercars is it?  Well think again.
Let's put this car's straight line capability into perspective with a perfect example that will truly shock you…
You could line up the 720S, the SVJ and the Pista together, let the Lambo and the Ferrari have a three-second head start and the 720S would STILL beat the Italians to 170mph and would then hit 190mph all in a standing mile. Keep the throttle glued to the floor and you'll be flying in no time at all; the 720S shifts 45% faster than the 675LT. It also generates 50% more downforce, double the amount of aerodynamic efficiency and is 15% more efficient in cooling. The most mind-blowing statistic of all is that McLaren state around 95% of the 720S parts are newly developed.
The exterior aesthetics and design accompanied by the amazing space grey colour make this car look like a futuristic stealth bomber. The interior is no different, an amazing deep black cockpit with splashes of sporty yellow, steel grey switches and dials and a rectangular Tron like infotainment system. The drive, neutral and reverse switches look simply insane and ripped straight out of Top Gun.
McLaren have come a long way from the MP4-12C released in 2011.  They've really cut their way into this big beefy supercar battle.
Porsche 911 GT2 RS
Specs:
0-60 – 2.8
Max Speed – 211
Max Bhp – 700
Max Torque – 553 lb-ft
Price – £207,506
The 911 has been Porsche's staple car since 1963. This one is the most powerful 911 ever built. With so much history behind this iconic sportscar/supercar, Porsche keep getting better and better at refining, reshaping and redesigning technology to somehow make the 911 more perfect each and every time. The GT2 RS is a steroid fuelled weapon that constantly wants to be pushed and driven hard. It looks like a road-going race car. The spoiler on the rear is ginormous and the two-tone colours give this car a race-themed appearance.
Choose the Weissach package for an extra £20k and you'll get reduced weight by 30kg through the use of numerous lightweight parts.  Inside you're kept securely in and feel rigid and safe thanks to the rather daunting roll cage.
Statistically, the GT2 RS is bonkers. It's a fun toy and definitely a thrill, hence why it was released amongst the hit racing game Forza Motorsport 7.
This car delivers merciless amounts of aggression and it sounds the part too. The exhaust note is a deep and bassy guttural sound that bellows a sensational sound to your ears.
Audi R8 V10 Plus
Specs:
0-60 – 2.9
Max Speed – 207
Max Bhp – 614
Max Torque – 413 lb-ft
Price – £147,765
This has to be on our list of the top 5 supercars to date. Everyone knows the Audi R8; it was one of the first supercars to revolutionise what we know of supercars nowadays. The R8 has been Audi's flagship car since 2006, undergoing lots and lots of changes.  This current-gen version is perfection…
Constant tweaks to this supercar for nearly 14 years have allowed Audi to tick all the boxes when it comes to design, innovation and a brutally pure driving experience. The R8 has an unholy engine with a shed load of power and compared to a lot of its current rivals, all this power comes from a naturally aspirated V10
Visually this car gets more stunning with every update, of all the generations the new one looks so incredibly sharp and mean. The carbon laced side vents contrast well on the beautiful metallic paintwork.  The design is iconic, sleek evil-eyed headlights, the gloss black grille ready to eat any car alive and enough vents to suck in as much air as necessary for that gorgeous V10.  The exhaust pipes would probably fit a football they're so big!  The lovely sloped glass rear exposes the V10 in all of its natural glory.
Coming back to that exhausts, they're not just massive in terms of size, they're massive in terms of decibels too. Rev to the absolute peak of a maddening 8,700 rpm and this creature spits, burbles and bangs as if you've fed it TNT.
Cabin quality is faultless in this car. Audi has taken the limited space and made the most of every area. Ergonomically, it's very simple and minimalistic, which means you get a lot of space.
To drive, this facelifted Audi R8 is an absolute dream, which probably isn't even doing it justice. It's a spectacularly balanced driving machine that stays true to its form and is your bread and butter supercar.  The 7-speed dual-clutch system pummels through any speed and doesn't have any lag, the engine is a creation from above and the whole thing is drop-dead gorgeous, what more could you want?
There's a reason these cars are the top 5 supercars to date. They all have unique characters, brilliant design and innovation – what driving a supercar is all about.
Liked this article? Check out our head to head of the Ferrari 488 Pista VS Lamborghini Huracan Performante.

Ready to know more?
Let Us Put You in the Driving Seat
Whether you're looking to arrange the finance on your next car, refinance an existing agreement or release equity from your current vehicle, your dedicated Account Manager will find a funding solution that's perfectly tailored to your needs.