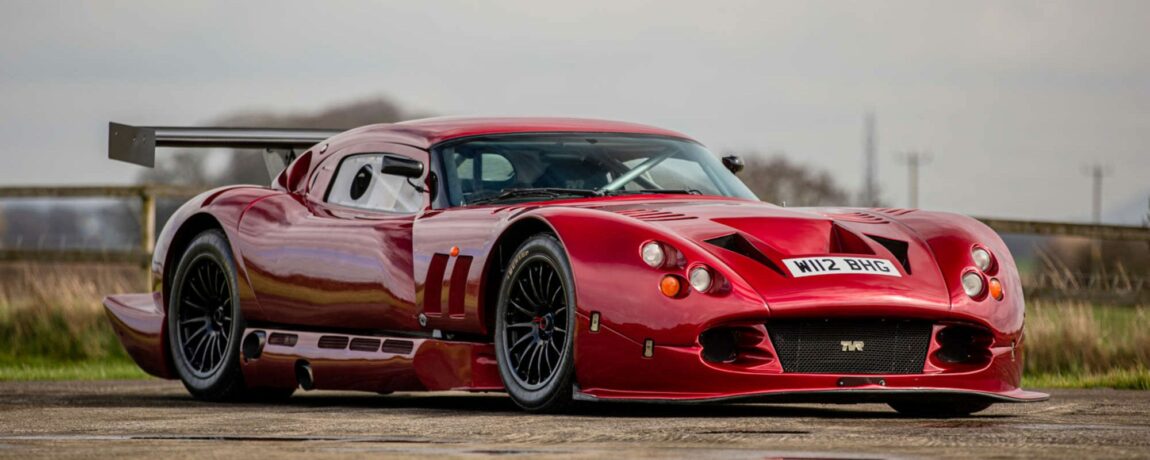 Interesting Info
18 Apr 2023
The TVR Cerbera Speed 12
The countdown has begun for one of the biggest sales of the Silverstone Auctions calendar, the Supercar Fest Sale of Iconic, Classic and Supercars on Saturday 20th May. Now in its fifth year, the Supercar Fest event is one of the most dynamic supercar events in the UK, and the Silverstone Auctions sale attracts some of the finest vehicles available to be bought at the auction. With the consignments open for entry and the cars starting to be listed on the website, we thought as official finance partners to Silverstone Auctions it would be good to start looking at some of the standout cars already listed for the auction.
The first car that caught our eye is sure to be the rarest of the whole auction. A car that not many people have even heard of or even knew existed in the first place. In the 1990's the McLaren F1 was attracting a lot of attention and had moved the performance bar further than ever before. As such, many car makers were looking to take on the mighty McLaren in the performance car stakes and one of those companies to take up the mantle never did do anything by halves.
TVR Cerbera Speed 12
TVR were already known for shoehorning powerful engines into lightweight fibre glass bodied cars and decided they should up the stakes to create their most powerful car yet, the Cerbera Speed 12. Based on their existing Cerbera model, itself sporting a kerb weight of just 1,100kg yet equipped with either a 4.0 litre straight-six or a V8 that started at 4.2 and grew to 4.7 litres in later models, the Speed 12 was created to turn everything up to 11, and beyond.
The Speed 12 was created with two goals in mind, to be the world's highest performance sports car, and also the basis for a GT1 class endurance racing car. Changes to the GT1 regulations during development however meant that it was abandoned before it could properly challenge the advanced high budget competitors in the same class. To ensure that all that development did not go to waste however, TVR immediately set about developing the road going version.
Fitted with a race derived 7.7 litre V12 engine, basically two of the straight-six units from the Cerbera combined, the eventual power output wasn't actually confirmed by TVR, however estimates were anywhere in the region of 800 to 960bhp. Although never actually tested, with that kind out power and the lightweight construction, there was a very good chance it would have been quicker than the legendary McLaren.
Too Fast and Too Powerful
Despite a comparatively lower price tag of 'just' £245k and the fact that orders had started to come in for the road going version of the now proven successful GT2 version of the car, it was not meant to be. Whilst at the prototype stage, boss Peter Wheeler took one of the cars home for the night and upon returning to work the next day, declared that the car was too powerful and too wild for the public road. With that criticism from the top level, the project was immediately cancelled, deposits were returned, and the finished prototypes were broken up for spares to supply the racing versions.
In 2003 however, TVR themselves put up for sale a road going Cerbera Speed 12, without a complete car to actually sell, so spent the next 2 years with the collection of parts and their engineering knowhow to create, build and test the car you see here. Utilising many of the race derived parts and the original 7.7 litre V12, as well as Kevlar bodywork, the racing gearbox, transmission and braking system, even the aero was further wind-tunnel developed to perfect the downforce levels necessary to keep the car on the road.
The Final Car
The eventual car today weighs in at just 1,000kg and power output is 'around 850bhp' with over 900lb/ft of torque. Following a full recommission in 2014 and an appearance at the Goodwood Festival of Speed, winning best in class at the 'Style et Luxe' Concours d'Elegance in the process, the car has been kept in full 'race-ready' mechanical and cosmetic condition by its true TVR aficionado current owner. As well as maintaining the car in fastidious condition, the current owner also has stated that any prospective buyer is more than welcome to keep in touch with himself and Brian Hosfeld. Brian is former TVR boss Peter Wheeler's personal race engineer for 15 years and the actual person who oversaw the set up of the car and managed the works TVR race team. Not many cars come with a direct contact to the man who actually built it.
The TVR Speed 12 has always been the stuff of legend. Did it really exist? If it does, where did it go? How fast would it have been? Whilst there are many one-off cars created, very few include such an interesting history or storyline to go along with it. A car so powerful that the company itself decided not to put it in to production. This lot represents a genuine once in a lifetime opportunity to purchase a unique and exceptional car that has been revered and talked about in rumours for decades. Even the asking price is strictly 'Price On Application' adding to the secrecy and intrigue that follows the Speed 12's every move.
See more here: 2000 TVR Cerbera Speed 12
Oracle Auction Car Finance
At Oracle Finance we specialise in finding funding for cars that are to be bought at auction. Our expert Account Managers use our panel of specialist lenders to help you to find the perfect package, bespoke to you and your circumstances. We could help to get you approved at the top end of your budget up to 90 days before an auction with an agreement in principle, so that when that hammer drops, your funding is in place, and you are ready to purchase the car of your dreams.
Our team are always on hand should you have any questions about arranging car auction finance and your dedicated Account Manager is ready to take your call today. With the Silverstone Auction just weeks away, why not speak to us now and get your funding in place before you miss being able to place that winning final bid.
Read more about our Auction Car Finance here: Auction Car Finance
Why Choose Oracle?
With over 1,700 Trustpilot reviews and a rating of 5 out of 5, and four-time consecutive award winners of the Best Specialist Car Finance Provider award from 2020 through to 2023, as well as having funded over £1.7 billion of vehicles and counting, you too can find out why thousands of people trust us time and time again to find a smarter, tailored funding solution when looking for your next dream car.
Make sure you follow us on Instagram, LinkedIn and Facebook to keep up to date with what's happening in the market and to see some stunning photos and videos of the amazing cars we fund.

Ready to know more?
Let Us Put You in the Driving Seat
Whether you're looking to arrange the finance on your next car, refinance an existing agreement or release equity from your current vehicle, your dedicated Account Manager will find a funding solution that's perfectly tailored to your needs.