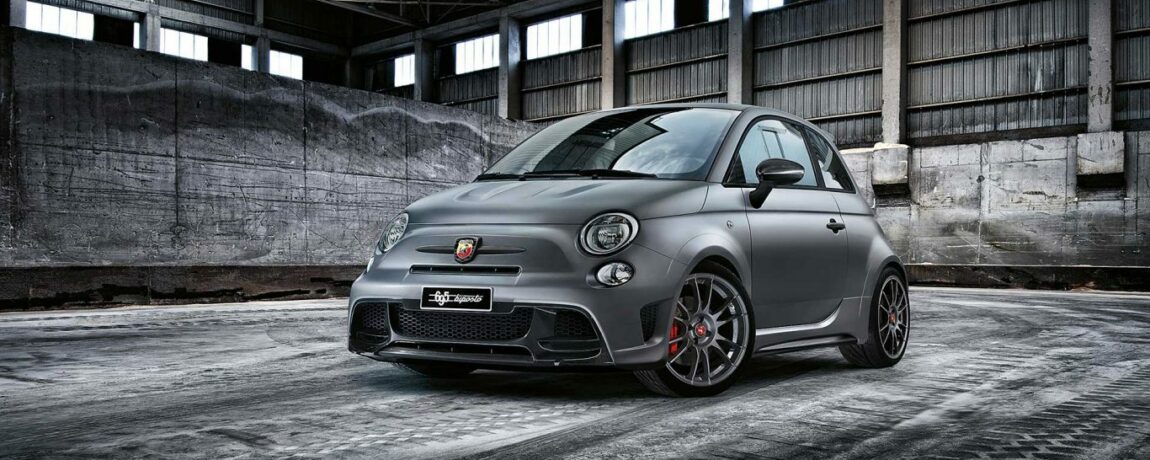 The ultimate pocket rocket. The Abarth 695 Biposto
Here we have an absolutely tiny £33k powerhouse. Capable of a 0-60 time in 5.9 seconds and weighing less than an ant, this car is the hypercar of its class. It is also really rare and is bound to turn heads just like any supercar would.  Abarth have created a car that weighs just under a tonne, (just 995kg) and pumps out a very quick 0-60 time with a diddy 1.4 litre T-JET engine. It's the extreme version of the Abarth 500.
The 695 Biposto is essentially a track car for hard-core sheer driving where you feel every bump in the road. Just to give you an example of how track inspired this car is, there's a £8.5k optional extra on a £33k hot hatch… An option that is 1/4 the price of this car…
This option is called the dog ring gearbox. A chrome polished terminator looking metal gearstick that allows you to change gears without utilising the clutch. This is the only road legal production car to use a dog ring gearbox so you can evidently tell Abarth went over and above in delivering a track car that you can use for daily driving legally on UK roads.
I think one of the best ways to describe this car would be that it wants to be a Ferrari; it is in essence, a baby stallion.
If you look in a 360 degree motion of the interior you'll notice a lot is missing. The interior has been fully stripped out in the rear making this a two seater, which has been replaced with a titanium strut brace and comes with rally inspired netting and red harnesses instead of your traditional 'boring' seatbelts. Equipment is scarce and this has all been done to save weight (38kg to be exact).  You even get a fire extinguisher, you know, because this is a true race car…
It is fair to say this car is a true driver's car, raw, powerful and puts you right on the edge of your seat. No listening to music, just the sound of that crazy loud Akrapovic racing exhaust. Hearing this in public at first thoughts without seeing it, you'd easily think it was the hum of a Ferrari, only to your surprise it's a little carbon bath tub with the ferociousness of angry wasps.
The matte grey turbo powered rocket propels its way to 143mph and in this little thing that will feel like light speed. It has very impressive rigidity and body control when swinging it round corners and it will eat the apex for breakfast.
Optional extras such as the dog ring gearbox, carbon fibre dash and polycarbonate windows with a slider make this little race car feel like you're permanently on the track.
Sports boost turns this car into a whole new creature. Throttle response is insanely twitchy and the car clearly wants to be chucked around. Torque in the low down rev range will snap your neck and leave anyone in your rear view trailing behind. When the turbo spools up you'll feel a huge gain in performance and to compliment this, a very raspy and booming exhaust note.
This car isn't your standard hot hatch by any means; the driving experience is more fun than that of your generic Mini John Cooper Works and your Fiesta ST. No, this is true Italian flair and born to be a fun car, nothing more, nothing less.

Ready to know more?
Let Us Put You in the Driving Seat
Whether you're looking to arrange the finance on your next car, refinance an existing agreement or release equity from your current vehicle, your dedicated Account Manager will find a funding solution that's perfectly tailored to your needs.