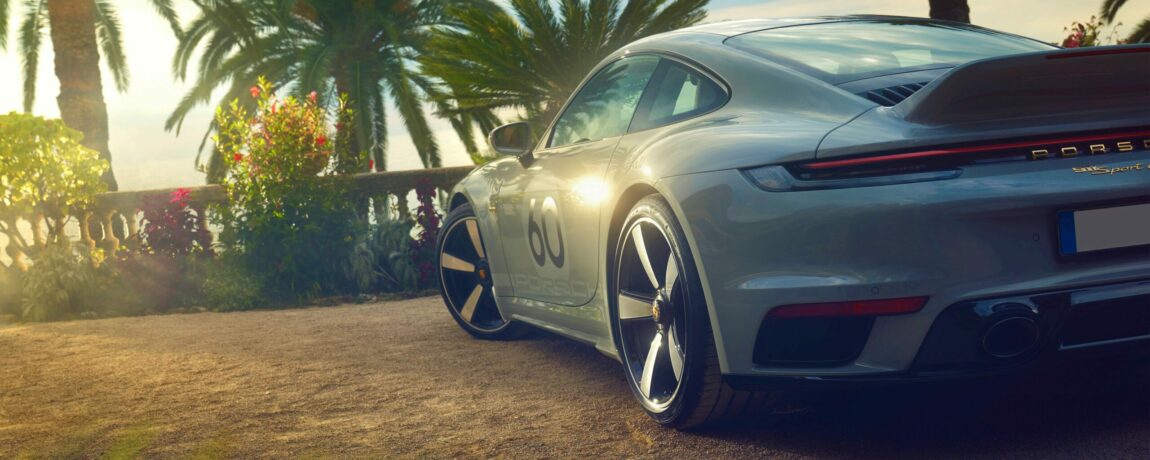 Car News, Guides
3 May 2022
The ultimate Porsche buying guide
The German brand, Porsche, can trace its engineering influences as far as the early 1900s with the Type 356 being one of the first models ever launched, which was revealed on a racetrack in Innsbruck; it was loved so much that it became the personal family car of founders Ferdinand and his son, Ferry Porsche. Following the launch, this badge quickly became known for holding a luxury sports car presence, as well as being one of the most established names in the automotive business.
Since the release of the 356, Porsche has since launched six key models, with a variation on each one to continue to develop their models in line with their customer's desires and therefore holds an impressive and growing fan club exceeding 230,000 worldwide. Their dedication to delivering a promise first rather than just the quality product has meant that buyers continue to return to invest in the brand throughout their sports car journey.
So where do you start when looking for your dream Porsche? This is highly subjective as each model has its own suite of variants, designed to suit motorist's individual needs and desires. Ultimately the decision to buy a coveted brand, such as Porsche, is that the vehicle should hold a strong value for years to come. Let's take a look at their six headline models.
Porsche 718
The 718 is Porsche's entry-level sports car as a two-door, two-seater coupe known more commonly as the Boxster and Cayman models. Essentially, the Boxster is the soft-top version and the Cayman is, you've guessed it, the hardtop model. These mid-engined roadsters were designed to take the everyday sports car out of every day.
The 718 is Porsche's entry-level, mid-engined, two-door, two-seater sports car, more commonly known as the Boxster or Cayman. The two share the same chassis, engine and main components, available either in coupe (Cayman) or roadster (Boxster) variety, designed to take the everyday sports car out of every day.
Porsche 911
The 911 model, currently known internally as the 992, has now surpassed seven generations, with its eighth generation launched in 2019. Well known as a timeless sports car, the 911 was the second model Porsche created and has become a statement model ever since. To date, it still holds its iconic flyline and elegant roof lines.
Porsche Macan
The Macan is the second most popular Porsche sold in the UK. Porsche describes it as 'much more than a sporty SUV' and has more handling skill than most drivers will be willing to test. Along with its drivability, this range of model has a much-desired boot space that will make most parents with young children VERY envious.
Porsche Cayenne
If your budget stretches a bit further, you may prefer Porsche's larger SUV, the Cayenne. Weighing in at almost half a tonne more, this SUV beautifully balances performance with agility and certainly comes with a much more thrilling sound from as little as 1000rpm.
Porsche Panamera
Taking inspiration from the 928, the Panamera is a front-engined four-door model with an eight-speed automatic transmission box as standard. This sports car kicks some serious punch with its impressive performance yet added comfort and is not your typical saloon.
Porsche Taycan
The Taycan is Porsche's first production electric car which was launched in 2020. It runs on Porsche's high performance J1 EV platform, which is the same as the Audi E-Tron GT. This model can be easily identified, despite its three body shapes, due to its striking proportions and timeless, recognisable design.
Specification
Another important aspect when buying any car is discovering what exciting technology is in store for us once in the driving seat. You can very much make every car unique with a vast number of options available to up-spec your dream car; so, be prepared to have a little extra budget for the very tempting extras on offer. Dependant on the exact model you choose, some specification upgrades will actually come as standard, of course.
Common desires include the PDK, short for Porsche Doppelkupplunggetriebe, which is the dual clutch gearbox that allows exceptionally quick gear shifts and is the only transmission choice on top-tier 911's and all Panamera models. Manual transmission is still the top choice for those bidding track lovers who want that connection between "man and motor". Other popular spec on the wish list includes the likes of Bose audio surround sound, heated seating and the sports exhaust and what would a sports car be without an 8-way electric sports seat package for the ultimate comfort and support.
Technology is advancing quicker than ever and not only is it for our entertainment, as well as bragging rights, but also for our convenience. The newer electric models now have improved route planners to aid you with the most efficient journey with fewer needs to stop for charging. Keen technology users can also now charge their Android phones wirelessly within the vehicle and Spotify users can also use the optimised Voice Pilot to access their favourite songs and podcasts.
The Experience
As mentioned earlier, Porsche pride themselves on their service excellence and the ability to produce a thrilling, yet practical and reliable vehicle. So, we have asked some Porsche Club GB members on their experience when buying their next dream Porsche.
Mike Allen has been Register Secretary for the Macan and owned every generation since its inception and offers the following wisdom:
"Back in early 2014 the Porsche Macan launched in the UK and the company was so overwhelmed with demand that despite ramping up production, waiting lists extended to over 18 months and second-hand cars sold for £10k over the asking price.
Today after its third refresh it remains one of the company's best sellers with the line-up consisting of the 2 litre, 4 cylinder Golf GTI engine with 263hp for the Macan and Macan T, 3 litre V6 380hp for the Macan S which is upgraded to 440hp for the GTS. All these current models will continue to be produced alongside the eagerly awaited Macan EV expected later this year in Turbo and Turbo S form to match the Taycan.
The Macan is the sporty SUV in the Porsche range and embodies to a great deal the DNA of the 911, ensuring great handling characteristics which belie its near two tonne weight. Purchased wisely from your local Porsche Centre, a new or pre-owned Macan is a great investment.  These vehicles are now very sought after and command strong residuals, but along with many aging Macans, inherent problems do exist, so prospective purchasers must be wary and ensure they are diligent in seeking out a sound vehicle which ideally has full Porsche service history, either the unexpired portion of the manufacturer's three-year warranty or an extended Porsche warranty. The latter gives peace of mind and can be purchased for around £1000pa. which covers any issues except wear and tear."
It's no surprise that Craig Parsons, Joint Taycan Register Secretary rates the Taycan so highly, but with his third now on order, it's a claim he stands by:
"The Taycan is easily the most accomplished EV available today. A bold statement, which I and anyone who has driven one would undoubtedly stand by! The sheer acceleration combined with the handling of a 'proper' Porsche is without parallel in the electric vehicle world – the closest you might get is its sibling, the Audi eTron GT.
I'm on my second Taycan now, and with just over 20,000 miles on this one I am still made to smile every day when I get in it and drive it – whether that's on the M6 or for a more sporty Sunday drive it never fails to delight. So much so that I've got another on order so I can tweak my options and sell this one without too many more miles on. If you're buying new, my advice would be to spend a lot of time with your dealer and think carefully about each option – don't be tempted to scrimp, because those options mostly hold value and make your pre-owned Taycan way more saleable in a few years."
Mark Rye-Weller, Joint Register Secretary for the 992 Register has been the proud owner of a Carrera S for just over a year now and offers the following advice for anyone browsing the classifieds or pondering the Porsche configurator:
"Make sure to study the specs for your 911 as seemingly 'everything' is an extra and missing out on key options will impact future desirability. Essentials include Bose® Surround Sound-System, Sports Exhaust and the Sports Chrono Package, which enables an even sportier tuning of the chassis, engine and transmission from a small dial on the steering wheel. A sunroof is always nice to have but along with the colour, wheel, seat and trim options, the variations are endless. If that's not enough choice, then Porsche will be happy to talk bespoke colours and trim through the coveted 'Paint to Sample' offering.
The Carrera S was the first of the eight generation 911 to be released and is perhaps the most popular model, with performance aplenty while still remaining a great all-rounder. The Carrera has an entry level spec and less power yet is reckoned by some to be the pick of the bunch as the performance is more than adequate for real world driving and at a lower cost. The recently released GTS offers a perfect bridge between the S and the heavily track focussed GT3, while the Turbo and Turbo S somehow combine sheer brute power with uncompromising comfort.
With the exception of the GT3 and Turbo, all of the above are available in either Coupe, Cabriolet or Targa variants and in two or four wheel drive. Historically the Coupe has been the most popular for resale, while much like the transmission choice, rear wheel or all-wheel drive comes down to personal preference."
With any car purchase, ensure you're buying from a trusted seller. If you need help finding your perfect vehicle, we are happy to assist you as well as arrange a funding solution tailored to you. This will allow you to move quickly, avoid being forced into taking the dealerships one-size fits all finance package and puts you in the ideal position to negotiate a great deal.
If you're thinking of buying your next car and would like a free finance quote, you can call us on 0330 333 4592 or simply complete our short online quote form here.

Ready to know more?
Let Us Put You in the Driving Seat
Whether you're looking to arrange the finance on your next car, refinance an existing agreement or release equity from your current vehicle, your dedicated Account Manager will find a funding solution that's perfectly tailored to your needs.