What Was Your First Car? Probably Not This
Remember when you got the keys to your first car. Whether you had saved up for it yourself or were helped by your parents as a reward for passing your driving test, buying your first car is a special memory in your life. Chances are, however, it wasn't anything special. Thanks to high insurance prices for young drivers, most people's first cars are underpowered shopping cars or hand me downs from parents or siblings. Something like a Mini, a Vauxhall Corsa, a Fiat 500 or Nissan Micra is the usual first car for many, or if it is a family heirloom it can be anything from a 20-year-old SUV to a Volvo estate car.
Some people however are luckier than others, or by receiving a hand me down, technically the first car they purchase with their own money is of a slightly better standard than the first car they technically own. In most cases though it still isn't something worth shouting about, unless that is you happen to be a certain Formula 1 driver for Ferrari.
Spanish F1 driver Carlos Sainz famously revealed in a press conference that the only car he owned and used was a Volkswagen Golf, a gift for his 18th birthday and handed down through the family from his parents. Usually this would a bit more embarrassing unless your dad also happens to be one of the rallying world's all-time greats. But when the time came for Sainz to take the plunge and buy his first car with his own money, he certainly knows how to do it in style. Chances are not many of us plumped for the same choice when it came to our first purchase.
When you are lucky enough to be a Ferrari Formula 1 works driver there was only really going to be one manufacturer for that car purchase. An earlier YouTube video showed his buying and ordering experience, and this week he revealed his car in an unveiling video to his channel. His car of choice? A limited-edition Ferrari 812 Competizione with plenty of 'Extra Campionario' (special order) options of course.
Finished in custom matte grey with a plethora of carbon fibre options, satin black wheels and red pinstripes accents to much of the trim and details adorns the stunning exterior. Whilst inside, the exposed carbon fibre trim continues, complete with bespoke 'Smooth Operator' carbon fibre door sills, red detailing to the trim and seats, as well as custom floor mats with '55' logo, Carlos' racing number at Ferrari.
As first car purchases go, Sainz's choice is probably as good as it gets to trump anyone else's car buying journey. But when your day job is driving an even faster Ferrari around a track, maybe a sedate Golf was the perfect way to relax after a tough weekend. Not that it stopped him from splashing out on this exquisite car to enjoy when its not a race weekend.
Take a look at Carlos' unveiling video on his YouTube channel here: Revealing My Ferrari 812 Competizione by Carlos Sainz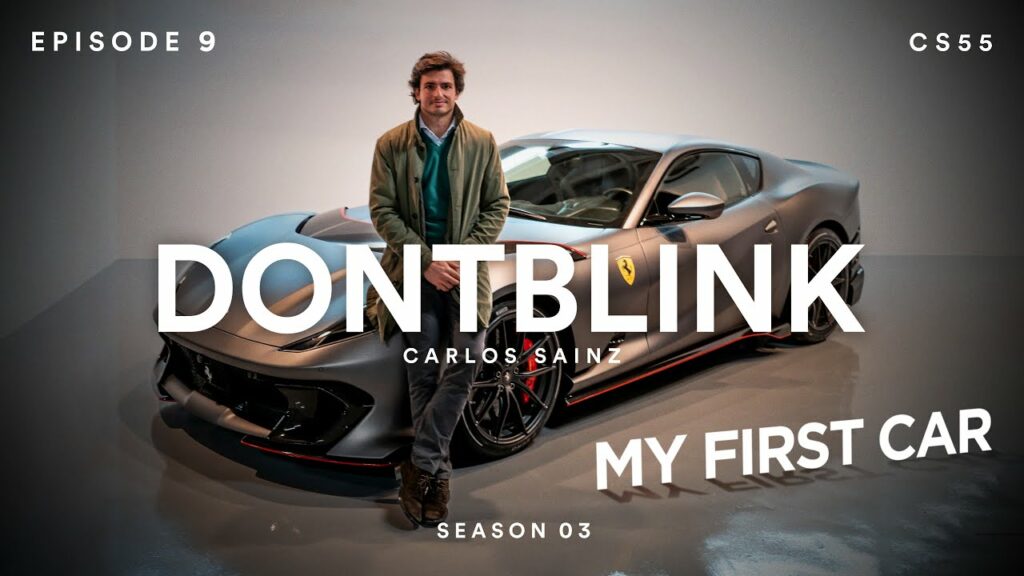 Oracle Car Finance
At Oracle Car Finance we sourced finance for over 100 Ferrari's last year alone. Our Account Managers are experts in finding funding for all Ferrari's, from brand new models to future classics and even Ferrari Classiche models as well. Take a look at our dedicated Ferrari Finance page here: Ferrari Finance
Whether you are looking to fund your first car or your 50th, our expert Account Managers use our panel of specialist lenders to help you to find the perfect finance package, bespoke to you and your circumstances. Not sure which type of car finance is right for you? Take a look at our finance product page here: Finance Products

Ready to know more?
Let Us Put You in the Driving Seat
Whether you're looking to arrange the finance on your next car, refinance an existing agreement or release equity from your current vehicle, your dedicated Account Manager will find a funding solution that's perfectly tailored to your needs.