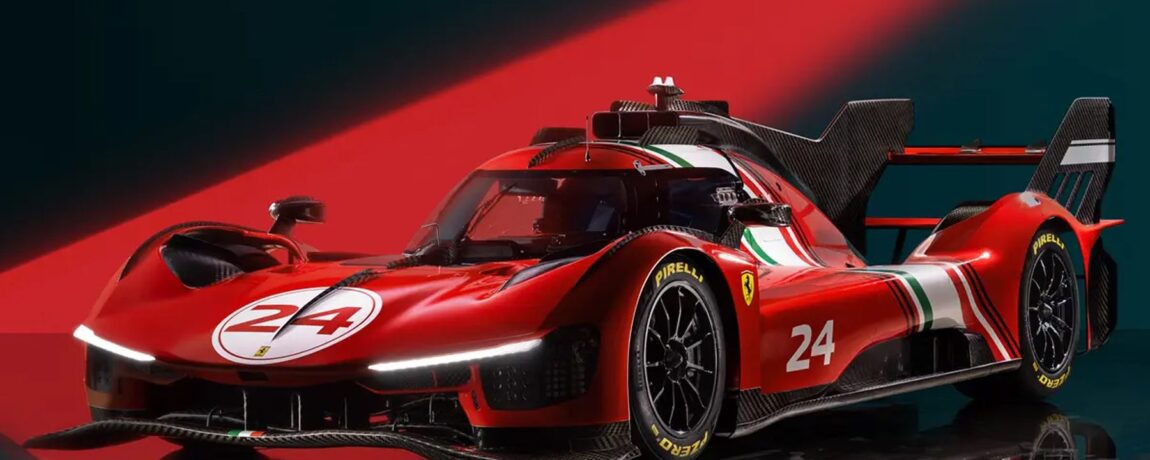 Car News Roundup – October
The dark nights may be drawing in, not helped by the clocks changing over the weekend, but the car news continues to roll in thick and fast. This month, rather than the flurry of mainstream cars being released for the road, there seems to have been much more in the way of racing cars and limited-edition vehicles, even a motoring related boat partnership and the rebirth of a legendary car company.
Here is our breakdown of October's Car News Roundup:
Jaguar F-Type ZP Edition
Jaguar have already confirmed that their entire line up will be electric powered by 2025, though whether or not that will be pushed back in line with the delayed combustion engine ban remains to be seen. As well as announcing their electric only plans, they also announced that their F-Type sports car production is sadly also to end. From its E-Type inspired styling to its iconic soundtrack from the supercharged V8 engine, the F-Type has been a huge success for the brand and it will be sad to see it go.
Jaguar have decided to treat F-Type fans with one last hurrah for the model in the form of the F-Type ZP Edition. Just 150 cars will be produced, with just 10 coming to the UK, and obviously it comes equipped with the 567bhp 5.0-litre supercharged V8. This means 0-62mph in just 3.5 seconds and a top speed of 186mph. It takes styling inspiration from 1960's racing Project ZP E-Types featuring two different colourways and roundels to the doors and 'lipstick' grille surround. Available in both coupe and convertible body styles, the limited-edition cars start at just under £135k, if you can manage to get hold of one of the 10 examples.
Porsche Macan Electric (of sorts)
Porsche has long teased pre-production test drives and camouflaged mules of its forthcoming electric powered Macan. Due to be unveiled anytime soon, they've shown the capability of the powerplant in a rather unusual vehicle, an electric powered sports boat. Keen to show off the 100kWh battery that they have claimed can offer up to 600bhp, they have teamed up with Austrian boat builder Frauscher to create the Frauscher x Porsche 850 Fantom Air.
Despite scaling back the power to 'just' 536bhp for the sports boat, it has a useful top speed of 53mph and has a cruising range of 28 mile at the optimum speed of 25mph. With different 'driving modes' of Docking, Range, Sport and Sport Plus on offer, Porsche have claimed that the battery will allow a range of up to 62 miles and two to three hours of mixed travelling speeds. Porsche also had a hand in the design of the cockpit with recognisable 5-gauge dashboard and Porsche steering wheel as well as road car inspired seats. Just 25 examples will be made at a price of around £485k.
Modified Land Rover Defenders
The Land Rover Defender has no shortage of enhancements to make the already ruggedly styled off-roader look that bit more aggressive. But when has that ever stopped legendary modification company Mansory at having an even more extreme go at it. The Mansory Defender 90 Black Edition is anything but understated, as is usual with a Mansory product, but it is so much more than cosmetic enhancements. As well as replacing the body panels with carbon fibre ones, from extended arches to side skirts, rear diffuser and double spoiler – yes all that on a Defender, it also increases the power from the 5.0 litre supercharged V8 engine from 518hp to an impressive 641bhp. That's Lamborghini Urus levels of power. Just 10 Black Editions will be produced in 90 body size, but there are plans for a similar edition for the 110, and probably the 130 at some point too.
If custom body work and engine enhancements aren't quite enough for your Defender 90 however, Chelsea Truck Company have gone one further with their Flying Huntsman 90 Spyder. Following on from their 6×6 pickup truck version of the 'old' Defender, the coachbuilding arm of the firm have come up with this open-top two-seater off-road machine. Built in the same factory that built the Aston Martin One-77, the 90 Spyder uses bespoke lightweight aluminium panels to create this exceptionally radical creation. Just 8 examples will be built each year and are likely to be in excess of £100k.
Aston Martin's Le Mans Plans & Vantage GT3
Aston Martin had initially announced that their extreme Valkyrie would take part in the Hypercar class to compete at Le Mans with the biggest names in the business. 4 years after backing out of those plans, they have promised that they will run at least one car in the World Endurance Championship with Le Mans obviously the key focus of the year. With 19 class victories in over 100 years of racing they will hope to add to their illustrious record against the likes of Ferrari, Porsche, Alpine, Lamborghini and more from 2025.
Not content with developing just one form of their motorsport offering they have also been seen testing a Vantage GT3 at Silverstone in full camouflage wrap. Looking to return to both GT3 and GT4 racing is a discipline that Aston Martin know well and apparently the car seen on track is in the final testing stage before returning in time for the 2024 World Endurance Championship. Here's also hoping that the wild extended bodywork and large fixed rear spoiler spawns a more extreme road going version than the F1 Edition.
Rolls Royce Ghost Ekleipsis
In case anyone needed reminding how exceptional a Rolls Royce Ghost can be, the company have announced the Ekleipsis special edition model. With a solar eclipse as its inspiration, the Ekleipsis takes a Black Badge model and adds extensive Orange accents to create a sophisticated nod to the corona effect created during such celestial events. With Black paintwork, wheels, interior seating and veneers, the Orange accents stand out perfectly, the way the corona does itself during an eclipse.
As you would expect from Rolls Royce, the attention to detail is exceptional. Its infamous starlight headliner performs a seven and a half minute animation (the maximum possible time for an eclipse) that uses 940 'stars' to recreate the eclipse across the interior, once that has completed, a further 192 intricate lights create the night sky. A further 1,846 laser etched stars illuminate in the fascia on the dashboard, a feature that took over 100 hours to complete on its own. There are just 25 examples of this stunning special edition car which unfortunately have all been spoken for.
Hennessey Exorcist 'Final Edition'
Based on the Chevrolet Camaro ZL1 'Final Edition', itself already equipped with a 650bhp 6.2-litre supercharged V8, the Hennessey Exorcist gives you even more than you probably didn't think you needed. By fitting things like a bigger, high-flow supercharger and induction as well as uprated auxiliary fuel system, injectors and pump, the Exorcist boasts 1,000bhp and 966lb ft of torque. Obviously a lot more engineering has gone on to the engine to prevent it crumbling under its own power or overheating, but with all that power and new engine management software, the Exorcist manages 0-62mph in just 2.1 seconds and a standing quarter mile, for drag racing fans, is dispatched in just over 9.5 seconds.
Just 57 Final Edition Exorcist cars will be made as a tribute to the 57 years since the Camaro was first produced. Hennessey founder, John Hennessey, states the Exorcist package upgrade for the ZL1 is one of his all-time favourites 'offering raw, unbridled horsepower'. With many manufacturers offering their last attempts at combustion engine swansongs, what better way to go out than with a car that matches the pace of only the fastest electric cars.
Ferrari SP-8
Ferrari's 'Special Project' cars are when their talented engineers are let loose at one of their well-heeled customer's requests and create something unique and bespoke, though usually closely based on one of their existing models. The SP-8 started life as an F8 Spider and explored the client's request to completely remove the roof and create a true roadster configuration. The Ferrari team completely redesigned the rear section and reworked the F8's existing aerodynamics to create the stunning lines of the finished car.
With its bespoke two-tone colour scheme, five-spoke wheels inspired by those found on the F40, exhaust treatment used on the 296 GTB and redesigned rear lights borrowed from the Roma, the SP-8 certainly looks rather special. The fact that it features the 710bhp 3.9-litre twin-turbocharged V8 from the 488 Pista means it will certainly sound and perform as well as it looks.
Tom Walkinshaw Racing
TWR or Tom Walkinshaw Racing have worked on some of the finest racing and road cars that ever existed. Through their close relationship with Jaguar they have won in touring cars with the XJS, at Le Mans with the XJR-9 and developed the XJ220 and XJR-15 road cars. Founder Tom Walkinshaw also was Benetton's engineering director involved in taking Michael Schumacher to his first F1 title, then team manager at Ligier before acquiring part ownership in the Arrows team.
Tom's eldest son Fergus has revived the brand and is following in his father's footsteps by taking on bespoke engineering projects for a new generation. Their promise of using the latest technology and combining it with new expertise but traditional craft in order to make world-class products shows that they mean business. The fact they are going to produce their own vehicles rather than enhancing existing models also means that they endeavour to create vehicles unconstrained by traditional rulebooks and styling demands.
Ferrari 296 Challenge
The Ferrari Challenge one-make series has become an iconic part of the motorsport landscape for many years and offers the chance to see the brand as it should be, firing round a race track in close racing action. Their latest challenger is the 296 Challenge, obviously based on their much heralded 296 GTB road car. Whilst the styling and aerodynamics have obviously been enhanced from the road going version, it is under the body where the biggest change has taken place.
The 3.0-litre twin-turbocharged V6 remains but this time the electric motors have been removed and no hybrid assistance is offered. Whilst this means it won't produce as much as the 818bhp on offer from the road car, the dramatic reduction in weight and considerable increase in downforce means that these cars probably won't miss the loss in power too much. Whilst the details remain scarce for now, just the appearance of the car shows that it certainly means business and is sure to continue the legacy of the legendary one-make Challenge series.
Ferrari 499P Modificata
If the 296 Challenge is nowhere near extreme enough for you, Ferrari has your back. Ferrari's XX and Clienti programmes allow their wealthiest and 'most loyal' customers the chance to tear around the most famous racetracks in the world in modified track only development versions of their most extreme supercars or Scuderia Formula 1 cars from a few years ago. The 499P Modificata programme is an extension of that but in a version of their current Le Mans winning hypercar. For the not so inconsiderate sum of €5m or around £4.4m, Ferrari will ship your race car to iconic racing circuits such as the Nürburgring or Suzuka as part of the Sport Prototipi Clienti programme from next year for you to race around the track amongst other wealthy owners.
As the cars are not strictly part of a race series they do not need to comply with regulations so believe it or not have actually made the customer cars faster than their Le Mans winning hypercar. By dialling up the electric assistance the car now produces 858bhp and features bespoke tyres that heat up quicker than the racing cars, you even get a digital rear view mirror and a slightly larger racing seat for those not in racing driver levels of fitness. As well as the car, each £4.4m purchase gets you two years of the Sport Prototipi Clienti programme as well as all maintenance and your own engineering team at each of the circuits. And with Christmas just around the corner…
At Oracle Finance we have your new car funding sorted, no matter which kind it is. Our expert Account Managers use our panel of specialist lenders to help you to find the perfect package, bespoke to you and your circumstances. Our team are always on hand should you have any questions about arranging car finance and your dedicated Account Manager is ready to take your call today.
With over 1,900 Trustpilot reviews and a overall rating of 5 out of 5, and as four-time consecutive award winners of the Best Specialist Car Finance Provider award from 2020 through to 2023, you too can find out why thousands of people trust us time and time again to find a smarter, tailored funding solution when looking for your next dream car.
Make sure you follow us on Instagram, LinkedIn and Facebook to keep up to date with what's happening in the market and to see some stunning photos and videos of the amazing cars we fund.

Ready to know more?
Let Us Put You in the Driving Seat
Whether you're looking to arrange the finance on your next car, refinance an existing agreement or release equity from your current vehicle, your dedicated Account Manager will find a funding solution that's perfectly tailored to your needs.