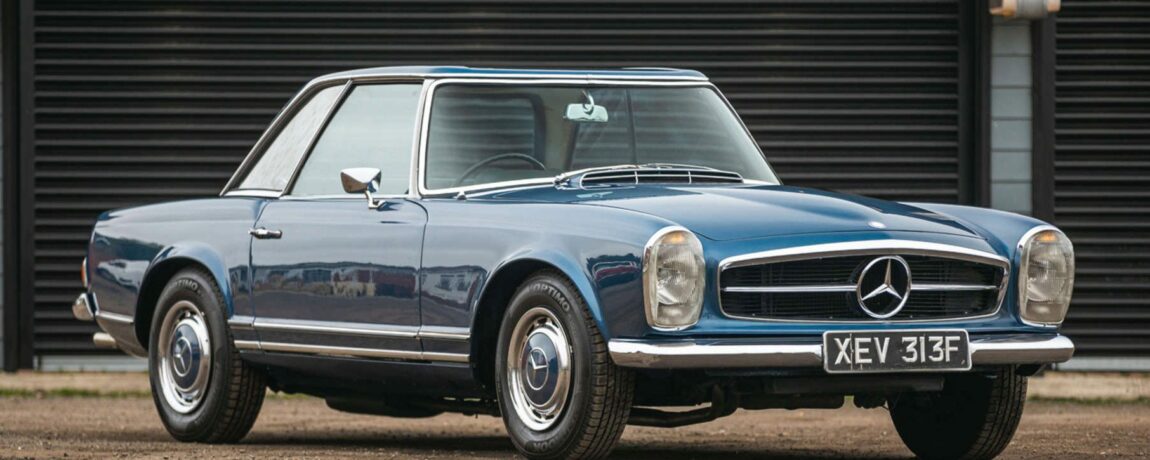 Interesting Info
20 Mar 2023
Classic Car Auctions NEC Sale
As part of our partnership with Silverstone Auctions, we also are the official finance partners for their sister auction sales from Classic Car Auctions. Created in 2015, the Classic Car Auctions take place four times a year including this weekend's auction, their first sale of the year at the Practical Classics Classic Car and Restoration Show at the NEC each year. Featuring some 'more affordable' classic cars to go under the hammer, the Everyman Classics sale is a great place for those looking to purchase their first classic car or add another to their collection. The auction takes place at the Birmingham NEC this weekend Saturday 25th and Sunday 26th March with over 230 lots up for sale.
Here are our Top 10 featured cars going under the hammer at this weekend's sale:
1970 Ferrari 365 GT 2+2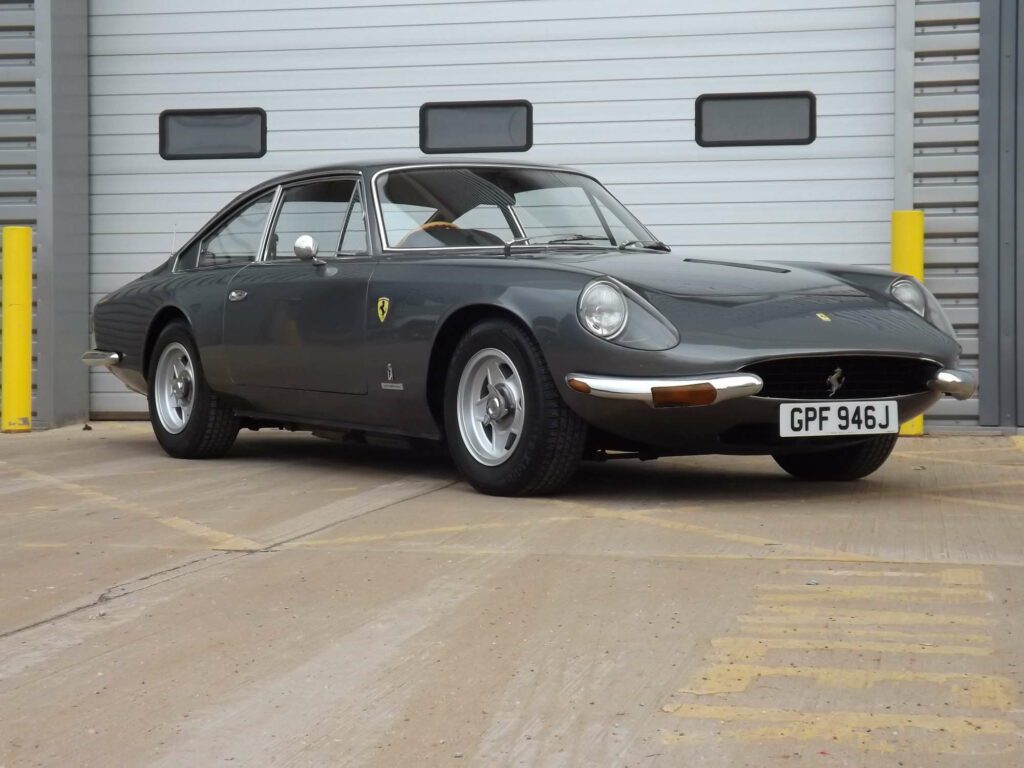 The stunning Ferrari 365 was launched at the 1967 Paris Salon and features legendary styling by Pininfarina to create an iconic Grand Tourer. Featuring a 4.4 litre V12 engine developing an impressive for the era 320bhp, the 365 GT was everything a GT car should be, powerful, comfortable, and effortlessly luxurious. Also surprising for its age are features such as air conditioning, electric windows, power steering and independent suspension all round.
Finished in Grigio Metallizato with a Black Connolly leather interior, this right-hand drive example was originally supplied new to Hong Kong and shipped to the UK in 1974, undergoing full restoration in 1990. Having covered less than 40k miles, this exceptional car requires light recommissioning and represents a potential for great investment, with fully restored examples currently selling for around double the guide price of £80k-£100.
See more details: Classic Car Auctions | 1970 Ferrari 365 GT 2 + 2
1985/1987 Porsche 911 Carrera 3.2 Targa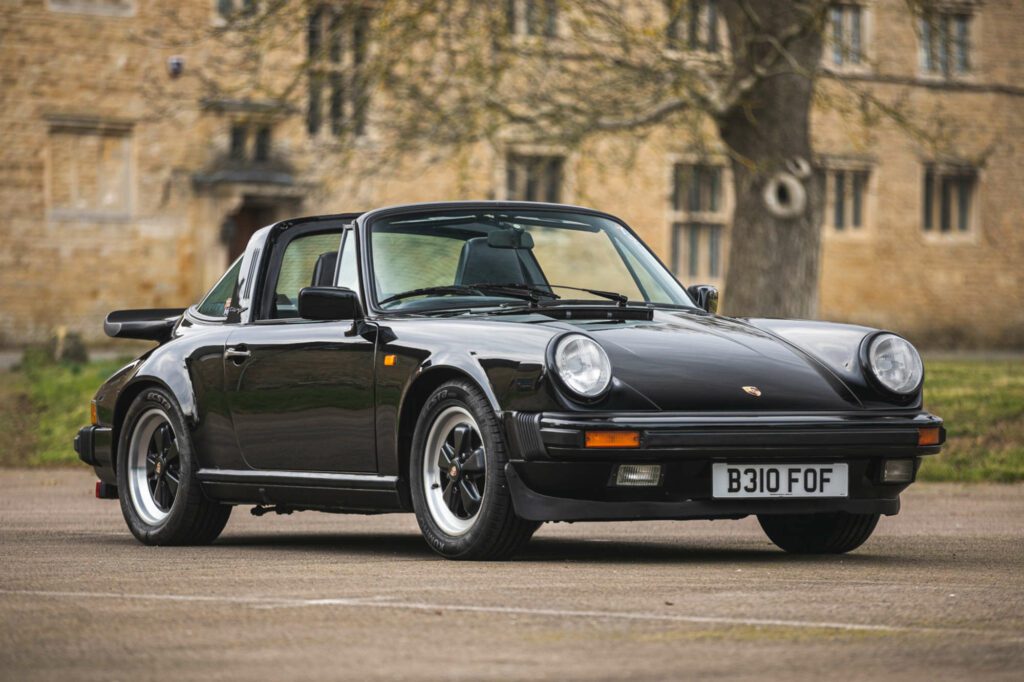 The G Series Porsche 911 of the 1970's and 1980's is one of the most iconic iterations of the legendary model, with the Targa being one of the most sought after of them all. The Targa had initially been introduced as a safer version of the unpopular convertible, yet at one point accounted for over 40% of 911 sales (Read more about the 911 history in our blog post HERE).
The Classic Car Auctions sale has 2 examples of the G Series 911 Targa going under the hammer this weekend, both offered in excellent condition and well presented. The first is a 1985 Targa in Black, with Black Fuchs style wheels and Black interior, with just 87k miles covered and with an extensive history file. The second, a 1987 Targa in White, with the same Black Fuchs style wheels and Black interior, with just 95k miles covered since new and coming from over 20 years of private ownership.
See more details for the Black Targa: Classic Car Auctions | 1985 Porsche 911 SC Targa
See more details for the White Targa: Classic Car Auctions | 1987 Porsche 911 Carrera 3.2 Targa
1967 Mercedes Benz 250SL California (W113)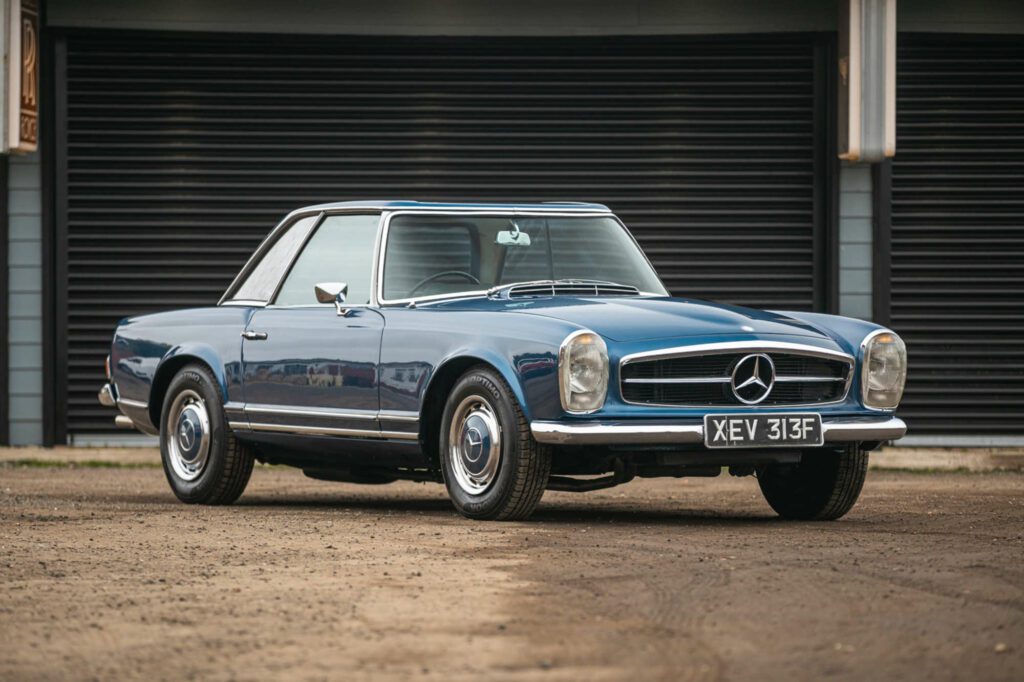 The 250SL is one of the most iconic cars of the 1960's era. With effortlessly cool styling and Mercedes Benz engineering, the SL is the perfect car for a weekend trip or country drive. The 250 is one of the rarest SL models, with the larger 2.5 litre engine being in production for just a year before being replace by the 280. Even rarer still is the 'California' model, which does without the folding soft top and only comes with the removable hard top, hence the reliance on the weather being as fair as California when you take it out for a drive.
This particular example has been refinished in its original Blue Metallic 387 and has a full Black MB-Tex interior and benefits from a photo-documented full restoration in the past. The car comes with original owner's manual, service book and lots of receipts and invoices, and is a tempting prospect with a guide price of just £55k-£65k.
See more details: Classic Car Auctions | 1967 Mercedes Benz 250 SL California
1967 Chevrolet Corvette Sting Ray (C2) Big Block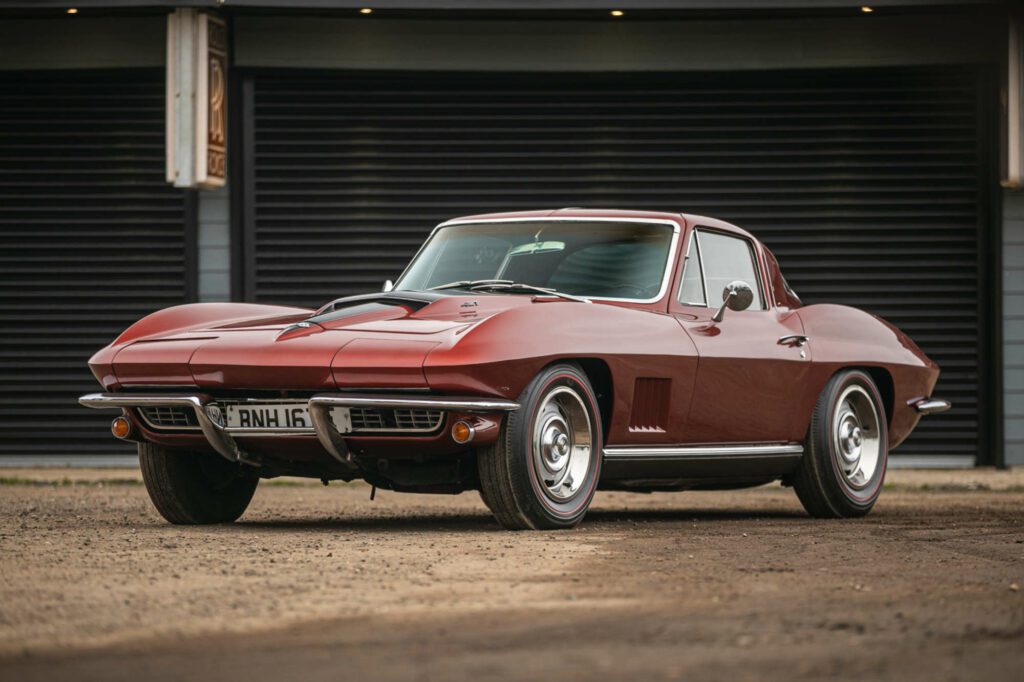 If you are wanting your 1960's sports car with a bit more American muscle, they also have a stunning Chevrolet Corvette Sting Ray going under the hammer. Built in St Louis in late 1967, this C2 Corvette comes with a 427 cubic inch (7 -litre) Big Block V8 engine producing 400bhp, a proper American muscle car. Imported 12 years ago and finished in Deep Copper metallic with a full Black leather interior, this Sting Ray (pre-1969 cars were 'Sting Ray', post-1969 'Stingray') is a stunning example of the quintessential 60's icon.
With less than 18k miles covered since new and with a guide price of £45k-£55k, this fantastic example would be a fantastic addition to any car collection or American car enthusiast's garage.
See more details: Classic Car Auctions | 1967 Chevrolet Corvette Sting Ray Big Block
1981 DeLorean DMC-12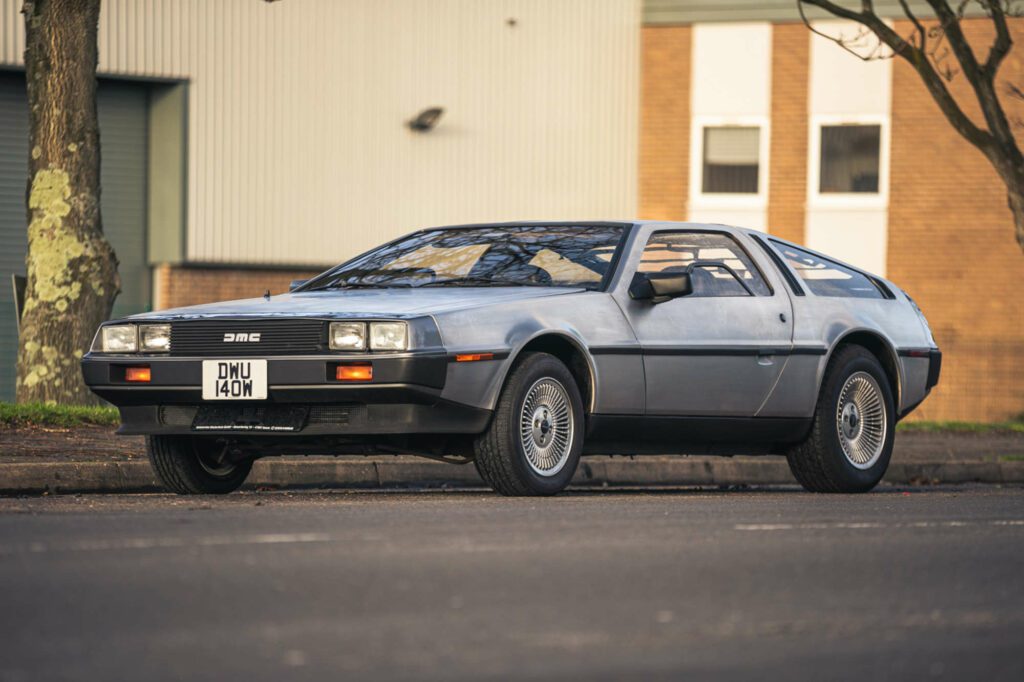 If it wasn't for the 'Back To The Future' film franchise, the DeLorean DMC-12 may have been dismissed as an optimistic attempt at creating an iconic sports car that dramatically failed and nothing more. But thanks to those films, the car has amassed a cult following and is legendary amongst film and car enthusiasts alike. This 1981 DeLorean DMC-12 has covered just 3.7k miles since new and comes from a deceased estate of a US DeLorean collector.
Registered in the UK in 2016, the car is finished in the renowned brushed stainless-steel bodywork, re-brushed by DeLorean specialists PJ Grady UK. The company has also replaced the struts for the doors, bonnet, and boot as well as a recent overhaul of the braking system, a fresh service, fuel-system flush and four new tyres. A great opportunity to own a remarkable low mileage example with a guide price of £45k-£52k.
See more details: Classic Car Auctions | 1981 DeLorean DMC-12
1992 Audi Quattro Turbo 20V RR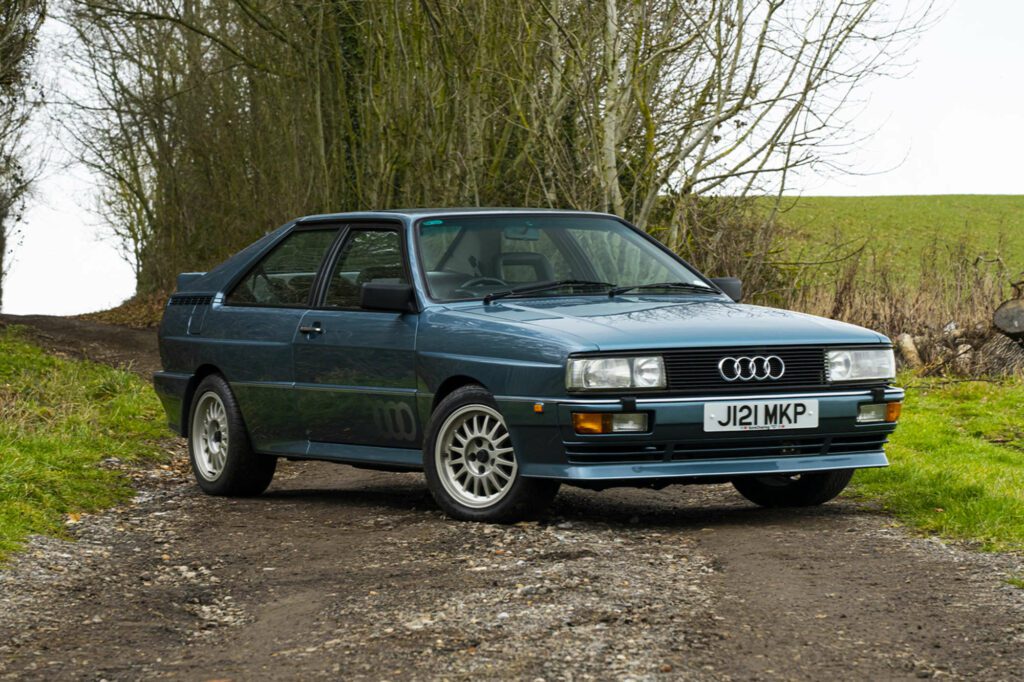 There are many cars that are approaching future classic status, with many of them being made famous from their performance in the world of rallying. A perfect example of this is one of the most famous rally cars of them all, the Audi Quattro. Coming to the end of its life, Audi released one final version of the Quattro, the RR. With performance gains thanks to power increases and increased turbocharger boost pressure, the RR offered a considerable step up in performance.
This example is one of just 295 model bult and benefits from a full nut and bolt restoration a few years ago at a cost of almost £30k. The car remains in remarkably original condition including its rare Lago Blue bodywork, apart from a Milltek exhaust previously fitted, with original catalytic converters refitted too. The guide price for this motorsport icon is £55k-£65k and is sure to be popular with rallying and Audi fans looking to add something rare to their collection.
See more details: Classic Car Auctions | 1992 Audi Quattro 20v (RR)
1979 Ford Escort Mk2 RS2000 Custom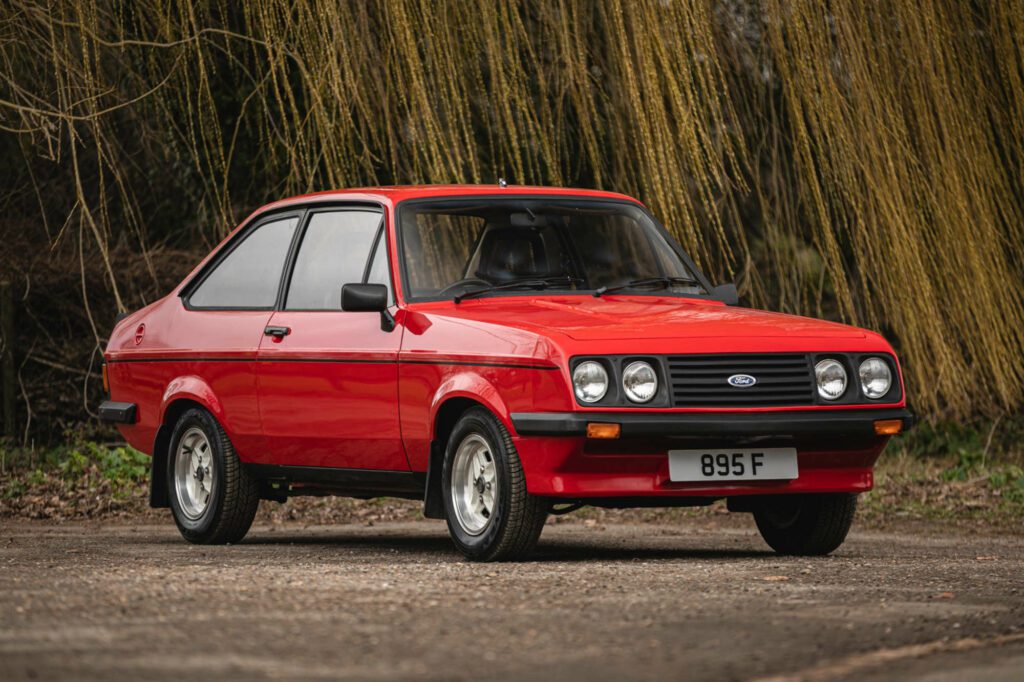 If previous Silverstone Auctions are anything to go by, Fast Fords are the most popular cars selling at auctions in recent years. Record prices achieved for various Fords over the past few years (See HERE and HERE) mean that there are many coming to the auction market at the moment. The RS2000 is no exception, combined with its rally status adding to the desirability of the car, this model in particular is a fantastic example of a Fast Ford.
The RS2000 came with a 2.0-litre, four-cylinder, Pinto engine and was capable of 0-62 mph in 8.5 seconds and onwards to 108mph, quite the performance car in its day. This example is finished in Venetian Red and has covered just 42k miles since new. Included is the desirable 'Custom Pack' with 'Fishnet' Recaro seats, full door cards 13" alloy wheels, rear Black painted light panel, remote driver's door mirror and even an optional clock. The guide price of £40k-£50k shows just how desirable Ford's are right now.
See more details: Classic Car Auctions | 1979 Ford Escort MkII RS2000 Custom
1994 Ford Escort RS Cosworth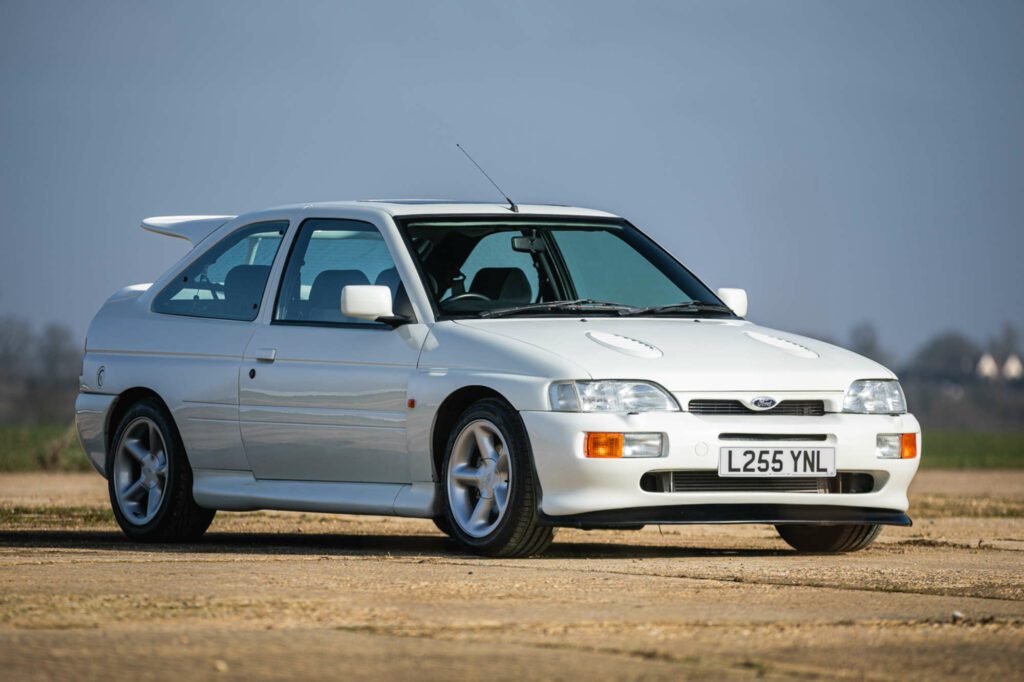 Further evidence of the 'Fast Ford' excitement is the renewed enthusiasm for some of their most iconic models. The Ford Escort Cosworth is arguably their most famous performance version of their standard cars, and with good reason. The combination of the turbocharged 2.0 litre engine, four-wheel drive traction and outlandish styling meant they were the most sought after performance car of the 90's era.
There are two examples available at the auction. The first example used to be part of Northumbria Police's 'fast pursuit' cars, hence the White paint finish, in order to provide a viable option when dealing with stolen or speeding performance cars. The car benefits from over £25k of expenditure since it left 'the force' including a major drivetrain overhaul in recent years and is supplied with extensive history and invoices to document the work The guide price is £47k-£52k for a well-presented RS Cosworth with an unusual story to it.
The second is a late model 1996 RS Cosworth finished in Ash Black and comes with the desirable 'Lux Pack' as well as accompanying documentation. The car has covered 69k miles, with just 2k of those miles covered since 2008, and has a guide price of £50k-£60k.
See more details for the White car: Classic Car Auctions | 1994 Ford Escort RS Cosworth
See more details for the Black car: Classic Car Auctions | 1996 Ford Escort RS Cosworth
2010 Ford Focus RS Mk2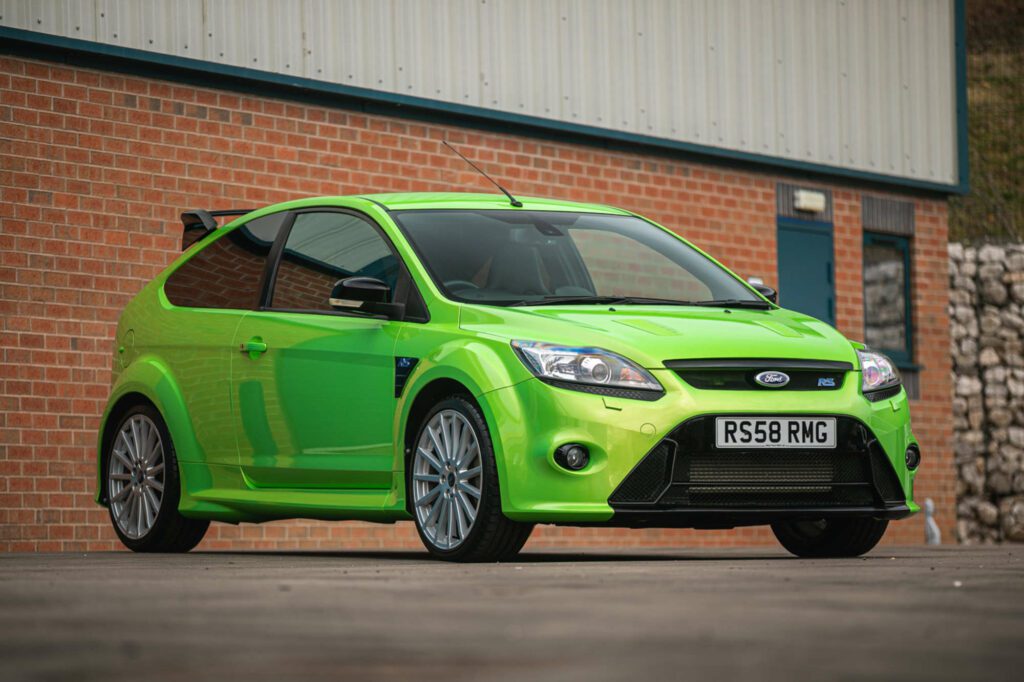 There is no greater sign of the desirability of Fast Fords at the moment than with the models that are relatively new compared to the iconic past models. Cars such as a 2010 Ford Focus RS are selling for very strong money and continue to prove to be worthy investments for those who can find a low mileage example in very original condition. This stunning car is the perfect example.
Offered in unmodified and original condition, the car has covered less than 3k miles and is offered in popular Special Order Ultimate Green with unmarked Black leather and Alcantara interior. The car comes with an extensive list of optional extras to include Lux Pack 1 & 2 and supplied with original book packs, service books with 13 stamps and original bill of sale. With a guide price of £55k-£65k it provides an excellent opportunity to add a Fast Ford to any enthusiast's collection.
See more details: Classic Car Auctions | 2010 Ford Focus RS MK2
1963 Bentley S3 Saloon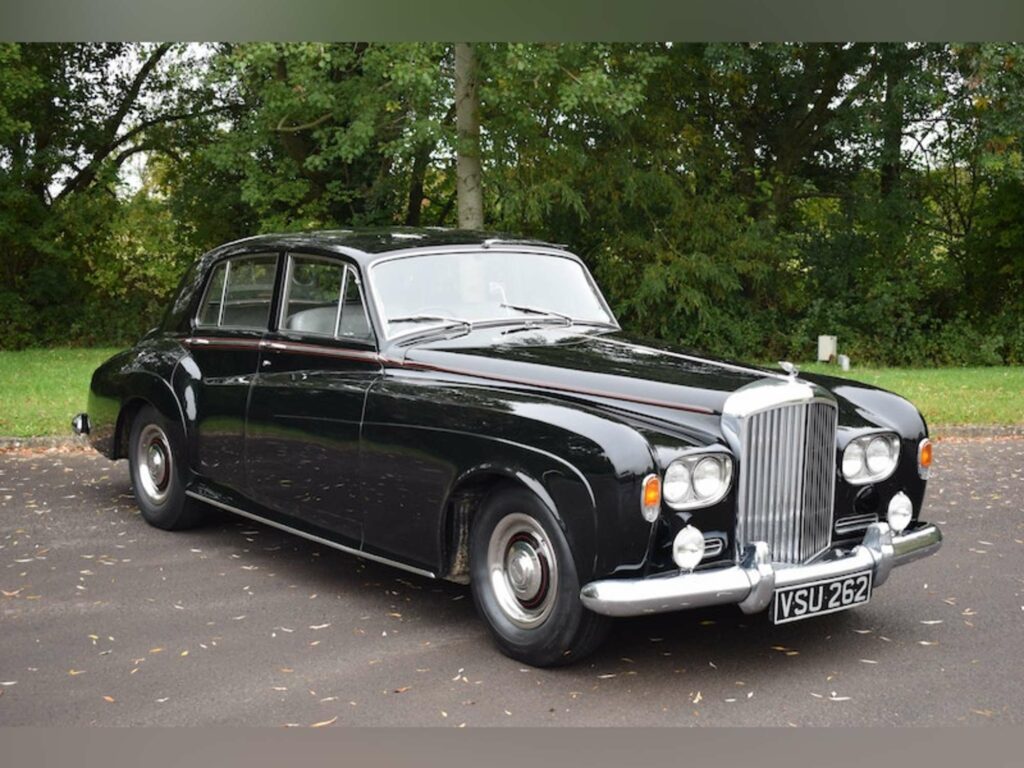 The last of our featured cars is something to bring grandeur and elegance to any collection. The S3 Saloon was the mot powerful of the S range and brought a lot of safety firsts over the S2 including twin paired headlights for greater visibility, lowered radiator to allow a lower bonnet line a padded fascia brow for safety and lighter power steering for ease of driving.
This stunning Bentley S3 Saloon was built for Eric Colston, once Managing Director of the Hoover vacuum company and after spending time in the US was returned to our shores in 1991. The car was bought by its current owner from his neighbour and offers a combined ownership of 32 years. Offered in stunning Mason Black, the car's coachwork is in excellent condition and the Grey interior leather nicely patinated. With a comprehensive history file and a guide price of just £2k-£37k, this exceptional car is fantastic addition to any classic car collection.
See more details: Classic Car Auctions | 1963 Bentley S3
Oracle Auction Car Finance
It's not too late to arrange funding for this weekend's sale, At Oracle Finance we specialise in finding funding for cars that are to be bought at auction, that is why we are the official finance partner of Silverstone Auctions and Classic Car Auctions. Our expert Account Managers use our panel of specialist lenders to help you to find the perfect package, bespoke to you and your circumstances. We could help to get you approved at the top end of your budget up to 90 days before an auction with an agreement in principle, so that when that hammer drops, your funding is in place, and you are ready to purchase the car of your dreams. With the auction just days away, why not speak to us now and get your funding in place before you miss being able to place that winning final bid.
Read more about our Auction Car Finance here: Auction Car Finance
Why Choose Oracle?
With over 1,700 Trustpilot reviews with an average rating of 5.0 out of 5.0, and four-time consecutive award winners of the Best Specialist Car Finance Provider award from 2020 through to 2023, you too can find out why thousands of people trust us time and time again to find a smarter, tailored funding solution when looking for your next dream car.
Make sure you follow us on Instagram, LinkedIn and Facebook to keep up to date with what's happening in the market and to see some stunning photos and videos of the amazing cars we fund.

Ready to know more?
Let Us Put You in the Driving Seat
Whether you're looking to arrange the finance on your next car, refinance an existing agreement or release equity from your current vehicle, your dedicated Account Manager will find a funding solution that's perfectly tailored to your needs.