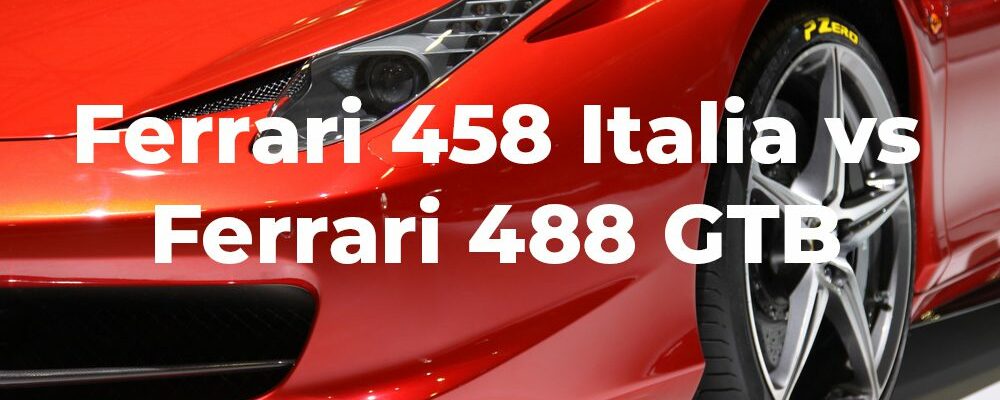 Car News, Interesting Info
9 Oct 2019
Ferrari 458 Italia vs Ferrari 488 GTB
What do you look for when you're buying a car? Do you choose the most modern car your budget allows or something that has the potential to become an investment? Ferrari's been a leading player in the industry since its first badged car rolled off the production line in 1947. It's a brand based on heritage and tradition and although customers appreciate beautiful cars with modern features, the tradition will sometimes come out on top. This year the Ferrari 458 Italia and the 488 GTB have been subject to this shift. Despite the 488 GTB having launched a full five years after the 458 Italia, recently values of the later (more modern) model have continued a natural depreciation curve, whereas the preceding model has started to enjoy a resurgence in valuation. So now we've come to a point where the two cars could experience a crossover in value.
Why the shift?
The Ferrari 458 Italia has won over 30 international awards and was the last ever Ferrari model to be designed with a normal aspirated engine. Owning a supercar designed with the heritage of a normally aspirated engine is something that purist Ferrari fans yearn for.
Non-turbocharged engines are well and truly off the agenda for Ferrari (and most other high-end manufacturers) and they have no future plans to introduce anything other than forced induction models. The ultimate reason for this being an effort to reduce emissions to counteract the ever-increasing pressure on manufacturers to limit their environmental impact.
From an unbiased position, the 488 GTB is technically a better car than the 458. The model has also won an abundance of awards and more importantly is Ferrari's first model to be made with a turbo-engine. Needless to mention that it's quicker, more efficient and has better airflow, technology and infotainment than its predecessor.
At a similar price, the choice should be an easy one. However, Ferrari aficionados have a hankering for the traditional normally aspirated car. Ferrari has tried to address this in part (maybe they saw it coming) by badging the newer car 'GTB' – a nod to various classic Ferrari model designations of yesteryear.
Will the trend continue?
Normally aspirated Ferraris seem to be holding firm in the marketplace versus their turbocharged replacements. The Ferrari California, with its normally aspirated 4.3 litre V8 has plateaued in value in comparison with its replacements. Both the California T and the Portafino that succeeded it are both sat very firmly on their depreciation curve.
The 812 Superfast and GTC4-Lusso replaced the front-engined Ferrari F12 and FF. Both replacements were turbocharged and are currently decreasing in value week by week. But the models they replaced are holding firm.
"We can't predict that the trend will continue with any certainty," says Phil Johnston, General Manager at our sister company, Lawton Brook. He also explains similar patterns happening with some Porsche models, which are "showing no signs of abating at this point".
The conundrum is simple. In the sphere that we operate, vehicles advance every single year. New technologies, more efficient engines, better driver experience and increased performance.  For every aficionado that wants the best of the previous generation, there will always be the buyer that wants the latest model. The question is, which side are you on?

Ready to know more?
Let Us Put You in the Driving Seat
Whether you're looking to arrange the finance on your next car, refinance an existing agreement or release equity from your current vehicle, your dedicated Account Manager will find a funding solution that's perfectly tailored to your needs.