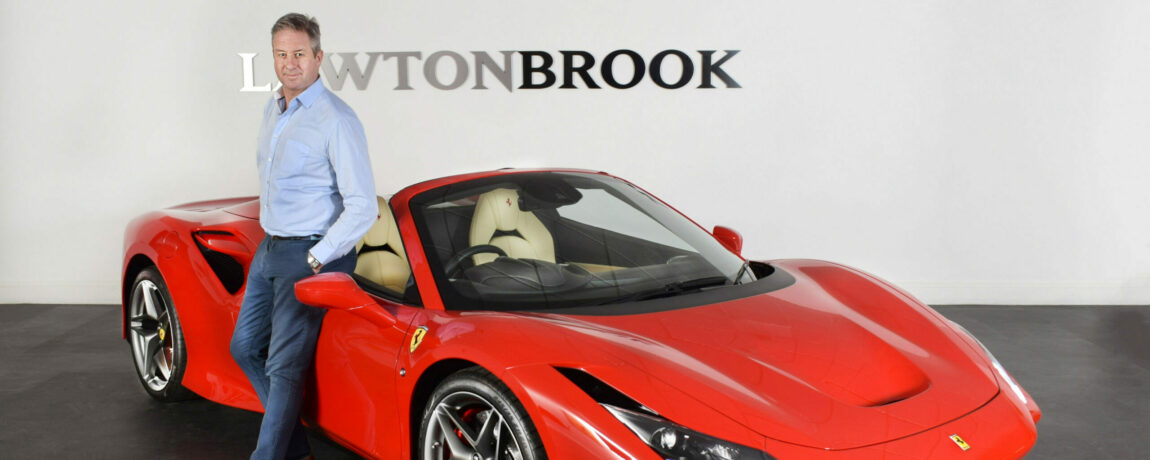 Interesting Info
30 Jan 2023
Have A Car To Sell?
For those who are looking to fund their next car but are wondering what to do with their current vehicle, our sister company, Lawton Brook, offers the perfect solution. Established in 1996, Lawton Brook pride themselves as one of the UK's leading suppliers of luxury and high-performance vehicles. Their hand-picked selection of vehicles offers the very best models from Ferrari, Lamborghini, Range Rover, McLaren, Porsche, Aston Martin and many more.
Heading up their buying department is the latest addition to the Lawton Brook team, Mark Rose. Mark has been in the motor trade, and a specialist purveyor of the finest models available for the past 30 years, he joined the company as a Buyer in 2022 after honing his craft as Head Buyer of H.R. Owen in London. His many years of experience means that he knows exactly what to look for to ensure the Lawton Brook stock is of the highest quality and of the right specification.
In Mark's own words, he states, "after working for large companies and PLC's, I have been warmly welcomed  by the Lawton Brook team and their loyal customer following. I very much enjoy the bespoke nature of the business due to its size, meaning we can truly dedicate our expertise and time to our customers looking to buy and sell their luxury, 4×4 and high-performance vehicles, much like Oracle Car Finance do with their customers."
Get In Touch Today
Having a sister company that operates on a national basis, means not only can we arrange the perfect finance package, bespoke to you and your circumstances through Oracle Finance, but we can also offer you the very best price for your prestige and performance car in-house, through Lawton Brook. Mark and the Lawton Brook team are always on the lookout for new stock for the showroom, whether you have a sports car, supercar, prestige vehicle, luxury SUV, modern or classic car.
You can get in touch with Mark directly by contacting Lawton Brook via the following methods:
Email: mark.rose@lawtonbrook.co.uk
Telephone: 01423 795840 / 07711 188884
Website: Sell Your Car – Lawton Brook
Alternatively, if you are looking to sell your vehicle in order to finance your next purchase, be it through Lawton Brook or another company, speak to your dedicated Account Manager here at Oracle Car Finance about getting a valuation on your current vehicle through Mark as part of your car buying journey. Lawton Brook will consider any premium vehicle less than 4 years old and up to 60,000 miles. Find out more information through the links above.
Keep up to date with all things Lawton Brook by following them on Instagram or LinkedIn for stock updates, sold cars and much more.

Ready to know more?
Let Us Put You in the Driving Seat
Whether you're looking to arrange the finance on your next car, refinance an existing agreement or release equity from your current vehicle, your dedicated Account Manager will find a funding solution that's perfectly tailored to your needs.