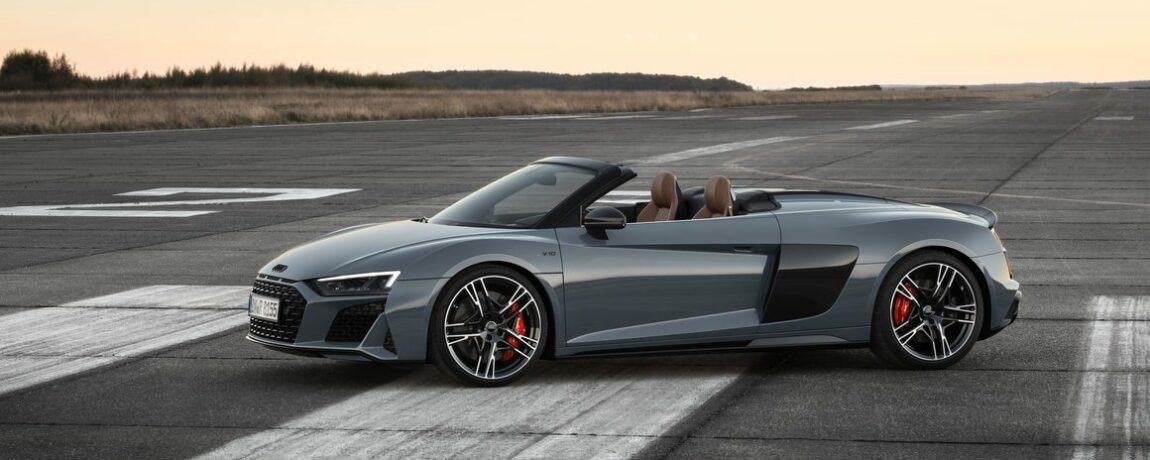 Here Comes The Sun
After what seems like one of the longest and coldest winters for many, mainly due to the cost-of-living crisis and the fact that heating your home has now become a luxury, the warmer weather and spring sunshine has finally but thankfully arrived. With the sunnier weather comes the decision that a convertible could be on the cards for your next car. The perfect way to enjoy that open top driving for the maximum amount of time possible in the British climate, could only be for a few weeks, but you're determined to make the most of the fair weather.
With this in mind we have put together our guide to the best convertibles to enjoy open top driving in the sunshine, one from each category and one each from different ends of the cost spectrum depending on what your budget will allow.
Sports Car
The definitive sports car recipe could not be simpler. Two seats, rear wheel drive and a convertible roof that folds down at the touch of a button. For many years one of the most highly regarded cars in terms of sports car thrills and driving enjoyment has been the Porsche Boxster. With a mid-engined layout, perfect weight distribution and sharp handling, Porsche hit a sweet spot with the way the car drives. Whether you can stretch to the latest 718 Boxster (982 generation), or even a Spyder, or are looking at a 986 generation, a 987 or a 981, the Boxster never disappoints when it comes to exactly what a sports car is all about.
For those with a bigger budget who crave style and power yet a more comfortable sports car experience, Aston Martin has the perfect solution, the Vantage Roadster. The Vantage Roadster not only provides comfortable yet sporty driving with the roof down, but comes with one big advantage over the Boxster, a V8 AMG soundtrack. A lot has been said about Aston Martin using Mercedes engines and technology in their cars but the bottom line is that it is proven engineering and some of the best of both around. With the roof down, the burbling 4.0 litre twin turbocharged V8 is the perfect accompaniment to a drive in summer weather. Not quite lairy enough for you? You can also get the Roadster with the 700bhp V12 engine.
Electric Car
Since the entire motor industry is heading towards an electric future, you would think that there would be an abundance of fully electric convertible to choose from, but it seems to be one area of electrification that has somewhat been left behind. For those wanting eco-friendly or silent top-down motoring, the Fiat 500 is currently the only way to go. Thankfully to allow at least a bit of choice, MINI have recently released a limited production of their Electric car in Convertible form and combines famed MINI handling and driving performance with the silence and convenience of Electric power. Production numbers are limited to 999 cars worldwide, with 150 destined for the UK, so you'll have to be quick.
The other alternative is something not usually recommended with electric cars, to look at an older model. Back in 2008 when electric cars were awkward looking, had very limited range and offered very little in the way of sporty or performance driving, a new company to the market called Tesla decided they wanted to change all that. Their first car, the Tesla Roadster, was a rebodied Lotus Elise that offered sports car performance, electric only power and more importantly for this blog post, a removal roof. Not many Tesla Roadsters came to the UK, numbers suggest it may be as few as 50 examples in fact, and as such their rarity has caused values to rise quite a lot. In fact a low mileage example is currently for sale on Auto Trader for £225k, more than double the initial cost which seemed an expensive car 15 years ago.
Convertible SUV
SUV's offered in convertible form are something that haven't really taken off. There are a few examples to choose from with the most popular coming from Range Rover and Volkswagen with the Evoque and T-Roc, but they are a bit of a niche product. One company who seemed to have made a success of the idea and have been doing for many years is Jeep. The original Willys Jeep had no roof and since then they have run with the idea, and quite successfully. Their latest Wrangler has a number of removable body parts if you have time to spare and are good with an Allen key, including everything from the roof and tailgate to the doors and even the windscreen on some models.
For those looking for the ultimate SUV convertible and happen to have very deep pockets, Mercedes Benz have gone that bit further with the G650 Landaulet. Somewhat based on the 'standard' G-Wagon and enhanced by in-house opulence specialists Maybach, the G650 offers the ultimate in luxury, comfort, specification, power, and even ground clearance. Everything about the car has been enhanced from the engine size, now a 6.0 litre V12, to the ride height, now an impressive half a metre, but most of all the levels of comfort to the interior are on another level. With an extended wheel base that offers executive class rear seating, fold-out picnic tables, rear entertainment screens, an electric glass partition to the front seating, and even a convertible roof at the touch of a button.
Supercar / Hypercar
Despite the fact that with the roof down you don't necessarily want to drive all that fast, it doesn't stop supercar and hypercar manufacturers from offering the ability to remove the roof on their cars. Not only does it mean that the ability to pose in your convertible takes you to another level in a supercar, but it also means you get to hear the engine noise in all its glory. One of the best examples for this is the Audi R8 Spider. Not only is it renowned to be perfectly useable every day but with achingly good looks and a naturally aspirated 5.2 litre V10 engine to listen to, the R8 more than fulfils the brief perfectly. Added to this the fact that it is comfortable, reliable and as easy to drive as a TT, it could very well be the perfect all-rounder.
At the top end of the convertible supercar/hypercar scale is one third of the 'holy trinity' of the ultimate in performance cars, the Porsche 918 Spyder. The 918 is almost 10 years old now but nothing about this exceptional car has any sign of looking dated or lacking in advanced technology. Whilst the whole car was designed to push the boundaries in terms of performance both on and of the track, they still found the time to give the 918 a removable roof section for convertible driving. What makes the experience even better is the fact that the 4.6 litre racing derived hybrid engine features top mounted exhausts so the incredible sound is quite literally right behind your head.
Luxury Cars
Attempting to reinvigorate a historic iconic model is sometimes a clever marketing trick whilst other times it can fail miserably. Thankfully for Jaguar, their attempt at creating a follow up to their legendary 2-seater sports car, the E-Type, has been a relative sales success in the form of the F-Type. Following the same long bonnet, rear biased cabin appearance and adding the perfect blend of power and intoxicating exhaust noise has created a fantastic luxury GT car option in an often-crowded market. With everything from a 2.0 litre 4 cylinder, to a 3 litre V6 or a 5 litre V8 engine option, as well as 2 or 4 wheel drive and coupe or convertible body styles, they also have created something for everyone's needs and budgets.
For the upmost in luxury and opulence one name will always be at the top of people's list; Rolls Royce. And for those looking for a convertible with the most grandeur and unparalleled levels of comfort they have the perfect solution, the impressive Dawn. Based on the Wraith coupe bodystyle, the Dawn takes the same ideals and adds even more impressive attention to detail and levels of craftsmanship. The levels of customisation and bespoke options know no bounds and the spectacle that the car imposes never fails to impress. Surely there is no more luxurious way to travel on four wheels.
Small Cars
Just because you need a smaller car for your commute or for city driving doesn't mean you have to miss out on the joy of open top driving that a convertible brings. One of the most iconic city cars is the Fiat 500 and their hot Abarth versions were stuff of legends. These days are no exception. The Abarth 500's are some of the most fun cars you can buy and thankfully they even do convertible versions. The Abarth 695C (for convertible) offers driving thrills and sounds that cars twice the price struggle to match, and is even available in boat inspired Rivale version for added sophistication, XSR Yamaha version for racing spirit, 70th Anniversary edition for nostalgia and a plethora of other editions to celebrate the success of the model.
If power and driving thrills are what you are looking for in a small convertible, then the Audi TT RS is all the car you would ever need. What it lacks in size it certainly makes up for in speed thanks to the 2.5 litre turbocharged engine producing 400bhp and assisted by the famous quattro four-wheel drive system. The TT used to be seen as all style and no substance yet thanks to the popularity and performance of the RS versions, this can no longer be said. Without the roof, the sound of that iconic 5-cylinder burble from the engine is even more prominent and makes you want to put your foot down even ore just to hear it.
Modern Classics
The appeal of the convertible also has benefits when it comes to classic or future classic motoring. The desirability of certain models in convertible form means that they are almost assured future classic status, some already considered classics despite not actually being that old. Take the Porsche 911 from the late 1980's/early 1990's as an example. The 964 generation may be only just 30 years old, which may seem like a while ago to some, but not necessarily what you'd categorise as classic car status. Yet the Cabriolet or Targa models of the iconic 911 have seen rising prices in recent years thanks to the desirability and style icon status of the cars. Driving one in the summer sunshine would do your street cred the world of good.
You would think that a car produced in the 2000's would be even less likely to be assured of future classic status, yet some cars are an exception to the usual rules. The BMW Z8 of the early 2000's is just that. Released as a homage to the 507 of the 1950's, it borrowed styling cues of the original and mixed it with modern technology and a 5.0 litre V8 engine. Even endorsement from a certain Mr Bond at the time wasn't enough to generate early appeal for the car, and dealers struggled to sell the cars even with discounts on the list price. But hindsight is a wonderful thing, and Z8's nowadays are fetching upwards of £200k and the car is not only rare due to low sale numbers but considered a certain future classic thanks to its stylish good looks and instant kerb appeal.
Hybrid Cars
The Hybrid car scene thankfully has been more varied than the fully electric options, and thankfully there are a plethora of cars to choose from that offer the eco-friendly credentials of a hybrid with the fun of a convertible car. The BMW i8 was seen as the first mix of supercar performance and looks with the hybrid assistance requiring a smaller petrol engine. With futuristic looks, enhanced further when in Roadster format, combined with a 1.5 litre 3-cylinder petrol engine and the assistance of electric motors, the i8 offered a combined 369bhp for driving thrills yet an acclaimed 128mpg and silent electric driving possibilities.
Ferrari often take the idea of a Hybrid car and use the electrical performance purely to enhance the possibilities of the petrol engine to deliver an unrivalled driving experience. Their latest 296 GTS is no exception. Their convertible mid-engined two-seater car uses a V6 petrol engine and plug-in hybrid technology to produce a combined 840bhp. Combined with their latest technology and Formula 1 derived engineering knowhow means that their latest offering is considered their best yet by motoring journalists the world over. Proof that a convertible hybrid doesn't need to be boring at all.
Classic Car
The idea of a 2-seater convertible often brings up imagery of classic car motoring. The days when you went out driving for fun, to enjoy the scenery and weren't in a particular rush to go anywhere. Those days can return and not necessarily by breaking the bank. Shop around and pick your classic convertible carefully and you can pick up iconic models for not a lot of money, you might even be lucky enough to purchase an appreciating asset if you choose the right one.
One such model with an iconic name from the past is the Alfa Romeo Spider. Examples from the early 1970's in fantastic condition may set you back upwards of £60k but there are bargains to be found if you happen to be handy with a spanner or are prepared to put some work in to it. The Alfa Romeo Spider is the definitive classic convertible, simple, easy to maintain or repair and certainly has the desirability in the looks department.
If you have more money to spend then the marketplace opens up many other possibilities that equally offer the same idealistic vision of classic convertible motoring. Cars such as the Mercedes Benz SL from the 1960's epitomise the era with their stylish design, increasing rarity and offer effortlessly cool top down motoring. Available with the optional 'Pagoda' fixed roof ability or even as a 'California' model without a folding roof at all, the SL's desirability is only increasing with time and rightly so. Prices have increased consistently over the past couple of decades and are now a desirable addition to any classic car collection, whether the model is from the 1950's, 60's, 70's or even the 1980'.
Weekend / Track Cars
Cars that can perform on the track aren't something that would usually be found in convertible form but that doesn't mean they don't exist. One of the most popular examples of a car that was built specifically for lightweight capability and driving performance, yet also has a removable roof is the Lotus Elise. Famed for their obsession with saving weight, something the convertible body style usually adds to, Lotus hit a sweet spot with the Elise and produced a car that has always been applauded for its handling abilities and no-frills interior meaning the focus was purely on the driving experience. The back-to-basics approach means that whether you are on a track or on a country road drive, this convertible will provide you with one of the finest handling performances around.
The Ferrari 488 Pista Spider in some ways is a similar prospect to the Lotus. Light in weight to perform on track and highly revered specifically for that track performance and the way it handles. Where it differs is that it also happens to offer a 3.9 litre V8 symphony and over 700bhp to explore the limits of what is physically possible. The fact that it also comes with a convertible roof means that the experience is enhanced even further to entertain your drive that bit more now that there is no barrier between you and those rampaging Italian horses. A sound that you have to experience to believe and one that any petrol head would agree is difficult to beat.
Oracle Car Finance
At Oracle Finance we have your convertible car funding sorted, no matter which kind it is. Our expert Account Managers use our panel of specialist lenders to help you to find the perfect package, bespoke to you and your circumstances. Our team are always on hand should you have any questions about arranging car finance and your dedicated Account Manager is ready to take your call today.
Why Choose Oracle?

Ready to know more?
Let Us Put You in the Driving Seat
Whether you're looking to arrange the finance on your next car, refinance an existing agreement or release equity from your current vehicle, your dedicated Account Manager will find a funding solution that's perfectly tailored to your needs.