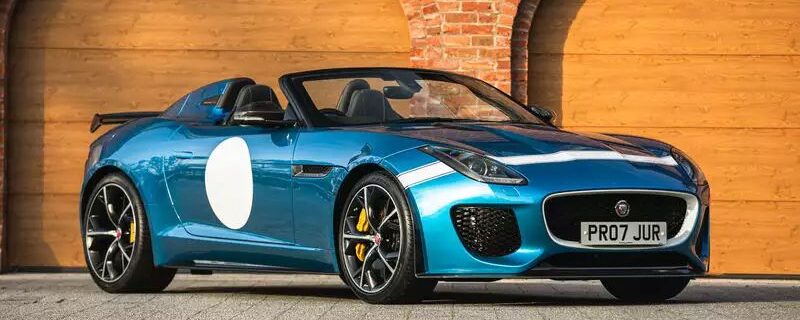 Iconic Auctioneers NEC Classic Motor Show Sale 2023
Iconic Auctioneers NEC Classic Motor Show Sale 2023: This weekend sees official partners Iconic Auctioneers host one of their biggest sales of the year at the NEC Classic Motor Show in Birmingham. As part of the biggest motor show of the year in the UK, the Classic Motor Show Sale features over 160 cars and many hundreds of bikes and items of motoring automobilia and collectables. With so much to choose from we have put together a break down of our ones to watch, cars of particular interest that we feel will have a lot of interest come auction day.
Collectable Jaguars
2016 Jaguar F-Type Project 7
The limited edition 'Project' cars from Jaguar's SV division are amongst the finest examples of their already accomplished range of cars. Their first foray into the limited production special editions came in the form of the F-Type Project 7, celebrating their 7 Le Mans victories and the Ecurie Ecosse racing team responsible for 2 of those wins. It also showed what was possible with the F-Type to create a harder edged, more driver focussed variation of the powerful roadster.
Just 250 F-Type Project 7's were built and featured the supercharged 5.0-litre V8 engine producing 567bhp. Thanks to a 35kg weight saving, much stiffer suspension with a unique set up, enhanced engine management and throttle maps, and carbon ceramic brakes as standard, the Project 7 took the F-Type's capabilities to new levels. The extensive aerodynamic enhancements to the exterior, chopped windscreen height, lack of roof and single fin styling hint to the D-Type meant it also looked cooler than other F-Types too.
This particular example is one of just 80 that were available in right hand drive and has covered just 488 miles from new. Finished in Goodwood Blue metallic with graphics in White and a full Black interior, the car is understandably offered in exceptional condition and would be a stylish addition to any collection. A genuine piece of modern Jaguar history.
See more details: 2016 Jaguar F-Type Project 7
2020 Jaguar XE SV Project 8
Following on from the Project 7, Jaguar decided to push the boundaries of what was possible with one of their products with the Project 8. Based on their fairly sensible XE saloon, their SV division went even further to create supercar performance combined with race car handling in their quickest car ever. It may look like a pumped-up version of the XE, but the changes are so extensive that just the front doors and the roof remain from the standard car, with the rest restyled and remade from lightweight carbon fibre.
Fitted with a tuned version of the popular 5.0-litre supercharged V8 engine uprated to 592bhp, the addition of all-wheel drive meant that the Project 8 could accelerate from 0-62mph in just 3.3 seconds. The suspension is fully adjustable as is the ride height and the aerodynamic set up, ceramic brakes are standard and even the wheel bearings are the same style as used on Formula 1 cars.
This particular example is finished in quad-coat SV Premium Palette Velocity Blue with Black graphics and full Black interior, with the rear seats included rather than omitted as was one of the options. The car has covered just 106 miles and represents a fantastic opportunity to own one of the most collectable Jaguar models of recent decades. It even comes complete with Project 8 related numberplate included in the sale.
See more details: 2020 Jaguar XE SV Project 8
Motorsport Inspired
1979 Lotus Esprit S2 Championship Edition
As far as iconic liveries go in the world of Formula 1, the John Player Special Lotus' of the late 1970's is up there with the most legendary of all time. The black bodywork with gold writing is instantly recognisable and represents one of the most successful Lotus Formula 1 cars in their history, not to mention one of the best looking. To commemorate their World Championship success Lotus launched this limited production commemorative model of their equally iconic Esprit sports car.
All 200 cars, of which 185 are believed to have been built, were finished in black and featured gold accents to match the appearance of their Formula 1 cars. The Gold additions included side stripes with 'World Champion' lettering, front and rear windscreen surrounds and wheels to the exterior, with black leather and gold-shade corduroy seats and door inserts, and gold accents to the black interior. The 2.0-litre 16-valve engine produced a useful 160bhp for the 900kg bodyweight resulting in a sprightly 0-62mph time of 6.8 seconds and a top speed of 124mph.
This particular example has been subject to an extensive restoration, to which the current owner admits having got carried away with in terms with the extent of the works, and as a result is in exceptional condition. Cosmetically and mechanically the car has been given a complete overhaul and together with a sensible mileage of just over 70k miles, means this car is not only a stunning addition to any collection, but a useable one too.
See more details: 1979 Lotus Esprit S2 JPS #68/100
1973 BMW 3.0 CSL (E9)
Based on the 3.0 CS/CSi Coupe, the CSL is a lighter more performance orientated version and a homologation model for the German Touring Car Championship. Developed by a separate team within the company, one that would become the legendary 'M Division', the CSL was a motorsport powerhouse in the 1970's.
The CSL was different to the standard model by using thinner gauge steel to the bodywork and replacement aluminium parts and an addition of an aerodynamic bodykit to enhance airflow as well as the styling. With a 3.0-litre fuel-injected straight-six engine (in later models) the CSL was a powerful and impressive handling car to more than match its iconic and desirable appearance.
This particular example is one of the 500 UK right hand drive models and one of the last UK allocated cars built. Finished in stunning Taiga Green with Black interior, the car is offered in fantastic condition and comes with an impressive history file as well as low-ownership numbers. With the appeal of 1970's and 1980's cars on the rise in recent years, this represents a fantastic opportunity to purchase one of the most iconic performance cars of that era.
See more details: 1973 BMW 3.0 CSL
1990 Audi UR Quattro 2.2 Turbo RR 20v
The Audi Quattro name is the most legendary model in rallying history bar none. Responsible for transforming the way the sport was powered and ensuring many teams were not competitive almost instantly. The introduction of the four-wheel drive system to performance car driving is something that Audi have championed ever since and continue to show the advantages more than 30 years later. Almost as iconic as the Quattro four-wheel system is the in-line 5-cylinder turbocharged engine, a symbol of their rallying exploits and something still used in their performance cars such as the RS3 and Audi TT RS.
As a result, the road going version of the Audi Quattro is equally sought after and is revered by performance car fans of all ages. The later models came with a 2.2-litre 20 valve 5-cylinder engine that produces 217bhp, more than enough to assure its performance car status when combined with its legendary all-terrain handling. Just 295 right hand drive examples were produced meaning that the car remains a sought after and relatively rare find, especially in good condition and with low mileage.
This particular example has covered less than 33k miles and was with its first owner for 32 years. It is finished in Panther Black metallic and comes with a Granite leather and cloth interior with both remaining in remarkable condition for its age. It comes complete with a comprehensive and detailed history file with many receipts as well as original manuals and sales brochure. Values of Audi Quattro models has always been relatively strong and with the popularity in 1980's and 1990's cars still on the rise, now could be a great time to invest in a childhood hero vehicle.
See more details: 1990 Audi UR Quattro 2.2 Turbo RR 20V
'Alternative' Cars
1982 DeLorean DMC-12
The DeLorean story is one that if it was made up would seem unrealistic and not likely. Various films and documentaries have been made in some attempt to describe the promised highs and eventual lows and how it all went wrong for the once promising venture. Yet thanks mostly to the Back To The Future franchise, the DMC-12 has always been exceptionally cool. For those who grew up at the time the film franchise was around, the reliability issues and build quality problems are overlooked at the prospect of driving a car that was capable of time travel.
Everything from the brushed stainless-steel unpainted exterior bodywork to the gullwing doors made the DMC-12 a space-age prospect, while the underpinnings engineered by Lotus founder Colin Chapman meant it had the potential to be great. For its loyal fans and movie franchise enthusiasts nothing compares to this unique vehicle and one coming up for auction proves a tempting prospect. This particular example more tempting than most thanks to its immaculate condition following extensive refurbishment and the fact that it has covered just 1,000 miles. Surely the best example DeLoren Motor Car seen for a long time.
See more details: 1982 DeLorean DMC-12 Manual
2004 MG X-Power SV-R
A brand undergoing a resurgence and a design penned by the man responsible for the McLaren F1 seems like the recipe for greatness. However, the focus on a niche halo supercar rather than replacements for their most popular selling models meant that funding soon ran out for the project and MG Rover had entered administration by the time just 9 of the 82 built had been sold.
The range topping X-Power SV-R, of which just 42 were made, came with a 5.0-litre V8 engine tuned by Roush and officially produced 385bhp, although sources state it was actually closer to 410bhp, with a 0-62mph time of just 4.9 seconds and a top speed of 175mph. This particular car is the more desirable manual model and has covered just over 10k miles since new. Originally a demonstrator for an X-Power dealership, the car is on offer from a small private collection and represents a chance to purchase a never-to-be-repeated type of car from a bygone British carmaker, and an often forgotten modern classic.
See more details: 2004 MG XPower SV-R
Historical Rarity
1957 Chevrolet Corvette C1 Convertible
The Chevrolet Corvette C1 started a lineage of iconic American sports cars that is still going today and in 1957 it became first available with a V8 engine. The rest is history. Stunning good looks that epitomise the late 1950's and early 1960's, the two-tone bodywork, white wall tyres, chrome grille and vibrant matching interior are quintessential Corvette, and it is easy to see why they became so popular.
This particular car is a sought after fuel-injection model, technology born from racing and enhancing road cars even back in the late 1950's. As well as better efficiency it also meant more power, the Corvette boasting 283bhp from its 283 cubic inch engine, and was an option fitted to just over 1,000 of Corvettes in this year. It is finished in Venetian Red over White with matching Red and White interior and has been fully restored to exacting standards including an original and extremely rare factory hard top. A fantastic opportunity to own a genuine piece of American motoring history.
See more details: 1957 Chevrolet Corvette C1 'Fuelie' Convertible
1962 Sunbeam Alpine ex-Works Le Mans Car
If you were watching Le Mans racing in the early 1960's you would expect to be seeing the likes of Ferrari 250 GTO's, Maserati Tipo 151's and Aston Martin DB5 GT's tearing round the track in close competition. What you might not have expected to see was a 1962 Sunbeam Alpine with its 1.6-litre four-cylinder engine and stated donor engine figure of around 83bhp. With engines race prepared by motorsport legend Jack Brabham, the plucky British sports car raced at Le Mans, the Monte Carlo rally and Goodwood just to name a few.
This well preserved car has undergone extensive yet careful renovation and has enjoyed a second racing career as a classic racing car in its original works colours and specification. It is eligible for a wide array of events worldwide accompanied by FIA HTO papers until 2026 and offers a chance to buy a fantastic piece of British racing history.
See more details: 1962 Sunbeam Alpine ex-Works Le Mans Car
Fast Fords
1997 Ford Escort RS Cosworth
Fast Fords are the hottest prospects in modern or future classic cars right now and the increases in value of some rare or low mileage versions of some of their most iconic models is a testament to their demand. One of the most legendary Fast Ford models is the Escort RS Cosworth of the 1990's. From its not-so-understated styling complete with 'whale-tail' spoiler to its sports car performance and all-wheel drive capability, the Escort RS Cosworth is deserved of its status amongst the very best.
This 1997 Escort RS Cosworth has covered just 400 miles since new and as such is presented in exceptional condition. Meticulously cared for by its current owner, the car remains in almost as new condition and would merely need light reconditioning to appear factory fresh once again. With so many Fast Fords exchanging hands for such large sums of money, could this be one of the lowest mileage Escort RS Cosworth's left.
See more details: 1997 Ford Escort RS Cosworth
1987 Ford Sierra Cosworth RS500
Iconic Auctioneers have a great success rate when it comes to record breaking prices achieved at auction, especially when it comes to Fast Fords, and none more so than for the Sierra Cosworth. The ultimate family car turned performance machine, the Sierra Cosworth is the epitome of a Fast Ford and the RS500 is the ultimate expression of the icon.
This particular example is an ex-Ford press/promotional vehicle and has had just one previous owner since then, covering just 12,500 miles and offered to market after almost 34 years of continuous ownership. Whist it may not achieve a world record price this time around, you wouldn't bet against the guide price being a conservative estimate based upon the recent Sierra Cosworth prices achieved at auction. Is it time to get in on the act before the prices continue to rise? This could be the ideal opportunity.
See more details: 1987 Ford Sierra Cosworth RS500
Royal Connections
2004 Range Rover
If provenance and history are what you are looking for in a potential auction purchase then you can't get much better than a vehicle with a royal connection. At this time, surely the royal connection of most interest is Her Majesty Queen Elizabeth II. Supplied direct from Land Rover Special Vehicle Operations, this Epsom Green 2004 Range Rover with Sand Hide interior was owned by the estate and was seen being driven by the late Queen herself.
Specified with modified front grille with covert lights and switch pack, front and rear seat covers, dog guard, load space mat, side steps and mud flaps, as well as the traditional additional grab handles and dual control window switches in the rear, this understated yet stately vehicle is typical of royal vehicles used as part of the fleet of vehicles they have use of. According to Iconic Auctioneers it has generated a plethora of interest in both the press and motoring journals as well as enquiries direct to themselves and is sure to generate a lot of interest on the day. A great chance to purchase a genuine piece of royal family memorabilia and a vehicle personally driven by the late Queen herself.
See more details: 2004 Range Rover
1994 Range Rover Vogue LSE Limousine
Certainly not something you see every day, a Range Rover that has been converted into a limousine. Converted by one of the best-known conversion companies at the time, Townley Cross Country Vehicles, were responsible for several hundred examples, many for Middle Eastern clients. This particular car was originally commissioned by the Sultan of Brunei for his younger brother at a cost at the time of £135,000.
Finished in Rolls Royce Mason Black, the Range Rover was extended by 40" and the roof raised by 8". The customisation included a laminated sunroof, one piece opening tailgate, three rear seats, full electric centre division, twin 8" television monitors, picnic tables, full air conditioning and a stereo/CD player and VHS recorder. The interior is trimmed in Black-piped Oxblood Connoly hide with Burr Walnut veneer. The has covered just under 17k miles since new and is sure to be the only Range Rover limousine you will see today, or in fact most days.
See more details: 1994 Range Rover LSE Limousine
Oracle Auction Car Finance
At Oracle Finance we specialise in finding funding for cars that are to be bought at auction. Our expert Account Managers use our panel of specialist lenders to help you to find the perfect package, bespoke to you and your circumstances. We could help to get you approved at the top end of your budget up to 90 days before an auction with an agreement in principle, so that when that hammer drops, your funding is in place, and you are ready to purchase the car of your dreams.
Our team are always on hand should you have any questions about arranging car auction finance and your dedicated Account Manager is ready to take your call today. With the Iconic Auctioneers sale just weeks away, why not speak to us now and get your funding in place before you miss being able to place that winning final bid.
Read more about our Auction Car Finance here: Auction Car Finance
Why Choose Oracle?
With over 1,900 Trustpilot reviews and a rating of 5 out of 5, and four-time consecutive award winners of the Best Specialist Car Finance Provider award from 2020 through to 2023, as well as having funded over £1.7 billion of vehicles and counting, you too can find out why thousands of people trust us time and time again to find a smarter, tailored funding solution when looking for your next dream car.
Make sure you follow us on Instagram, LinkedIn and Facebook to keep up to date with what's happening in the market and to see some stunning photos and videos of the amazing cars we fund.

Ready to know more?
Let Us Put You in the Driving Seat
Whether you're looking to arrange the finance on your next car, refinance an existing agreement or release equity from your current vehicle, your dedicated Account Manager will find a funding solution that's perfectly tailored to your needs.