Memorable Classic Cars You Could Own This August
Classic Cars are bought as more of an asset nowadays especially since their values have drastically increased over time. You could even purchase some of these extremely rare models if you look hard enough. We have pulled together a mixture of just some iconic and memorable classic cars and following our recent partnership with Silverstone Auctions, some of these stunning vehicles are available to bid on at their next event, The Classic. 
The Diana, Princess of Wales 1985 Ford Escort RS Turbo S1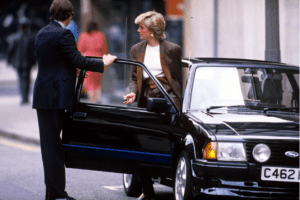 First in is this very special classic car. It's said that the Ford Escort 1.6i Cabriolet in Red, that was to be Princess Diana's second Escort, was deemed to be unsuitable by SO14, as the manual canvas roof offered little privacy in a hurry and zero protection. Encouraging the purchase of a stealthier car, Her Royal Highness was insistent on the new Escort Turbo RS and the Ford PR department suggested making a black RS Turbo the first example of the then current range of all-white cars on sale.  
The car is believed to be unique as the first and only black RS Turbo Series 1 and represents a very rare car indeed. The Special Vehicle Engineering department was tasked to paint the car and fitted a regular five-slat front grille to assist in the stealth makeover and a secondary rear view mirror for the protection officer with a radio in the glove box, the cable for which is still visible today.
Registered on the 23rd August 1985, this RS Turbo Series 1 and its famous driver were to be extensively photographed outside the boutiques of Chelsea and the restaurants of Kensington over the next few years. One press photo shows the future King, HRH Prince William, sat in the back with his mother smiling at the wheel. Provenance doesn't come much more impressive than the former keeper being a member of the royal family.
This particular car is available to purchase at The Classic, Silverstone Auction. Find out more about this vehicle here. 
Aston Martin DB5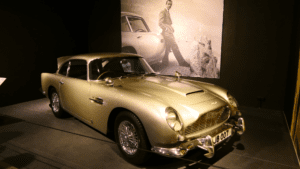 Is it even possible to read those words without the 007 theme starting to play in your head?  
Sean Connery's James Bond and his tricked-out Aston Martin are one of the 20th century's finest star-car partnerships, so much that it's easy to forget that the DB5 is a car that you can actually purchase to drive on our roads and not just on a film set. But it is the pinnacle of British luxury, style and sophistication, even if it doesn't come complete with the oil slick or the ejector seats. 
Silverstone's The Classic may not have a DB5 available to bid on, however there are other Aston Martins available, including a 2005 Vanquish and a 2001 DB7 V12 Vantage.  
1973 Rover P5 – Margaret Thatcher's Ministerial Steed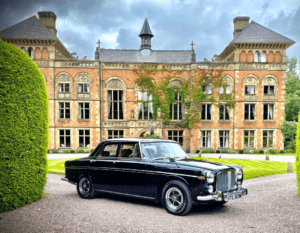 Manufactured on 24th March 1973, this particular Rover was to play an important role in UK political history, transporting newly-elected, the now late Margaret Thatcher, the UK's first female Prime Minister, from Conservative Headquarters to Buckingham Place on 4th May 1979 where she accepted Queen Elizabeth II's invitation to form a new administration. Converted by Hoopers, shortly after rolling off the production line, to Government specification, GYE 329N was to be one of three such examples used for ministerial duties. Finished in Ebony Black with a Saddle Tan hide interior and steeped in British political history.
Retired shortly after taking its place on the political stage, the Rover moved into private ownership in 1980. It remains in exceptional condition throughout to this very day and is indeed available at the next Silverstone Auction too! More recently, the paintwork has been refreshed and the engine and gearbox rebuilt, however, and most importantly, the original 'conservative' interior remains. Find out more about how you can bid on this iconic vehicle here. 
1965 Volkswagen Type 2 Panel Van 'The Magic Bus'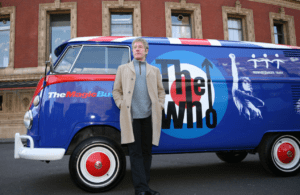 As if the above vehicles weren't enough, here's one for those that admire the 60's pop culture from one of the most iconic groups in British music history.
The Who Magic Bus - a true piece of modern pop culture fully endorsed by the band to raise funds for the Teenage Cancer Trust, and better yet, it is also available at Silverstone Auction's event at the end of the month!  
The 'Magic Bus' is a 1965 Type 2, T1 left-hand drive panel van, which was sourced for Volkswagen by Bob Van Heyst, of BBT in California. Already partially restored by its previous owner, the Type 2 was transported back to its birthplace in Hanover, where the restoration was finished by VW specialists in the famous 'Old Timer' workshop. The bus then received its amazing custom artwork, which was executed by renowned graphic artist, Richard Evans.  
Richard is The Who's art director and has worked closely with the band for over 40 years on album covers and tour designs. In addition, Roger Daltrey and lead guitarist Pete Townshend have autographed the sun visors, whilst Richard Even's signature can be found on the interior side panel. 
Find out more about this truly unique vehicle and how to have the opportunity to place your bids, click here. 
Looking for your ultimate dream classic car to either start or add to your collection?
These can be rare finds and therefore you want to ensure they have the right history and that you're buying from a reputable seller. We have partnered with Silverstone Auctions, who carry out extensive checks on all lots they list. They have a dedicated documents desk at each of their auctions where you can view the respective history files for each lot.  
Buying at an auction need not be a stressful experience, our expert team have over 16 years' experience in sourcing tailored car finance products, including for car auctions. Whatever type of car you're bidding for, if you're looking for financial security before you raise your hand then you can get in touch with us either by calling us on 0800 012 6666 or clicking here. 
With over 1,100 Trustpilot reviews and three-time consecutive award winners of the Best Specialist Car Finance Provider award from 2020 through to 2022, you too can find out why thousands of people trust us time and time again to find a smarter, tailored funding solution when looking for your next dream car.  
Speak to your dedicated Account Manager today about your pre-approved credit line options, with access to specialist lenders for bespoke solutions including auction sales for classics, supercars and racing cars. 
Voted Best Specialist Car Finance Provider three years in a row at the Car Finance Awards 2020, 2021 and 2022 having funded over £1.5 billion. 
Make sure you follow us on Instagram, LinkedIn and Facebook to keep up to date with what's happening in the market and to see some stunning photos and videos of the amazing cars we fund. 

Ready to know more?
Let Us Put You in the Driving Seat
Whether you're looking to arrange the finance on your next car, refinance an existing agreement or release equity from your current vehicle, your dedicated Account Manager will find a funding solution that's perfectly tailored to your needs.