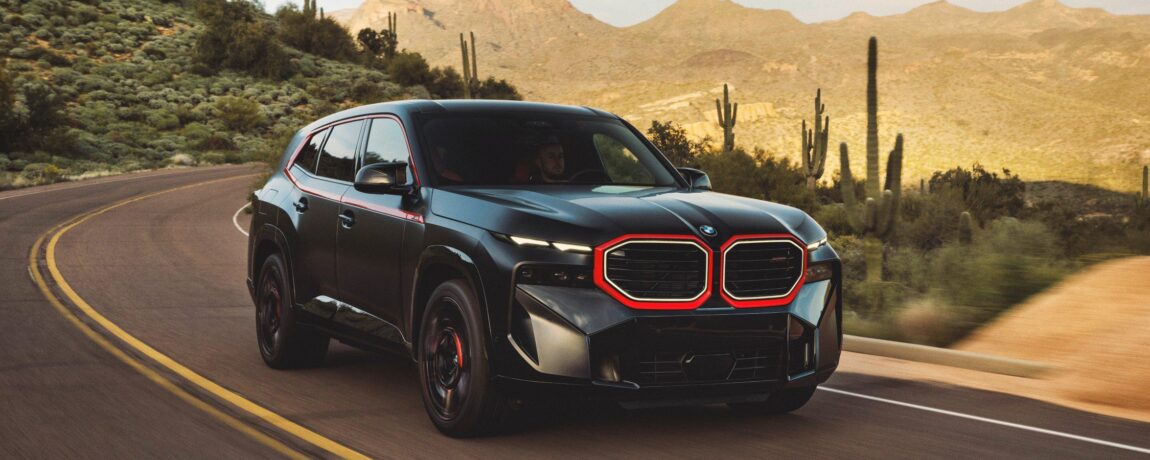 The Best SUV's This Autumn: Electric vs Combustion
The impending combustion engine ban coming in 2035 may bring about the biggest change to the motoring landscape in over 100 years, but it also means if you are looking to purchase a new car right now there is more variety and choice than ever before. Switching to electric only cars may mean that we may have to change the way we drive, the journeys we take and the way we ensure our cars continue to be refuelled, however, right now it allows those looking to purchase a new car a chance to weigh up the benefits of more models, manufacturers and type of power that suits them the best.
With the Autumnal weather settling in, the demand for SUV's increases greatly at this time of year and the variety of SUV options on offer in today's market is greater than ever. But if you're looking for an SUV this autumn, which are the best for sale in each category and how do the combustion engine versions compare to the electric powered comparison. Here is our list of the best SUV's for sale this Autumn:
Luxury
Electric: Mercedes-Maybach EQS
Mercedes' Maybach division create some of the finest luxury vehicles money can buy. The mix of abundant technology, sumptuous luxury and the upmost in comfort mean that the Maybach EQS rivals the very best of the prestige SUV's. The vey latest EQS goes further than ever before with its blend of high-end entertainment systems, pioneering technologies, and even eco-credentials such as the sustainably produced leather. All of this mean that it pushes the luxury boundaries even further than ever before, and when combined with quiet electric only motoring, it merely elevates the experience even more.
Combustion: Range Rover
The Range Rover has for many been considered as the yardstick for which luxury SUV's have long been compared to. The latest version focused even more on luxury and refinement and the feeling you get from driving a Range Rover product. Not only does it provide comfort levels, attention to detail and the finest materials and finishes to rival any luxury product, it also incorporates the legendary go-anywhere ability that only a Range Rover can imply. The fact that it can handle any terrain, any driving conditions and adapt between town driving or motorway cruising so effortlessly and seamlessly only adds to the impressiveness of the vehicle even further. The fact that it can also keep up with the best thanks to a 4.4-litre twin-turbocharged V8 offering over 600bhp means that you can certainly still enjoy combustion engine thrills.
Performance
Electric: Lotus Eletre
The Lotus Eletre is a world away from Lotus' of old. With a historic ethos of lightness and simplicity to create pin-sharp handling, the latest Lotus range is an entirely new offering, yet is looking to achieve the same goal. The Eletre, Emeya and Evija are set to shake up the super-SUV, super saloon and hypercar market as all-electric technological pioneers that include a strong focus on handling and performance like a Lotus should. The Eletre uses a blend of ultimate luxury, advanced technology, and exhilarating performance to create an SUV that utilises phrases such as airflow management, porous design and adaptive aerodynamics to ensure it can perform with the very best. The fact that the electric motors produce in excess of 900bhp should help matters too.
ICE: Lamborghini Urus
The Lamborghini Urus redefined what was possible with an SUV and created a new sector of super-SUV's that can seemingly defy physics with its performance and capability. With supercar rivalling acceleration, sports car matching handling and looks that were instantly recognisable as a Lamborghini, the Urus proved that the exotic car maker hadn't sold its soul and was on to a winner. Something that the record sales figures proved becoming the best-selling Lamborghini of all time and in record time too. The sound from the twin-turbocharged 4.0-litre V8 is pure raging bull and the comfort levels on offer to the interior are enough to rival anything that prestige car makers can achieve. No wonder many people consider it the best all-rounder money can buy and the ultimate 1 car garage.
Family
Electric: Tesla Model X
The fact that Tesla are a relatively new car company is believable yet unbelievable at the same time. Their sales figures and production numbers, as well as market share, would not be believed just a few short years ago and their achievements are incredible for a company that hadn't made a car before 2008. Yet their outside the box thinking and fresh approach to what a car means or should be able to do are a welcome surprise to an often sedate industry. The Model X with its ultra-minimalistic interior, ludicrous performance capability (pun intended) and access to the rear via gullwing doors show that they aren't afraid to do thigs their own way.
The Model X may well be the perfect family car, from its ingenious space solutions, ease of access thanks to those doors right down to the entertainment functions and the fact you can turn your seat into a whoopee cushion. What more could you want, it even has a 'Plaid' specification with over 1,000bhp that can accelerate from 0-62mph in just 2.5 seconds for those looking to take their family to places very fast indeed.
ICE: Volvo XC90
The Volvo XC90 was designed from the ground up to be the ultimate family car. Not only is it one of the safest cars on the road to protect your family wherever you go, but the advanced technology, space saving solutions and clever packaging means most cars do not even come close to what the Volvo can offer. Generous equipment levels and extensive specifications mean that there is something for the whole family to be satisfied, whilst the build quality, refinement and reliability ensure that no one is left disappointed. Volvos used to be synonymous with an older generation and boxy unstylish design, yet these days the brand is going from strength to strength and has become a cool environmentally conscious company. Something not easily achieved these days for a model that is still combustion engine powered.
Small SUV
Electric: Tesla Model Y
Following the success of the Model X, Tesla decided to merely copy and shrink the design to produce their small SUV, the Model Y. It may not have the outlandish gullwing doors or the possibility of a 'Plaid' ultra-performance model, but it offers the same technology and possibility that has had every major manufacturer trying to match for almost a decade now. The Model Y offers cutting edge design both inside and out, the possibility of 0-62mph in a supercar rivalling just 3.5 seconds with the Performance model, and all-wheel drive for stability and safety. The packaging and technological features mean that the car is not only much more spacious than you might think, but also just as capable as it's larger sibling, if not more so.
ICE: Mercedes Benz GLC 63 S AMG
The Mercedes AMG range nearly all share the same 4.0-litre bi-turbo V8 engine, from the powerful G-Class and AMG GT supercar to the C-Class and even GLC small SUV. The burbling exhaust note at idle that turns into a roar when you accelerate is one of the most iconic engine notes in history and makes driving an AMG Mercedes a event every time you start the engine. In 'S' form in the GLC, the V8 produces 510bhp meaning 0-62mph takes less than 4 seconds and it will still be accelerating as you approach 170mph. Probably not entirely necessary in what most people are looking for with a small SUV, but its nice to know some companies are still trying to produce something unique and for the thrill seekers of this world.
Off-Road Ability
Electric: Porsche Taycan Cross Turismo
The Porsche Taycan was a bold statement yet received a lot of praise for being a fully electric Porsche that drove exactly as a Porsche should. At a time when there weren't many electric cars that offered an engaging drive at all, it was a breath of fresh air and a sign that the switch to electric didn't mean we couldn't enjoy driving anymore. The Cross Turismo is the sports utility version of the shooting brake estate car body style, a fun moment from the usually sensible Stuttgart firm and a different approach to what an SUV could be.
It may not offer the best ground clearance or a high driving position but that doesn't mean it isn't a perfectly capable off-road vehicle. The rugged body styling, optional accessories and the fact you can have the Turbo S specification with over 750bhp means the Cross Turismo can overcome terrain that many SUV's would struggle with.
ICE: Land Rover Defender V8
The Land Rover Defender has always been the ultimate off-road machine. No matter the terrain, the conditions, or the incline, if you needed to get across it you used a Defender. When the new version was unveiled, Land Rover were adamant that it was as capable, if not more so than the 'original' vehicle, and they seem to have been right. With the inclusion of technology such as ClearSight augmented reality cameras, off-road automatic crawling, hill descent control and even wade sensing for deep water, the Defender really can keep going no matter what you throw at it. The addition of the 5.0-litre supercharged V8 engine to the line up mean that now you don't just look effortlessly cool, but you can now sound and go as well as it looks too.
Technology
Electric: BMW iX M60
The BMW iX M60 is the flagship of the BMW electric range and an all-new model designed to blend their largest electric SUV with their renowned M Performance lineage. As well as offering almost 620bhp from its twin electric motors and a 0-62mph time of just 3.8 seconds, the iX range is abundant with the very latest technology. From the 5th generation eDrive technology, the latest iDrive control system and curved wraparound dashboard display, to the smartphone unlocking, intelligent personal assistant, multiple advanced driving assists and even the state-of-the-art sound system with diamond speakers. It's also the first car to come with 5G connectivity as standard to keep the whole family happy. That is, if they can get past the looks, which for many is something many modern BMW's have come down with.
ICE: BMW XM
Continuing the challenging looks theme is the BMW XM. Appearing more aggressive than the iX, the XM has the performance to back it up, with the twin-turbocharged V8 petrol engine combining with an electric motor to produce a combined 750bhp. The advanced hybrid set up is only the beginning of the technology on offer in this large SUV however, with even more impressive features behind that futuristic looking body work.
The same latest iDrive technology and curved digital display adorn the cockpit, only now it is accompanied with advanced QHD and full HD cameras to monitor the car and sense vibrations whilst the car is parked. Whilst when you are in the car the three-dimensional illuminated headliner adds sophistication to the ambient lighting set up and active steering and active stabilisers provide impressive handling, whilst the M Sport differential keeps you on the road with all that power. The personal eSIM allows occupants to use their phone connectivity in super-fast 5G, even if the phone isn't with you, and if it is you can of course use it to unlock the car in the first place.
The technology on offer is seriously impressive throughout the car, which is probably the reason it will be bought rather than for its appearance. They say the exterior styling takes a lot of its inspiration from the legendary M1 supercar, though that may not be enough to mean it will ever be called a good looking car.
Oracle Finance SUV Funding
Whatever powers your next car you can rest assured that Oracle Finance have your funding covered. SUV's are the most popular cars we fund, almost 40% of the cars we funded last year were SUV's of all shapes and sizes, meaning our expert Account Managers are well equipped to help you find that perfect finance package bespoke to you and your circumstances.
If you are looking at purchasing any of the above vehicles, our expert team have over 18 years' experience in sourcing tailored car finance products, including these models mentioned above. Whatever type of car you're looking for, you can get in touch with us either by calling 0800 012 6666 or clicking here.
With over 1,900 Trustpilot reviews and four-time consecutive award winners of the Best Specialist Car Finance Provider award from 2020 through to 2023, you too can find out why thousands of people trust us time and time again to find a smarter, tailored funding solution when looking for your next dream car.
Make sure you follow us on Instagram, LinkedIn and Facebook to keep up to date with what's happening in the market and to see some stunning photos and videos of the amazing cars we fund.

Ready to know more?
Let Us Put You in the Driving Seat
Whether you're looking to arrange the finance on your next car, refinance an existing agreement or release equity from your current vehicle, your dedicated Account Manager will find a funding solution that's perfectly tailored to your needs.