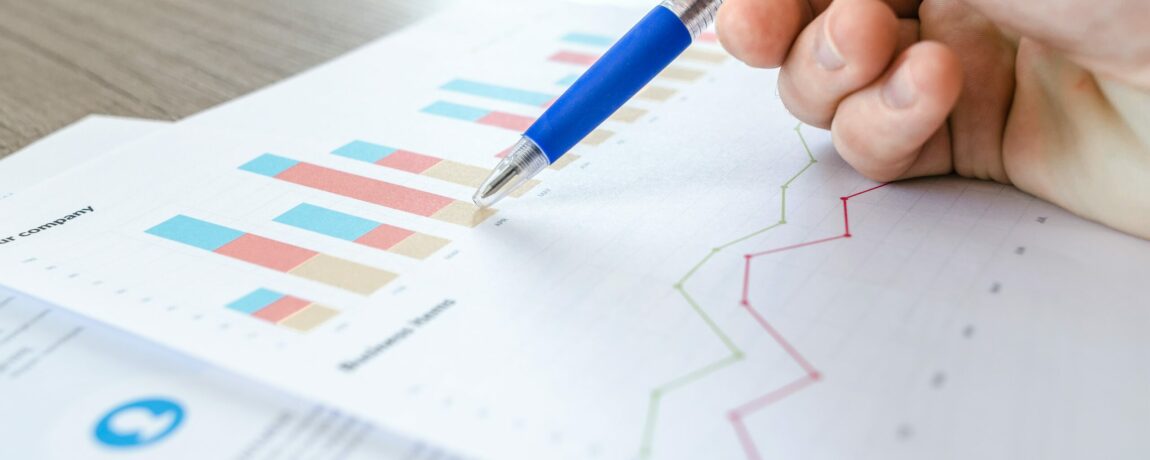 Interesting Info, Oracle News
9 Jan 2023
Oracle Finance 2022 Review
2022 saw Oracle Finance source funding for more cars than ever before. In fact, we funded more than 4,250 cars last year. But which types of car are the most popular, which brand is funded more than any other, which model is picked more than any, and how does it compare between petrol, diesel, hybrid or electric power? You may be surprised at some of the statistics.
Body Type
With the growing list of prestige manufacturers dipping their toes in the SUV market, you may not be surprised to find that SUV's are the most funded type of vehicle at Oracle Finance. Almost 40% of the cars we funded last year were SUV's of all shapes and sizes. The next most popular body style were the coupes. Hardly surprising considering the number of supercars and sports cars we fund each year, but at almost 26% it is a considerable number that were funded in 2022. The popularity of hot hatchbacks and luxury saloons ensured that they were tied at 11.5% each, leaving just 11% of all other body styles to make up the rest of the figures.
Some statistics that might be surprising though, especially in this country, is the fact that we funded more convertibles last year than estate cars, 3.7% and 3.4% respectively. Commercial vehicles also took up 4.1% of the numbers with pick-up trucks, trucks and vans combined, whilst motorbikes were 0.5% of the amount funded and track/racing cars 0.1%. Out of the coupe and convertible cars funded in 2022, more than 270 of them would be considered supercars, that's over 6% of the total vehicles funded and more than 20 each month throughout the whole year.
Brand Power
Despite a surge in the final two quarters of 2022, it wasn't enough for Porsche to be the most popular brand funded by Oracle last year overall. That honour remained with Land Rover for yet another year, which when combined with subsidiary Range Rover, accounted for 16% of all cars funded in 2022. In fact, three quarters of all Land Rover vehicles funded were a Range Rover of some variety, boosted by the arrival of the new Range Rover and Range Rover Sport models. That equates to almost 2 Land Rover's a day, every day, for the full year.
Following closely were BMW and Mercedes Benz with 15% and 13.5% of the total vehicles funded, then Porsche, with just under 12% of all cars funded in 2022 coming from Stuttgart. Next in line, Audi, with 11% of the share. Those top 4 German manufacturers alone in fact make up over 50% of all cars funded last year. Considering the apparent popularity in the media of Tesla, the American brand accounted for just 3% of cars we funded last year. Still accounting for almost 150 cars throughout the year, but not quite the comparative numbers you might expect.
Some interesting statistics of note for the more exotic brands are the fact that over 100 Ferrari's were funded, 99 Aston Martin's, 96 Jaguar's, 57 Bentley's, 50 Lamborghini's, 34 McLaren's, 26 Rolls Royce's, 23 Maserati's and 15 Lotus' over the 12 months of of 2022. Breaking those figures down makes the figures seem all that bit more impressive, a Ferrari funded almost every 3 days as well as almost 2 Aston Martin's a week, nearly a Lamborghini per week every week for the whole year, just short of 3 McLaren's a month and over 2 Rolls Royce's per month.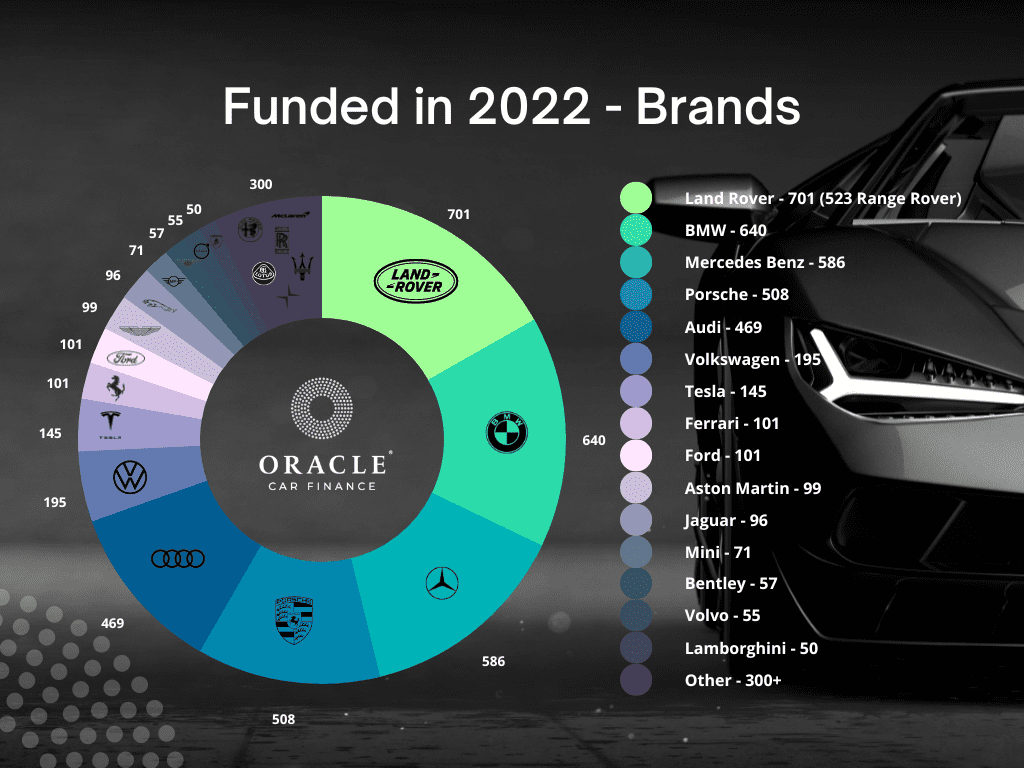 Model Specific
Land Rover may be the most popular brand, but which is the most popular specific model to be funded last year. The Macan may be Porsche's biggest selling model, but surprisingly the most popular model of car to be funded by Oracle last year was the 911. Over 220 911's were funded throughout the year, almost half of the total number of Porsche's for 2022. In terms of opening times of the Oracle offices as a ratio of hours throughout a full year, that means we funded an average of 2 Porsche 911's every time we were open. Of those cars, 40 were GT3 or GT3 RS models, as well as a couple of GT2 and GT2 RS's, it appears our customers are almost as big petrol heads as our staff.
Closely following the 911, by just a couple of vehicles, is the Range Rover Sport, with almost 50 of those being top of the range SVR models, then the full-size Range Rover being the next most popular model. Not too far behind are the AMG and 'standard' variations of the C-Class and E-Class Mercedes Benz models, with over 140 of the former and over 100 of the latter funded last year. Unsurprisingly due to the popularity of the Land Rover brand, 2022 also saw almost 100 Land Rover Discovery's receiving funding and over 80 Land Rover Defender's.
Interestingly, some of the more notable numbers of some rarer cars make for some surprising reading. These included 32 Mercedes Benz G-Class models, 23 Audi R8's, 18 Lamborghini Huracan's, 11 McLaren 720S's, 40 Aston Martin Vantage's, 58 and 59 BMW M2 and M4 models, 40 Porsche Boxster's, 50 Porsche Cayman's, and finally 8 Rolls Royce Wraith's.
Fuel Type
With the ban on fossil fuel cars getting ever closer, you would expect to see an increasingly larger number of fully electric cars being funded throughout the year, and although there has in fact been a slight increase, the electric car market for our customers at least, is still taking time to fully commit to. In fact, almost 90% of all cars funded in 2022 were fully combustion engine driven, with over 55% Petrol and over 33% Diesel powered. Electric cars may have now overtaken Hybrid as a preferred driven method but they still only account for just under 6% of all cars we arranged funding for in 2022, with the remaining 4.5% using Hybrid power.
No doubt this will change over time, yet with some of our most popular models such as the 911 currently offering no hybrid variant, and the Range Rover and Range Rover Sport not offering fully electric drive, it may take time for the percentages to change dramatically just yet.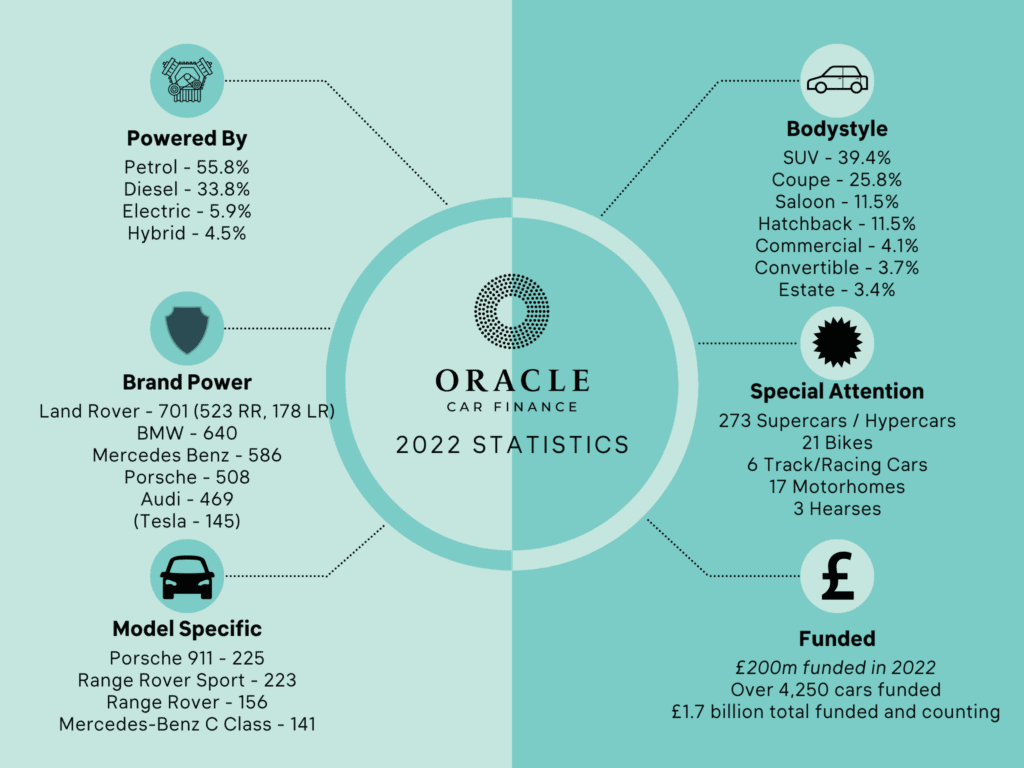 Onwards to 2023
So how will the numbers change for the coming year. Our ambitious 3-year growth strategy as a business means that we continue to increase the size and capability of Team Oracle and look to maintain the unrivalled service our customers have become accustomed to. Our results so far mean that we are remaining ahead of schedule with our plans and look to continue this excellent momentum into 2023 and beyond.
As for the type of cars we are funding, undoubtedly the introduction of many more fully electric and hybrid models will see an increase in the number of these types of vehicles funded over the coming year. But as 2022 has shown, at least by Oracle Finance customers, the reluctance to fully embrace the electric car lifestyle is not as happening as quickly as you might expect. The increase in electric cars funded last year may be a result of businesses looking to take advantage of the Benefits of Electric Cars that are currently available to companies. However, this may slow down as many of the perks are taken away by the government and the beneficial reasons for switching become less obvious.
On the other hand, as the statistics show, many of our customers are sports and supercar owners, and until a reasonable mainstream alternative is released on the market, it will take a lot to tempt them out of their combustion engine vehicles. As for the more unusual vehicles that Oracle Finance funded last year, take a look at our recent blog post 'The Most Intriguing Vehicles Funded in 2022' post to find out more.
Financing Your Car In 2023
Looking to purchase a car in 2023? Why not get the ball rolling with a no obligation conversation with your dedicated Account Manager about your funding options. You can get in touch with us either by calling 0800 012 6666 or online by clicking here.
With over 1,700 Trustpilot reviews, four-time consecutive award winners of the Best Specialist Car Finance Provider award from 2020 through to 2023, and having funded over £1.7 billion and counting, you too can find out why thousands of people trust us time and time again to find a smarter, tailored funding solution when looking for your next dream car.
Make sure you follow us on Instagram, LinkedIn and Facebook to keep up to date with what's happening in the market and to see some stunning photos and videos of the amazing cars we fund.

Ready to know more?
Let Us Put You in the Driving Seat
Whether you're looking to arrange the finance on your next car, refinance an existing agreement or release equity from your current vehicle, your dedicated Account Manager will find a funding solution that's perfectly tailored to your needs.