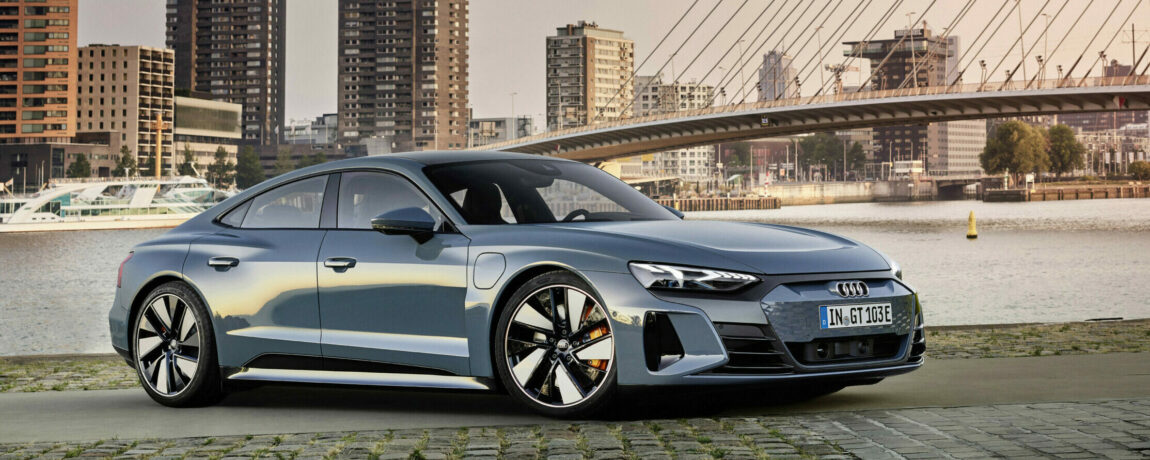 There Is An Electric Car For Everyone
Ask most people their thoughts on electric cars and aside from the range anxiety, the cost to buy and the charging restrictions, one of the things that will keep coming up is the way they look. For some reason, up until fairly recently, car manufacturers decided electric cars had to look, to put it nicely; different. Rather than trying to integrate the new technology with the current styling of cars they decided the best thing to do was to make them stand out from the rest, and more often than not, that wasn't a good thing.
These days electric cars are available in all shapes and sizes and thankfully have started to fit in a bit more seamlessly into the motoring landscape. You don't have to buy something slightly odd looking in order to make the switch to combustion-free motoring, and about time. But with so many options now available on the market, you may have forgotten about some of the options available on the market. Here is our round up of a few electric cars that stand out for the right reasons.
The 'Normal' One.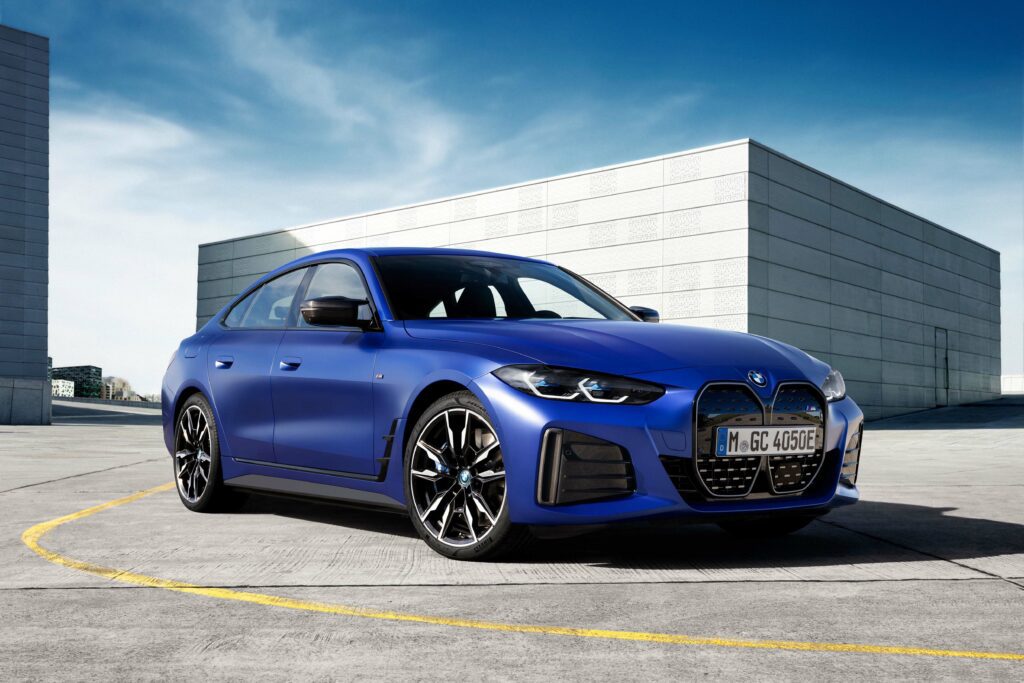 Many manufacturers these days offer electric versions of their mainstream cars, and why not. Surely the best thing about liking a particular model or manufacturer is that you like the way their cars look, so why not just make those ones electric. Many car makers now offer electric versions of their petrol-powered equivalents, but if you're looking to not stand out one of the most 'normal' is the BMW i4.
From first glance it looks just like any other 4-series, complete with controversial front grille, with a 4-series interior and 4-series trim levels, you can even get an 'M' model, of sorts. It is the fact of how much it blends in as a regular 4-series that makes it the perfect transition to electric car motoring. You get the same choice of colours as other BMW's, same interior trims, same wheel choices, even a couple of the optional equipment packages are the same. If the government is serious about banning the sale of electric cars in less than 8 years time, surely offering those reluctant to switch the same options as they currently have, in a car they possibly already own, is the best way forward.
The Non-Tesla, Most Like A Tesla.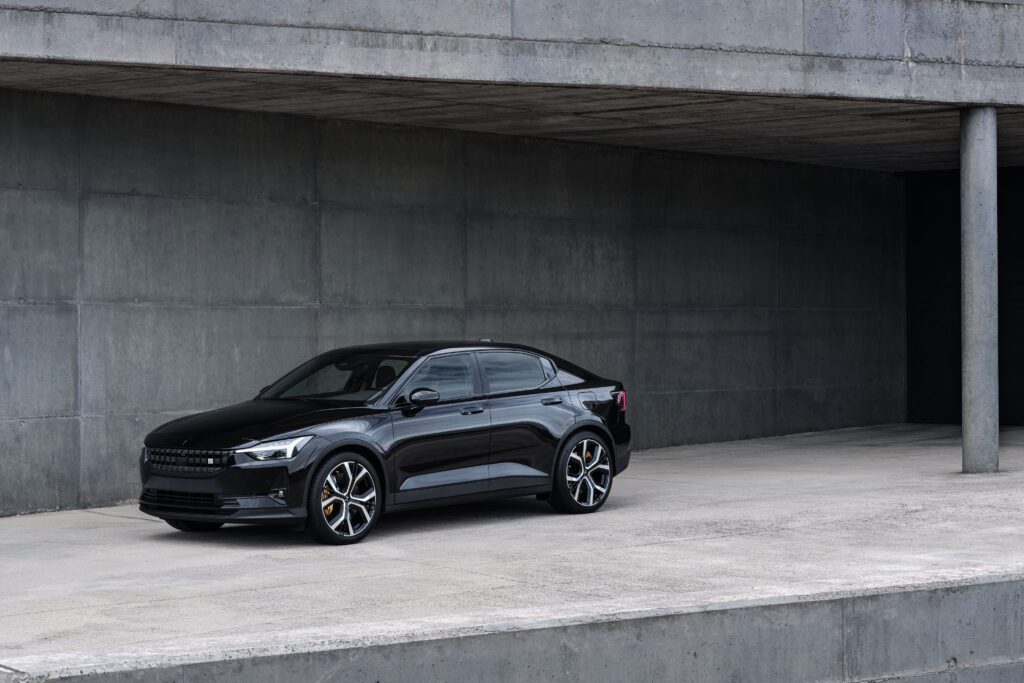 Who would have thought that when the world decided going electric was the answer, that the most popular electric car maker would be a company that had never even made a car before. Maybe it was the ambition, the marketing genius or the creativity and fresh approach that has made Tesla such a success story, or maybe it was the fact that Elon Musk tends to go 'all-in' on his endeavours in order to make sure they succeed. Whatever it was, it worked, and then some.
But what about those who are looking for the all the positive points that owning a Tesla brings, but in a package more familiar and from a manufacturer that have been in the game for many years. For that sense of trust and reliability you need a Volvo, but more specifically their electric car arm, Polestar. Volvo are no longer considered to be the cars driven by old men and cord wearing teachers, a Volvo these days is considered cool. Polestar has taken that new founded caché and made it even cooler with their fully electric range of vehicles. The familiarity and non-fussy styling that a Volvo should have, with the minimalist yet functional interior also found in a Tesla, combined with interior quality and refinement that you would expect from the well-established brand.
The 'Vintage' One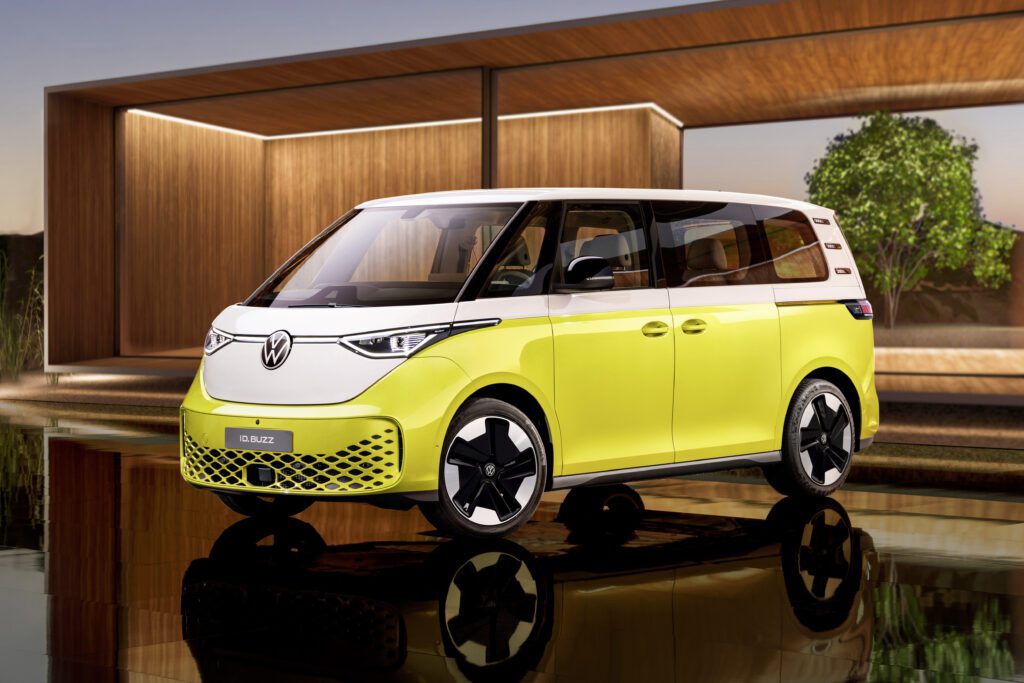 The ethos of electric cars is very much looking to the future. For many manufacturers, the iconic models from their past have made way, at least for the time being, for their idea of what the future of the company should be. But what if you have an iconic model from your past that is so legendary it would be difficult to ignore and the perfect opportunity to get loyal customers interested in an all-new model. It is exactly that thinking that has led Volkswagen to create the ID. Buzz, their 21st century take on the iconic VW Camper Van.
In what VW are hoping is the perfect blend of retro styling, modern technology and the eco-friendly ideals of the legendary Camper Van following, the ID. Buzz has just enough of each to become a new icon. Also available as a commercial vehicle, the ID. Buzz Cargo, the ID. Buzz passenger vehicle goes further than just restyling an iconic model, utilising recycled materials and sustainable practises to ensure that it is not just the lack of combustion power that appeals to those looking to enjoy the very ethos of that camper van lifestyle.
The One For 'Petrol-Heads'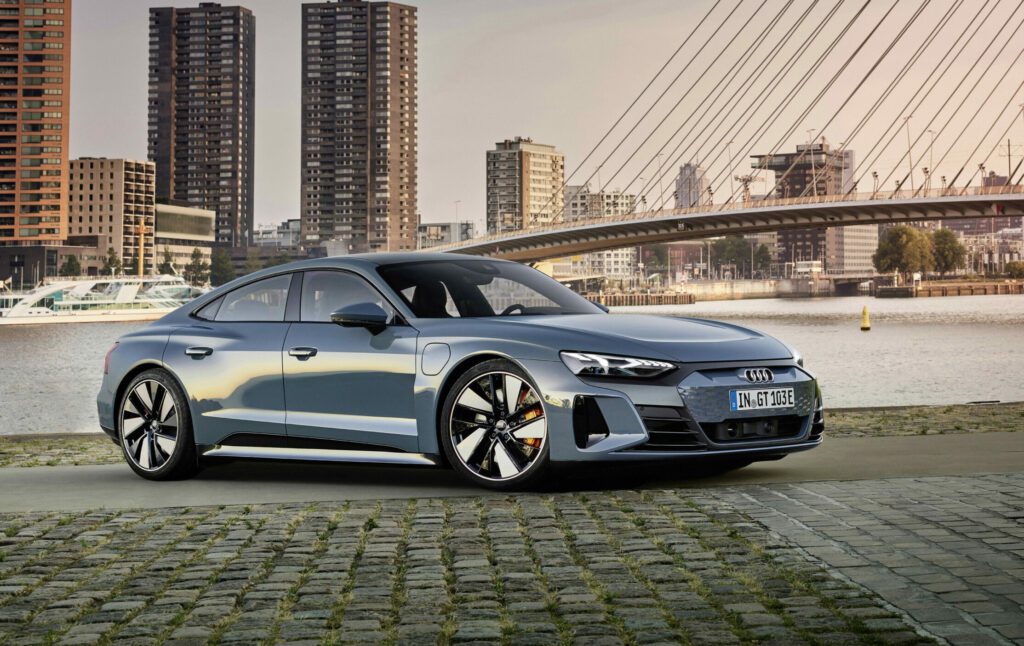 The thing that most driving enthusiasts say they will miss from the switch to electric cars is the engine noise that contributes to the driving experience. Electric cars are obviously never going to match a petrol engine for that symphony of engine and exhaust noise combining to create a sound that many lust after. However, for driving experience and thrills they can still offer the rest of the excitement thanks to the power and torque that an electric car can offer.
These days if you want something fast and powerful that can keep going whatever the weather, many head to the RS range of Audi models. Thankfully Audi include an all-electric version in their performance range in the form of the RS e-tron GT. Underneath, the RS e-tron GT is simply a Porsche Taycan with a different body, a car that redefined the way that an electric car drove, thanks to the fact that it drove like the rest of their sports cars. In Audi guise, the RS e-tron GT offers a rarer sight than the Taycan, but includes that familiar aggressive luxury styling that you can expect from the RS badge, yet in a sleek GT car body. It may not have the noise of a petrol-powered RS model, yet the incredible pace, handling and impeccable interior, is enough to make you forget about it quite quickly.
The Luxurious One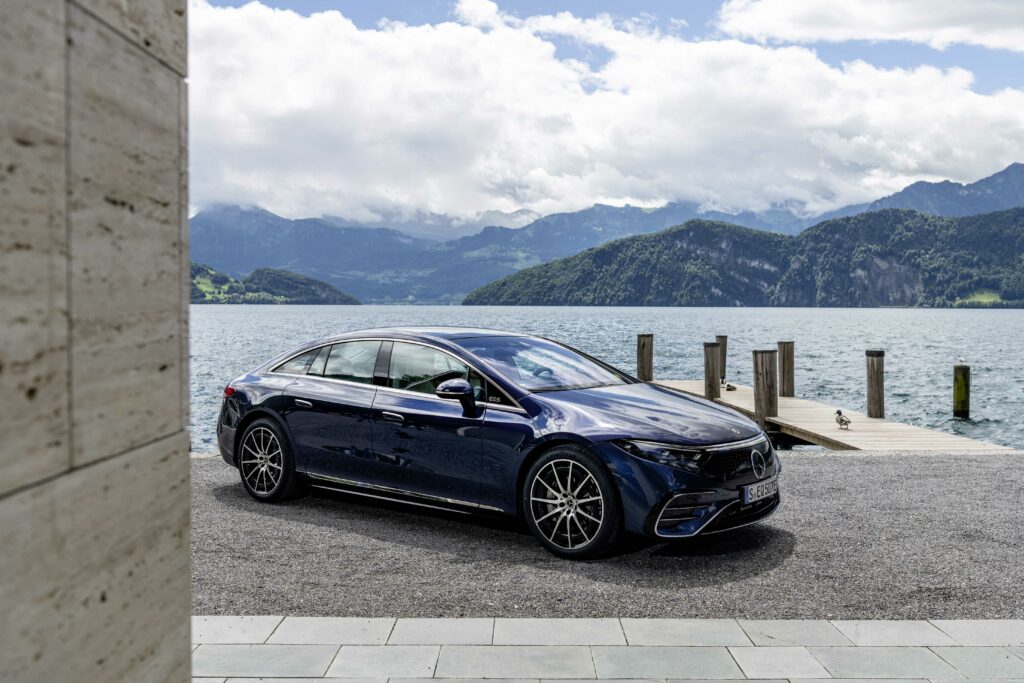 For many years the yardstick for a luxury saloon that doesn't cost more than your house has been the S-Class from Mercedes Benz. Packed with the latest technology, driver aids and the upmost in comfort and refinement, the S-Class was the sensible choice for those in the know. Keen to keep up their reputation in the electric car market, Mercedes have created the EQS. With big shoes to fill and ground to make up, thanks to Tesla having the luxury EV saloon market to themselves for so long with the Model S, Mercedes have come out fighting.
An all-new platform means there is no room for compromise and integrates more technology than you could imagine, Mercedes have taken their new limousine very seriously. With an interior that manages to combine space age technology with iconic Mercedes luxury, the EQS definitely lives up to its 'S-Class for the 21st century' ideals and promises to provide maximum comfort with the silence of electric car motoring. Of course, being Mercedes, they also have produced an AMG version for those requiring that their luxury comes with more than a hint of aggression.
The Off-Road One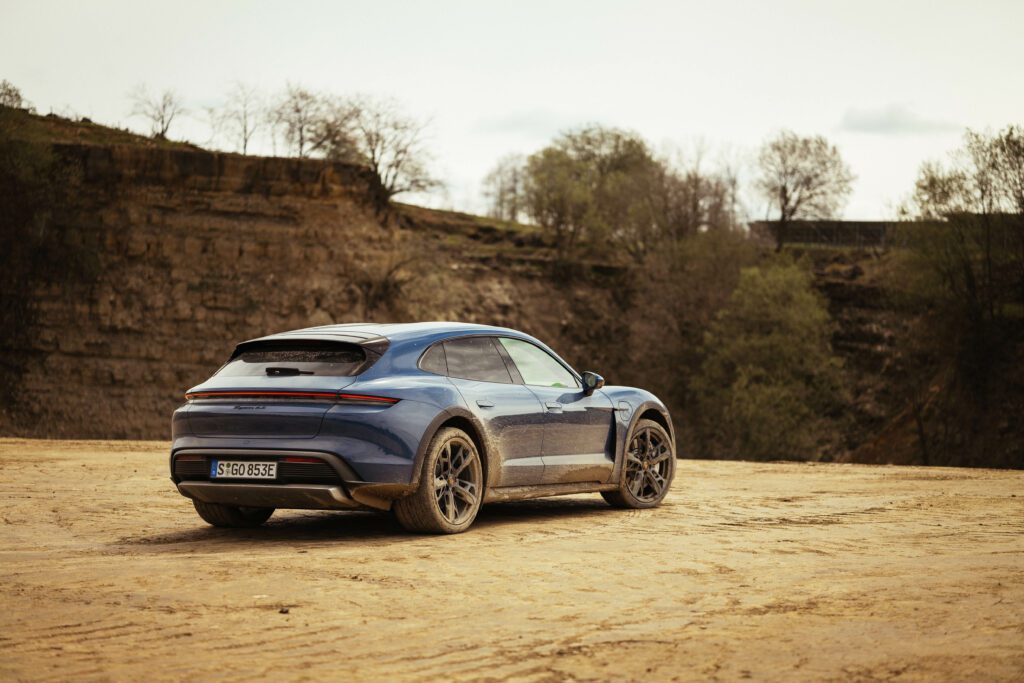 As mentioned earlier, there are few electric cars on the market that managed to combine the driving ability and experience as the Porsche Taycan. Typical of Porsche, they wanted to do things properly, so their first electric car was just that, maybe a little late to the party but definitely done properly. What followed however seemed very un-Porsche-like, with the release of a lifestyle off-road all-wheel-drive raised version of the Taycan, the Cross Turismo. It seemed like an ungainly off-target model to add to the range, however it filled a gap in the market that originally did not seem to exist. If an estate car is a practical version of a saloon, the Cross Turismo is an even more practical version of an estate.
Porsche sells more Taycan models than 911's these days so it was important that they got the model just right. The ability to have the Taycan looks with the capability to go off-road and become the rugged lifestyle model it was aiming for, it quickly becomes the electric car for all occasions. If an Audi RS6 is seen by many as the perfect car for every situation thanks to space, pace and ability to perform in all weathers, surely the Taycan Cross Turismo is the perfect car for every situation going forward.
The One For The City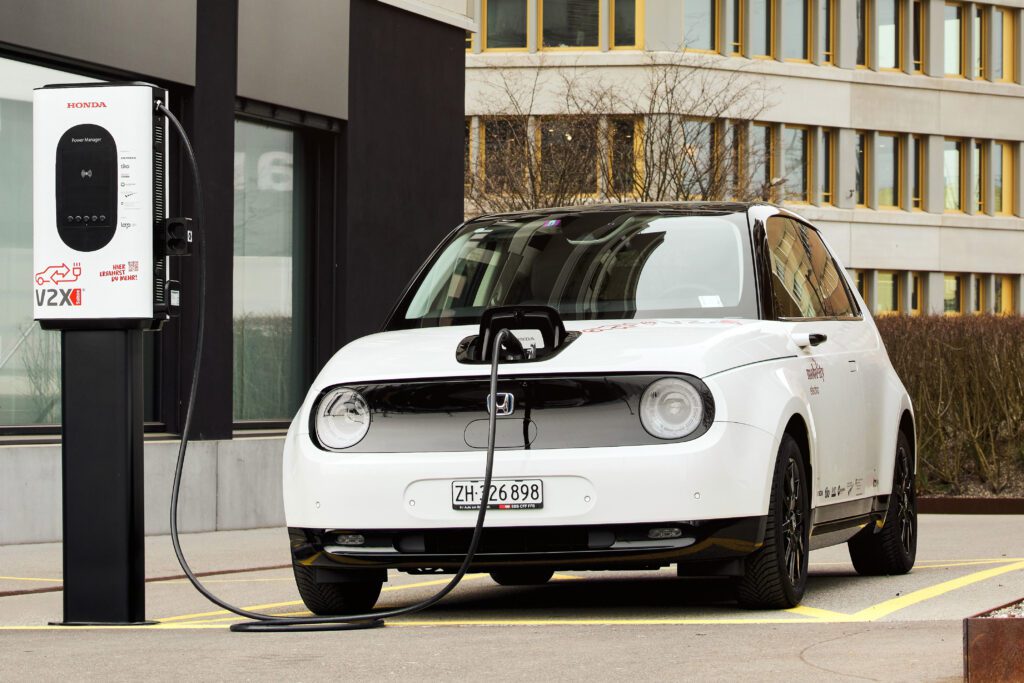 Ever since the introduction of the electric car, the target market was always those commuting or using their car in the city. In the UK, the average car journey is just 20 miles per day or 142 miles per week, and falling, and nearly all electric cars on sale today have that figure in mind when it comes to range. The electric car was always going to excel in the city; zero emissions, no noise, no fumes when sitting in traffic and enough instant acceleration to switch into that lane you didn't realise you were meant to be in. As far as electric cars perfectly suited to the city commute, there are more than any other sector to choose from.
For those looking for retro chic, but style as well as substance, there is no need to look any further than the Honda E. The cute Japanese car has gone from hugely popular concept, to promising prototype, to instant style icon, and the perfect way to negotiate any city.
Brimming with technology and featuring quirks and touches like the ones that made Tesla's so popular, the Honda E is a breath of fresh air to the compact electric car. With cameras instead of mirrors, a widescreen digital dashboard that stretches the whole width of the car, not to mention the ability to turn that dash into a digital fish tank or zen Japanese garden apparently 'for relaxation', the Honda E manages to combine retro styling and finishes with the latest technology in a quirky yet appealing blend. Too retro cute for you? The Mini Electric offers that legendary Mini handling for a cheaper price and similar yet not as obvious retro looks, but sadly no fish in the dashboard.
The Long Range One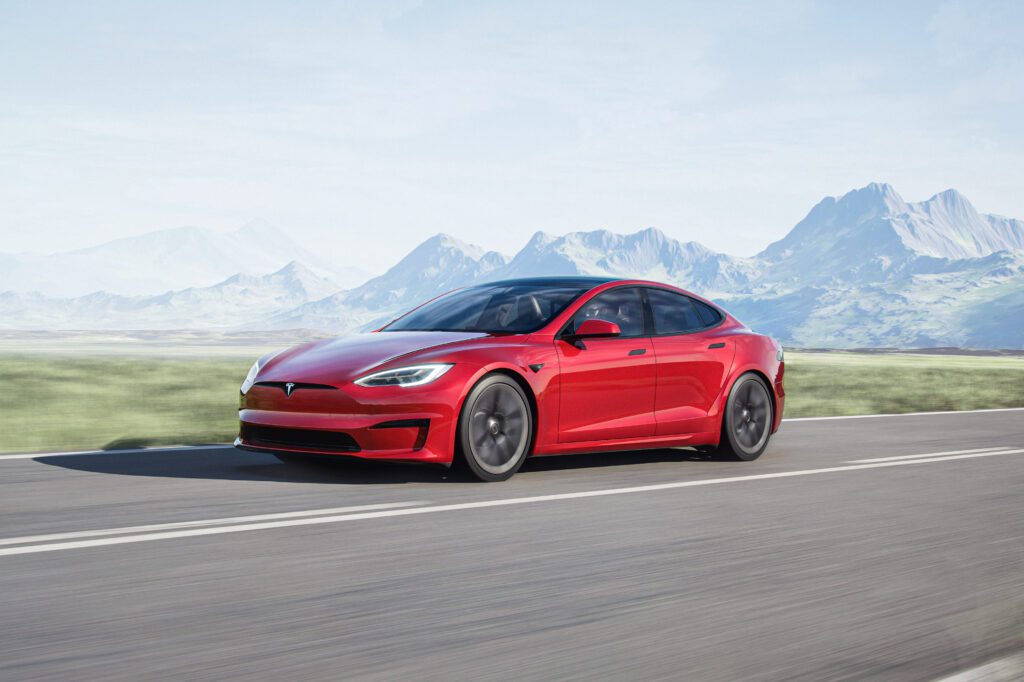 There is no escaping the fact that the biggest concern for most people with electric cars is the range. Driving with constant 'range anxiety' and then knowing how long a full charge would take when needed is something that just isn't an issue with a petrol or diesel car. So, what if you do a lot of miles on a regular basis, what are the best performing cars when it comes to range ability?
The aforementioned Mercedes Benz EQS is the king of the expected range, with a maximum 453 miles possible in the EQS 450+ from fully charged batteries. But as a comparison, the Tesla Model S deserves a lot of praise. The 405-mile range may be almost 50 short of the Mercedes, but still is enough to be second in the range ability of electric cars. This combined with access to the Tesla Supercharger network means a claimed 15-minute charge will give you 200 miles of range, so you can be on your way again in comparative 'no time'.
Not to mention Tesla's claim that with a drag coefficient of just 0.208 Cd, the Model S is 'the most aerodynamic production car on the market'. Not bad at all for a car introduced way back in 2012, in electric-car terms, that is a very long time. Imagine a Ford Cortina still cutting it in comparison tests with today's modern saloon cars and you have some idea of how impressive that is.
Oracle Electric Car Finance
Here at Oracle Car Finance, we are specialists at sourcing funding for electric cars of all shapes and sizes. Our Account Managers work together with our extensive panel of specialist lenders to ensure that we can find a finance package bespoke to you and your circumstances. Find out more information by taking a look at our Electric Car Finance page.
Voted Best Specialist Car Finance Provider three years in a row at the Car Finance Awards 2020, 2021 and 2022 having funded over £1.5 billion. 
Make sure you follow us on Instagram, LinkedIn and Facebook to keep up to date with what's happening in the market and to see some stunning photos and videos of the amazing cars we fund. 

Ready to know more?
Let Us Put You in the Driving Seat
Whether you're looking to arrange the finance on your next car, refinance an existing agreement or release equity from your current vehicle, your dedicated Account Manager will find a funding solution that's perfectly tailored to your needs.