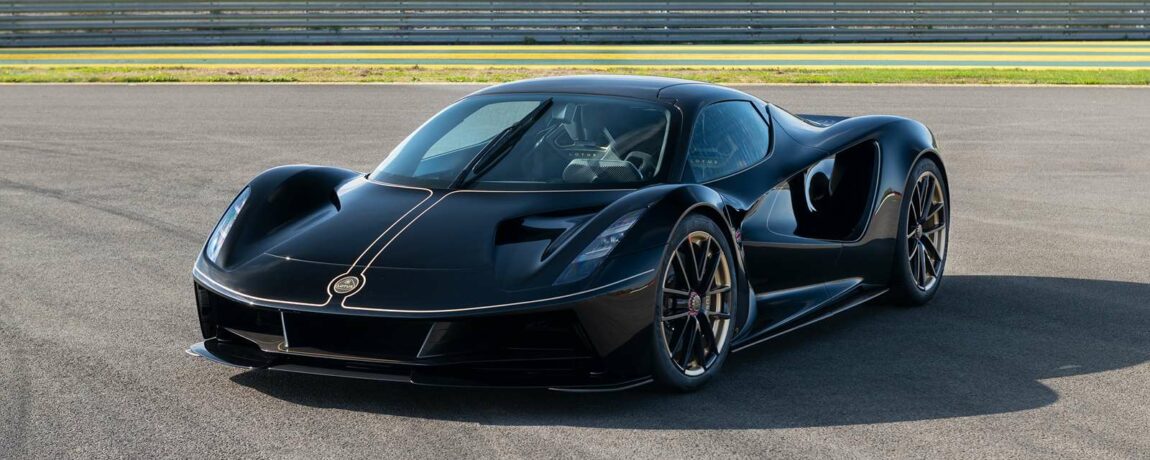 Top 10 Cars For The 1%
With so many limited editions, final versions and multi-million pound hypercars cars being launched seemingly every week, if you were fortunate to be able to afford one or more of them it must be a difficult decision to make. Not just supercars or prestige cars, but cars that you may have to finance even if you have just won the lottery. If exclusivity is your aim there are enough to choose from, but many manufacturers will only sell you that rare new model if you have bought many cars from them in the past. So which new cars for the 1% can you buy right now, and how much is it going to cost you?
Bugatti Chiron Pur Sport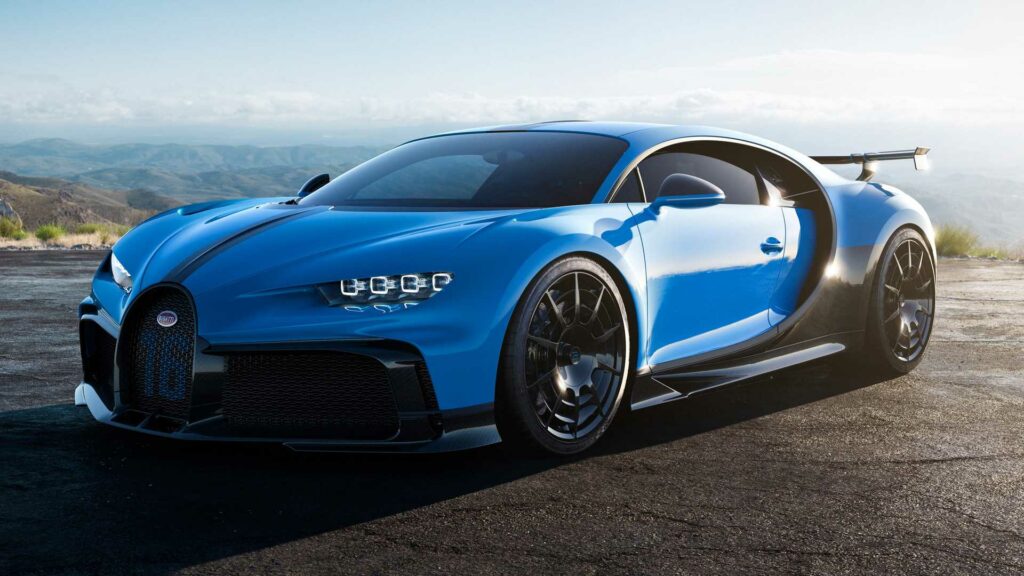 The Bugatti Chiron took over from the legendary Veyron and as you'd expect didn't disappoint. With even more power, even more luxury and even more refinement, the Chiron is the go-to name for ultimate dream car status. With an 8.0-litre quad-turbocharged W16 engine, the Chiron produces 1,500bhp and 1,600 Nm of torque, incredible numbers that offer astounding performance.
So why the need for the Pur Sport? Bugatti have engineered the car to satisfy those who are looking for a more dynamic and driver involved version of the Chiron. The 'standard' car is impressively fast but also designed to offer the finest of comfort and luxuriousness, the Pur Sport is a more dynamic and lightly stripped-out version to save weight and improve on the already impressive handling.
With a huge 1.9 metre fixed rear spoiler for additional downforce, a titanium 3D printed exhaust system for weight saving and increased performance, newly designed Magnesium wheels and exclusive Michelin tyres, the astounding performance gets that little bit more unbelievable. The statistics of 0-62mph in just 2.3 seconds and top speed of 217mph tell just half the story, the fact that you can now set lap times and drift your Chiron round a track are a sign that the engineering is as staggering as ever. A maximum of 80 will be built, and the price for a driver focused version of the Chiron; an impressive £2.7 million.
Aston Martin Valkyrie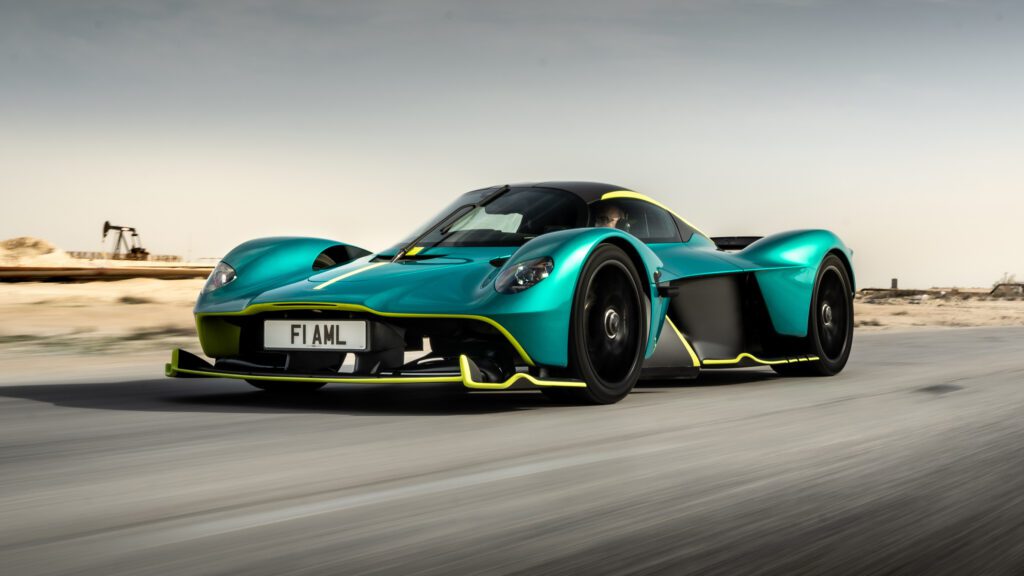 When a car has taken 8 years from announcement to launch, you know it either has run in to a lot of problems, or is such a serious bit of kit that they wanted to make sure it more than lived up to expectations. When that car is a collaborative project between some of the biggest and most successful names in the business, it is more than likely going to be the latter. Badged as an Aston Martin, designed by the Red Bull Formula 1 team and powered by a Cosworth developed engine, it sounds like the perfect recipe for the ultimate track car.
Customer deliveries of the 6.5 litre V12 Valkyrie have just started to be shared across the internet, as well as the motoring press getting their chance to drive it around the Bahrain International Circuit. One thing that seems to be mentioned time and time again is the fact that the car has definitely been designed without compromise to fulfil F1 supremo Adrian Newey's hypercar dream. With outlandish aerodynamic sculpted bodywork, a naturally aspirated 1,140bhp 10,000rpm revving engine, 1100kg of downforce and an interior that requires noise cancelling headphones or a full helmet because of the lack of soundproofing.
The Valkyrie is without a doubt the most extreme track car to ever have been available to the general public, and the fact that it is also road legal makes it even more astounding as a prospect. The cost to be able to drive one of the 150 road cars to the shops and back, though quite where you'd put the bags I'm not sure; a substantial £2.5 million.
Mercedes-Benz AMG One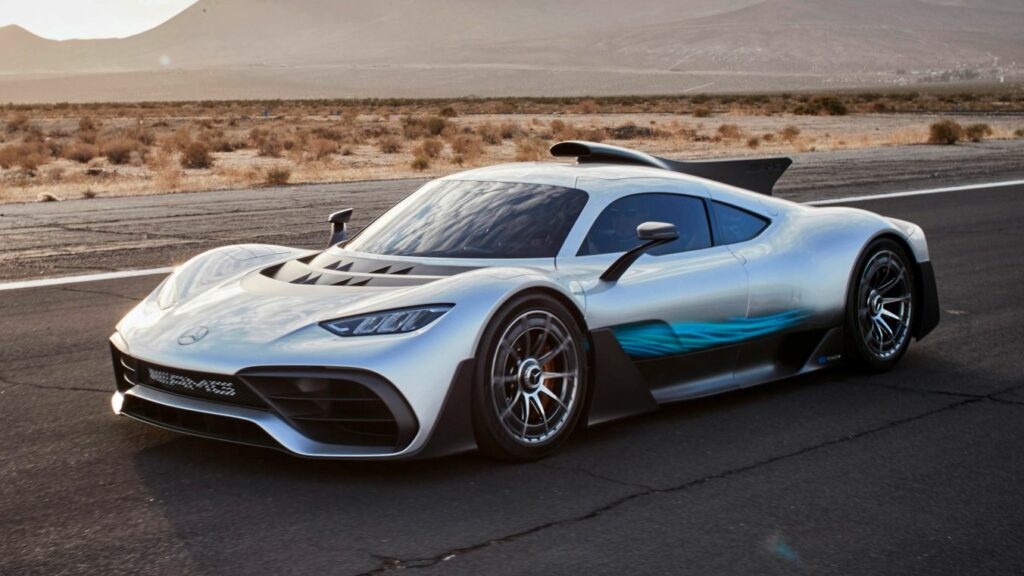 The AMG One had a similar goal to the Aston Martin Valkyrie, to produce the ultimate hypercar for the track and for the road. Though rather than develop a new engine to fit a new hypercar, they built a hypercar to fit Lewis Hamilton's 2016 Formula 1 hybrid engine into it instead. A technical showcase to show the world what the most successful F1 team in recent years can achieve when they put their finest engineers to the task.
The car may have been announced in 2017 and scheduled for deliveries in 2019, then 2020, but thanks to the pandemic and production delays customer deliveries started in late 2022. The turbocharged 1.6 litre V6 uses F1 hybrid technology to produce 1,049bhp, the transmission is closely related to that found in the F1 car as is the pushrod suspension and the active aerodynamically assisted body and basic structure is purely carbon fibre.
Mercedes claim it has smashed the production record at the Nurburgring proving the capability on a track, the fact that you can say your car is one of just 275 cars and has Lewis Hamilton's F1 engine in it is surely worth a portion of the £2.3 million asking price.
Gordon Murray Automotive T.50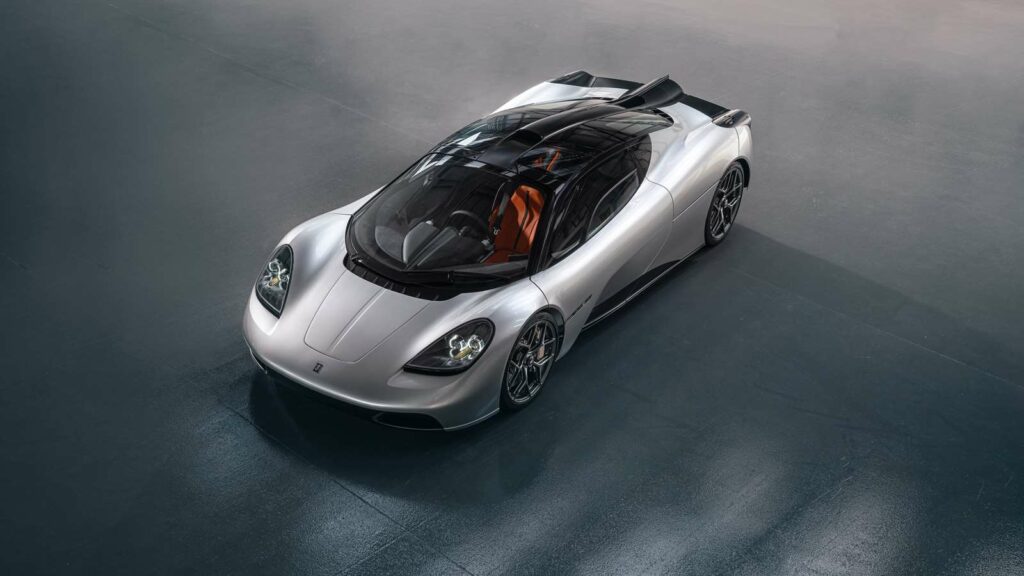 Gordon Murray needs no introduction to car enthusiasts. The man who created arguably the finest hypercar ever made, the McLaren F1, means his place in motoring history is assured. The fact that even he has points on the car that he would have done differently shows his fastidious attention to detail and part of the reasoning why he continues to strive for driving perfection.
The Gordon Murray Automotive T.50 (why not name it after yourself when you are that legendary) is his latest creation and bears more than a little resemblance to the iconic McLaren F1. With a brand new naturally aspirated 4.0 litre V12 engine developed by Cosworth that revs to 11,500 rpm, a kerb weight of just 986kg, and the fact that the car features an electric aerodynamic fan integrated into the rear of the car to improve ground effect and downforce, shows this car means serious business.
Murray's obsession with engineering perfection, driving experience and the ultimate performance with no room for exceptions means that the 100 lucky customers that get hold of one will own one of the most impressive vehicles ever made. The £2.36 million asking price ensures that only a select few will ever get the chance to drive one.
Lamborghini Sian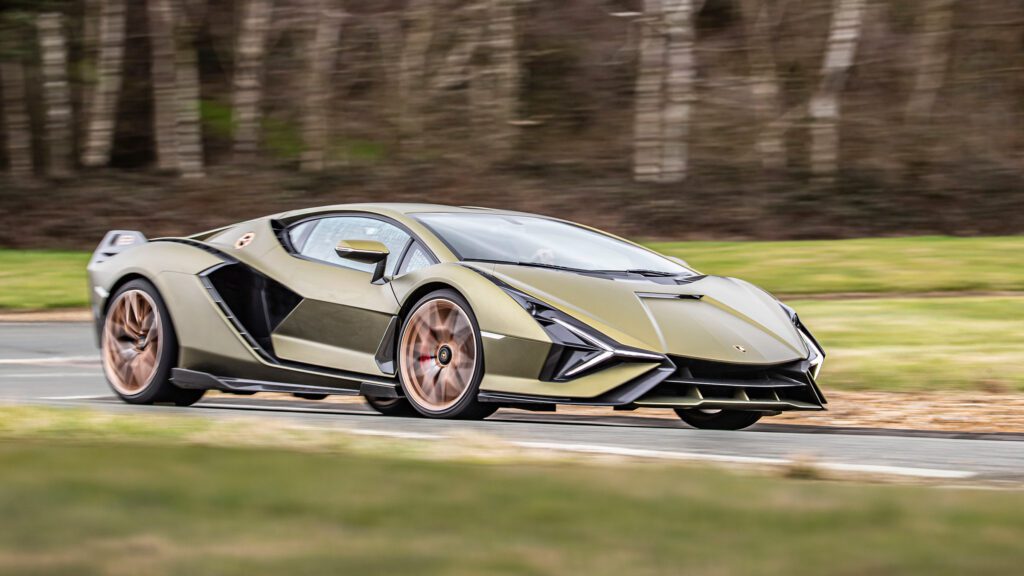 Lamborghini are already known for producing some of the most exotic and outlandish cars on the road and their current range is no exception. When your current range includes the Huracan, Aventador, Urus and a reworking of the legendary Countach, standing out from that crowd is no easy feat. Thankfully Lamborghini are professionals when it comes to standing out from the crowd, and their Sian definitely fits the bill.
Proudly stated as 'the first hybrid super sports car powered by supercapacitors' the Sian aptly translates as 'lightening' in Bolognese, and with good reason. The 6.5 litre V12 hybrid engine produces a combined 808bhp meaning 0-62mph is despatched in less than 2.8 seconds and thanks to the very aerodynamic bodywork inspired by the Countach it has a top speed of over 220mph.
Production is limited to just 63 coupes and 19 roadsters and the asking price for all that technology and power; £3 million before any options.
Pagani Utopia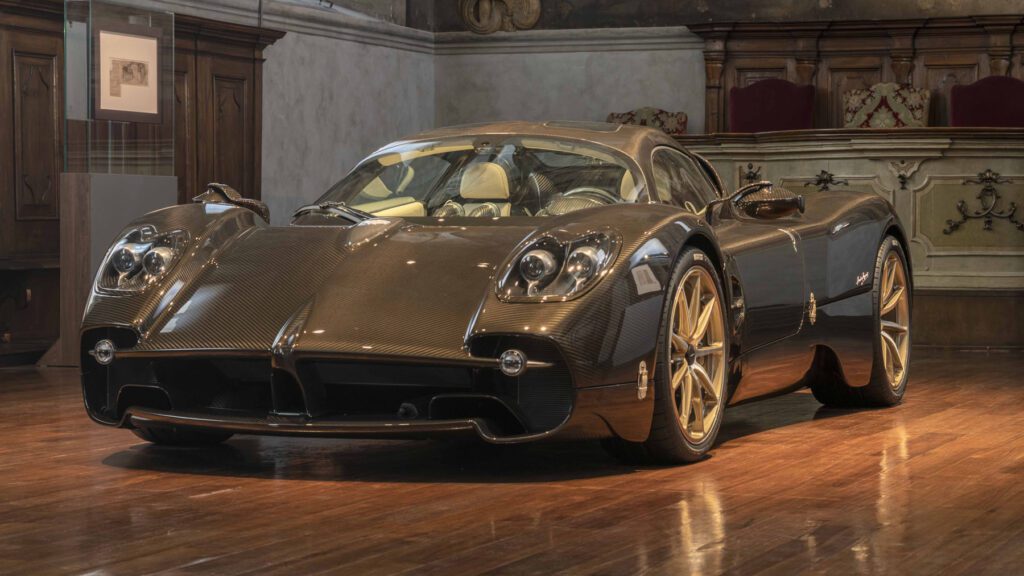 The level of admiration and expertise that Pagani have amassed since they released their first car in 1992, it is easy to forget that the Utopia is only their third all new model of car in over 30 years. First came the Zonda, then the Huayra, now the Utopia takes on the mantle as their flagship model. In a world of hybrid technologies, electric motors and heavy batteries, the Utopia is refreshingly old school. A 6.0 litre AMG developed turbocharged V12 producing 864bhp and a manual gearbox leaving the control up to the driver.
The carbo-titanium bodywork might not be to everyone's tastes but founder Horacio Pagani admits that their cars 'begin with an aesthetic shock'. It does however have flowing lines inspired by the flow of water and does without spoilers, splitters and vents to provide cleaner lines and a simpler look. Even the interior, usually in a Pagani a plethora of bespoke switches, bright colours and bold design, has been toned down and appears ore simplistic and minimalist.
Pagani don't do large production numbers or reasonable prices, and the Utopia is no exception. With just 99 cars being produced and an asking price of £2.2 million.
McLaren Solus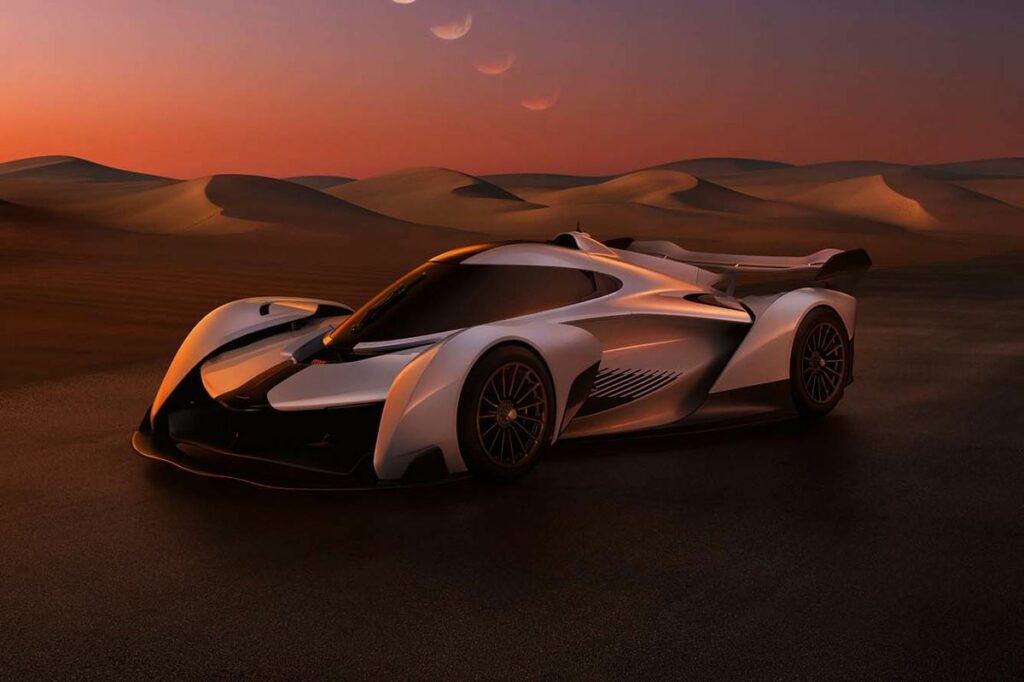 The Solus took a very different path to the design and production of most supercars or hypercars, in fact most cars ever made. Originally born as a concept for the Gran Turismo racing game for the PlayStation 5, then they decided to put the car into production as a track-only vehicle.
With a 5.2 litre naturally aspirated V10 engine producing 829bhp, a redline of over 10,000 rpm and a weight of just 1,000kg with bodywork that creates over 1,200kg of downforce, the Solus should stack up to be the fastest McLaren yet round a racetrack, other than their F1 car.
Just 25 examples of the Solus will be built at a cost of £2.75 million. But at least if you can't quite stretch to that amount, or aren't one of the lucky 25 owners, you can always see what it would be like from the comfort, and quiet, of your sofa.
Koenigsegg Jesko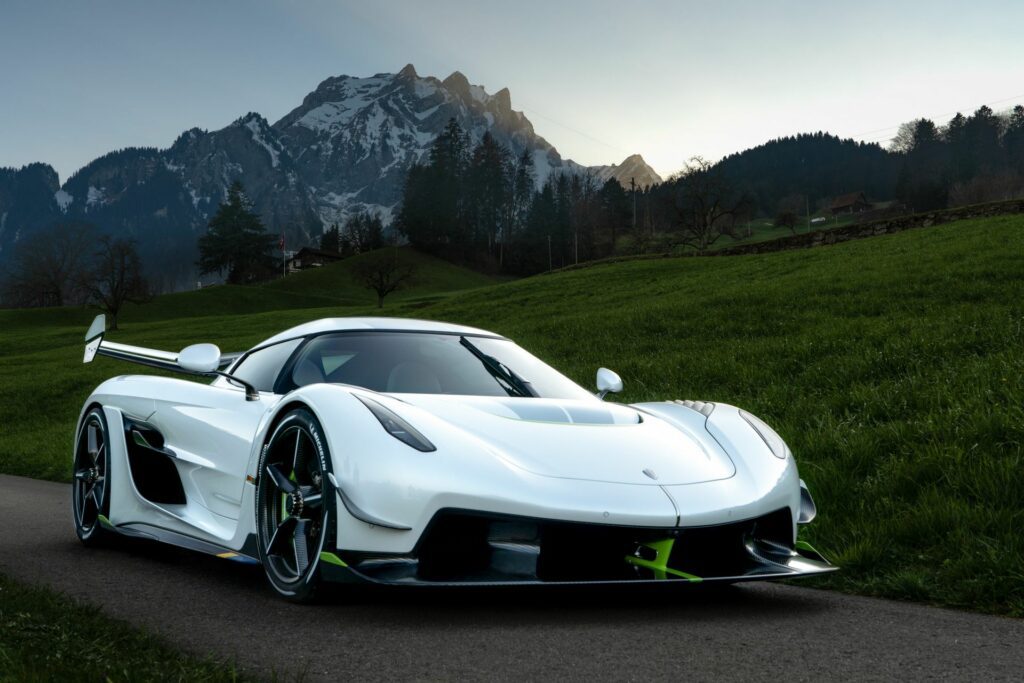 The Jesko is the latest creation from the ambitious mind of Christian von Koenigsegg and his car company famed for impressive engineering, excessive power and staggering performance. The Jesko is the latest in the line of hypercars to come from the Swedish manufacturer and is no less of any of those things. From the dihedral doors that pivot outwards and forwards, to the hand-crafted carbon fibre bodywork and striking full carbon fibre wheels, the Jesko is everything you would expect of a Koenigsegg, and more.
The revolutionary 9-speed complicated sounding 7 clutch constantly engaged gearbox may sound like overkill, but at two-thirds the weight of a similar conventional gearbox and smaller sizing, it actually makes sense to seemingly reinvent the wheel. Then there is the carbon bodywork, carbon tub, carbon hollow wheels, carbon ceramic brakes with their own calipers, everything about a Koenigsegg is made in-house to aim for perfection unless they can't make it themselves.
The 5.1 litre twin-turbocharged V8 engine produces almost 1,600 bhp, the 0-62mph sprint is over in 2.5 seconds and the theoretical top speed for the 'Absolut' version is apparently more than 310mph. Just 125 examples of the Jesko will be made and cost from £2.3 million.
Hennessey Venom F5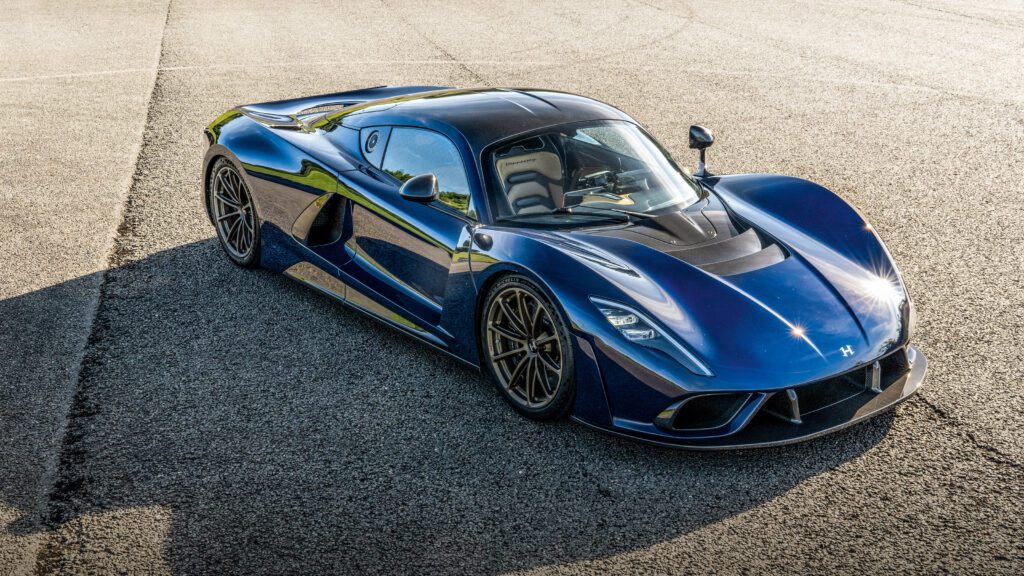 The first Hennessy Venom was basically a tuned Dodge Viper, the second, the 'Venom GT' was a stretched Lotus Exige body that had 1,200bhp and took on the Bugatti Veyron for fastest road car in the world. For their third car, confusingly also called a Venom but this time a Venom F5, Hennessy have built a bespoke car from the ground up and added even more power to take on the Bugatti Chiron Super Sport 300+ and its 305mph top speed record.
With no fewer than 1,817bhp from a 6.6 litre twin-turbocharged V8 engine and a very low drag coefficient, the Venom F5 has more than a chance at breaking the top speed record. Hand built in Texas, Hennessy have built a reputation for cars that bring back the idea of American Muscle, yet in a more sophisticated and well-engineered fashion. The Venom F5 is limited to just 24 cars and costs around £1.75 million.
Lotus Evija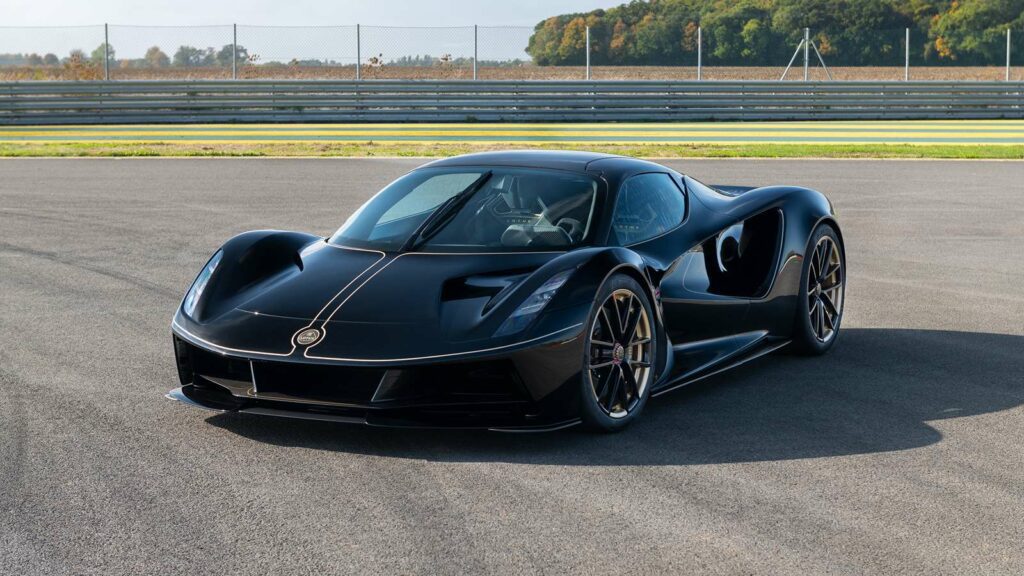 Lotus built a reputation for producing lightweight cars focused on exceptional and nimble handling with stripped out and sparse interiors. The Lotus plans for the future are somewhat different however. They currently make the Evija sports car and are soon to enter production with the Eletre all-electric performance SUV, yet their most ambitious car to date is the Evija.
Claimed to be the most powerful car to enter series production, the all-electric Evija hypercar utilises an extensive use of airflow management and the latest electric powertrain technology to deal with the 1,972bhp and 1,704Nm of torque on offer. Everything about the car is an entirely new direction for the brand and is a serious intention of the way they see their future plans.
Just 130 Evija models are set to be built and are priced from £2 million.
Oracle Auction Car Finance
At Oracle Finance we specialise in finding funding for supercars and hypercars, with almost 300 funded in 2022 alone. Our expert Account Managers use our panel of specialist lenders to help you to find the perfect package, bespoke to you and your circumstances. We could help to get you approved at the top end of your budget up to 90 days before an auction with an agreement in principle, so that when that hammer drops, your funding is in place, and you are ready to purchase the car of your dreams. Our team are always on hand should you have any questions about arranging car finance and your dedicated Account Manager is ready to take your call today.
Read more about our Supercar Finance here: Supercar Finance
Why Choose Oracle?
With over 1,700 Trustpilot reviews and a overall rating of 5 out of 5, and as four-time consecutive award winners of the Best Specialist Car Finance Provider award from 2020 through to 2023, having funded over £1.7 billion of vehicles and counting thus far, you too can find out why thousands of people trust us time and time again to find a smarter, tailored funding solution when looking for your next dream car.
Make sure you follow us on Instagram, LinkedIn and Facebook to keep up to date with what's happening in the market and to see some stunning photos and videos of the amazing cars we fund.

Ready to know more?
Let Us Put You in the Driving Seat
Whether you're looking to arrange the finance on your next car, refinance an existing agreement or release equity from your current vehicle, your dedicated Account Manager will find a funding solution that's perfectly tailored to your needs.