3 of the most vegan-friendly cars
To recognise National Vegan Day on 1st November, we've researched the top three (most) vegan-friendly cars. Although a completely cruelty-free spec isn't available yet, some of the biggest manufacturers are well on their way to creating a luxury alternative for the conscious buyer.
Vegan-friendly cars would require manufacturers to not only consider faux-leather spec options but also screens and tyres. It's thought that some entertainment systems contain "liquid crystals that may be based on cholesterol taken from animals".
Range Rover Velar
The five-door-SUV offers a 'Premium Textile' option which includes wool* and artificial suede seats, faux-leather across the dashboard and an artificial suede steering wheel. *Wool isn't traditionally vegan-friendly so the Premium Textile spec would have to depend on your views!
Mercedes-Benz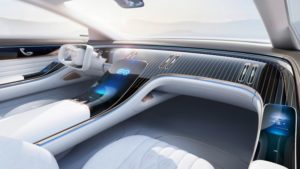 According to PETA, a Mercedes-Benz representative confirmed that "the Vision EQS concept car will be leather-free, steering wheel included." The leather-alternative will be made of recycled plastic which according to PETA, "would otherwise likely eventually end up in the ocean".
However, a variety of Mercedes are available with cruelty-free seats: including the AMG C63 Sedan and Coupe.
BMW i3
Described by TopGear as "the best small premium EV you can buy", the i3 has a top speed of 93mph. The standard model i3 does come with a leather-trimmed steering wheel but can be deleted on request. If you're looking to buy a used i3, plastic steering wheels can be ordered and "retro-fitted".
Would you choose one of these vegan-friendly cars? Get in touch and let us know what you'd go for.
Other articles you might like:
What's the most fun car you've ever driven?
7 of the most iconic horror movie cars
What does the FCA car finance "crackdown" really mean?
Trustpilot: Customer Service is Our Top Priority
For a Finance Quote on a Prestige Car, click here.

Ready to know more?
Let Us Put You in the Driving Seat
Whether you're looking to arrange the finance on your next car, refinance an existing agreement or release equity from your current vehicle, your dedicated Account Manager will find a funding solution that's perfectly tailored to your needs.