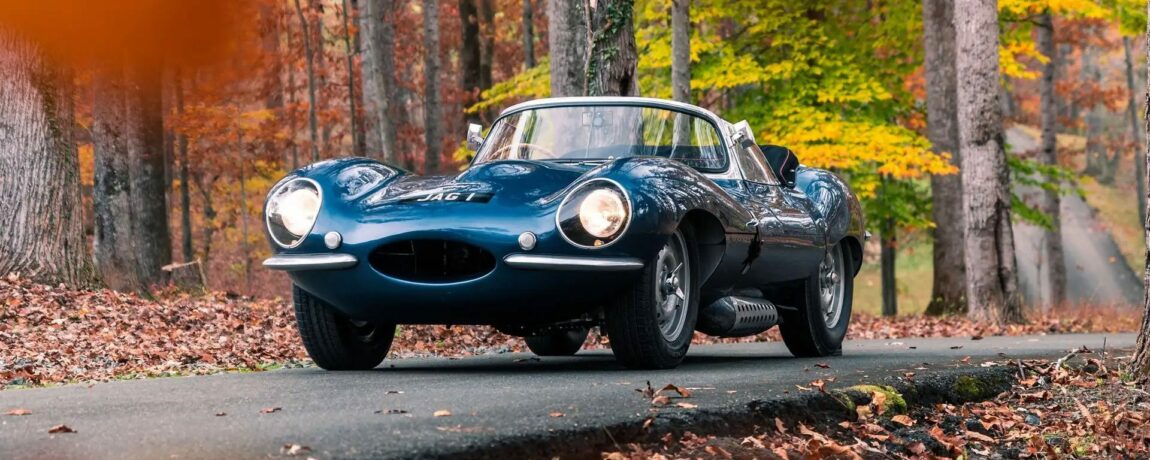 An Auction For The 1% At Monterey Car Week
Each year for 10 days in one of the most exclusive areas in California, thousands of people descend to witness a gathering of some of the world's finest and most expensive cars. From August 11th to the 20th the Pacific coast city of Monterey is taken over by Monterey Car Week, one of the most exclusive and affluent motoring events on the calendar anywhere in the world.
With events taking place all over the city, there are prestigious auctions from major auction houses, new car launches from the biggest manufacturers and motoring events from track action and parades to the legendary Pebble Beach Concours d'Elegance. The latter sees some of the rarest and most expensive cars the world has ever seen go head to head to compete for the prestigious Best of Show at what is widely considered the most prestigious event in the world.
With a collection of some of the finest and rarest cars in the world gathering each year and the exposure it generates, car companies also use Monterey Car Week to unveil new models to visitors and the motoring press. This year has been no exception with some exceptional models already confirmed and some expected at the event for 2023.
New Releases
Bugatti have decided to unveil a unique one of one Chiron Super Sport for their lucky customer at the event in what would surely be one of the grandest new car handovers of all time. Called the 'Golden Era', the Chiron took 2 years to create and features unique detailing to the interior and exterior, as well as a hand painted gold fade colour to the bodywork with sketches of Bugatti's most famous models from their history.
Aston Martin have also chosen this year's event to release the DB12 Volante, BAC have said they will show a new supercar that will sit alongside the Mono R in their expanding lineup. Lamborghini are looking to show a new concept on August 18th that is expected to preview their first EV, said to be the 'first prototype of their fourth model', whilst the day before Mercedes Benz are going to be unveiling their all new AMG GT as well as a limited edition of their SL Convertible.
Amongst the hype around the new car launches, one of the highlights of the week are the calibre of cars that are consigned to be sold at the numerous auctions that take place throughout the week. 2023 has definitely lived up to expectation with some of the finest and rarest cars ever made being auctioned at one of the sales, the RM Sotheby's Monterey sale 17-19 August. Here are our pick of the lots going under the hammer at this year's event:
1964 Ferrari 250 LM by Scaglietti
This exceptional model is one of the trilogy of cars considered to be the greatest Ferrari models ever made, the 250 GTO, the 250 Testa Rossa and the 250 LM. It is one of just 32 cars ever made and raced at the 1968 24 hours of Le Mans. Amongst other models of similar vehicles, it is rare to have never been involved in a significant crash and it retains its original engine and transaxle as used at Le Mans in 1968. The car was exhibited at last years' Pebble Beach Concours d'Elegance and was featured in the Enzo Ferrari Museum in Modena.
The car comes with the all-important Ferrari Classiche Red Book documenting the comprehensive restoration by Ferrari Classiche that was completed in 2021. With well-documented factory build sheet copies and an extensively detailed history file as you'd expect from an exquisitely presented and highly original example of this nature. The provenance and exceptional quality of this car is represented in the guide price of $18m-$20m (£14.1m-15.7m).
See more details: 1964 Ferrari 250 LM by Scaglietti
1957 Jaguar XK SS
The Jaguar XK SS was conceived from left over chassis from their famous D-Type racing cars as literally a road going version of their racing car. With just 25 models planned, just 16 were eventually built following a fire that destroyed the other 9 cars. The rarity and iconic status as a road going race car are what makes this particular Jaguar one of the most sought after and collectible cars.
Listed as one of the best-preserved and most original XK SS examples, this exquisite car retains much of its running car from new including the engine block and head, gearbox, rear axle and bodywork. The car is even registered with the 'JAG 1' registration that comes as part of the lot. Most owners of XK SS models keep them as part of their collections for decades so the opportunity to purchase this model is a very rare event indeed, as reflected in the guide price of $12m-$14m (£9.4m-£11m).
See more details: 1957 Jaguar XKSS
1960 Ferrari 250 GT SWB California Spider by Scaglietti
This exceptional 250 GT SWB California was exhibited by Ferrari at the 1960 Turin Motor Show and is one of the rarest of the already scarce models. This particular example is not only one of just 56 short wheelbase examples built and one of just 18 of those that had uncovered headlamps, but it is one of just three built without side vents and one of just 2 fitted with a Tipo 128 F engine. It competed at the 1962 Targa Florio race finishing 3rd in class and 19th overall and retains its matching numbers engine, gearbox and rear axle, backed up by its Ferrari Classiche Red Book.
As well as being just the second SWB California to be built, it is believed to be the only Ferrari 250 GT California of any kind to compete at the Targa Florio in period, providing exceptional provenance for this particular car. It has undergone a three-year restoration coming with certification from Ferrari Classiche and has been refinished in its period racing livery. As one of the most sought after yet useable models from the era, this represents a fantastic opportunity to purchase a car that very rarely comes up for sale, and has a guide price of $9.5m-$11.5m (£7.5m-£9m).
See more details: 1960 Ferrari 250 GT SWB California Spider by Scaglietti
2001 Ferrari 550 Maranello Prodrive
As a five-time entrant in the 24 Hours of Le Mans this particular car is the single most raced out of any 12-cylinder chassis in their history, achieving a class pole position in 2002 and a class podium finisher in 2004 thanks to a certain Colin McRae. In total it achieved five race victories, 14 podium finishes and 10 pole positions from the 34 races it entered.
In 2022 the car received its all-important Ferrari Classiche certification and is eligible for Ferrari's exclusive Club Competizione GT events which are part of their revered Corse Clienti program. Racing Ferrari's of this calibre are extremely rare to offered on the open market, and this one of the most famous in recent years thanks to its great success and the hype around McRae's appearance at the iconic race at La Sarthe. This being the most decorated V12 racing car in an illustrious history of factory racing makes it a true collector's item. The guide price is $8m-$9.5m (£6.3m-£7.4m).
See more details: 2001 Ferrari 550 Maranello Prodrive
1956 Porsche 550A Prototype 'Le Mans' Werks Coupe
The last of just four 550A prototypes specially developed for the 1956 24 Hours of Le Mans, this particular car is the last remaining example of its type. Offering ground-breaking design and cutting-edge weight saving engineering for its time, together with race winning pedigree and complete with extensive factory racing program documentation from new, this car is a genuine piece of museum grade motorsport heritage. Having undergone an exceptional and highly acclaimed restoration programme, by one of the world's foremost collectors of early Porsche prototypes who subsequently owned one of the other racing prototypes, the car has been rarely exhibited since.
Most race winning Porsche Werks cars are kept in the company's own museum or in a very select few private collections, meaning very few ever change hands and certainly are not usually offered for sale at public auction. The opportunity to purchase this example is a once in a lifetime opportunity and a chance to own a piece of genuine Porsche racing history, it comes with a guide price of $5.5m-$7.5m (£4.3m-£5.9m).
See more details: 1956 Porsche 550A Prototype 'Le Mans' Werks Coupe
1937 Bugatti Type 57 SC Tourer by Corsica
The Type 57 was the very pinnacle of pre-war motoring and was Bugatti's fastest and most desirable model at the time. The 3.3-litre inline eight-cylinder engine, mated to the C-Specification Roots-type supercharger, as this car upgraded to in 1946, produced 200bhp and had a top speed of 120mph, fantastically impressive for the era. A powerful engine with an elegant and luxurious body, combined with precision engineering and the upmost in craftsmanship, the Type 57 is the very definition of what makes a Bugatti.
This exquisite example is one of just two 57S chassis with a four-seat open tourer body from new and has recently emerged from a $700,000 comprehensive restoration programme taking over 6,000 man-hours. The car retains its original chassis, engine, gearbox, differential and body and was delivered new to the vice-chairman of Rolls Royce, a close personal friend of Jean Bugatti. This highly significant piece of Bugatti's illustrious history is available with a guide price of $5.5m-$7m (£4.3m-£5.5m).
See more details: 1937 Bugatti Type 57SC Tourer by Corsica
1967 Ferrari 275 GTB/4 'Del Rio' by Scaglietti
This exceptional car has been described as one of the most significant roadgoing 275 examples in existence. As well as being one of the most sought-after models of 1960's Ferrari, this particular car is a rare and bespoke example built with many unique features including the paint-to-sample finish of Del Rio Verde Medio and factory appointed full leather interior in Pelle Orange VM 3104. Also supplied from the factory was the Borrani wire wheels, the competition style outside fuel filler cap and door mounted mirror and the grille moved forward.
The car features the matching numbers engine and gearbox and comes with the all-important Ferrari Classiche Red Book. Due to the unique features and specification this 275 GTB/4 is a virtual one-off and represents the most advanced development of the 275 model thanks to the long-nose front end, four-cam dry sump engine and torque-tube drive shaft. The originality of the car is also exceptional down to the original Arancia leather, and the spare wheel and windows which carry the proper February 1967 date codes. The guide price for this unique example of a very sought after model is $4m-$5m (£3.1m-£3.9m).
See more details: 1967 Ferrari 275 GTB/4 'Del Rio' by Scaglietti
1957 Maserati 200 SI by Fantuzzi
One of just 28 200/250 specification cars, this particular example is rare in that it retains its original 2-litre 4-cylinder engine. Coming from a golden age for Maserati's open top racing cars, the hand built creations were as stunning to look at as they were exceptionally competitive.
The car is well documented and comes with its factory build sheet, prior bill of sale, period photos of the car and service/restoration invoice dating back some 30 years. Although part of the restoration has included faithful aluminium coachwork replacement body panels, the original Fantuzzi panels are included in the sale. The original engine has not seen any racing events since the extensive rebuild and as such is ready for vintage competition racing. This stunning piece of Maserati's exceptional racing history is available with a guide price of $3m-$3.5m (£2.4-£2.7m).
See more details: 1957 Maserati 200SI by Fantuzzi
1990 Ferrari F40
Famously the last car signed off by Enzo Ferrari himself, the F40 is one of the most iconic cars in their long and illustrious history. Launched to celebrate the brands 40 year anniversary, the F40 was all about the thrill of driving with little to no creature comforts included to dampen the analogue experience to the car. This particular example is a rare and desirable European specification 'non-cat, non-adjust' example and retains its original matching numbers engine, gearbox, chassis and body.
The originality of the car is exceptional, as is the low mileage of just 932 kilometres (580 miles), with the original tyres complete with factory inspection blue stickers to the wheels, factory plastic film to the kick plate next to the pedals and hand written dates to the bottom of both carbon seats with the 31st August 1989 build date. The car has a comprehensive servicing file, with receipts totalling over $60,000, and is currently undergoing an application for Ferrari Classiche status. The guide price for this incredibly low mileage example is $2.8m-$3.4m (£2.2m-£2.7m).
See more details: 1990 Ferrari F40
1978 Ferrari 512 BB Competizione from the Lost & Found Collection
This Ferrari 512 BB Competizione is rare in that it remains largely 'as it left the track' following its appearance at the 1978 24 Hours of Le Mans. It was one of just three factory-specified examples entered into the race as part of the North American Racing Team (NART) and still wears its original livery, as well as race prepared flat-12 engine, after emerging from 42 years in storage. The guide price for this genuine historic Ferrari racing car in as raced condition, with an incredible story to match is $1.8m-$2.8m (£1.4m-£2.2m).
See more details: 1978 Ferrari 512 BB Competizione
What makes this Ferrari story even more interesting is that it is part of the 'Lost & Found' collection, part of 20 lots being sold at the auction from a single collection. The collection was hidden away from the public eye until in 2004 the barn they were being stored in Florida collapsed due to a hurricane. The collection was then transferred to Speedway, Indiana where they have remained ever since, until now where they entire collection is to be auction off as separate lots. Surely one of the ultimate barn find collections.
Oracle Auction Car Finance
At Oracle Finance we specialise in finding funding for cars that are to be bought at auction. Our expert Account Managers use our panel of specialist lenders to help you to find the perfect package, bespoke to you and your circumstances. We could help to get you approved at the top end of your budget up to 90 days before an auction with an agreement in principle, so that when that hammer drops, your funding is in place, and you are ready to purchase the car of your dreams.
Our team are always on hand should you have any questions about arranging car auction finance and your dedicated Account Manager is ready to take your call today. Why not speak to us now and get your funding in place before you miss being able to place that winning final bid.
Read more about our Auction Car Finance here: Auction Car Finance
Why Choose Oracle?
With over 1,800 Trustpilot reviews and a rating of 5 out of 5, and four-time consecutive award winners of the Best Specialist Car Finance Provider award from 2020 through to 2023, as well as having funded over £1.7 billion of vehicles and counting, you too can find out why thousands of people trust us time and time again to find a smarter, tailored funding solution when looking for your next dream car.
Make sure you follow us on Instagram, LinkedIn and Facebook to keep up to date with what's happening in the market and to see some stunning photos and videos of the amazing cars we fund.

Ready to know more?
Let Us Put You in the Driving Seat
Whether you're looking to arrange the finance on your next car, refinance an existing agreement or release equity from your current vehicle, your dedicated Account Manager will find a funding solution that's perfectly tailored to your needs.