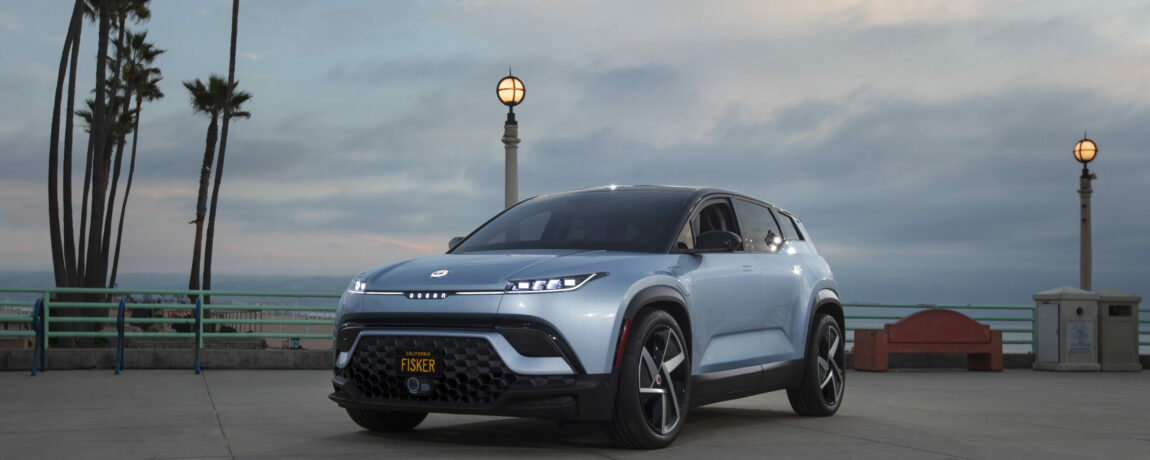 Electric Cars Leading The Charge
Electric cars are here to stay, even the biggest petrol heads would admit that as much as they don't want to agree, they will have to consider an electric car at some point in the near future. If this was the case 10 or 15 years ago, this would be a much more drastic proposition than the current line-up of 'BEV's', or Battery Electric Vehicles. Thankfully the options are getting better all the time, but whilst some are simply replacing the petrol motors in manufacturer's ranges, others are a bit more pioneering than that. Here is our run down of some of the most inspiring and potentially game-changing electric cars you can buy right now.

Fisker Ocean
Enquiries for the Fisker Ocean have started to trickle into the Oracle offices, and at first glance it is easy to see why. A great-looking SUV with genuine eco-friendly credentials (apart from the mining for the batteries obviously) and a well thought out prospect, that seems good value compared to its rivals. Fisker may sound like a new company, but in a former life the company in a previous guise produced one of the World's first luxury PHEV's, in the Fisker Karma, shown way back in 2008. Founded by the designer of the Aston Martin DB9, V8 Vantage and the BMW Z8, the company was revived in 2016 and is a genuine alternative to the established alternatives.
Their all-electric all-new Ocean offers technology such as solar panels on the roof to self-charge, the ability to power your home off the batteries, sophisticated torque vectoring, clever rotating interior control screen and advanced parking functions. Starting at just under £35k, the Ocean is available in various trims that can offer up to an impressive 391 miles of range, 2- or 4-wheel drive single or dual motor layouts, and 0-60mph in just 3.6 seconds. The car is cleverly designed with ethically sourced materials, vegan friendly interior fabrics and recycled details aplenty.

Lotus Eletre
As with the Fisker above, we have started to see funding enquires come through the Oracle offices for the upcoming Lotus Eletre, and it isn't difficult to see why. It may go against what many would consider the true ethos of what a Lotus used to be about, but you can't avoid the fact that it seems like a very tempting prospect. With the stylish looks to match a Lamborghini Urus, an all-electric powertrain with up to 900 bhp and a claimed 0-62mph time of under 3 seconds, the Lotus is an impressive proposition no matter which badge is on the bonnet.
The Eletre offers supercar pace, active aerodynamics, something called porous design to manage airflow over the body, the promise of the legendary Lotus handling and all the space for the family you'd ever need, plus has a starting price of just £90k. It also has autonomous-driving capability using LiDAR systems, 800V architecture for super-fast charging and something called millimetre-wave radar to constantly scan the environment around you. This isn't like any Lotus that has gone before.

Maserati GranTurismo Folgore
If we're being honest, there isn't really much competition in the electric sports car market at the moment. The early promise of the Lotus Elise based Tesla Roadster from 2008 looked like the start of fun to drive battery powered sports cars, but it wasn't to be. Maserati are looking to change that. Their GranTurismo of the last decade or so was famed for having one of the finest exhaust notes available on any car, provided by the excellent burbling 4.7 litre V8 engine of its predecessor. But they haven't let that stop them changing their game to fit in, just as Lotus have.
The latest GranTurismo cannot be specified with a V8 anymore, but that hasn't stopped them from offering a petrol alternative. Instead, they have borrowed the twin-turbo V6 from the excellent MC20, available with 483 or 542bhp, to keep the petrol heads happy, or you can opt for the fully electric version that has a staggering 750bhp. It may look a lot like the previous generation of GranTurismo but with a hint of MC20 styling, but the decision to offer an all-electric version is exactly what sports car fans have been wating for. The looks and appeal that a Maserati has in abundance, but with a powerful electric drivetrain underneath to keep up with the times. Hopefully a sign of things to come.

Rolls Royce Spectre
For a brand synonymous with ride quality and quietness it makes perfect sense for a Rolls Royce to be driven by the silence of an electric motor. Not only that, but the effortless power and torque that electric cars offer is merely an advancement of the way their cars currently drive. By taking away the inconvenience of a noisy and shaky engine that needs to change gears and replacing it with something smooth and quiet, the magic carpet ride so famously associated with the brand can surely only get even better.
It was inevitable that electric power would be the perfect fit for Rolls Royce, even the company founder Charles Rolls said in 1900 that the electric car was 'perfectly noiseless and clean, and free from vibrations' and that once fixed charging stations were available, they would become useful. It may have taken over 100 years for this to happen, but he does have a point. The Spectre will no doubt help Rolls Royce raise the luxury car bar even higher, with the possibilities pushed further by owners' imaginations and limitless budgets.

BMW I7
For those with slightly less deep pockets that your average Rolls Royce Spectre buyer, thankfully there may be a less expensive alternative. BMW have taken a huge step forward in the luxury saloon market with the introduction of the bold I7. The looks may not be for everyone but for the past couple of decades BMW have managed to pull of daring designs that seem to age ever better than most. The I7 isn't just all about the looks though, the interior and technology on offer are sure to impress most luxury car buyers.
For those who have browsed the website or seen the TV advert, it is difficult to not be impressed by the huge 31" widescreen rear display that drops down from the ceiling at the touch of a button. In fact, the 15" curved screen display that replaces the dashboard a la Tesla is also a fantastic addition to increase minimalism in the cabin. The number of functions, options and specification decisions are seemingly endless, and starting at a mere £110k, a comparative bargain as a luxury alternative to the grandeur of the Rolls.

Mercedes Benz EQS 53 AMG
The EQS is an impressive spectacle in the luxury electric car marketplace. Akin to the BMW, the abundance of technology and luxuriousness in the EQS is a showcase of what is possible. From the sheer amount of assisting functions to the way you can customise seemingly everything to just the way you like it, the electric equivalent to the S-Class is determined to lead the way yet again. Even the possible range is class leading and more than even Tesla can offer with their long range versions.
Keen to also appeal to their performance car side, there is now the EQS 53 AMG variant. AMG versions of Mercedes cars usually involves a big V8 engine, monstrous noise and tyre shredding pace. The latter may still be present but this time it comes with effortless silence and sophistication. There are still aggressive AMG exterior styling upgrades, lashings of carbon fibre trim and dedicated performance driving modes to give you that AMG feeling, the only thing missing is the V8 roar. But as a luxury performance model true to their AMG roots, the EQS 53 AMG is definitely a step in the right direction.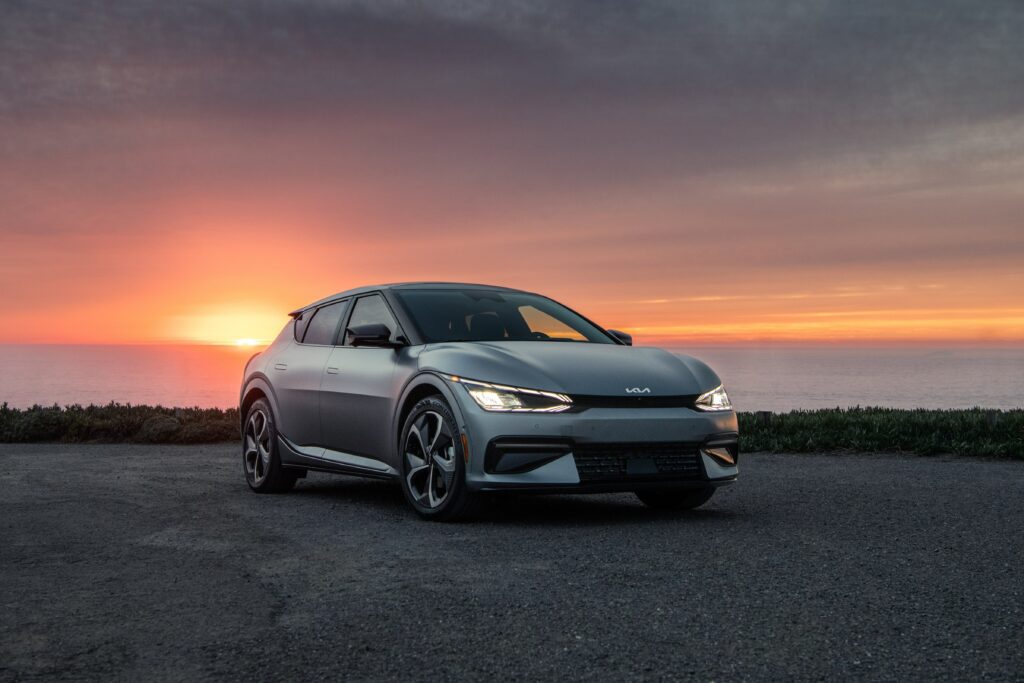 Kia EV6
Who'd have thought it. In little over 20 years, a South Korean car manufacturer has gone from bankruptcy to producing a highly rated electric vehicle that is one of the most desirable currently on the market. A quick internet search of reviews returns an abundance of 5 stars, 9 and 10 out of 10's and a whole host of favourable conclusions for this sporty SUV. In terms of bare statistics, the EV6 has it all. Excellent range of up to 328 miles, a possible 0-62mph time of 3.5 seconds in the EV6 GT and a generous array of standard features and latest technology to shame cars worth a lot more. Plus, the 7-year warranty across the whole of the Kia range takes some beating.
With prices starting at £45k for the EV6 and £62k for the EV6 GT, although this may seem a lot for a Kia, it is considerably cheaper than a lot of similarly specified and performing cars of the same type. Kia are no longer the cheap budget alternative brand they were once considered, and represent a manufacturer confident in their abilities and keen to prove them to everyone. If the car reviews are anything to go by, they seem to be doing a fantastic job at it too.
Electric Car Finance
Here at Oracle Car Finance, we specialise in finding funding for electric vehicles. Find out more information about our Electric Car funding by clicking here.
Alternatively, speak to your dedicated Account Manager today who will be on hand to talk you through the buying process and finance options tailored to you and your requirements. You can get in touch with us either by calling us on 0800 012 6666 or by clicking here.
Voted Best Specialist Car Finance Provider four years in a row at the Car Finance Awards 2020, 2021, 2022 and 2023 having funded over £1.7 billion so far and counting.
Make sure you follow us on Instagram, LinkedIn and Facebook to keep up to date with what's happening in the market and to see some stunning photos and videos of the amazing cars we fund. 

Ready to know more?
Let Us Put You in the Driving Seat
Whether you're looking to arrange the finance on your next car, refinance an existing agreement or release equity from your current vehicle, your dedicated Account Manager will find a funding solution that's perfectly tailored to your needs.