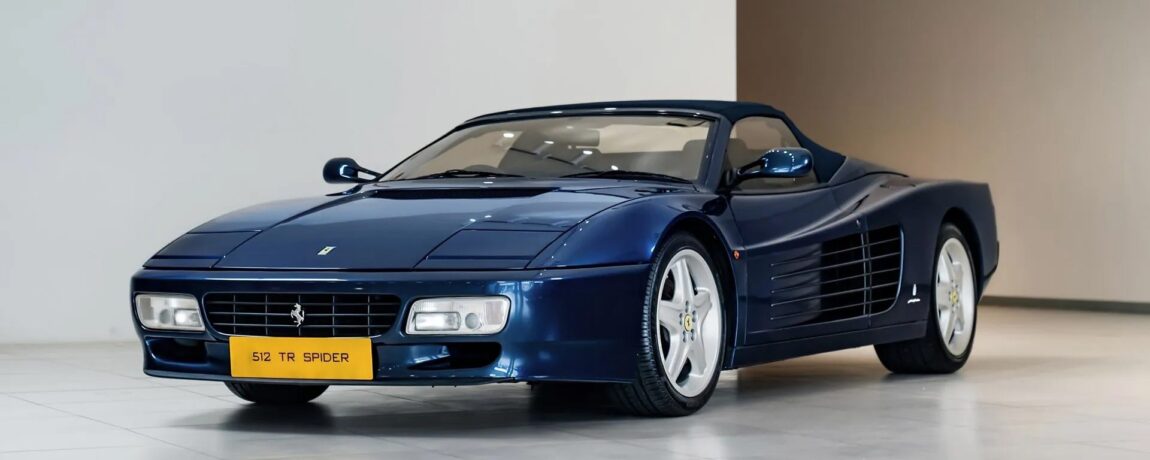 Interesting Info
30 Oct 2023
Factory Fresh At RM Sotheby's Sale
Responsible for auctioning some of the finest vehicles money can buy, RM Sotheby's sales are always filled with rare and sought after cars that often represent once in a lifetime opportunities. Whether it is a unique example with unmatched provenance, a barn find undiscovered after decades of being hidden away, or an exquisite example of motoring history, the lots almost always have a fascinating story to tell. Their 4th November sale at London's Marlborough House is no exception.
One of the highlights of the London Sale is a collection of 20 cars; 17 Ferraris, 2 Jaguars and one Bentley, that are offered with little more than delivery mileage. That might not be that much of a story if the cars in question were new examples of those brands, however as well as some of them being in extremely rare specification or colourways, some date back to the 1990's and even the 1970's. To find examples of some of the cars in question with such low mileage as well as in 'factory fresh' as-new condition makes the lots even more rare and sought after, surely some of the most pristine examples in existence.
We have put together a guide to some of the standout lots that caught our attention from not just the Factory Fresh Collection, but some of the more notable lots in the rest of the sale too, going under the hammer at the London sale on the 4th of November.
1994 Ferrari 512 TR Spider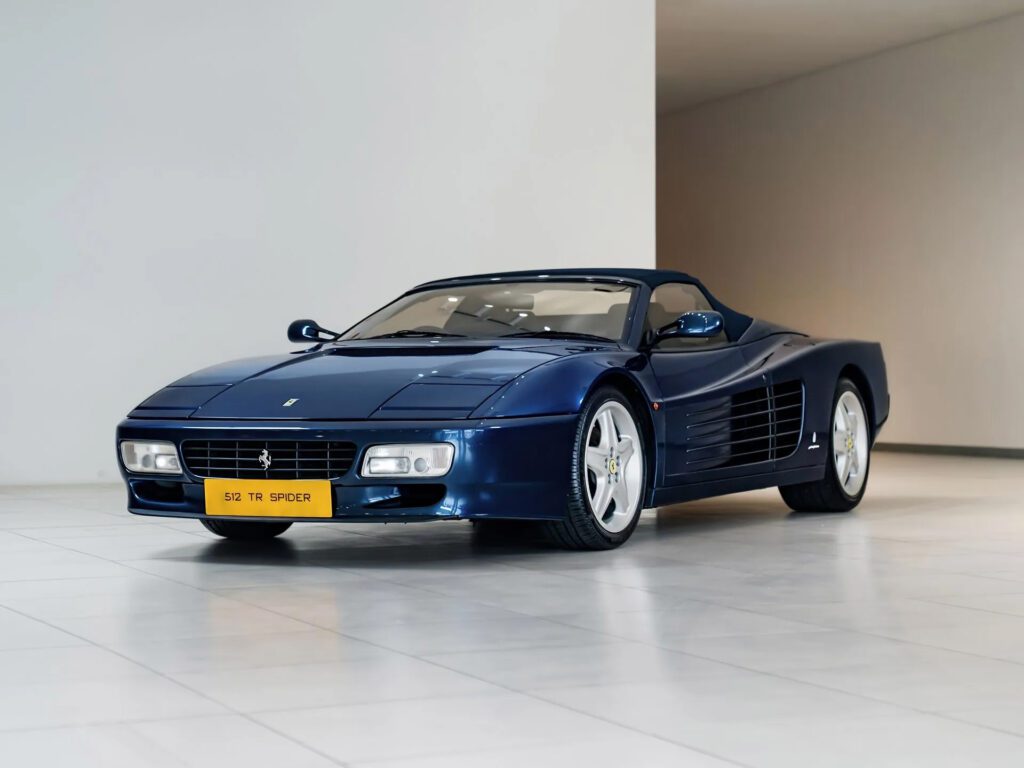 The first featured car is from the aforementioned 'Factory Fresh Collection' and is a very rare example of one of the most iconic cars to come out of Maranello. This exceptional Ferrari 512 TR Spider, 5 for the engine size in litres (rounded up), 12 for the cylinder configuration, TR of course for Testarossa and Spider for its convertible bodystyle, is one of just 3 examples of the model built by Ferrari in 1994. Not only that but it was the only one finished in the historic colour of Blu Cobalto and with stunning Blu Scuro Connolly leather interior.
Its exclusivity was recognised by being asked to be part of the Ferrari 50th anniversary celebrations in Rome in 1997. Despite now coming up to its 40th year, the car has had just one single owner since new and has covered just 570 kilometres in that time. To purchase such a rare car of this age with such low mileage and from the original owner is a unique opportunity and one that would be a fantastic opportunity to add to any notable collection.
See more details: 1994 Ferrari 512 TR Spider | London 2023 | RM Sotheby's (rmsothebys.com)
1990 Ferrari F40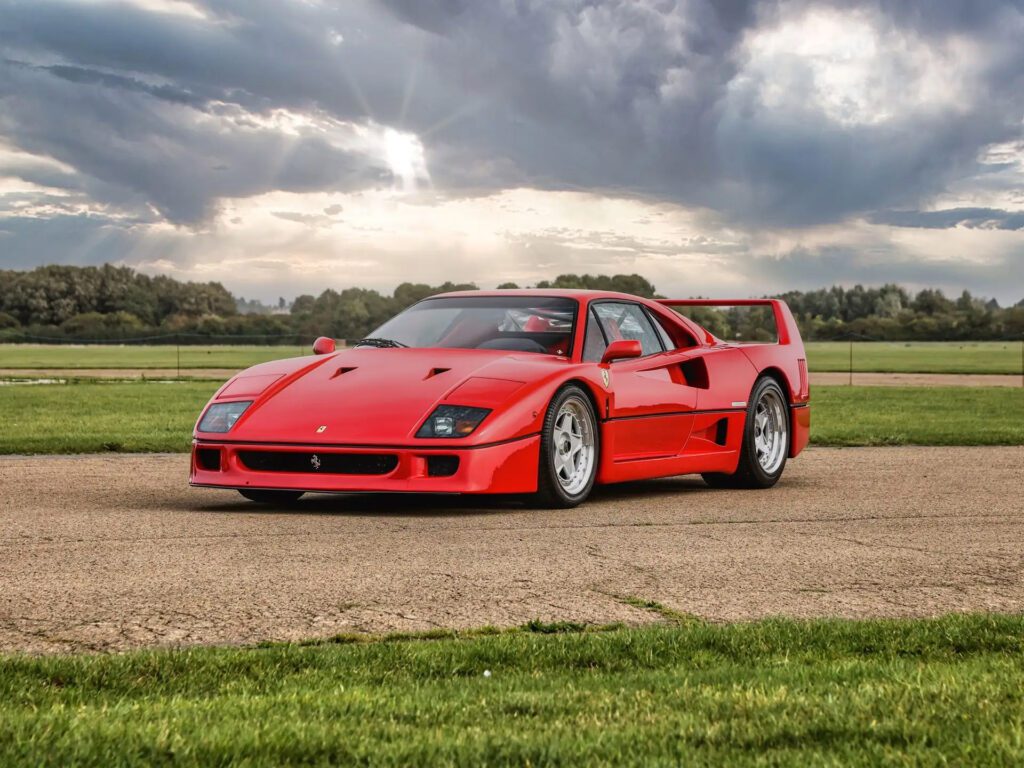 The Ferrari F40 has always been celebrated as the last Ferrari signed off by Enzo himself and a car that embodies the ethos of the brand through and through. With a no holds barred unrestricted idea of what a performance car should be, the car weighed just over 1,200kgs yet had a power output of 478bhp, meaning the F40's statistics are still more than impressive even today.
This particular car is one of the early European market 'cat, non-adjust' examples (meaning it has a catalytic converter but non adjustable suspension) and finished in iconic Rosso Corsa with Stoffa Vignona covered carbon fibre seats, as all factory delivered F40's were. The car has received its all important Red Book Ferrari Classiche certification and comes complete with original fitted luggage, tool roll and owner's manual. The car has covered just under 21,000km since new, with just 12 kilometres covered since it was last serviced. With the value of F40's seeing a considerable rise in recent years, this is a fantastic opportunity to add one of the most iconic prancing horses to a collection that is sure to be a sound investment.
See more details: 1990 Ferrari F40 | London 2023 | RM Sotheby's (rmsothebys.com)
1963 Ferrari 250 GT/L Berlinetta Lusso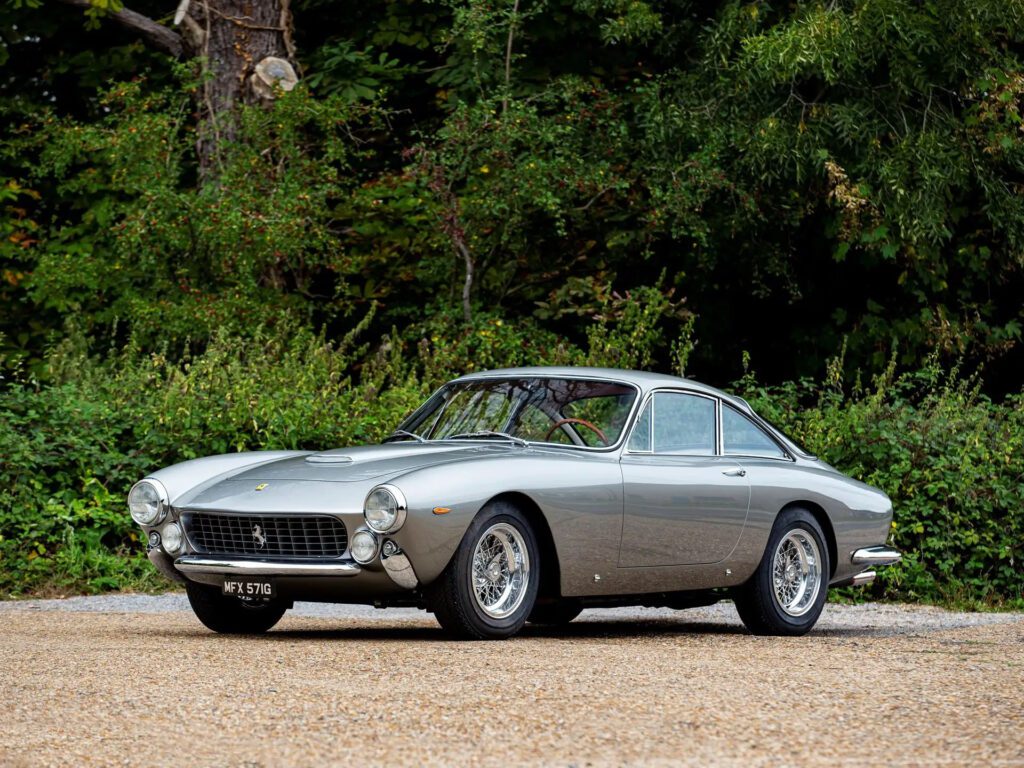 With the Ferrari 250 designed with performance in mind the interior at least did not offer much in the way of luxury or creature comforts. The GTO was obviously the most spartan of all as a racing machine, the GTE although intended for mass production offered slightly more functionality, however it was the Lusso which took the model to a whole new level. The 250 GT/L was pure luxury grand tourer with quilted leather interior combined with a revised chassis and suspension set up.
This exceptional example has been subjected to an extensive 3-year restoration process with bare metal respray to the factory-correct combination of Griggio Notte with Rosso leather interior. At the same time the 3.0-litre Colombo V12 was rebuilt with an extensive overhaul including gearbox and differential. The car, which retains its matching numbers chassis and engine, currently has a Ferrari Classiche certification in process and is an exceptional example of one of the most legendary Ferrari's of them all.
See more details: 1963 Ferrari 250 GT/L Berlinetta Lusso by Scaglietti | London 2023 | RM Sotheby's (rmsothebys.com)
1956 Mercedes Benz 300 SL Gullwing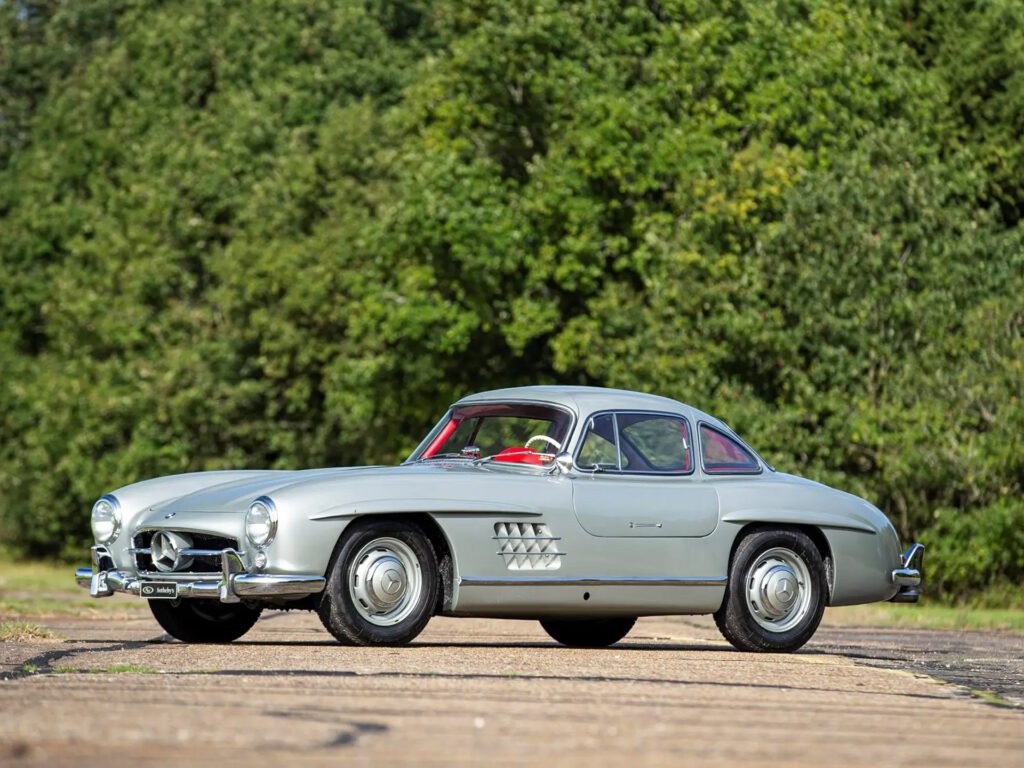 The 300 SL is arguably the most iconic model in Mercedes Benz' illustrious history and a firm favourite in some of the most notable car collections. As well as its breathtaking looks and signature gullwing doors the SL, standing for Super Leicht (or Super Light), had exceptional performance to match. The model with its lightweight construction combined with a 3.0-litre straight-six engine was a direct descendant of the racing cars driven by some of the most famous names in history including Juan Manual Fangio and Sir Stirling Moss.
This particular car was specified from new with the optional sports suspension and NSL-spec engine complete with lightweight camshaft, increasing power output to 230bhp. Just 300 examples of the car were fitted with this option, of which the matching numbers engine and suspension still remain with this car. Despite being well on its way to being 70 years old, the 300 SL is still applauded for its sports car performance and engaging driving experience, something that the new owner of this exceptional car would be keen to enjoy.
See more details: 1956 Mercedes-Benz 300 SL Gullwing | London 2023 | RM Sotheby's (rmsothebys.com)
1963 Aston Martin DB4 Convertible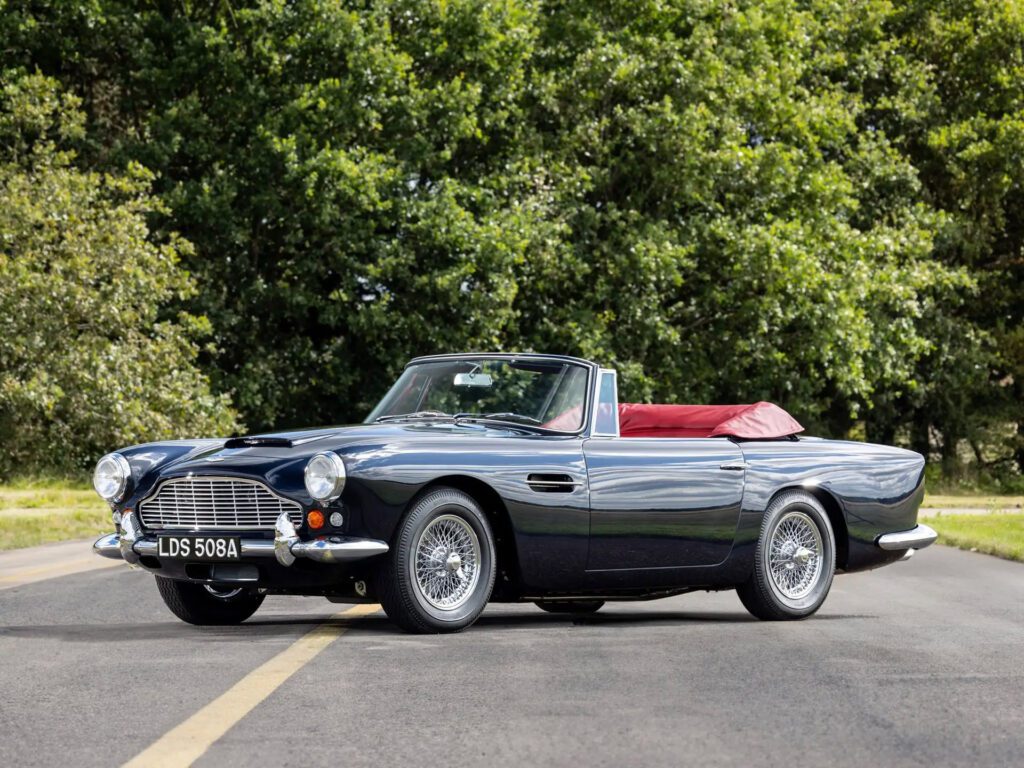 The Aston Martin DB4 was a revolutionary model for the brand and one that would influence the styling of Aston models for years to come. The Convertible version of the DB4 was a very rare car, with just 70 produced in total, and was introduced in 1961. This particular example is unique in that it is the only DB4 Convertible to be fitted with the DB4 GT specification engine from the factory. Now returned to its original factory correct colour combination of Midnight Blue with a Black soft top and with Red Connolly leather interior.
It has been subject to extensive no-expenses spared restoration by Aston Martin Works to bring it up to its concours standard condition and comes complete with detailed certification and works book detailing the thousands of hours of detailed work. After 3 years of restoration work, the car received an Aston Martin restoration certificate to confirm the extent and attention to detail and originality. An important part of Aston Martin's history and a unique 1 of 1 offering with the GT engine provenance which would surely take pride of place in any collection.
See more details: 1963 Aston Martin DB4 Convertible | London 2023 | RM Sotheby's (rmsothebys.com)
1929 Bentley 4.5-Litre Supercharged Le Mans Tourer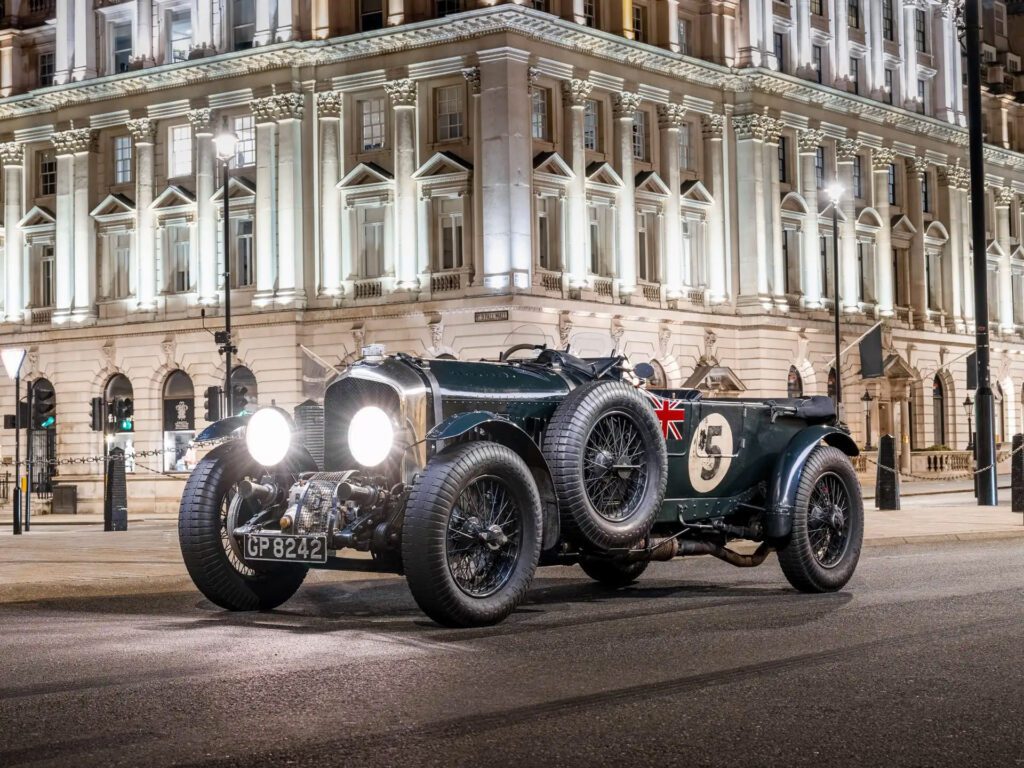 The 'Blower' Bentleys of the 1920's and 1930's are as iconic as it comes, with Gentleman Racers becoming the heroes of motor racing in that era. The sound, the robust engineering and the sheer speed for a machine nearing 100 years old is something no other vehicle comes close to, and look as good doing it. This 1929 Bentley 4.5-litre has a history and a story to tell that is up there with the best of them. From being the first supercharged Bentley to win an international race meeting, to being raced at the Le Mans classic by none other than five-time winner Derek Bell, this car is arguably the fastest and most raced Bentley in existence.
Campaigned extensively for the past 17 years by the same owner, the car has competed in over 100 races throughout Europe, including at Goodwood Revival and Le Mans 8 times, where it reached an incredible 132mph down the Mulsanne Straight. Its rugged dependability even saw it towing a Porsche 962 from London to Angouleme as well as a modern Bentley works GT car. The list of notable owners over the years include everyone from Sir Leonard Lyle, of Tate & Lyle, an Olympic gold winning rower, war heroes and the daughter of a famous Autocar Editor. The impeccably documented history is matched by the enviable race record and the quality of the rebuild that the car has received. A decorated and exceptional vehicle that is the ticket to the world's best motoring and historic racing events.
See more details: 1929 Bentley 4½-Litre Supercharged Le Mans Tourer in the style of Vanden Plas | London 2023 | RM Sotheby's (rmsothebys.com)
1993 Jaguar XJ220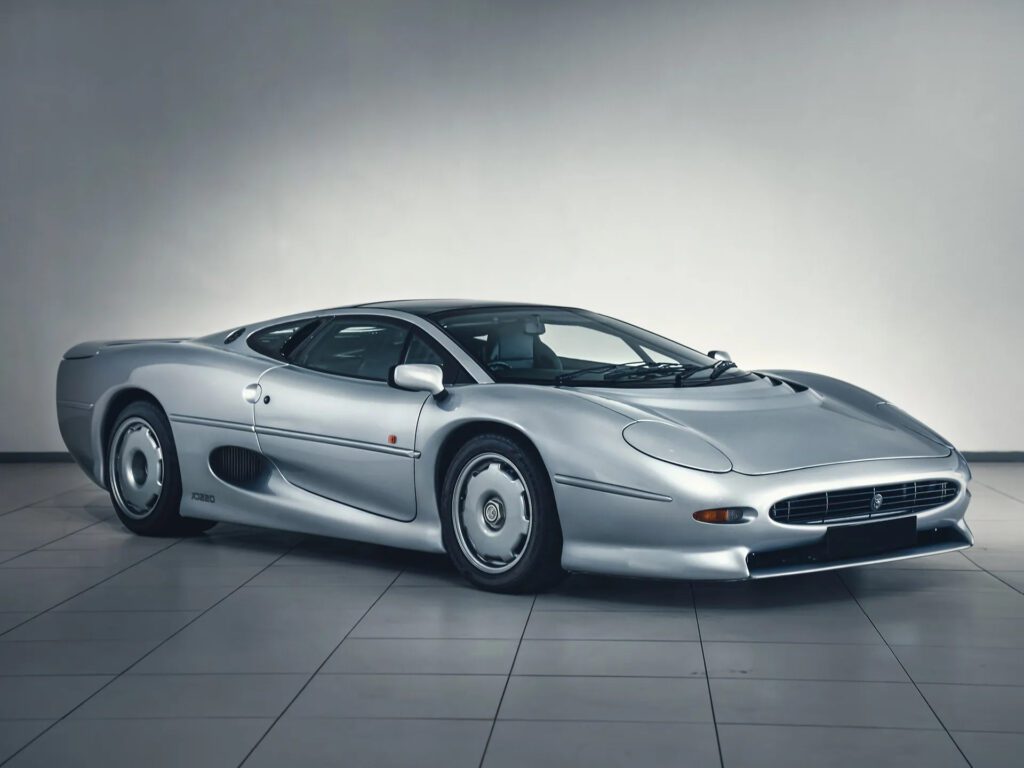 When the Jaguar XJ220 was first shown to the world at the 1988 British Motor Show, its sculpted lines and incredibly styled bodywork were like nothing before. Not since the E-Type of the 1960's had a Jaguar created such a stir or promised so much. The 6.2-litre V12 and all-wheel-drive may have become a 3.5-litre V6 powering the rear wheels only, but the performance eclipsed even the initial promises and saw the big Jag manage 0-62mph in 3.6 seconds and a top speed of 213mph, making it the fastest production car in the world.
Fewer than 300 XJ220's were ever built and it is believed that just 9 remain registered on UK roads. This particular car is part of the Factory Fresh Collection and as such has covered just 46 miles despite being over 30 years old. Finished in Spa Silver with Smoke Grey leather interior, the car understandably has its matching numbers engine. It has recently undergone almost £40k worth of recommissioning work by model specialist Don Law Racing, where even the paintwork was treated to a machine polish and new tyres were fitted. There is unlikely to be an XJ220 in existence with fewer miles covered and as such this is a genuine opportunity to bid on something very rare and unlikely to be repeated.
See more details: 1993 Jaguar XJ220 | London 2023 | RM Sotheby's (rmsothebys.com)
1973 Ferrari Dino 246 GTS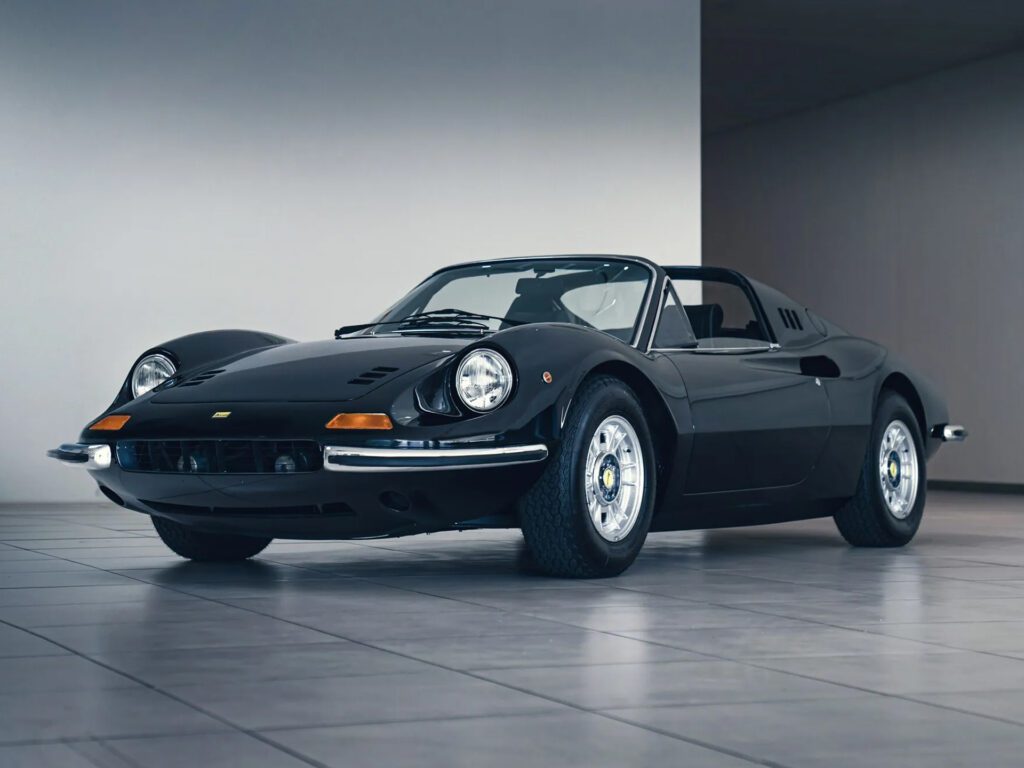 The first Ferrari road car to be powered by a V6 engine, the development was lead by Enzo Ferrari's son Alfredo, and as he tragically lost his life before the project was completed, the car was named Dino in his honour. Initial thoughts that the 206GT was underpowered, the replacement 246GT increased power to give the excellent chassis the power it deserved. A sales success for the brand, over 3,700 Dinos were built, of which 1,274 were GTS's, or Grand Turismo Spider's built between '72 and '74.
Offered from the Factory Fresh Collection, this stunning example has been subject to a full repaint in its factory colour of Nero, an engine rebuild and suspension overhaul. Together with the ongoing maintenance and the restoration work, bills whilst in the consignor's care exceed some £85,000, whilst the car remained unregistered for the road during their ownership. This special example of an iconic part of Ferrari's history is offered in exceptional condition and could easily be the perfect addition to any Ferrari collector's portfolio.
See more details: 1973 Ferrari Dino 246 GTS by Scaglietti | London 2023 | RM Sotheby's (rmsothebys.com)
2012 Ferrari 599 GTB 60F1 Alonso Edition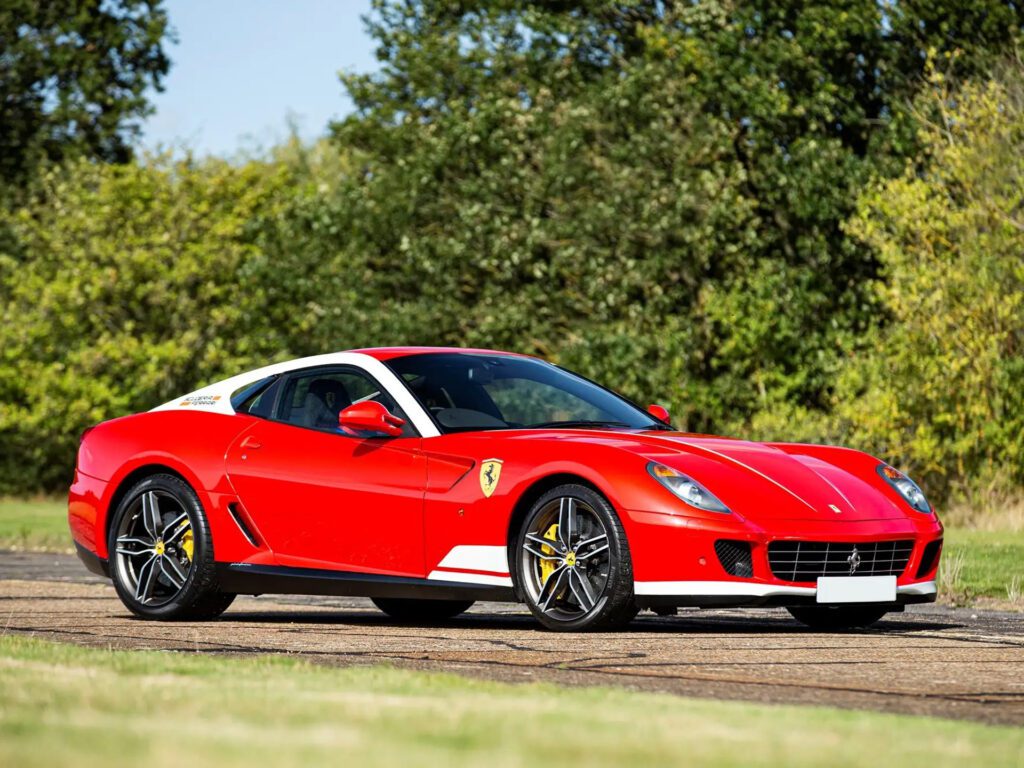 When Fernando Alonso raced to victory in the 2011 British Grand Prix at Silverstone it signified 60 years since their first win at the same event at the hands of Jose Frolian Gonzalez in 1951. To symbolise the longest reigning manufacturer's success in the sport, Ferrari decided to launch the limited edition 599 Alonso Edition, with just 40 examples to be produced. Using the same 6.0-litre V12 from the standard 599 GTB, the car feature the enhanced HGTE chassis to include stiffer suspension, shorter springs and more firm anti-roll bars.
To the exterior, the addition of white painted sections mimicking the styling of the F1 car, and a hand painted Scuderia badge and Scuderia Ferrari graphics set the car apart visually. Internally the car also featured contrasting red and blue harnesses signed by the two-time F1 champion alongside Alcantara racing seats and extensive use of carbon fibre, Fernando's signature also adorns the impressive engine bay. This example is just one of 9 produced in right hand drive and has covered just over 6,000 miles by its one previous owner. A certain collector's item, this rare and exceptionally meaningful edition is sure to attract interest amongst modern classic Ferrari fans as well as Formula 1 enthusiasts.
See more details: 2012 Ferrari 599 GTB 60F1 'Alonso Edition' | London 2023 | RM Sotheby's (rmsothebys.com)
1988 Ferrari Testarossa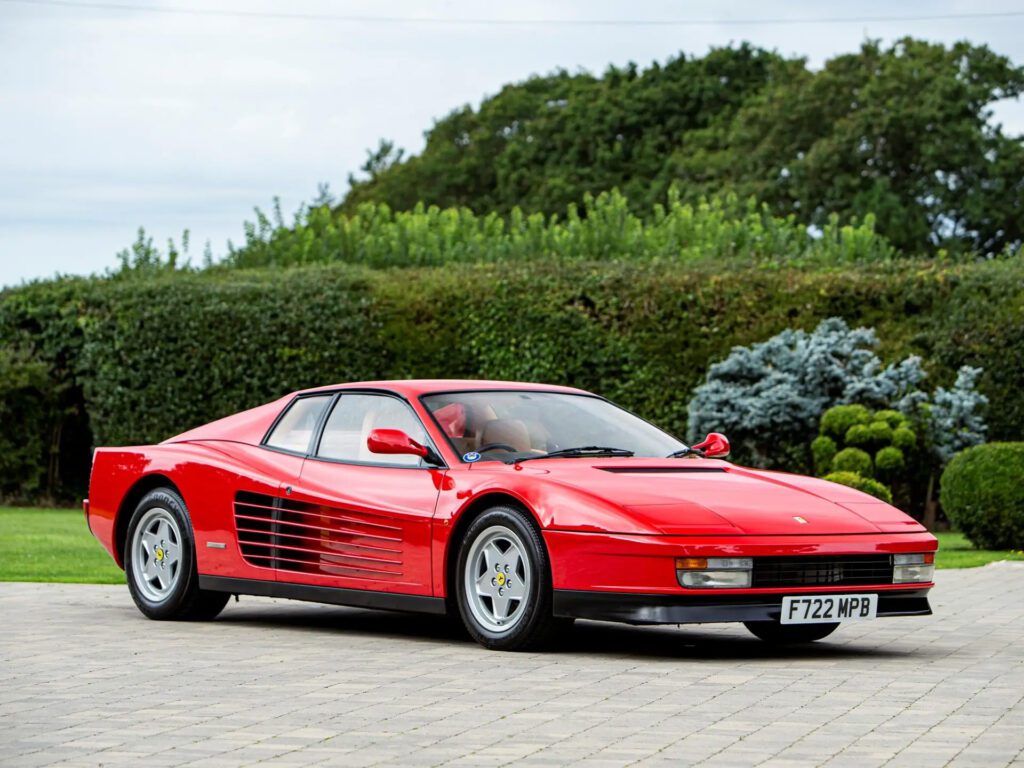 Classic or modern classic cars that have previously been owned by notable racing drivers add a certain gravitas to the provenance of any car. When that racing driver is not only a former Formula 1 world champion, but was the last-ever driver personally appointed by Enzo Ferrari to the Scuderia racing team it's a fantastic story to accompany the vehicle. This exceptional 1988 Ferrari Testarossa was gifted to British racing legend Nigel Mansell following the F1 driver's switch to the team.
One of just 438 cars built in right hand drive, the car comes complete with commemorative plaque signifying the gifting of the car from Ferrari to Mansell, as well as a six-piece fitted luggage set embossed with the F1 driver's initials. Adding to the provenance is the correspondence between the supplying dealer and Ferrari headquarters to arrange for the car to be supplied to Mr Mansell. The car retains its matching-numbers chassis and engine, and has covered less than 15k miles in its 35 years since new. Another fantastic opportunity for fans of both Ferrari and Formula 1 to acquire a piece of motoring history with a fantastic story included.
See more details: 1988 Ferrari Testarossa | London 2023 | RM Sotheby's (rmsothebys.com)
If the provenance of a former Formula 1 champion previous owner isn't to your taste yet you are looking for another iconic Rosso Corsa example of the Testarossa, there is a further lot available from the Factory Fresh Collection. In exceptional condition and with just 161 kilometres covered, likely purely from factory pre-delivery testing, this 1990 Ferrari Testarossa is being offered by its original owner and has been carefully stored for the past 3 decades.
See more details: 1990 Ferrari Testarossa | London 2023 | RM Sotheby's (rmsothebys.com)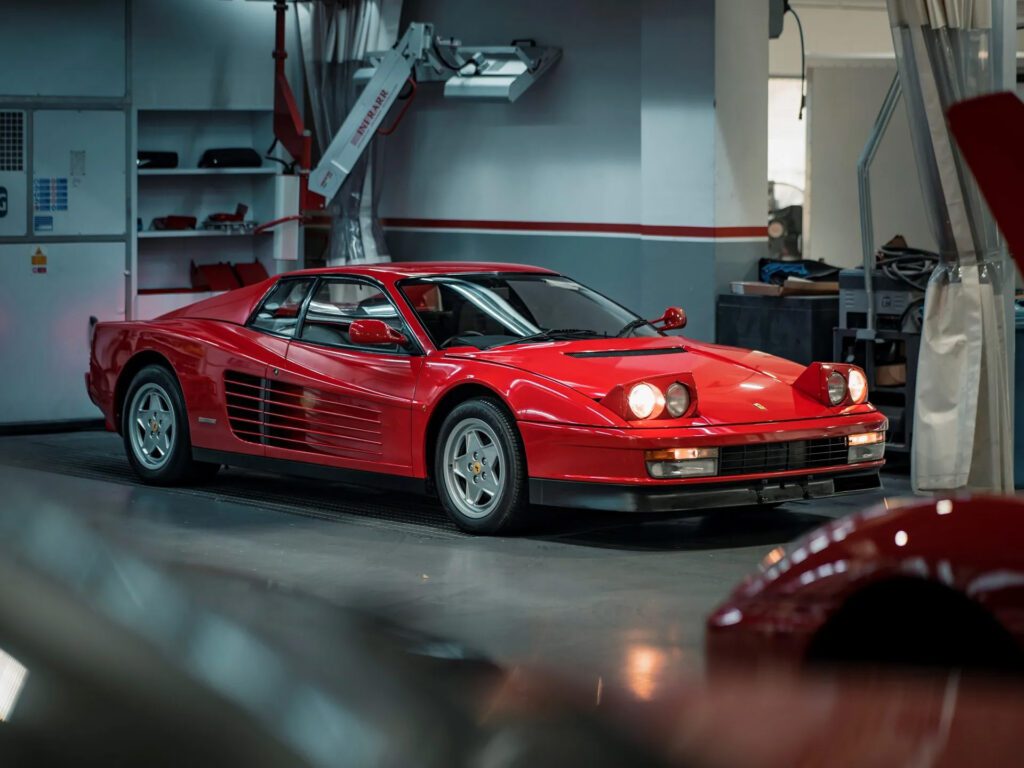 Oracle Auction Car Finance
At Oracle Finance we specialise in finding funding for cars that are to be bought at auction. Our expert Account Managers use our panel of specialist lenders to help you to find the perfect package, bespoke to you and your circumstances. We could help to get you approved at the top end of your budget up to 90 days before an auction with an agreement in principle, so that when that hammer drops, your funding is in place, and you are ready to purchase the car of your dreams.
Our team are always on hand should you have any questions about arranging car auction finance and your dedicated Account Manager is ready to take your call today. Why not speak to us now and get your funding in place before you miss being able to place that winning final bid.
Read more about our Auction Car Finance here: Auction Car Finance
Why Choose Oracle?
With over 1,900 Trustpilot reviews and a rating of 5 out of 5, and four-time consecutive award winners of the Best Specialist Car Finance Provider award from 2020 through to 2023, as well as having funded over £1.7 billion of vehicles and counting, you too can find out why thousands of people trust us time and time again to find a smarter, tailored funding solution when looking for your next dream car.
Make sure you follow us on Instagram, LinkedIn and Facebook to keep up to date with what's happening in the market and to see some stunning photos and videos of the amazing cars we fund.

Ready to know more?
Let Us Put You in the Driving Seat
Whether you're looking to arrange the finance on your next car, refinance an existing agreement or release equity from your current vehicle, your dedicated Account Manager will find a funding solution that's perfectly tailored to your needs.