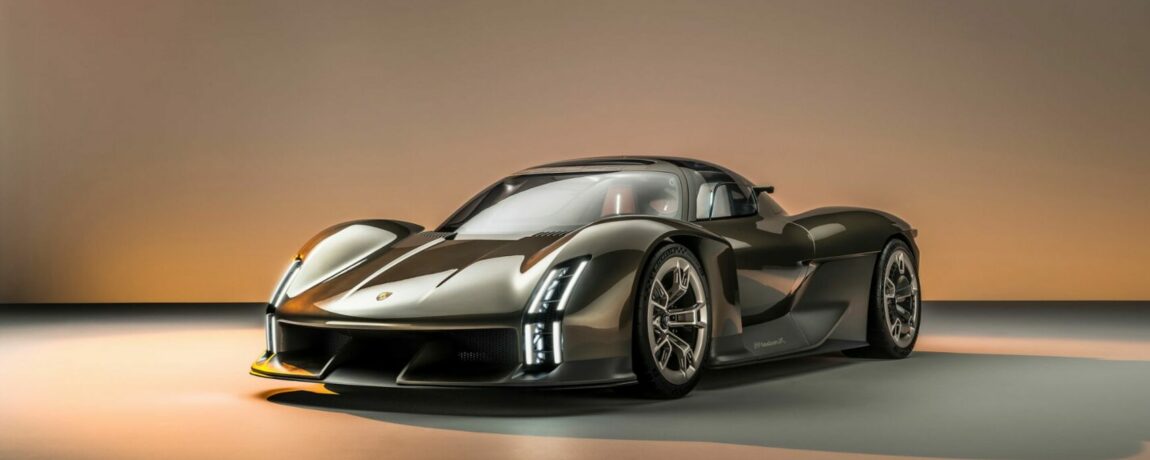 Happy 75th Birthday Porsche
Porsche have a habit of teasing their fans with concept cars, only to find them putting them into production a few years later. Remember when the Mission E concept emerged and then was relatively unchanged before it became the Taycan 4 years later. With their 75th anniversary coming up it was teased that they could release something completely new and revolutionary. They didn't disappoint.
The Porsche Mission X was unveiled on the day of the 75th anniversary that the 356 'No. 1' Roadster received its road license and is said to show the future of the brand's design and powertrain direction. A light weight all-electric hypercar, the Mission X takes inspiration from iconic racing cars and landmark road cars to create a vision of what to expect on upcoming models, or if this model ends up going into production.
Porsche have been more than bold with their claims for this car. To say that its intentions are to be the fastest road legal car around the Nürburgring is a lot of effort to go to if you're not going to put it into production in the end. Not forgetting the fact that Porsche themselves hold the Nürburgring outright record with their impressive 919 Hybrid Evo modified racing car, which beat the previous record by almost a minute, again set by another Porsche.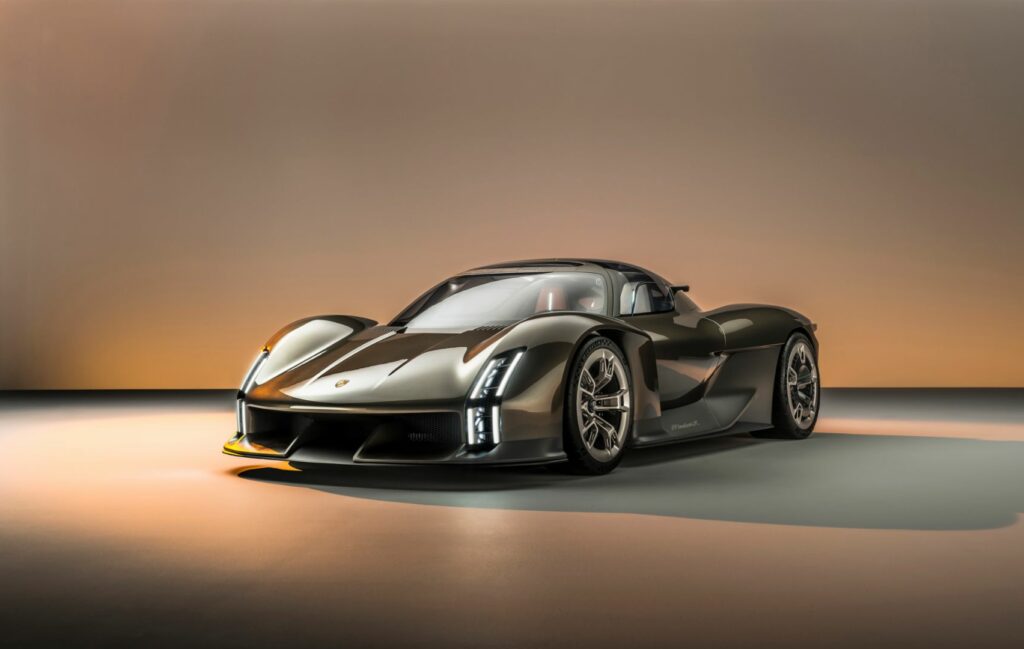 The Details
Details are limited as to how much power the electric motors will provide, however as they work closely with electric hypercar experts Rimac these days, it'll surely borrow plenty of the technology from their latest creation, the Nevera. Porsche put a lot of work into making their cars as light as possible and have claimed a 1:1 power to weight ratio for the car, suggesting it may not have the full 1,900bhp as the Rimac, and is more likely to be around 1,500kg and 1,500bhp. This should be more achievable thanks to the plastic reinforced carbon exoskeleton and the fact that the car doesn't have a 'single superfluous gram of weight' according to their website.
The Mission X may be looking to the future, but it has plenty of styling features from the past to ensure it also has the occasional nod to Porsche's illustrious past. From the glass canopy with upward opening doors reminiscent of the Le Mans winning 917, also in a similar vein the 'Daytona' style windscreen for optimal vision on the track, to the four-point light structure to the headlights found on the latest models, it is unmistakably Porsche through and through.
The limited details that Porsche have shared, other than its expected Nürburgring performance, is that the levels of downforce will be 'well above the level of the (only just launched) 911 GT3 RS'. Using an adaptive wing at the rear, tuned underbody and targeted airflow, the Mission X certainly has the potential to be as stuck to the road as possible.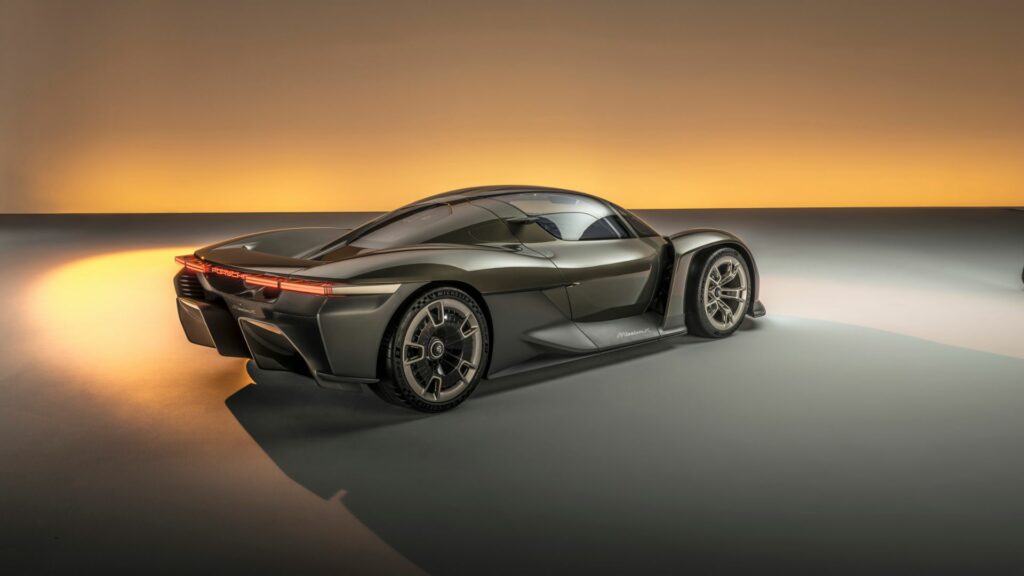 Electric Potential
Being an all-electric car, they have also shared some information about the presumably heavily Rimac influenced powertrain and battery pack. Porsche have said they are looking to 'significantly improve' the charging performance for their 900V architecture and are looking for the possibility to charge twice as fast as the Taycan. This, above most other facts about the Mission X, has real potential to trickle down to other electric models in order to make electric motoring that bit easier.
As far as birthday presents to yourself go, the Mission X is quite a big one for Porsche and a statement of intent to their hypercar future. They may be famously keen to preserve the combustion engine with their investment in the development in synthetic fuels, but this hasn't stopped them from also attempting to lead the way with electric motoring also. It may be strictly a concept at this stage, but with the attention to detail and following the trajectory of the Mission E concept to Taycan production car, expect to be able to get your name down for one by around 2027.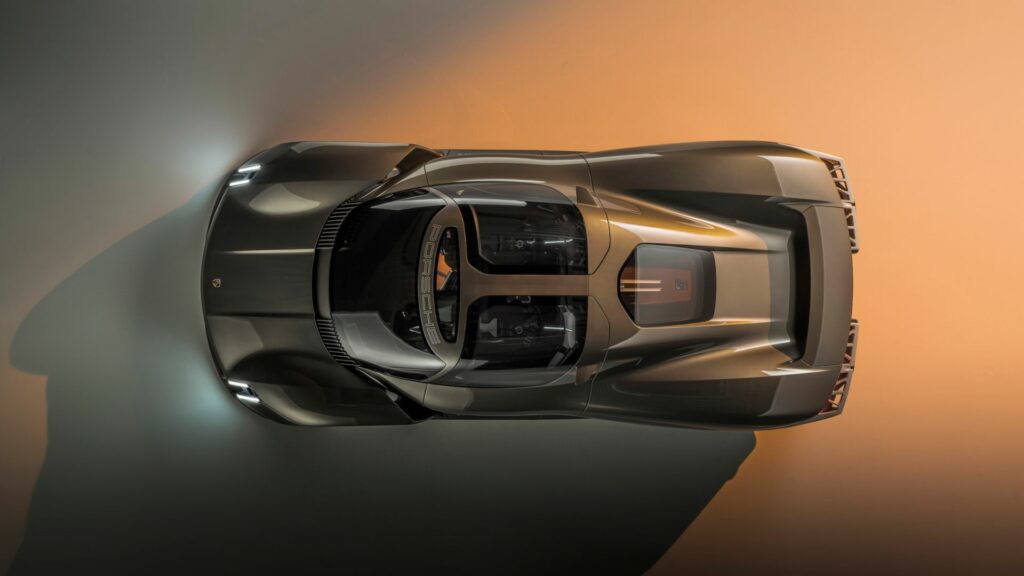 Porsche Finance
At Oracle Car Finance we love a Porsche, that is why we are the official finance partner of Porsche Club GB. Not only that, but we also sourced finance for over 500 Porsche's last year, in fact we sourced funding for more Porsche's last year than ever before, it was our most popular sports car brand. If you are looking at purchasing your own Porsche, our expert team have over 17 years' experience in sourcing tailored car finance products. Whatever type of car you're looking for, you can get in touch with us either by calling 0800 012 6666 or click here: Porsche Car Finance.
With over 1,750 Trustpilot reviews, having funded over £1.7 billion of vehicles and counting, and being four-time consecutive award winners of the Best Specialist Car Finance Provider award from 2020 through to 2023, you too can find out why thousands of people trust us time and time again to find a smarter, tailored funding solution when looking for your next dream car.
Make sure you follow us on Instagram, LinkedIn and Facebook to keep up to date with what's happening in the market and to see some stunning photos and videos of the amazing cars we fund.

Ready to know more?
Let Us Put You in the Driving Seat
Whether you're looking to arrange the finance on your next car, refinance an existing agreement or release equity from your current vehicle, your dedicated Account Manager will find a funding solution that's perfectly tailored to your needs.