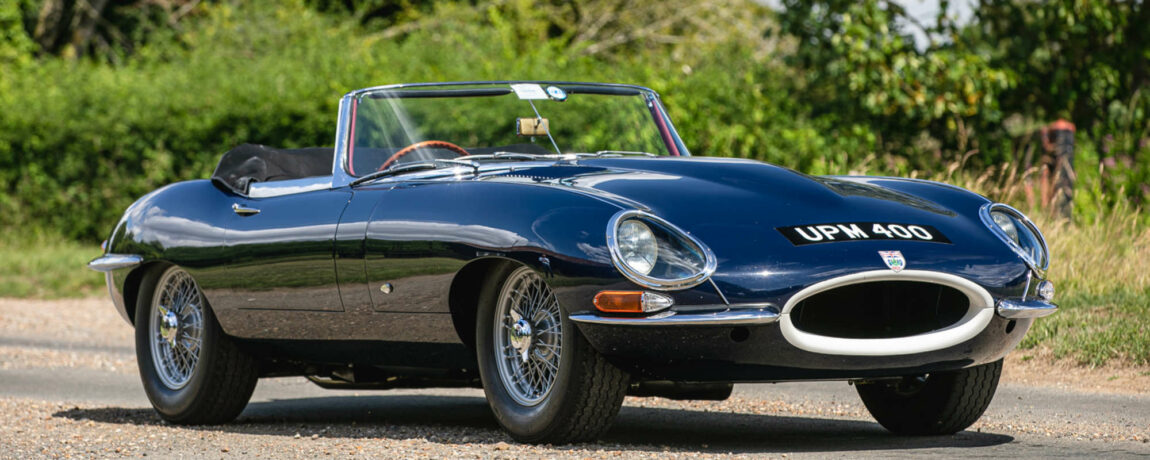 Interesting Info
25 Jul 2023
Iconic Auctioneers The Classic Sale
One of the advantages of being official finance partner to Iconic Auctioneers is that we get to be involved with some of the most interesting cars that come to the auction market. One of their biggest sales of the year, The Classic Sale, is no exception and each year sees some of the rarest and most interesting cars go under the hammer. The Classic Sale is just a month away and with consignments coming in thick and fast before the deadline, the lots are listed and ready to be lusted after.
The two-part sale, Race and Competition Cars on Friday 25th August and Collectors' Cars on Saturday 26th August, is part of the fantastic Silverstone Festival, a weekend of all things motorsport, live music, family fun and amazing food all at the home of British racing just in time for its 75th birthday. The event is an eclectic mix of everything motorsport from the latest Formula 1 cars to historic cars and everything in between.
With so many exceptional cars at the event it is only fitting that the cars on offer at the auction are equally as special, and this year's sale does not disappoint. Here is our breakdown of the Top 10 cars at this years Iconic Auctioneers The Classic Sale:
1961 Jaguar E-Type Roadster 'Project ZP' Ex-Tommy Sopwith Equipe Endeavour
You would imagine that the idea of concept or limited run cars aimed at teasing potential customers to part with their money is a relatively recent idea. Cars that are usually all sold out before anyone else can get a look in and the chance to own something exclusive and only available to the most loyal of customers. However, Jaguar were pulling the same trick way back in 1961 with the release of their new E-Type. By carefully releasing the first 50 cars to celebrities or racing drivers, they fuelled the demand and desirability of one of the most stunning cars of all time.
This particular E-Type is one of the first 50 cars, of which 7 of those were built to competition specification and allocated to racing drivers who would generate the most public impact for the newly released car. This example is one of just 4 cars that remain in its original configuration and was gifted to the Tommy Sopwith Equipe Endeavour racing team after being initially used by Sir William Lyons, 'Mr Jaguar', himself. This car is undoubtedly one of the most sought after Jaguar E-Types in the world and is a genuine opportunity to own a piece of the brand's illustrious history. Slated as the car the saved Jaguar Racing in the 1960's, the guide price is a reflection on this at £1,000,000-£1,250,000.
See more details: 1961 Jaguar E-Type Roadster 'Project ZP' Ex-Tommy Sopwith
1992 Subaru Legacy RS 'Group A'
Sticking with racing heritage and pedigree but from a different era and discipline is this part of motorsport royalty in the shape of a 1992 Subaru Legacy RS. Taking part in the 1992 RACMSA British Rally Championship, this car dominated the whole rally season in the hands of a certain Colin McRae, one of, if not the most iconic name in rallying history. Colin, with co-driver Derek Ringer, was the first driver to make it a clean sweep taking 6 wins out of 6 and take the British Championship in this very car.
Restored 15 years ago and with very little use since, the Legacy RS sports the iconic original Rothmans livery and was painstakingly returned to its original 1992 appearance with incredible attention to detail. Offered directly from the McRae family, this piece of rallying history showed the world what Colin was capable of and was one of the Scotsman's favourite cars. The guide price for this unique addition to any collection is £380,000-£450,000.
See more details: 1992 SUBARU LEGACY RS Group A Ex-Colin McRae
1998 Subaru Impreza STi 22B – Chassis #000/400 – Ex-Colin McRae
Whilst talking about the late great Colin McRae and his iconic affiliation with Subaru, the next lot is sure to be the most sought-after road-going model of one of their most iconic rally inspired models. The 22B is one of the most desirable Impreza models already, built to commemorate the marque's 40th anniversary and their third straight WRC manufacturer's world championship title. With much of the technology and engineering carried over from the world rally championship car, the 22B was the ultimate iteration of the ultimate 1990's rally car.
Delivered in November 1998, this Subaru Impreza STi 22B is one of the prototype 22B's and one of just 3 cars to bear the unique chassis number of 000/400 in existence. One was earmarked for Prodrive Technical Director David Lapworth, one for Colin's co-driver Nicky Grist, and one for Colin. As a personal favourite of his, as well as the resurgence in popularity and values of JDM cars, McRae's personal 22B is sure to be the most desirable example of this iconic road going rally machine. The guide price is set at £400,00-£500,000.
See more details: Colin McRae's Subaru Impreza STi 22B Chassis Number 000/400
The Professionals 1980 Ford Capri 3.0 S's
Whilst royalty may offer a certain level of provenance to a car, one (or two) that appears in an iconic tv show can often be even more in demand due to their popularity and cultural significance. The Professionals was one of the most legendary television shows of the late 1970's and early 1980's and featured relatable characters and a perfectly thought-out product placement for Ford of Britain. A Stratus Silver Ford Capri 3.0 S and a Solar Gold 3.0 S were to be, along with the actors, the stars of the show and no doubt influenced many Capri purchases up and down the country.
The pair of Ford Capri's driven by characters Bodie and Doyle were such an iconic part of the series that they are offered as a single lot, as separating them would devalue from their appeal and significance as much as the crime fighting duo. Both cars have received light restoration with a focus on attention to detail and retaining originality to the tv series. The guide price for both cars is £200,000-£230,000.
See more details: The Professionals 1980 Ford Capri 3.0 S – as driven by Doyle
The Professionals 1980 Ford Capri 3.0 S – as driven by Bodie
1989 FIA Ford Sierra RS500 – Ex-Andy Rouse (#0189)
Whilst some competition cars are retained by the manufacturers and preserved for historic purposes, many are sold to private individuals and sometimes disappear from the public eye. This particular car was driven and prepared for the 1989 British Touring Car Championship by Andy Rouse, achieving 6 race wins, 6 pole positions and finished 3rd in the Championship that year.
The car disappeared from public knowledge for almost 30 years and by chance was discovered to not only be sporting original parts and liveries underneath, but also was found to still have the original engine installed, something incredibly rare for a competition car of this nature. Authenticated by Andy Rouse himself, and driven at a recent BRDC Silverstone Track day by the driver, the car comes with a Letter of Authenticity to guarantee the provenance. The guide price for this piece of motoring history is available upon request.
See more details: 1989 FIA Ford Sierra RS500 Group A – ex Andy Rouse
1990 Lister Jaguar XJ-S 7.0-Litre Le Mans Cabriolet
Lister, as well as being one of the most iconic names in sports car racing, also has a reputation as building some of the most fearsome enhanced road cars over the years. Offering significant modifications to existing Jaguar vehicles and selling the cars as full Lister models, the synergy is so strong that they still produce Lister models of the very latest F-Type and F-Pace models today.
The Lister Jaguar XJ-S Le Mans Cabriolet takes the XJ-S Convertible as a base and provides a Lister-converted 7.0-litre V12 engine with twin superchargers, uprated clutch, spots suspension, enlarged brakes and a 5-speed manual gearbox. The result is a 604bhp monster with widened bodywork and exuberant styling. This particular example is one of just 5 cars produced in 1990 and cost more than 5-times the original donor cars price, at £167,000. The guide price for this piece of 1990's excess is £80,000-£90,000.
See more details: 1990 Lister Jaguar XJ-S 7.0-Litre Le Mans Twin-Supercharged
1983 Porsche 911 SC Targa
Classic Porsche models continue to be some of the most desirable and sought after cars and show no sign of dwindling interest any time soon. The late 1970's/late 1980's models in particular recently have seen prices rising more than most, especially for the most in demand stylish Targa models of the era. This particular car is not only a C16 UK-supplied low mileage example of the stunning SC Targa, but was also supplied new to the Channel Island of Jersey where it remained in the temperate climate until 2015.
Apart from recommissioning to be displayed at the 2015 Classic & Sports Car London Show, such is the originality of the car that it retains the underseal to the wheel arches from the factory and option code stickers. The car has covered just 8,600 miles since new and is a rare opportunity to purchase a low mileage SC Targa in such original condition with matching numbers. The guide price for this rare find is £100,000-£115,000.
See more details: 1983 Porsche 911 SC Targa – 8,653 miles
1974 Rolls-Royce Silver Shadow I – Ex-Eric Morecambe OBE
There was a time when every famous television, sports or film star seemed to have their picture taken next to their brand-new Rolls Royce of some variety, this next car owner was no exception. Morecambe and Wise were the biggest names in comedy during the 60's and 70's and their fame and popularity meant that Eric Morecambe was able to buy this particular Walnut Brown 1974 Rolls Royce Siler Shadow I from new.
Still wearing its famous owner's cherished number plate, itself a valuable prospect, the car has never been restored yet remains in good condition for its age. Recent bills in excess of £15,000 show that it has been maintained mechanically to a very high standard. Whilst the number plate itself has previously been valued in excess of £10,000, the guide price for this exceptional vehicle from one of comedy's greatest figure is just £35,000-£40,000.
See more details: 1974 Rolls-Royce Silver Shadow I – ex-Eric Morecombe OBE
1973 BMW 3.0 CSL
The BMW 3.0 CSL was a homologation special built to ensure the car was eligible to enter the European Touring Car Championship. Stripped out, made from thinner steel for the body as well as lighter aluminium for the doors, bonnet and boot, the CSL was one of the most fearsome performance saloons of its day.
This stunning example has covered just over 30k miles and is offered in fantastic condition both inside and out. Many original features remain including the toolkit supplied with the car and the attention to detail of the restoration work is exceptional. The guide price for this 70's icon is £85,000-£105,000.
See more details: 1973 BMW 3.0 CSL
1987 Porsche 911 (930) Turbo 3.3-Litre
It may be the second classic Porsche 911 on our breakdown, but it was difficult to choose between the two. The earlier SC Targa is offered in fantastic condition and has exceptionally low mileage for its age, whilst this car is a rare example of the much sought after Turbo from 1987. At the time of its introduction, the 3.3-litre 300bhp 930 Turbo was the fastest accelerating car around but it was so much more than that, the interior set new standards for luxury in a 911 as well as offering more equipment than ever before.
This particular C16 UK car is believed to be the only example in the country that is finished in Lagoon Blue metallic. It was originally purchased by the current owner of 22 years due to the quality of its condition and comes with an extensive and detailed history file. The car has covered just 11,500 miles in that time and is a testament to its former keepers. The guide price for this highly desirable classic Porsche model is £90,000-£110,000.
See more details: 1987 Porsche 911 (930) Turbo 3.3-Litre
See all Collector's Cars and Competition Car lots here: The Classic Sale at Silverstone Festival 2023
Oracle Auction Car Finance
At Oracle Finance we specialise in finding funding for cars that are to be bought at auction. Our expert Account Managers use our panel of specialist lenders to help you to find the perfect package, bespoke to you and your circumstances. We could help to get you approved at the top end of your budget up to 90 days before an auction with an agreement in principle, so that when that hammer drops, your funding is in place, and you are ready to purchase the car of your dreams.
Our team are always on hand should you have any questions about arranging car auction finance and your dedicated Account Manager is ready to take your call today. With the Iconic Auctioneers sale just weeks away, why not speak to us now and get your funding in place before you miss being able to place that winning final bid.
Read more about our Auction Car Finance here: Auction Car Finance
Why Choose Oracle?
With over 1,800 Trustpilot reviews and a rating of 5 out of 5, and four-time consecutive award winners of the Best Specialist Car Finance Provider award from 2020 through to 2023, as well as having funded over £1.7 billion of vehicles and counting, you too can find out why thousands of people trust us time and time again to find a smarter, tailored funding solution when looking for your next dream car.
Make sure you follow us on Instagram, LinkedIn and Facebook to keep up to date with what's happening in the market and to see some stunning photos and videos of the amazing cars we fund.

Ready to know more?
Let Us Put You in the Driving Seat
Whether you're looking to arrange the finance on your next car, refinance an existing agreement or release equity from your current vehicle, your dedicated Account Manager will find a funding solution that's perfectly tailored to your needs.