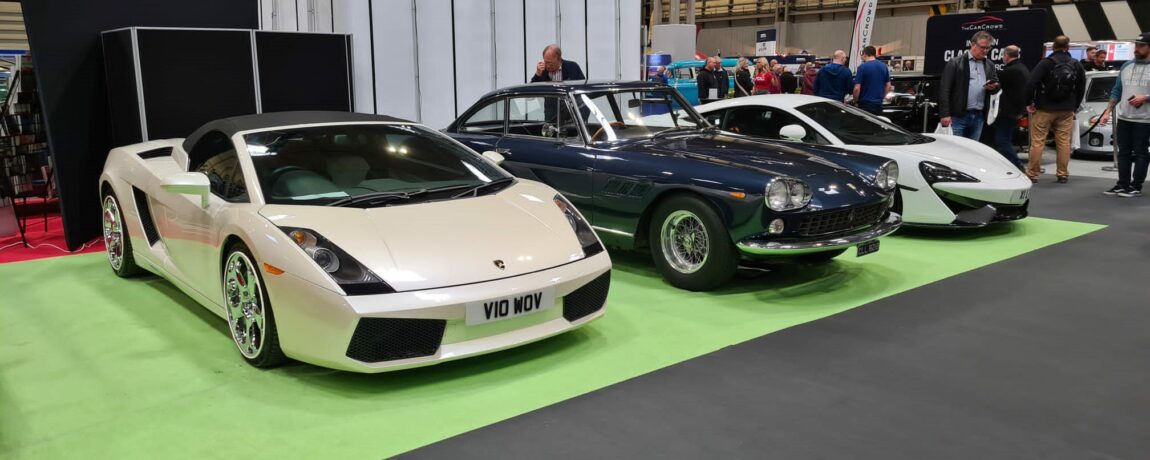 NEC Classic Motor Show – Oracle Overview
Wow, what an incredible weekend! It was amazing to speak with so many classic car enthusiasts at the NEC Classic Motor Show and embrace some of the most iconic classic cars of our time.  The team loved getting know so many new customers and being to finally meet some loyal customers face to face for the first time.
The Silverstone Auction was most certainly a big highlight for us, it was very special to see so many sports, prestige and classic cars go up for sale. Our expert team were on hand throughout the auctions to help people with their funding solutions and were thrilled to watch so many people get behind the wheel of their dream cars.
Here are some of our favourite cars from the auction:
Ferrari 330
The 1966 Ferrari 330 GT 2+2 Series II has got to be Oracle's favourite classic Ferrari of the weekend. Despite being powered by a 4.0 litre 300-bhp engine, the car was initially introduced in 1964 and manufactured with tin-headlights. The controversial design hadn't been received well, so was then redesigned with single headlights.
AC Cobra
The AC Cobra can't go under the radar without an honourable mention. It was launched in 1962 grabbing headlines around the globe, and even managed to rival the popular Corvette at the time! Click here to see a beautiful AC Cobra we funded last September with a slick blue coat and elegant red interior.
 Lotus Esprit
In case you didn't know… we're big Bond fans here at Team Oracle. It was an absolute treat to see the 2001 Lotus Esprit GT V8 going up for auction. This model is admired by modern classic car enthusiasts around the world. Despite not being chased by a helicopter and transforming for an underwater escape at the NEC, it was still a sight to see for all.
 Porsche 550
As the official finance partners of Porsche Club Great Britain, we love seeing classic Porsche cars. A 1955 Porsche Chamonix 550 Spyder going for auction was truly a dream come true. The 1915cc engine provides exceptional performance, which is complimented by the smooth handling from the tubular chassis and coil-over suspension. It even displays a painted red highlight over the rear wings with golden edgings and has only been driven a total of 3,500 miles!
 Jaguar E-Type
Next up is the 1961 Jaguar E-Type 3.8 Roadster Flat Floor which is the very first production of the E-Type series, and also recognised by Enzo Ferrari as 'the most beautiful car in the world'. The conventional 3.8 six-cylinder engine inspired by that of the Jaguar XK150, has been fully restored while conserving many features of Jaguar's initial 1961 production.
 Aston Martin Lagonda
Finally, we have the 1979 Aston Martin Lagonda. Ever since Aston Martin's restoration in 1986, the car hadn't been fully restored up until recently. The 5.3 litre V8 engine gives even some of the modern-day cars a run for their money. Regardless of a 7.9 second 0-60mph time, the Lagonda can climb to a top speed of 145mph.
We hope you enjoyed the NEC Classic Motor Show as much as us, and it was fantastic to speak with you all about your favourite classic cars and discuss your funding options in person at the event.
Don't worry if you weren't able to make it to the event. If you're looking to finance, refinance or release equity on your next classic car, you can get your obligation free quote by giving us a call on 0800 012 6666, or click here and complete our short online quote form.
Why not check out some of the amazing cars recently funded by oracle? Head on over to our social media channels and give us a follow on: Facebook, Instagram or LinkedIn.

Ready to know more?
Let Us Put You in the Driving Seat
Whether you're looking to arrange the finance on your next car, refinance an existing agreement or release equity from your current vehicle, your dedicated Account Manager will find a funding solution that's perfectly tailored to your needs.