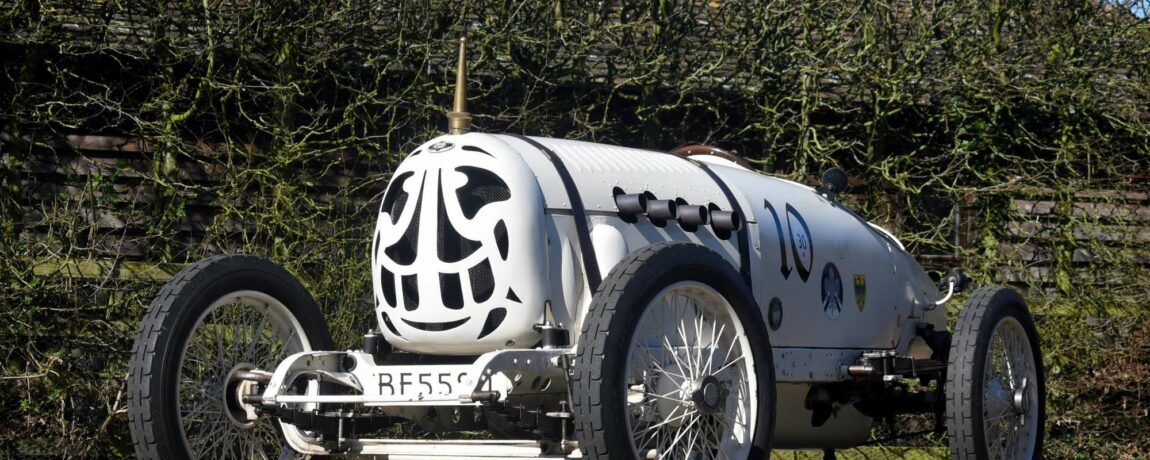 Interesting Info
14 Jul 2023
Silverstone Auctions: Dawn of Motoring Sale
Our partnership with Silverstone Auctions means that we get to see a wide range of vehicles from all ages and for all budgets go under the hammer throughout the year. One of their more unusual sales is just over 2 weeks away, the Dawn of Motoring Sale at The Lygon Arms, Broadway, in the heart of The Cotswolds. As part of the Vintage Sports Car Club's Vintage Prescott weekend, the sale sees pre-war motor cars, motorcycles and automobilia go on sale to celebrate the early years of motoring.
Here we have put together a quick look at the cars that have caught our eye in the catalogue so far.
1914/18 Fafnir Hall-Scott Aero Engined Special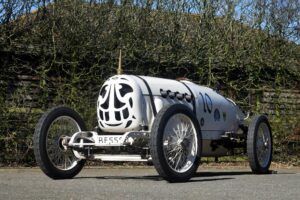 Having the word 'Special' in its title is very apt for this feat of engineering from 1914. Fafnir racing were renowned for their supercharged four-cylinder engines back in their heyday, so this 10-litre Hall-Scott Aero engine creation was something very out of character. It may 'only' produce 100bhp from its 10-litres, but the 480lb-ft of torque is apparently available at almost any speed and despite only revving to 1,800rpm it is said to be good for 100mph. Seemingly not just in one direction either as the car has four reverse gears as well as the four forward ones.
The car is one of just a handful of Fafnir chassis known to exist and has recently had an engine rebuild and had the interior reupholstered. With the ground shaking rumble emitted from the monstrous engine, the vehicle is also supplied with a 'Touring Package' complete with silenced exhaust pipes and Marchal headlamps. The Guide price for this superb example, also eligible for the Vintage Sports Car Club and S.F Edge Trophy at the Goodwood Member's Meeting is £120,000-£150,000.
See more details: 1914/18 Fafnir Hall-Scott Aero Engined Special
1924 Rolls Royce 40/50bhp Silver Ghost Springfield Pickwick Limousine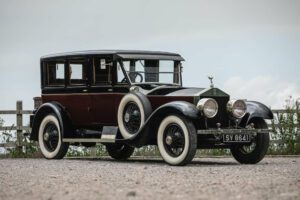 A very impressive example of a 1924 Ghost is an early example of a Springfield Willoughby-bodied Pickwick town car finished in stunning Black over Royal Garnet. The Silver Ghost was famed for its magnificent engine, in this example a 7.0-litre side-valve six-cylinder motor, and this particular car is offered in superb running order, to such an extent that it will be driven to the sale directly from Somerset.
Showing just 63,000 miles in almost 100 years since new, the car is apparently not only visually in exceptional condition but also drives 'in a manner that only comes with cars that have never been apart since leaving the factory'. The strong engine performs extremely well and not only starts readily but has a 'go anywhere feel to it'. This fantastic example has a guide price of £90,000-£120,000.
See more details: 1924 Rolls-Royce 40/50hp Silver Ghost Pickwick Limousine
1913 Wolseley Siddeley M6 24/30hp Torpedo Phaeton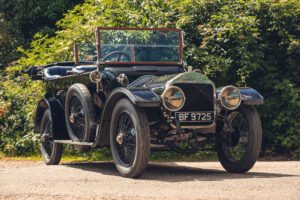 Wolseley is one of the most iconic names of vintage motoring in Britain and although no longer producing cars, during the Edwardian period it was one of the foremost car makers in the country. This particular model was part of a 1960's Canadian barn find of early Wolseley models and underwent significant restoration over its lifetime, passing through ownership at one point of the President of the Veteran Car Club of GB.
The 5.0 litre six-cylinder side valved engine it said to run 'particularly well' and the ash frame fully restored with a new steel body formed and finished in Midnight Blue. The interior has been superbly trimmed in button-back Navy Blue leather and a new hood and tonneau cover complete the refit. This fine Edwardian touring car is ideal for Veteran Car Club and Vintage Sports-Car Club Light Car as well as Edwardian events, and has a guide price of £38,000-£45,000.
See more details: 1913 Wolseley Siddeley M6 24/30hp Torpedo Phaeton
1911 Vauxhall Prince Henry 20hp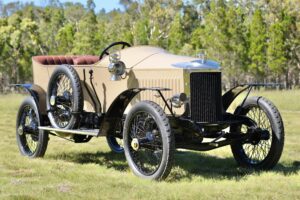 The Vauxhall Prince Henry was considered as the very first sports car and one of the fastest cars of its day. It was widely thought of as the ultimate Edwardian touring car thanks to its spritely performance and light weight making the car more nimble than most.
This particular example has been painstakingly restored to replicate the Works Russian Reliability Trial car of 1911, an event involving standard road cars to test their durability and performance over hundreds of hundreds of kilometres. The car runs and drives without fault and is a very usable motor suitable for a plethora of motorsport events. The guide price for a piece of motoring history is £250,000 –£350,000.
See more details: 1911 Vauxhall Prince Henry 20hp
1925 Rolls Royce Phantom I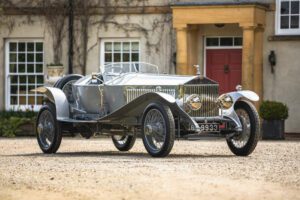 After 18 years in production, the Rolls Royce Ghost had earned itself the reputation as the 'Best Car in the World' thanks to the efficiency, reliability, performance and of course levels of engineering that went into its production. In 1925 when the Phantom I was released as a successor and offered a third more horsepower from the 7.7-litre six cylinder engine. The model was a huge success and maintained Rolls Royce's reputation at the very top of the motoring ladder.
This particular car was previously owned by King Mohammed V of Morocco and specially prepared by talented Rolls Royce racing driver James Radley. It has recently undergone a fastidious and detailed restoration process that has taken some 40 years to complete, with final touches been made just this year. The standard of finish is exceptional befitting for such a special car, and it goes under the hammer with a guide price of £130,000-£150,000.
See more details: 1925 Rolls-Royce Phantom I
Oracle Auction Car Finance
At Oracle Finance we specialise in finding funding for cars that are to be bought at auction. Our expert Account Managers use our panel of specialist lenders to help you to find the perfect package, bespoke to you and your circumstances. We could help to get you approved at the top end of your budget up to 90 days before an auction with an agreement in principle, so that when that hammer drops, your funding is in place, and you are ready to purchase the car of your dreams.
Our team are always on hand should you have any questions about arranging car auction finance and your dedicated Account Manager is ready to take your call today. With the Silverstone Auction just weeks away, why not speak to us now and get your funding in place before you miss being able to place that winning final bid.
Read more about our Auction Car Finance here: Auction Car Finance
Why Choose Oracle?
With over 1,800 Trustpilot reviews and a rating of 5 out of 5, and four-time consecutive award winners of the Best Specialist Car Finance Provider award from 2020 through to 2023, as well as having funded over £1.7 billion of vehicles and counting, you too can find out why thousands of people trust us time and time again to find a smarter, tailored funding solution when looking for your next dream car.
Make sure you follow us on Instagram, LinkedIn and Facebook to keep up to date with what's happening in the market and to see some stunning photos and videos of the amazing cars we fund.

Ready to know more?
Let Us Put You in the Driving Seat
Whether you're looking to arrange the finance on your next car, refinance an existing agreement or release equity from your current vehicle, your dedicated Account Manager will find a funding solution that's perfectly tailored to your needs.