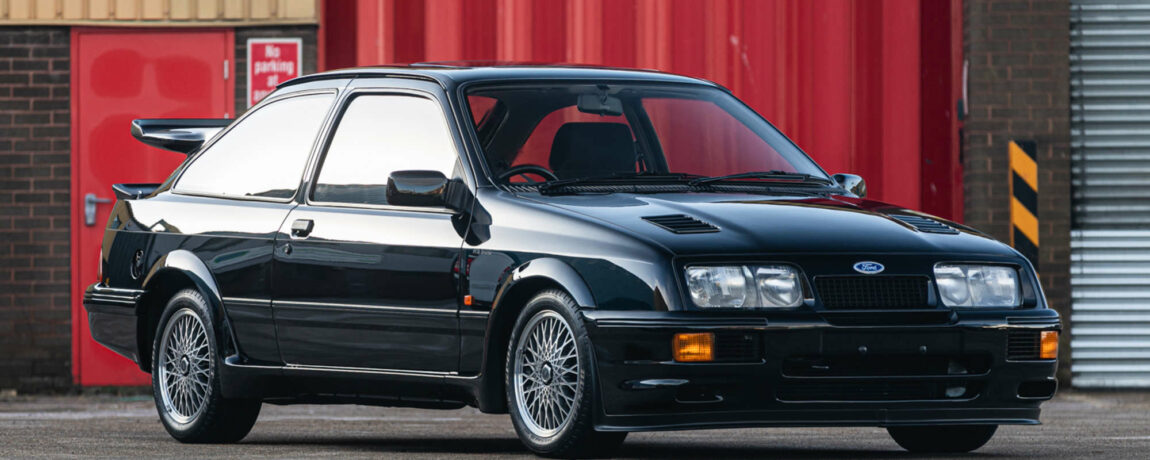 Interesting Info
30 Jan 2023
Silverstone Auctions Race Retro – Ford Sierra Cosworth RS500
The start of a new year brings the chance to look forward to a whole new calendar of car events for 2023. Our partnership with Silverstone Auctions as their official finance partner means that we have a whole year of auction sales to get excited about and the incredible vehicles that will be going under the hammer. The first of their upcoming sales is the Race Retro Classic and Competition Car sale on 25th February at Stoneleigh Park in Warwickshire, and quite a few of the consignments have already caught our eye as some very special cars. In the lead up to the sale, we will be looking at some of the cars that we can't wait to see at the sale and that we are highlighting for our existing and potential customers should you wish to arrange auction car finance for in the run up to the sale.
1987 Ford Sierra Cosworth RS500
In the 1980's and 1990's 'Fast Fords' were the ultimate in performance cars for everyone. Their excessive styling, uprated power and accompanying success from their motorsport equivalents meant that they were the cars to be seen in. Their desirability for the era is legendary and surpassed only by the extortionate insurance premiums they once commanded. These days a Fast Ford is still regarded as one of the best in the business, but nowhere near the iconic status they once had.
Despite this, the enthusiasm for the brand at auction shows no sign of relenting, and Fast Fords for every generation are generating record breaking prices in recent years. Towards the end of last year, the NEC Classic Motor Show sale saw no fewer than 7 world record prices achieved for certain models, with 4 of these being Fords. One of the standout records broken was for a 1986 Ford Sierra RS Cosworth, selling for £132,750 and beating the record set by a rarer RS500 model sold a few years earlier.
Race Retro Sale
At the upcoming Race Retro sale, chances are that record will be beaten once again. Up for auction is a 1987 Ford Sierra Cosworth RS500, the more sought-after version of the original 'Whale Tail' model. One of just 500 cars produced that were hand built by Aston Martin Tickford to RS500 specification, an evolution special of the homologation RS Cosworth model.
This particular example was originally purchased 14 years ago after a search for the best RS500 possible, with this car selected for its immaculate condition and unmatched originality. Despite nearing 36 years since the car was new, it has covered just 5,200 miles and has been maintained regularly by a Ford specialist known for their concours levels of attention to detail.
The level of originality extends to factors such as a supply of new/old stock oil filters and fuel filters, the very ones supplied to the car from the factory as opposed to modern equivalents. The car also comes with original wheels and tyres, date stamped to show authenticity and stored separately to avoid the car sitting on the originals for prolonged periods.
Last year the car underwent a full re-commissioning service using factory original parts by the same Ford specialists, extending to replacement engine oil and filter, spark plugs, fuel filter, cambelt and a new battery. Many of the parts used have not been available for a number of years and are a testament to the cars fastidious originality. Even the factory fog lights are in the boot ready to be fitted by the dealer, the original exhaust remains on the car and as you would expect, the extensive history file and receipts detailing the works are present.
The Lot
This Lot truly represents a unique opportunity to purchase a unique part of Fast Ford history, and one unlikely ever to be seen again due to the originality and time-warp details on this example. The guide price is set at £150k-£180k, but that could turn out to be a very conservative estimate judging by the recent prices of collectable Ford models. A superb opportunity to add not only a desirable model to a collection, but likely to be the very best example you will find.
See more details here: 1987 Ford Sierra RS Cosworth RS500-Auction Lot (silverstoneauctions.com)
Oracle Auction Car Finance
At Oracle Finance we specialise in finding funding for cars that are to be bought at auction. Our expert Account Managers use our panel of specialist lenders to help you to find the perfect package, bespoke to you and your circumstances. We could help to get you approved at the top end of your budget up to 90 days before an auction with an agreement in principle, so that when that hammer drops, your funding is in place, and you are ready to purchase the car of your dreams.
Our team are always on hand should you have any questions about arranging car auction finance and your dedicated Account Manager is ready to take your call today. With the Silverstone Auction just weeks away, why not speak to us now and get your funding in place before you miss being able to place that winning final bid.
Read more about our Auction Car Finance here: Auction Car Finance
Why Choose Oracle?
With 1,500 Trustpilot reviews and a rating of 5 out of 5, and three-time consecutive award winners of the Best Specialist Car Finance Provider award from 2020 through to 2022, you too can find out why thousands of people trust us time and time again to find a smarter, tailored funding solution when looking for your next dream car.
Voted Best Specialist Car Finance Provider three years in a row at the Car Finance Awards 2020, 2021 and 2022 having funded over £1.7 billion of vehicles and counting.
Make sure you follow us on Instagram, LinkedIn and Facebook to keep up to date with what's happening in the market and to see some stunning photos and videos of the amazing cars we fund.

Ready to know more?
Let Us Put You in the Driving Seat
Whether you're looking to arrange the finance on your next car, refinance an existing agreement or release equity from your current vehicle, your dedicated Account Manager will find a funding solution that's perfectly tailored to your needs.