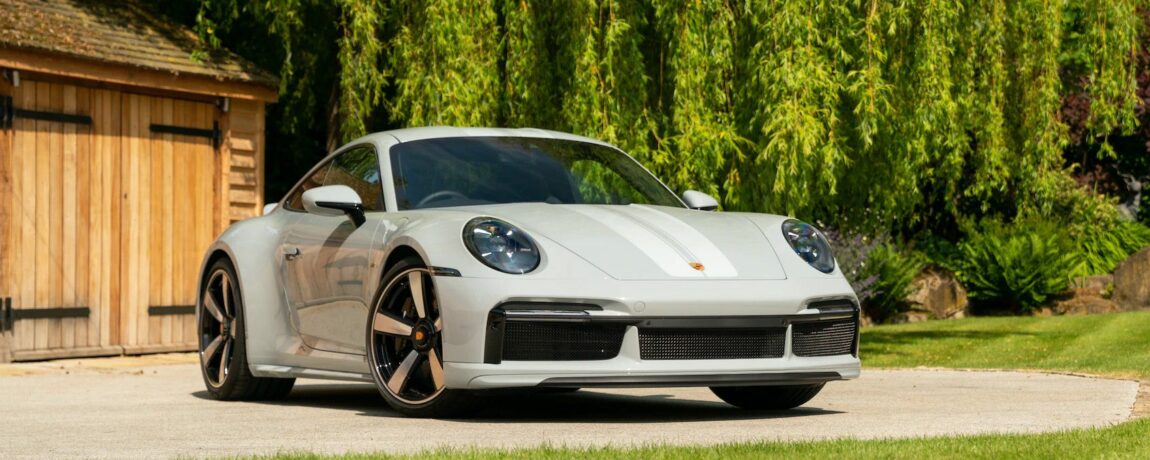 Collecting Cars / Porsche Club GB Sale
Our official partnership with Porsche Club GB means we can offer our expertise and knowledge of the brand to ensure our customers get the perfect bespoke finance package for their circumstances. We know the difference a Porsche can make and what makes them so special resulting in the enthusiasm that owners have for their cars. As our No.1 funded sports car manufacturer, with the 911 being the most popular model we fund out of all our cars, the partnership between Oracle Finance and Porsche Club GB are a perfect combination.
For over 60 years, Porsche Club GB have been providing their 22,000 members with a place to discuss their cars, meet up with other like-minded enthusiasts and provide a wealth of knowledge about their pride and joy. The club is the largest officially recognised Porsche car club in Europe and is 'the' place for not just Porsche owners young and old, but also Porsche models new and old.
This week they have a feature with popular online auction site, Collecting Cars, for a special dedicated sale of over 70 Porsche's for all budgets and from all eras of the brand. With everything from classic cars from the 1960's to brand new 992 911 models and rare and sought after variants of a variety of some of their most iconic cars from over the years.
Here is our breakdown of our favourite examples up for auction from the Collecting Cars Porsche Sale:
2023 Porsche 911 Sport Classic (992)
The Sport Classic was first seen in 2009 with the 997.2 generation and was a kind of 'greatest hits' compilation of some of the most iconic features from 911's over the past few decades. With just 250 cars built it was also one of the rarest 911 models ever to be made, for example they made almost 4 times more 918 Spyder's. Thanks to the strong prices and the collector status that the original has created, Porsche decided to give it another go with the 992 Sport Classic.
The 992 Sport Classic this time around offers something no other 911 does, the wider body from the Turbo, minus the wheel arch intakes, with rear wheel drive and a manual gearbox. The popularity of the previous iteration means that the limited run has now grown to 1,250 examples and so has the price, now £75k more than the original's list price. Thankfully the same recipe for retro inspired styling is still abundant and the Sport Classic remains one of the best of the range.
This particular example has covered just 249 miles since new and is finished in the iconic shade of Sport Grey with White stripes over the top. With an extensive specification that features all the right options, this car is sure to be a fantastic addition to any Porsche enthusiast's garage.
See more: 2023 PORSCHE 911 (992) SPORT CLASSIC
For those looking for an original 997 Sport Classic example, there is also one of those up for auction too here: 2010 PORSCHE 911 (997) SPORT CLASSIC
1983 Porsche 911 Turbo (930)
If retro styling is what you are looking for, nothing shows it better than a 911 from the 1980's. The 930 Turbo iteration of 911 is pure 1980's excess with heavily flared wheel arches, deeper front bumper, huge 'tea tray' rear spoiler and, massive reserves of power sent to the rear wheels only. The result of all that power meant that the car was given the nickname of 'widow maker' thanks to the challenging handling.
This particular example was originally owned by award-winning music producer for Pink Floyd, James Guthrie. During his ownership it was sent to the now named Porsche 'Exclusive Manufaktur' division to be fitted with the factory Performance Package, equipping the car with an uprated turbocharger, modified fuel injection, uprated oil cooler, side air intakes, quad exhaust system, lowered suspension and more. A package that at the time cost an additional two-thirds of the price of the car.
Finished in stunning Guards Red, the car comes with an extensive history including the receipts for the Performance Package works and substantial service history. This exceptional car is a fantastic example of one of the most iconic versions of the 911, especially with the rare factory upgrades, with the additional provenance from the first owner.
See more details: 1983 PORSCHE 911 (930) TURBO – FACTORY PERFORMANCE PACKAGE
2006 Porsche Carrera GT
The Carrera GT was Porsche taking advantage of an secret Formula 1 engine project that was abandoned, later resurrected for a Le Mans prototype and then utilised for a road car. The resulting car used a 5.7 litre naturally aspirated V10 engine that delivers 612PS, has a top speed in excess of 200mph and road tests recorded a 0-62mph time of just 3.5 seconds. It also pioneered the use of carbon fibre for the monocoque and subframe adding to the racing derived features. Originally 1,500 cars were planned however production was ended early due to regulation changes and 1,270 were eventually sold.
This particular example is currently situated in Kuwait and offered in rare Fayence Yellow, a colour that it is believed just 89 cars left the factory in, and has covered just 11k km since new. The current owner, one of just 2, has owned the car for the past 17 years and has recently been serviced and had the fuel tank and pump changed at a cost of £60k. The value of Carrera GT's seems to be on the rise in recent years and they are widely considered to be one of the greatest modern classic supercars. An exceptional and rare car that would be a fantastic addition to any Porsche or modern classic collection.
See more details: 2006 PORSCHE CARRERA GT
2010 Porsche 911 GT3 RS (997.2)
Of all the iconic performance 911 variants produced over the years, the 997 GT3 RS is one of the most sought after of them all. With 450PS on offer, weight stripped from the already lightweight model, and rear wheel drive, the on-track performance is stuff of legend. Performance so impressive in fact that Porsche test drivers, with only regulatory modifications to safety, entered the 12 hours of Nürburgring with a standard road car driven 300km from Weissach to Nurburg, compete in the race, of which 145 laps were completed before ill health forced retirement, then driven back again afterwards.
This stunning example is finished in timeless Carrara White with contrasting Guards Red details, graphics and 19" centre-lock wheels. The interior is Black leather and Nomex 'RS' upholstery with Alcantara detailing. The car has covered just 28k miles and comes with an extensive factory specification as well as documentation and service history, as well as a coveted extended Porsche warranty.
See more details: 2010 PORSCHE 911 (997.2) GT3 RS
2015 Porsche 911 GT3 RS (991)
Following up on one of your most highly praised performance cars is bound to be a difficult task, however Porsche seem to have no problems with that time and time again. Following the 997 GT3 RS, the 991 version had to be more than impressive in order to satisfy their avid fans, they were not disappointed. Ask most performance car enthusiasts which car they would choose to take to a track day and the majority who know their stuff would opt for a 991 GT3 RS. With a 4.0 litre flat-six engine sending 493bhp to the rear wheels and controlled by the heralded seven-speed PDK transmission.
This particular car has covered just 500 miles since new and represents one of the best chances to acquire a nearly new example of this iconic model from Porsche's illustrious history. Finished in stunning Ultraviolet, the car has just 2 owners, the current owner who has owned the car since it was just 1 month old, and has been part of a long term collection, humidity control stored and only being occasionally driven to test the mechanicals. An exceptional example of a legendary 911 model and in 'as new' condition, this GT3 RS is sure to be a fantastic investment or addition to any collection.
See more details: 2015 PORSCHE 911 (991.1) GT3 RS
2002 Porsche 911 GT2 Clubsport (996)
If any model shows the unleashed potential of a 911 it is the GT2. The most powerful and visceral iteration of the model with more power, less weight and higher speeds. The 996 version was unusual as it was developed primarily for the road from the beginning, rather than being a marginally toned down racing car. This did not mean it was any less fearsome however, with 462PS from a 3.6 litre twin-turbocharged flat-six engine sent to the rear wheels through a manual transmission.
This particular example is believed to be one of just 70 'Clubsport' cars produced and one of just 20 built in right hand drive. Impressively original and unmodified, this 2002 GT2 Clubsport is finished in Basalt Black with extended Black leather interior trim with lightweight cloth covered Recaro bucket seats. With just 26k miles covered, the car has been with its current owner for the past 12 years and benefits from being recently serviced with Porsche specialists. A fantastic example of a very rare and sought after ultimate performance 911 variation.
See more details: 2002 PORSCHE 911 (996) GT2 Clubsport
1957 Porsche 356 A Speedster
Early classic Porsche models are some of the most expensive of all and are becoming increasingly sought after amongst collectors. The 356 A Speedster from the 50's and 60's is one of the most stylish and in demand models popular amongst enthusiasts, celebrities and connoisseurs of the Porsche brand.
Offered in fantastic condition, this 1957 356 A Speedster looks effortlessly chic in its all-Black colour combination, complete with removable Black hood and chrome trim. With a 1.6 litre flat four engine and a four-speed manual transmission, the car is the perfect cruising vehicle for the summer for any classic car enthusiast. It comes complete with a coveted Porsche Certificate of Authenticity and comprehensive detail of previous restoration work.
See more details: 1957 PORSCHE 356 A SPEEDSTER
1989 Porsche 911 Speedster (930)
If you are looking for the perfect summer cruising vehicle but something that is a little bit more modern, you need look no further than the 911 Speedster. A tribute to the 356 A Speedster of the 1950's, the car is a low roof version of the Cabriolet and came in narrow body or 'turbo-look'. The 930 generation was offered in limited production numbers, just 64 right hand drive examples came to the UK and was offered with the 3.2 litre flat-six delivering 228bhp via a 5-speed manual gearbox.
This stunning 1989 C16 UK example has covered just 30k miles in its near 34 years since new and is finished in Silver Metallic with Red convertible roof and Burgundy leather interior. The iconic lines are finished off perfectly by the legendary Fuchs alloy wheels finished in Satin Black with polished rims. The car comes with an extensive service history as well as original manuals and invoices and is a fantastic example of a highly sought after car.
See more details: 1989 PORSCHE 911 3.2 SPEEDSTER
If you are interested in any of the cars above, or any of the 70 cars available as part of the Collecting Cars Porsche Sale, take a look at the full listings HERE. The lots are now live and end this Sunday 18th June so plenty of time to find your dream Porsche and get your funding in place.
Oracle Auction Car Finance
At Oracle Finance we specialise in not only finding funding for Porsche's, with over 500 funded last year alone, but also cars that are to be bought at auction. Our expert Account Managers use our panel of specialist lenders to help you to find the perfect package, bespoke to you and your circumstances. We could help to get you approved at the top end of your budget up to 90 days before an auction with an agreement in principle, so that when that hammer drops, your funding is in place, and you are ready to purchase the car of your dreams.
Our team are always on hand should you have any questions about arranging car auction finance and your dedicated Account Manager is ready to take your call today. With the Collecting Cars auctions ending this weekend, why not speak to us now and get your funding in place before you miss being able to place that winning final bid.
Read more about our Auction Car Finance here: Auction Car Finance
Why Choose Oracle?
With over 1,700 Trustpilot reviews and a overall rating of 5 out of 5, and as four-time consecutive award winners of the Best Specialist Car Finance Provider award from 2020 through to 2023, as well as having funded over £1.7 billion of vehicles and counting, you too can find out why thousands of people trust us time and time again to find a smarter, tailored funding solution when looking for your next dream car.
Make sure you follow us on Instagram, LinkedIn and Facebook to keep up to date with what's happening in the market and to see some stunning photos and videos of the amazing cars we fund.

Ready to know more?
Let Us Put You in the Driving Seat
Whether you're looking to arrange the finance on your next car, refinance an existing agreement or release equity from your current vehicle, your dedicated Account Manager will find a funding solution that's perfectly tailored to your needs.