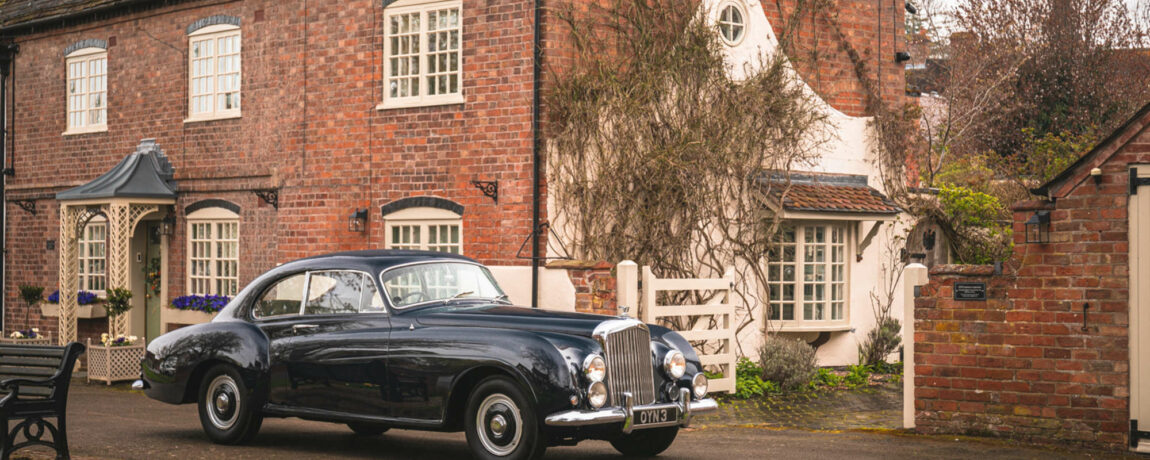 Interesting Info
9 May 2023
Supercar Fest Sale – Ones To Watch
The Supercar Fest Sale of Iconic, Classic and Supercars Silverstone Auctions sale is one of their biggest events of the calendar. With over 110 lots of classics and supercars consigned to the event there is something for everyone's taste and the possibility to add to a stunning addition to your collection. With so many exceptional cars to choose from it is difficult to pick highlights of those going under the hammer on Saturday 20th May. However, we have put together a brief list that we think are the ones to watch out for at next weekend's Silverstone Auctions sale.
1954 Bentley R-Type Fastback Continental Coachwork by H.J. Mulliner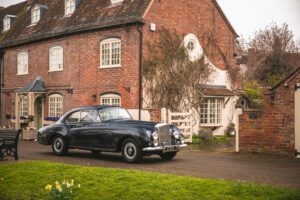 Described by Silverstone Auctions as 'one of the finest R-Type Continentals in existence today', just 208 of the hand crafted coach built cars were made. The car was subject to a complete cosmetic rebuild that took over 2 years and subsequently took part in various Concours d'Elegance events post restoration such was the standard of work. The guide price for this car is £600k-£700k and based upon previous examples sold this may prove to be a fairly conservative estimate to the final selling price.
See more: 1954 Bentley R-Type Fastback Continental by H.J. Mulliner-Auction Lot
1991 Williams F1 'Red 5' FW14 Display Car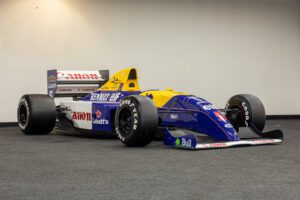 One of just 3 factory-built display cars fitted with genuine panels from the FW14 Williams F1 car and finished in the livery of Nigel Mansell's race car complete with Red number 5. The other 2 have previously been sold at Silverstone Auctions sales and the third completes the collection. The perfect addition to any collection or to use as the ultimate display in a corporate environment, the list price for this exceptional display car is £40k-£50k, a snip of the £2 million paid for one of the original F1 cars.
See more: Williams F1 'Red 5' FW14 Display Car
2006 Ferrari F430 Challenge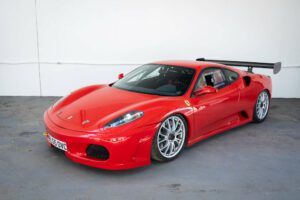 If you are looking for your racing car to be a bit more functional, Lot 845 is this stunning factory 2006 Ferrari F430 Challenge racing car. One of just 142 examples built, this particular car has the unique feature for those brave enough of being UK-road registered. There can't be many road going Ferrari's that also have a successful race history at the same time, with 7 race wins under its belt. With a guide price of just £85k-£95k, you too can drive your very own 4.3 litre V8 racing Ferrari to the track, around the track, and then back home again.
See more: 2006 Ferrari F430 Challenge-Auction Lot
2000 TVR Cerbera Speed 12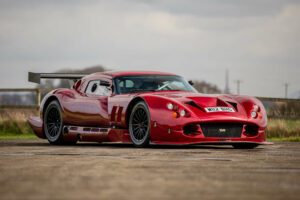 If the Ferrari is a bit too tame as a racing car for the road, there is the opportunity to purchase a true extreme 1 of 1 in the form of the 2000 TVR Cerbera Speed 12. As featured in our previous blog post HERE, the 2000 TVR Cerbera Speed 12 is as about as extreme as you can get whilst being allowed to drive on the public roads, and it is unlikely to be outdone any time soon. The estimate for this car is available on request, a sign at how valuable and sought after this legendary car is likely to be.
See more: 2000 TVR Cerbera Speed 12 -Auction Lot
2022 Porsche 911 (992) GT3 Touring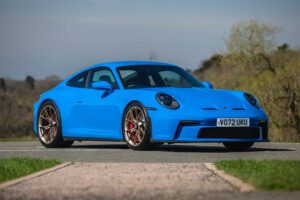 For those looking for their track honed performance car to include a bit more comfort and usability, there is the perfect solution in this 2022 Porsche 911 (992) GT3 Touring. The 'Touring' version of the iconic GT3 features all of the power and capability of the GT3, with a more reserved styling approach and focus on grand touring ability rather than ultimate track performance. With just over 700 miles covered, this nearly new example is finished in vibrant Shark Blue and comes with the connoisseur's choice of a manual gearbox. The perfect opportunity to beat the waiting lists and purchase this highly sought-after car with a guide price of £175k-£200k.
See more: 2022 Porsche 911 (992) GT3 Touring -Auction Lot
1949 Alfa Romeo 6C 2500 Super Sport Cabriolet Coachwork by Pinin Farina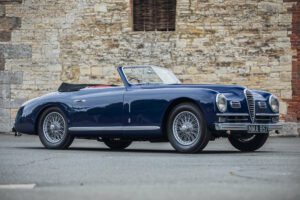 From the most modern car available to one of the oldest, with this stunning Alfa Romeo 6C from 1949. Built in a time when 'coachwork' and 'hand-crafted' were still a sign of passion and engineering knowhow that goes into a car, this beautiful 6C comes with an extensive history and benefits from an extensive restoration in 2009. Offered in fantastic condition and being a Super Sport it highlights the era of bespoke styling and fastidious attention to detail. The guide price for this example is a healthy £280k-£340k.
See more: 1949 Alfa Romeo 6C 2500 Super Sport Cabriolet
1970 Aston Martin DB6 Mk2 Volante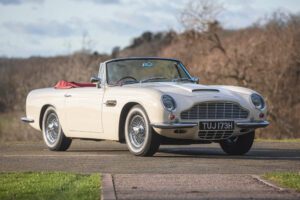 If a classic convertible with stunning lines and effortless styling is what you are looking for then look no further than this 1970 Aston Martin DB6 Mk2 Volante. As featured in one of our previous blogs HERE, this example is 1 of just 38 second-generation cars and is one of the most important cars in Aston Martin's classic car history. The same model of car that The Queen gifted Prince Charles for his 21st birthday, this stunning example has a reserve £600k-£700k.
See more: 1970 Aston Martin DB6 Mk2 Volante
1974 Jaguar E-Type Series 3 V12 Roadster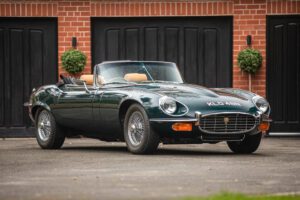 As far as desirable cars from the 1970's goes, few were as in demand as the Jaguar E-Type. This particular car is the last production E-Type to leave the Browns Lane production line aside from the limited run commemorative model. A landmark model in the company's history and one sure to be in demand, especially having covered just 25k miles and with the fantastic provenance that comes with it. With a guide price of £160k-£200k, this stunning convertible would be an exceptional addition to any collection.
See more: 1974 Jaguar E-Type Series 3 V12 Roadster (manual)
1994 Jaguar XJ-S 4.0-Litre Convertible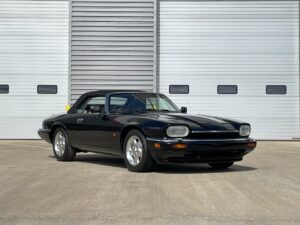 A more modern convertible than the E-Type but the interest in this XJ-S is sure to be just as keen mainly due to the fact that at just under 30 years old it has only covered 291 miles and remains unregistered. This car has been under the ownership of Jaguar since it was built, comes with all original manuals and book pack and still retains that new car smell. Surely this must be the lowest and most original XJ-S Convertible in existence anywhere and the perfect opportunity for those who must have the very best example of a car in existence. The guide price for this unique car is £100k-£120k.
See more: 1994 Jaguar XJ-S 4.0-Litre Convertible
2001 Aston Martin V12 Vanquish
What could possibly go further than something unregistered and with just over delivery mileage? Something that is a pre-production model. This 2001 Aston Martin Vanquish is one of 78 prototype cars built for, amongst other things, chassis development, crash testing and interior trim studies. This particular example, owned by Aston Martin since it was built, is one of the 22 later models and is the earliest and only road registered prototype model offered to the market, and sister car to the one actually on display in the one in the British Motor Museum. With just 642km covered since production and coming from being on display at Aston Martin's own museum, the guide price for this unique car is £100k-£115k.
If pre-production is a bit too early in the model stage for your liking, they also have a 2007 Aston Martin V12 Vanquish S Ultimate Edition that is unregistered and has covered just 522km. Number 40 of the limited run of 50 cars has a very bold interior colour and has been recommissioned by Aston Martin Works earlier this year.
See more: 2001 Aston Martin Vanquish – Pre-Production Prototype
See more: 2007 Aston Martin V12 Vanquish S 2+2 Ultimate Edition
1996 Ford Escort Cosworth Lux 2.0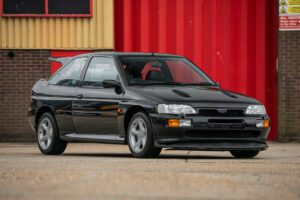 There seems to be a plethora of very low mileage cars coming to the auction market over the past few months and this example is no exception. The fastidiously original Sierra Cosworth RS Cosworth may have grabbed all the headlines at the last auction, but so many Fast Fords are still commanding high prices. This 1996 Escort Cosworth Lux is likely to sell for near record prices as it has covered just 76 miles since production and as such is likely to be unrivalled in terms of originality and as new condition. One of the very last Escort Cosworth Lux's to be produced, not even the holes for the front number plate have been drilled, such is the 'newness' of the car. Guide price is £150k-£180k and sure to be a one of a kind opportunity to purchase such a car.
See more: 1996 Ford Escort Cosworth Lux 2.0
1968 Lotus Elan S4 Coupé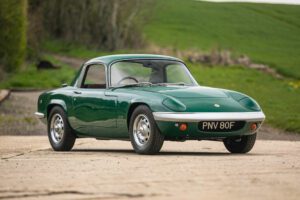 Speaking of renowned engineering firm, Cosworth, this particular 1968 Lotus Elan S4 Coupe was formerly owned by Keith Duckworth, one of the co-founders of the company. In fact, it was gifted to him by Lotus to commemorate the first win by a Cosworth DFV-engined Grand Prix car at the Dutch Grand Prix in 1967 driven by Jim Clark. Duckworth, thinking he was getting an S3, was surprised to find it was an early S4 prototype. The car has covered just 19k miles and is sure to appeal to both Lotus and Ford fans alike. The guide price is just £35k-£40k.
See more: 1968 Lotus Elan S4 Coupé
1972 Ferrari Dino 246 GT (E-Series)
The Ferrari Dino may have been the least expensive Ferraris of its time, but that doesn't make them any less special. This particular example is described by Silverstone Auctions as 'one of the best examples we have ever seen' and the level of restoration, mechanical preparation and millimetre perfect accuracy means that it could easily grace any Concours d'Elegance without requiring any further works. Still with original engine and gearbox, the comprehensive restoration has receipts totalling £300k and comes with complete details of the works carried out. The guide price reflects the standard of the car and is set at £375k-£425k.
If rarity is more your type of thing and you are looking for something slightly less concours, the sale also features a 1973 Ferrari Dino 246 GTS, one of just 16 GTS variants supplied to the UK and comes from 47 years of ownership. The car has covered just 49k miles yet is in very useable condition ready to be used by its next owner. It comes with a guide price of £275k-£325k.
See more: 1972 Ferrari Dino 246 GT
See more: 1973 Ferrari 246 GTS Dino
Oracle Auction Car Finance
At Oracle Finance we specialise in finding funding for cars that are to be bought at auction. Our expert Account Managers use our panel of specialist lenders to help you to find the perfect package, bespoke to you and your circumstances. We could help to get you approved at the top end of your budget up to 90 days before an auction with an agreement in principle, so that when that hammer drops, your funding is in place, and you are ready to purchase the car of your dreams.
Our team are always on hand should you have any questions about arranging car auction finance and your dedicated Account Manager is ready to take your call today. With the Silverstone Auction just weeks away, why not speak to us now and get your funding in place before you miss being able to place that winning final bid.
Read more about our Auction Car Finance here: Auction Car Finance
Why Choose Oracle?
With over 1,700 Trustpilot reviews and a rating of 5 out of 5, and four-time consecutive award winners of the Best Specialist Car Finance Provider award from 2020 through to 2023, as well as having funded over £1.7 billion of vehicles and counting, you too can find out why thousands of people trust us time and time again to find a smarter, tailored funding solution when looking for your next dream car.
Make sure you follow us on Instagram, LinkedIn and Facebook to keep up to date with what's happening in the market and to see some stunning photos and videos of the amazing cars we fund.

Ready to know more?
Let Us Put You in the Driving Seat
Whether you're looking to arrange the finance on your next car, refinance an existing agreement or release equity from your current vehicle, your dedicated Account Manager will find a funding solution that's perfectly tailored to your needs.