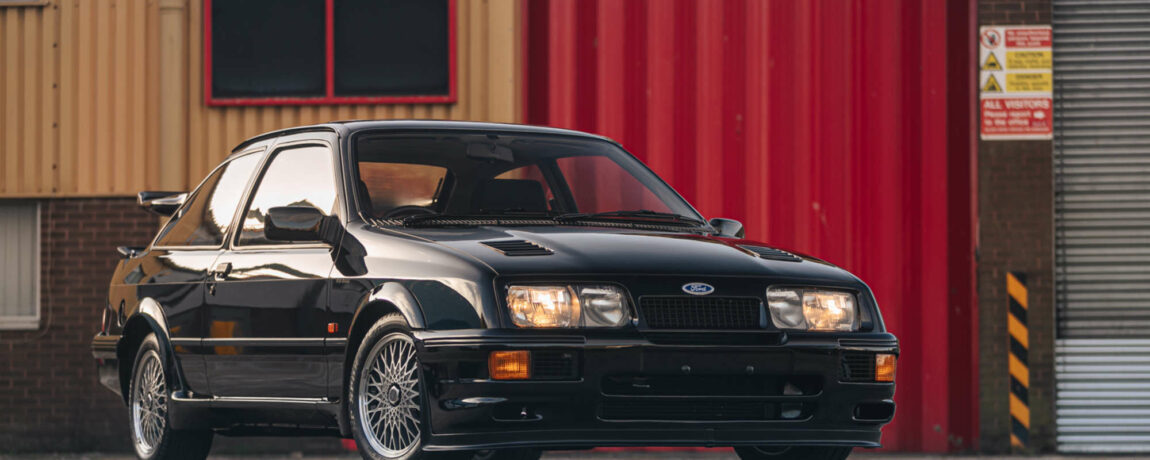 Interesting Info
27 Feb 2023
Silverstone Auctions Set More Records
The Silverstone Auctions Race Retro sale is one of the highlights of their auction calendar. As part of last weekend's Race Retro car show, it featured almost 170 collector and competition cars going under the hammer including some very special cars indeed. As well as collectable road cars including a stunning 996 Porsche 911 GT2 Clubsport, a special URBAN Mercedes Benz G63 AMG, a rare Fiat 131 Abarth Rally Stradale and a delivery mileage Ferrari 430 Scuderia, there were nearly 50 racing and competition cars too.
One of the many highlights was a 1987 Ford Sierra Cosworth RS500 the like never to be seen again. The car has covered just over 5,000 miles in the 36 years since it was new, but this is just the beginning of the fastidiousness and originality of this rare example. Read more about the car in our previous blog post feature HERE.
The car had a guide price of £150k-£180k, itself higher than the previous world record price for this car and with good reason. The previous record for a Ford Sierra Cosworth, a lesser sought after non-RS500 model, was also sold at a Silverstone Auctions event, and had not only a higher mileage but featured nowhere near the levels of detail and originality that this example offered. It eventually sold for £132,750 last year at the NEC Classic Motor Show sale in November.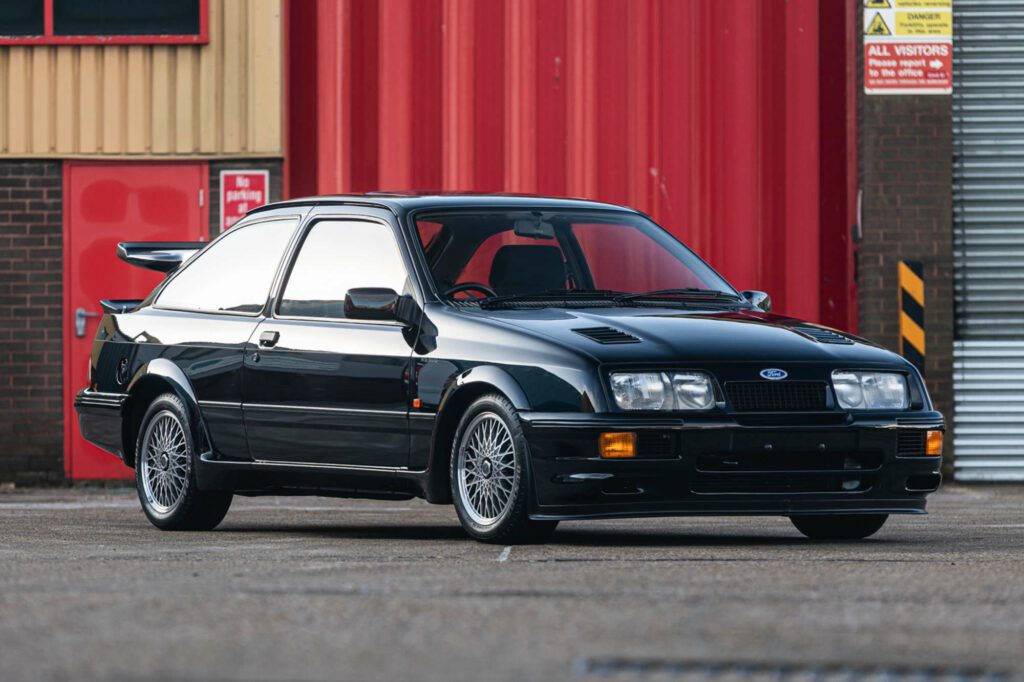 World Record Price
Fast Fords are already one of the fastest appreciating modern classics and this one was sure to prove that point even further. Bidding was fierce and it wasn't long before the guide price and been exceeded, and the bidding kept going. Costing £19,950 when new, the eventual sale price was a staggering £596,250, almost 4 and a half times the previous record price and nearly 30 times the original sale price.
The astonishing price is a testament to the condition and originality of the car, unlikely to ever be matched or replicated, such is the dedication of the former owners to maintain the as new condition. Fast Fords have set a number of new records in recent years, however this record is likely to stand for some time for a Sierra Cosworth such is the rarity of this example.
More Fast Ford Records
It wasn't however the only Fast Ford to break a world record at the Race Retro sale. A 1990 Ford Sierra Sapphire RS Cosworth 4×4 also sold for a record amount for that model, with the final hammer falling at £109,125. The car came from a single ownership for the past 30 years and has covered just over 10k miles since new, as well as being offered in excellent original condition.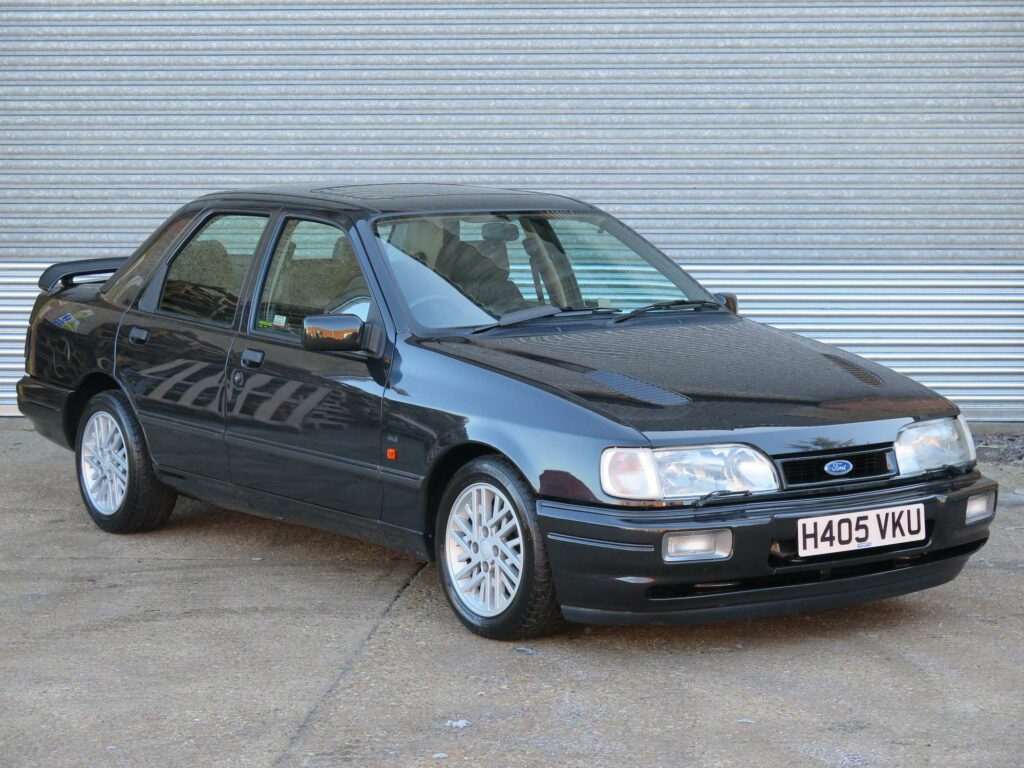 With many Fast Fords receiving modifications or being damaged due to their popularity and large power outputs, it is fantastic to see cars of this standard remaining in existence, and easy to see why they receive such commanding prices when offered in original condition. With the enthusiasm for Fast Fords showing no sign of diminishing it is seemingly only a matter of time until another world record is smashed at a Silverstone Auction.
Another Record Broken
Not content with leaving the limelight to the Fords, another record price was achieved for a 1966 Lotus Elan. Not just any Lotus Elan, one from a unique collection of some of the finest Elan's in existence and all with fantastic provenance. On offer as part of the 'Piddington Collection', enthusiast Deryck Norville had amassed a collection of 7 Elan's each with their own celebrity status from key previous owners. In the collection were Elan's previously owned by comedian Peter Sellers, one gifted by company founder Colin Chapman to Formula 1 champion Jochen Rindt, one owned by former vehicle designer and inventor Ron Hickman, another gifted to Cosworth co-founder Keith Duckworth, one owned by renowned Gentleman Racer RRC 'Rob' Walker honouring Stirling Moss' Monaco Grand Prix victory in 1961, another is the last Elan Sprint to be registered and thought to be the best fixed head coupe in existence.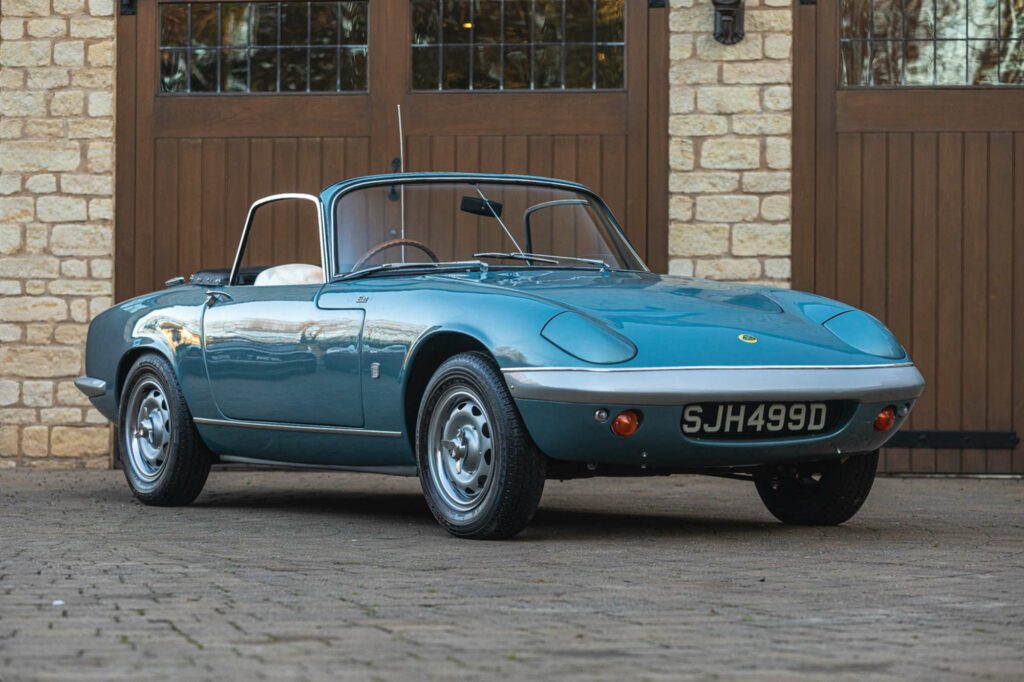 The final Elan was the record breaking car. The 1966 Lotus Elan S3 Drophead Coupe was gifted to actress Dianna Rigg who played Emma Peel in the television series 'The Avengers'. After filming Series 5 and 6 of the iconic programme, the television company gifted the car to Diana that was used in the show and the rest is history. This stunning example was finished in Jaguar Opalescent Blue and had covered just 2,500 miles since new. The whole collection was described by Silverstone Auctions saying "If ever you have wanted to purchase a Lotus Elan, there will never again be an opportunity like this one", due to the originality and condition of the seven stunning examples on offer. The 'Avengers' car was highly sought after and eventually sold for £164,250, a world record sale price for a Lotus Elan.
A Royal Record
Another record for Race Retro was a vehicle with one of the highly regarded levels of provenance possible, a former royal owner. This 2010 Land Rover Defender was not only formerly owned by the late Duke of Edinburgh Prince Philip, but was built especially for him to his exacting specification. Finished in Keswick Green with Black cloth interior with Land Rover seat covers, the car had covered just 15,000 miles since new and understandably offered in exceptional condition and with an extensive documentation file. The final sale price for this exceptionally unique vehicle was an impressive £123,750, a world record for this generation of Land Rover Defender 110 and a fantastic addition to any collection.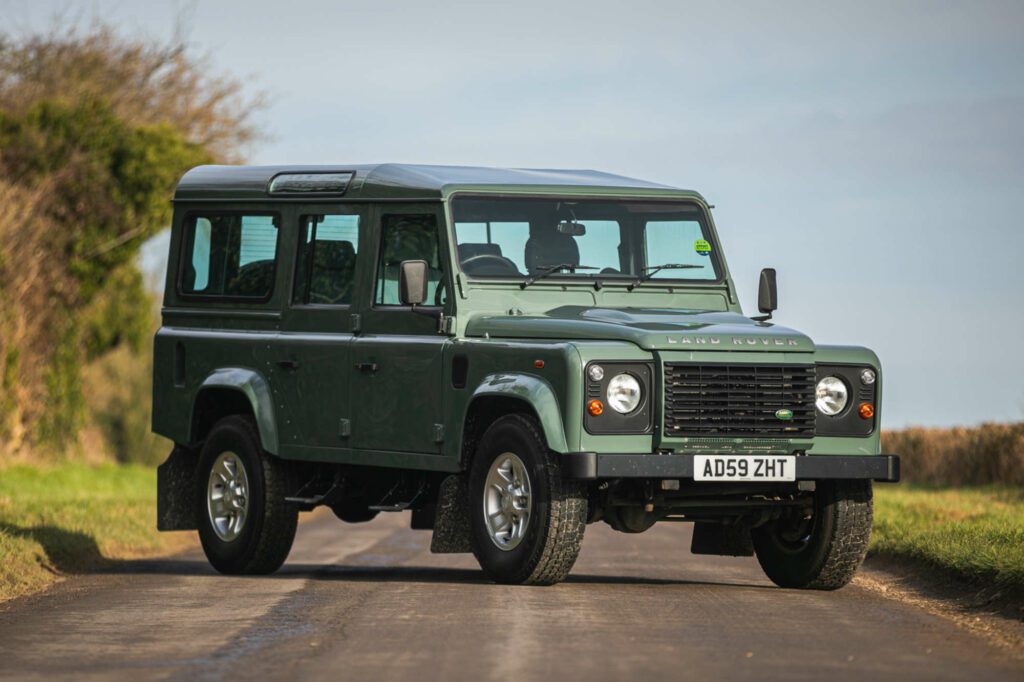 Rally Car Record
One of the highlight cars that we had featured before the auction was a rare Fiat 131 Abarth Rally Stradale homologation special. Created so that Fiat could go rallying, the 131 was one of the most successful rally cars of the late 1970's and early 1980's with World Rally Championship constructor's titles won in 1977, 1978 and 1980. Just 400 of the road going homologation specials, the 'Stradale', were produced and remained close to the rally car in both specification and performance. This stunning example has covered just 12,000 km and benefitted from a complete engine rebuild using original parts throughout to ensure originality, right down to genuine Abarth pistons and the retention of the original optional twin IDF-Weber carburettors. The final sale price was an auction world record for a Fiat 131 Abarth Rally Stradale and the hammer fell at an impressive £151,875, a testament to the originality and exceptional condition of this desirable model.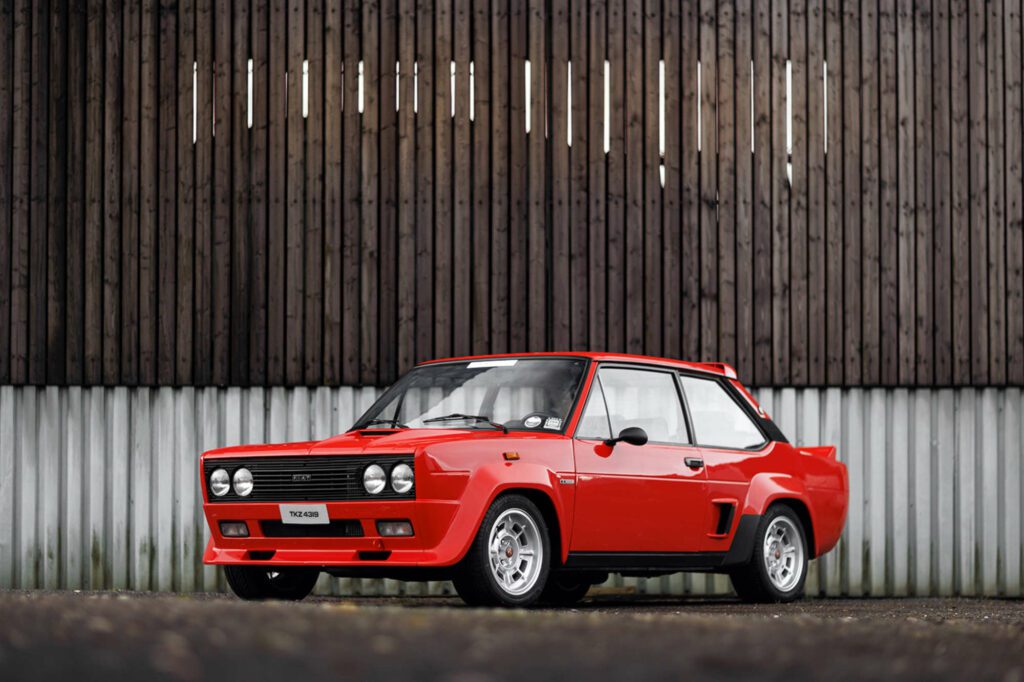 Oracle Auction Car Finance
At Oracle Finance we specialise in finding funding for cars that are to be bought at auction. Our expert Account Managers use our panel of specialist lenders to help you to find the perfect package, bespoke to you and your circumstances. We could help to get you approved at the top end of your budget up to 90 days before an auction with an agreement in principle, so that when that hammer drops, your funding is in place, and you are ready to purchase the car of your dreams.
Our team are always on hand should you have any questions about arranging car auction finance and your dedicated Account Manager is ready to take your call today. With the Silverstone Auction just weeks away, why not speak to us now and get your funding in place before you miss being able to place that winning final bid.
Read more about our Auction Car Finance here: Auction Car Finance
Why Choose Oracle?
With 1,500 Trustpilot reviews and a rating of 5 out of 5, and three-time consecutive award winners of the Best Specialist Car Finance Provider award from 2020 through to 2022, as well as having funded over £1.7 billion of vehicles and counting, you too can find out why thousands of people trust us time and time again to find a smarter, tailored funding solution when looking for your next dream car.
Make sure you follow us on Instagram, LinkedIn and Facebook to keep up to date with what's happening in the market and to see some stunning photos and videos of the amazing cars we fund.

Ready to know more?
Let Us Put You in the Driving Seat
Whether you're looking to arrange the finance on your next car, refinance an existing agreement or release equity from your current vehicle, your dedicated Account Manager will find a funding solution that's perfectly tailored to your needs.