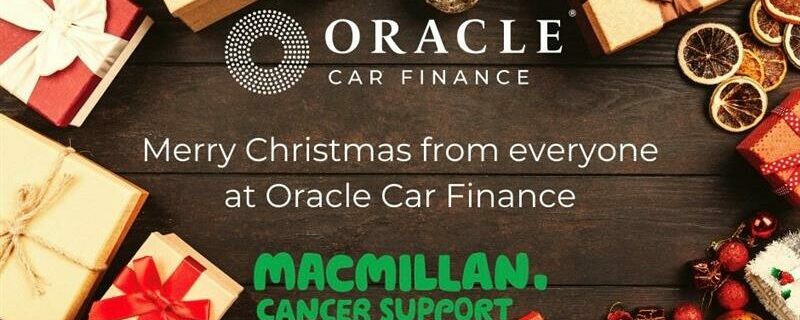 Season's Greetings from Oracle Finance
Another year has passed at lightning speed, and I trust that you and your loved ones are safe and well.
As we head into a new year, I wanted to share with you the positives from Oracle's past 12 months and our ambitions for 2022!
Reflecting on 2021, with ongoing challenges in the new car supply chain we have focused on raising awareness of re-finance products available to our clients, as well as offering support in the sourcing of your dream cars. We have successfully negotiated our way through changes in funding legislation, to further strengthen our position as the funder of choice with our broad range of products and lender partners.
Our customer support team continues to provide unrivalled service to hundreds of satisfied customers every day, and our dedicated Account Managers provide expert, personalised service to tailor the perfect solution for your individual needs. But we must not forget our business support services behind the scenes who ensure that we operate as efficiently as possible, navigating smoothly through these challenges and always looking for ways to adapt whilst maintaining the 5-Star service that you, our clients, have come to know and love.
Best Specialist Car Finance Provider 2021
I am delighted to announce that, for the second consecutive year, we have been awarded the accolade of 'Best Specialist Car Finance Provider' at Credit Strategy's Car Finance Awards. Now in their sixth year, the 'Car Finance Awards' are the flagship awards for the industry, recognising outstanding performance in customer service, product innovation and business growth.
To win this award once was an outstanding achievement but to win it two years in a row is testament to the strength of Team Oracle, their passion, expertise, and desire to continually provide excellent service. I am incredibly proud of their achievement, and we were delighted to take some members of the team along to the awards dinner to celebrate their success!
Of course, we couldn't have won this award without our loyal customers, and I'd like to take this opportunity to thank you for your continued support and business.
Our Funding Products
The strength of relationships with our panel of lenders ensures we always have the very best choice of finance products available for you, and we keep a close eye on markets to ensure that these products reflect the changing trends in both funding and vehicles.
According to Auto Trader, electric vehicles are now selling faster than petrols for the very first time; the good news is that, as well as Hire Purchase or Lease Purchase, Oracle Finance can now offer Personal Contract Purchase (PCP) on electric vehicles, meaning the lender takes the risk on the residual value at the end of the contract term.
Our Team
Last year I spoke about our 12-month people development plan. We continue to grow our team with those not only passionate about cars but also passionate about delivering on the Oracle promises, and all our new team members are qualified in Specialist Automotive Finance as part of their induction.
Please join me in sharing a warm Oracle Welcome to new members of our team, some of whom you may already have had the pleasure of speaking to.
We're always on the lookout for those who share our passion for cars and outstanding customer service to join our team. So if you or anybody you know may be interested in joining Team Oracle, please check out our latest vacancies on our website.
Seasonal Charity Donation
Finally, we continue our tradition of making a seasonal charitable donation in lieu of corporate gifts, with the charity being selected by our team. This year they have chosen MacMillan Cancer Support, and we are delighted to be making a donation to help everyone living with cancer live life as fully as they can.
Our Vision for 2022
For 2022, my vision for the team is that we continue to offer the best range of products with the best possible service and that those 5-Star reviews keep rolling in! Your customer feedback and referrals are invaluable so thank you to those who have shared your experiences online, or with friends, family, and associates; it is very much appreciated.
If you do require any assistance, please do not hesitate to contact a member of our team on 0800 012 6666. In the meantime, may I take this opportunity to again thank you for your continued support and to wish you all the best for the New Year. And if you're passing our office during the festive period, please do call in for a mince pie and a mulled wine!
Best wishes
Peter Brook & Team Oracle

Ready to know more?
Let Us Put You in the Driving Seat
Whether you're looking to arrange the finance on your next car, refinance an existing agreement or release equity from your current vehicle, your dedicated Account Manager will find a funding solution that's perfectly tailored to your needs.